Vaping Digest 27th January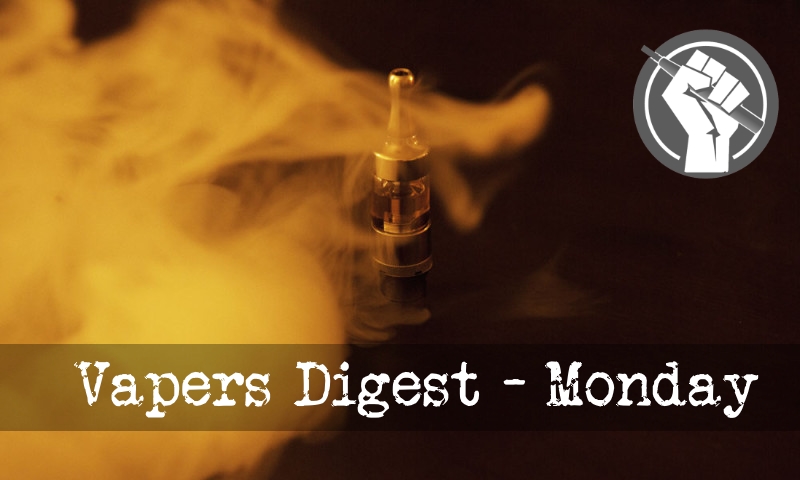 Monday's News at a glance:
CDC is Concealing and Suppressing Information – Vaping In The News – January 25th – International Experts Slam World Health Organization's Deceptive Vaping Release – WHO Damages Its Reputation On Vaping – Teen Vaping Is Bad – E-cigarette liquid prices to fall – Nic Vaping Doesn't Cause EVALI – Tobacco harm reduction and the right to health – Do It For The Children – Proposed Flavor Bans Invites Trouble – Vape shop owners decry NJ's status – Imperial Tobacco Targets Misinformation – Vaping framework essential – Fears of a Youth Vaping Epidemic May be Overblown
Information on Youth Marijuana Vaping to Over-hype Harms of E-Cigarettes
Dr. Michael Siegel, The Rest Of The Story
The Centers for Disease Control and Prevention (CDC) is concealing and suppressing information on the number one cause of severe, vaping-related health harm to youths in order to deceive the public into thinking that e-cigarettes are at the top of the list.

In fact, the number one cause of severe, vaping-related health damage to youths is not electronic cigarettes, although you would not know that from reading the CDC's literature on youth vaping.
Kevin Crowley, Vaping Links
They ALL lied ~ Peddlers of Ignorance ~ US Surgeon General is an educated idiot ~ The "Vape Apocalypse" is still the law. Only legislation can change that ~ Will Trump Stop the FDA's May 11 Vape Apocalypse? ~ Azar Promises Streamlined PMTA Approval for Small Vape Businesses ~ Where Did Underage Vapers Get E-Cigs ~ WHO Vape Report Misleading ~ E-cigarettes: how risky are they?
---

---
Deceptive Vaping Release – Helen Redmond
The World Health Organization (WHO) published an astonishingly bad Q&A on electronic cigarettes on January 20, full of lies of omission, outright falsehoods and hyperbole.

While the WHO has plenty of past form on this issue, it remains shocking that a prestigious organization employing some of the world's foremost experts on health whose work has improved or saved the lives of billions of people, have jumped on the regressive anti-tobacco harm reduction bandwagon.

Here's one deceptive whopper in the new release: "There is no doubt that they [e-cigarettes] are harmful to health and are not safe, but it is too early to provide a clear answer on the long-term impact of using them or being exposed to them."
 Alex Berezow
The World Health Organization does a tremendous job advancing the cause of global public health. But two recent, major screw-ups show that the institution is far from perfect. In one instance, a group of UK scientists accused the WHO of spreading "blatant misinformation."

I have great respect for the Centers for Disease Control and Prevention (CDC) and the World Health Organization (WHO). Especially when it comes to fighting infectious disease, those two organizations are staffed with real-world superheroes.
---
People who understand chemistry know that 'glycol' is not a chemical, it's a class of compounds with 2 alcohol groups.
People who understand even the vague basics of toxicology know that some glycols are toxic, and some are not.
People who understand propaganda tweet like this https://t.co/CRVGDQeXRt

— Tom Pruen (@crossbow2112) January 27, 2020
Politicians, bureaucrats, health professionals, reps from prohibitionist pharma front groups, lobbyists, a chemist & a police chief.

No consumers? This is bound to be a disaster. https://t.co/QJLC85K3TI

— Phil (@phil_w888) January 27, 2020
---
So Are Many Ad Campaigns Against Teen Vaping – Corbin Barthold
Bright children are often skeptical of authority. They spot early on that many adults are stupid, and that the self-righteous ones are reliably the stupidest of all. The most strenuous posturing, they quickly realize, is usually the most spurious as well.

The young's awareness that the old don't know what they're doing is a central theme of the television show South Park. Take the episode "Butt Out," in which the show's protagonists, four fourth-grade boys named Stan, Kyle, Cartman, and Kenny, are made to attend an anti-smoking assembly.
Bence Gaál
Thanks to the changes in tax rules, high-quality e-cigarette liquid products may become cheaper and more accessible to Hungarian consumers in the near future, according to a press release by British American Tobacco (BAT).

A legislation coming into effect on March 1 is set to lower the excise tax on e-cigarette liquids that contain nicotine, meaning that prices are expected to drop at national tobacco shops. The tax will be lowered from the current HUF 55 per ml to HUF 20 per ml.

Two from Dave Cross, Planet of the Vapes
According to doctors Konstantinos Poulas, George Lagoumintzis and Konstantinos Farsalinos, a new study published in the journal Toxics provides important insight into the recent lung intoxication epidemic referred to as "e-cigarette or vaping product use-associated lung injury" (EVALI).

The trio say the study presents, for the first time, a comprehensive analysis of products used by EVALI patients. Vitamin E acetate was the main finding in cannabinoid liquids. No compound that could be linked to EVALI was found in the two nicotine products tested.
Harm reduction organisation Knowledge•Action•Change released its new briefing paper "Tobacco harm reduction and the right to health" in London on Thursday. During a week when the World Health Organisation doubled down on its anti-vaping position, the timing of the briefing launch couldn't be more welcome.

A spokesperson said: "The publication is intended to give a brief overview of tobacco harm reduction for people who may be unfamiliar with harm reduction as a concept, or who may not see it as part of a broader harm reduction movement. We are hoping it will have some longevity as a tool for advocacy, persuading audiences of the value of THR as an intervention in the public health crisis of tobacco use."
---

---
Does Teen Vaping Justify E-Cigarette Flavor Bans? – Cameron English
Public health advocates regularly promote bans on flavored liquids, or e-liquids, used in e-cigarettes, arguing that they prompt teenagers to take up vaping and ultimately "hook" them on nicotine. While this is a reasonable concern, the evidence shows that banning flavored e-liquids would discourage adult smokers from giving up cigarettes and do little to quell teen vaping, which is low in both the U.S. and U.K.
Michael D. LaFaive and Todd Nesbit
"Those who cannot remember the past are condemned to repeat it," is a quote from philosopher George Santayana. States like Michigan, Massachusetts, Vermont, and some local units of government are taking up prohibitions on flavored products, such as electronic cigarettes, menthol cigarettes or other flavored products. As they do so, we wonder how many elected officials remember, or care to remember, lessons about efforts to prohibit alcohol, or even marijuana. They are manifold, and lawmakers should ponder them before charging ahead.

As first state to ban flavored products – Raven Santana
Come April, flavored vape products, including menthol, will be illegal in New Jersey.

The new law comes as state health officials identified serious lung illnesses related to vaping and after the recommendation of a state task force to ban e-cigarette flavors that might be attractive to children. New Jersey is the first state to actually enact a ban, but e-cigarette sellers are crying fowl.
Brent Stafford, Regulator Watch
Over the past 18-months an unprecedented amount of disinformation—regarding the health impacts of vaping—flooded the mainstream media, poisoned public perception and triggered vaping product bans across North America. Clearly, scaremongering works.

One company that's had enough with the disinformation and is fighting back is Imperial Tobacco Canada the maker of the Vype brand vaping device, and the largest tobacco company in the country.
To Government achieving SmokeFree 2025 goal – Eric Crampton
The cogs of government and regulation can grind slowly. And, sometimes, that can be for the best. Legislating in a hurry can be a problem. And proposing legislation in the middle of a moral panic can be a disaster.

So we should be thankful that the Government last year seemed to hit the pause button on its regulatory framework for vaping. Let's take a step back. The sale of vaping and other novel reduced-harm nicotine products was considered banned until a March 2018 judicial decision.
May be Overblown, Finds NYU Analysis
While youth vaping rates have increased in recent years, most middle and high school students don't vape or smoke and very few vape or smoke daily, finds a study led by researchers at NYU School of Global Public Health.

The study, published this month in the journal Nicotine & Tobacco Research, finds that over 80 percent of youth do not use any tobacco and over 86 percent don't vape—and among the minority who do vape, most are not regular users. In addition, the study reveals that most youth who are vaping are also current or former smokers.
---
A look back at how things have moved on or otherwise…
For Displaying Vapes in Exactly the Right Place – Helen Redmond
Where should vaping products be stocked in stores? That question was sharply raised in response to Sainsbury's, a British supermarket chain, placing e-cigarettes and vaping liquids on its shelves next to nicotine replacement products like patches and gums.

Although British political hostility to vaping is nowhere near that seen in the US, opposition inevitably followed. Conservative Member of Parliament Bob Blackman, chair of the Parliamentary Group on Smoking and Health, blasted Sainsbury's: "It's wrong to have them on open shelves … We don't know enough about the long-term effects of electronic cigarette use. There may well be dangerous chemicals in the e-liquid."
Add to vaping confusion – Colin Mendelsohn
A recent study on vaping in young Australian women and a linked news report on news.com.au are misleading and exaggerating the risks and uptake of vaping. The effect of this scaremongering is to confuse and alarm the public about a potentially lifesaving alternative to smoking.

The study, published recently in the American Journal of Preventive Medicine, examined vaping in 8,915 Australian women aged 19-26 years.

I submitted a Comment to correct some of the misleading information in the news.com.au article (twice) but it was not published, so I have written this blog. Following are my responses to 4 of the most misleading statements from the news.com.au article:
---
Visit Nicotine Science & Policy for more News from around the World

---