Vaping Digest January 25th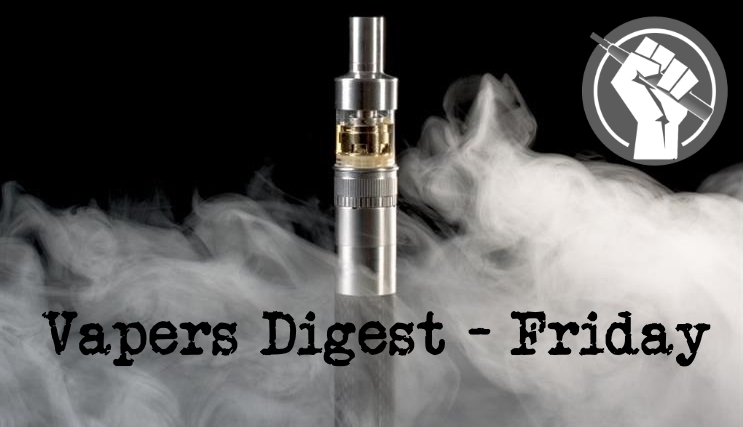 Friday's News at a glance:
UK Supermarket Chain Criticized – New study and news report add to vaping confusion – The Threat To Ban Vaping In The USA Goes Up A Gear – TGIF: The FDA's Assault on Tobacco Consumers – Vaping : Something that so many are unaware of – Quitting Vaping Guff – Levy On Glantz – The Butt Of The Problem – Gottlieb's Existential Crisis – Chesterfield Royal Leads The Way – How Vaping Is Disrupting The Tobacco Industry – An Open Letter to the WHO – Belarus toughens laws against smoking – Nicotine Science and Policy Daily Digest
For Displaying Vapes in Exactly the Right Place – Helen Redmond
Where should vaping products be stocked in stores? That question was sharply raised in response to Sainsbury's, a British supermarket chain, placing e-cigarettes and vaping liquids on its shelves next to nicotine replacement products like patches and gums.

Although British political hostility to vaping is nowhere near that seen in the US, opposition inevitably followed. Conservative Member of Parliament Bob Blackman, chair of the Parliamentary Group on Smoking and Health, blasted Sainsbury's: "It's wrong to have them on open shelves … We don't know enough about the long-term effects of electronic cigarette use. There may well be dangerous chemicals in the e-liquid."
Add to vaping confusion – Colin Mendelsohn
A recent study on vaping in young Australian women and a linked news report on news.com.au are misleading and exaggerating the risks and uptake of vaping. The effect of this scaremongering is to confuse and alarm the public about a potentially lifesaving alternative to smoking.

The study, published recently in the American Journal of Preventive Medicine, examined vaping in 8,915 Australian women aged 19-26 years.

I submitted a Comment to correct some of the misleading information in the news.com.au article (twice) but it was not published, so I have written this blog. Following are my responses to 4 of the most misleading statements from the news.com.au article:
---

---
Neil H – ECig Click
Vaping could be banned completely in America unless the supposed 'teen vape epidemic' isn't stemmed says FDA supremo Scott Gottlieb.

He made his threat at a public meeting last week worryingly titled Eliminating Youth Electronic Cigarette Use: The Role for Drug Therapies.

What's worrying is the FDA is still angling at getting so called vape addicted youngsters 'weaned off e-cigs' by using mind altering drugs that have terrifying side effects. This despite the failure of a recent 'study' by Big Pharma's Pfizer plying kids as young as 12 with Champix – a drug I've written about before…see Suicide or Vaping – yeah one of the side effects is indeed suicidal thoughts…scary huh?
Robert Innes, Vaping Post
Most people think that the objection they have regarding vaping is their own: that they do not like the 'fumes' because this is something that they genuinely dislike – well it is. However, this objection is not their own, not really. It has been planted in them. Decades of publicity about harm from smoking, you know: the dirty, filthy addiction that rots teeth and lungs; clogs arteries; causes heart attack and stroke; turns the foetus into an addict, and makes you blind… Smoking is so stupid is it not?
---
---
Sheldon Richman
We've all heard horror stories about the run-amok regulatory state. Enabled by open-ended statutes passed by Congress and signed by presidents, regulatory agencies have acquired virtual carte blanche to write rules governing peaceful behavior. Even when a seemingly narrow purpose has been set out, regulatory rule-making has engaged in mission-creep with alarming regularity.

Here's an example that gets little attention because it directly impinges on the freedom of only a small number of Americans. For the last 10 years the U.S. Food and Drug Administration has been writing draconian rules governing the makers, sellers, and ultimately consumers of cigars, smokeless tobacco, pipe tobacco, and even the pipes themselves
---

---
A Quintet from Dave Cross – Planet of the Vapes
Smokenders LLC, the company behind the SmokEnders™ smoking cessation program has announced the launch of VapEnders©, a vaping cessation program. It promises to help vapers quit without recourse to patches, drugs or going cold turkey – which should be easy seeing as vaping carries a fraction of the addictive qualities of cigarette smoking.
Smokenders LLC says: "The VapEnders program is undergoing a pilot test to further 'prove and improve' the efficacy of the methodology and mobile app with a defined community of teen "vapers" who are interested in and committed to quitting."
In a paper by a team led by Georgetown University's David Levy, published last year, researchers found scant evidence of a gateway effect. Going against the current fear campaign coming out of the FDA, it highlighted how teen smoking rates continue to drop as vaping rises – a clear health dividend. Stanton Glantz attempted to criticise the study, but his comments were deconstructed in spectacular fashion by Levy.
Eleven tonnes of cigarette butts are discarded across England every single day, enough to fill seven Olympic-sized swimming pools each year, according to ASH UK. Amelia Howard and Adam Houston believe this aspect of smokers switching to vaping should be factored into the debate.
According to the ASH UK Ready Reckoner, smokers in England get through 75 million daily cigarettes. Almost 90% of these are filtered, which results in 11 tonnes of cigarette butts being discarded across England daily.
Food and Drug Administration (FDA) Commissioner Scott Gottlieb has upped the ante in his war against a fictional teen vaping epidemic at a public hearing in Maryland. The most successful tobacco harm reduction tool ever invented faces an "existential threat" if vapers and vape companies don't act to prevent teen use, he said.
With no shame, he began his brief attendance by telling the audience: "our focus is the potential role that drug therapies may play in the broader effort to eliminate e-cigarette and other tobacco use among young people."
NHS Trusts faced multiple calls to change their stance on banning vaping from hospital grounds last year. The All Party Parliamentary Group for Vaping (APPGV), Public Health England (PHE) and the Royal College of Physicians (RCP) all demanded Trusts look at the evidence and follow their recommendations. While most still ignore them, the Chesterfield Royal Hospital will be allowing vaping to take place.

Theo Mead – Daily Caller
The e-cigarette market is still relatively new. It was not until 2003 that Hon Lik released his original e-cigarette after watching his father pass from smoking-related illnesses. The following decade and a half have seen rapid growth in investment, development and market value. This growth is showing no signs of slowing and is making waves the world over. In doing so, it's also massively affecting the tobacco industry.
A new year begins with resolutions. For more than three decades, the World Health Organization (WHO) has pledged to end smoking. Tobacco kills more than seven million people annually. Most are in developing countries. Each death is one too many. We have an unprecedented opportunity to give global tobacco control new energy and a new path. This requires courage, creativity, and the ability to seize opportunities as we strive to end smoking together.
Belarusian Telegraph
The Belarusian president signed Decree No. 2 to amend Decree No. 28 from 17 December 2002 and Decree No. 4 from 18 October 2007 regulating production, trade and consumption of tobacco products on 24 January, BelTA learned from the press service of the Belarusian leader. The main goal is to consistently limit access to tobacco products, to reduce the negative effects of smoking on health of people.
---
A look back at how things have moved on or otherwise….
Derek Yach, BMJ Opinion
he Foundation for a Smoke-Free World, Inc. (the "Foundation") was established to accelerate an end to smoking. The rationale for the Foundation and initial thinking on its activities have previously been described. It arose out of extended discussions with Philip Morris International (PMI). Discussions that I never thought I would have based on a deep justifiable distrust of how tobacco companies have thwarted progress on tobacco cessation. And continue to do so today.
A new consumer advocacy group has been launched in Italy to represent the country's e-cigarette users. The National Association of United Vapers – Associazione Nazionale per i Vapers Uniti in Italian – says its primary objective is to promote harm reduction by example, through introducing smokers to the new generation of safer nicotine products. Italy already has several pro-vaping organisations, such as the Italian Federation of Electronic Cigarette Manufacturers (SVAPO) and the Association of Independent Retailers (Anide), but up to now there hasn't been a group focused on vapers themselves.
A new report on the health effects of e-cigarettes from the National Academies of Sciences, Engineering, and Medicine says that vaping is likely to be far less harmful than smoking, and that it might help adult smokers quit cigarettes. The report is not the usual lopsided review of risks, but neither is it a ringing endorsement of vaping as an alternative to smoking. Its conclusions are eerily in line with what the FDA will need to carry out the mission of its current leadership.
Dick Puddlecote
On both sides of the Atlantic, this week is looking to be one of the most important in the history of tobacco harm reduction (THR) so far.

Firstly, in a flurry of acronyms, tomorrow the US Tobacco Products Scientific Advisory Committee (TPSAC) will meet to consider Philip Morris International's (PMI) application for a Modified Risk Tobacco Product (MRTP) classification for their iQos heated tobacco product. If approved, this could pave the way – if the Food and Drug Administration (FDA) agrees with the decision – for PMI to claim iQos is less harmful than smoking.
---
Visit Nicotine Science & Policy for more News from around the World

---