Vaping Digest January 23rd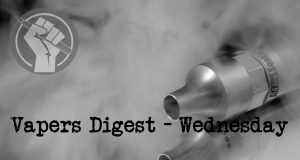 Wednesday's News at a glance:
Lynne Dawkins: E-cigarettes – an evidence update ~ The great American youth vaping epidemic. Really? ~ In the Tobacco Harm Reduction Debate, Civility Has Gone Up in Smoke ~ Shocking Claim from Pennsylvania ~ Confused Approaches to Regulating Vaping ~ A Majority of Healthcare Professionals Want Alternatives to Cigarettes Legalised if Appropriately Regulated ~Vaping's overlooked upside: no cigarette butts ~ Organizations call on Saskatchewan government to update tobacco laws ~ Alliance aims to break 'perception that e-cigarettes are harmless' ~Research ~ Nicotine "no more harmful to health than caffeine" ~ Sainsbury's Saving Lives
Clive Bates, The Counterfactual
Dr Lynne Dawkins of London South Bank University gives her terrific myth-busting lecture on e-cigarettes – see the YouTube video above. Here are the slides (Slideshare) and here below is Lynne's summary of the key points.

Summary of the lecture & key points

In 2013, I delivered a public lecture on e-cigarettes (here). At that time, not much was known about e-cigarettes, they were only just starting to gain popularity and very little research had been published on the topic.

Since then, the technology has moved on considerably, many more people are using them and there have been hundreds of research studies published on the topic. Nevertheless, public perceptions of e-cigarettes seem more distorted, confused and naïve than ever. I thought it was about time to present an update of what we know now based on the research that has been conducted since 2013.
Clive Bates, The Counterfactual
I have been following FDA Commissioner Scott Gottlieb on Twitter and was alarmed at the threat he issued to vapers and the vaping industry in response to recent trends in US adolescent vaping.

I disagree with the FDA's analysis of what is happening with adolescent vaping and also what should be done about it. So I need to put some flesh on the tweet above and examine some of FDA's claims in more depth. Please dip to these talking points… it's a long blog but I hope at least some of it will be illuminating.
---

---
Carrie Wade, Filter.org
In the pursuit of reducing the harms caused by cigarettes, those of us who advocate for vaping as a public-health harm reduction tool are constantly battling with bullying and harassment, "justified" by moral outrage.

During my first foray into this world, at the US E-Cig summit in 2017, I was surprised at the level of vitriol I witnessed, at the jeering and boos as different opinions, approaches and research were presented. Since then I have personally experienced such attacks, with the most recent coming at me on January 15.
---
Your statistics are BOGUS, and unverifiable. Nat"l Tobacco Youth Surveys are fraudulent and cherrypicked.

— David Goerlitz (@The_Winston_Man) January 23, 2019
---
 Dave Cross, Planet Of The Vapes
The Pennsylvania Department of Health (PDoH) is over a hundred years old and claims it has the ultimate goal of ensuring access to health care while assuring quality of care. It clearly cares little for accurate health guidance when it comes to tobacco harm reduction, claiming that vaping is "NOT safer than other tobacco products".
 Dave Cross, Planet Of The Vapes
Montana is still trying to ignore the will of the people, Massena is adopting a ban but research says that restricting youth access to vape products will simply lead to increased use of cigarettes. The only clear thing in the United States is that the hostile approach to vaping and tobacco harm reduction continues.
---

---
Frost & Sullivan , PR Newswire
A majority of healthcare professionals in Australia want to see tobacco harm reduction products, such as e-cigarettes and heated tobacco products, legalised and regulated appropriately in Australia, according to new research conducted by Frost & Sullivan.

More than 1,000 Australian adults (including current, former and non-smokers), as well as 126 healthcare professionals (including GPs, medical specialists [such as psychiatrists, surgeons and radiologists], nurses, pharmacists, and allied healthcare professionals) were interviewed as part of an opinion research study to gauge the level of understanding and attitudes towards alternatives to cigarettes.
Adam R. Houston, Amelia Howard, Policy Options
Lost in the often vitriolic debate over electronic cigarettes versus traditional cigarettes are little nonbiodegradable pieces of plastic: cigarette butts. They are the world's most ubiquitous form of litter, with millions upon millions of them infesting the environment.

And yet this raging debate has focused almost entirely on how best to protect people's health. Many opponents of electronic cigarettes focus on potential but unproven concerns about their harmful effects, while proponents focus on the serious and well-established harms caused by the traditional cigarettes they are meant to replace.

, Global News CA
A number of health organizations are calling on the Saskatchewan government to update provincial tobacco laws to deal with high smoking rates in the province.

The latest data from the 2017 Canadian Tobacco Alcohol and Drug survey released in October 2018 found 21.9 per cent of youth aged 15 to 19 in the province currently smoke.

That number jumps to 23.4 per cent of those aged 20 to 24.
,

CBC News
People, particularly young people, don't understand the risks of vaping, says the P.E.I. Tobacco Reduction Alliance, and it has launched an education campaign to change that.

Julia Hartley, co-ordinator of the P.E.I. Lung Association, a member of the alliance, said vaping dangers include toxic chemicals such as metals and flavourings, as well as ultra-fine particles.

"Ultra-fine particles can really harm your lungs over time," said Hartley.
---

---
Legalize Vaping In Australia
56 scientific studies which demonstrate that vaping products are less harmful than traditional cigarettes or are an effective way to quit smoking altogether.
Royal Society for Public Health (RSPH)
RSPH is calling for public confusion over nicotine to be addressed as a way of encouraging smokers to use safer forms of the substance. Tobacco contains nicotine along with many other chemicals, but nicotine by itself is fairly harmless.

Nicotine is harmful in cigarettes largely because it is combined with other damaging chemicals such as tar and arsenic, and as a highly addictive substance getting hooked on nicotine is one of the prime reasons why people become dependent on cigarettes. Electronic cigarettes and Nicotine Replacement Therapy (gum, lozenges, and patches) contain nicotine but don't contain the harmful substances found in cigarettes.
Dave Cross, Planet Of The Vapes
Sainsbury's joins the ranks of Asda, BM Stores, Iceland and Poundland, in recognising that vaping products should be sold in stores. Adult smokers looking to switch and vaping high street shoppers can now purchase this tobacco harm reduction revolution in-store. The shelf location Sainsbury's chose to stock the items is causing an issue for the Daily Mail.
---
A look back at how things have moved on or otherwise….
Paul Barnes, Facts Do Matter
It must be something about this time of year for all the idiotic anti-vaping, anti-nicotine or anti-anything, to crawl out from under whatever rock they've been hiding under and spout a tranche of utter bullshit before scuttling back to their safe space, complete with a shiny new grant to cook up more bullshit.
Under Trump, everyone will see what it's like

Carl V. Phillips, Anti-THR Lies

I found myself struck by the parallels between my typical Twitter feed about the behavior of "public health" people and the flurry of tweets about Trump's relationship with the truth that the inauguration has created. We are not talking strained similarities here, but rather the exact same playbook. In the former category, we have my observation here:
---
Visit Nicotine Science & Policy for more News from around the World

---