Vaping Digest January 21st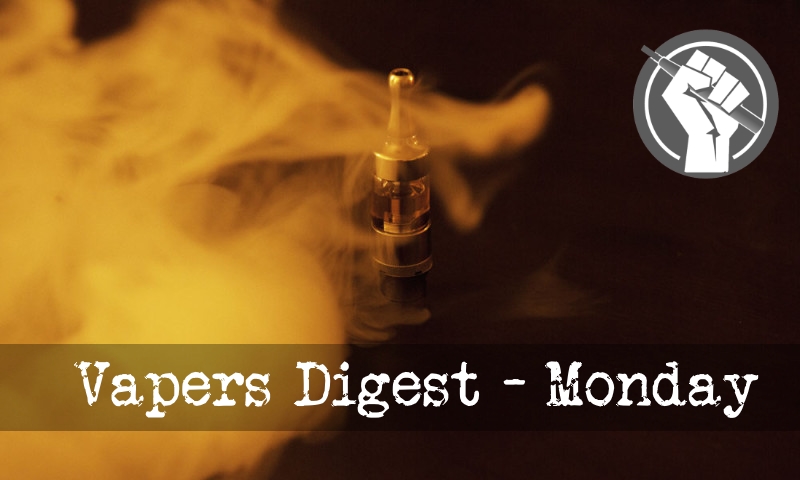 Monday's News at a glance:
More noise from the FDA emboldens state lawmakers – Harry's blog 80: Not flavour of the month – Burning Sub-Ohm – The FDA hearing that wasn't – Behind the scenes at one of New Zealand's top vaping factories – Vaping In The News – January 19th – Harm Minimization and Tobacco Control – E-cigarettes could be banned in US – Nicotine Science and Policy Daily Digest
Fergus Mason, Vaping Post
FDA chief Scott Gottlieb issued another series of threats to vape companies last week, saying he'd shut down the industry if it doesn't fall into line with his demands on flavours and online sales. The agency's recent hostile rhetoric on harm reduction seems to have inspired state legislators, with Vermont and North Dakota only two of the states that are trying to crack down on safer nicotine products. Meanwhile new research from Greece just hammers home the point that e-cigs are a massive public health achievement, with 40% of the country's ex-smokers owing their achievement to vaping.
Harry Shapiro
JUUL is planning a TV campaign over the summer aimed at trying to persuade smokers to 'make the switch'. Unfortunately, it might not be enough to rehabilitate the image of the company which should never have needed rehabilitating in the first place.

The company stand accused by all and sundry of deliberately targeting teenagers with a 'cool' product delivering addictive nicotine in a range of sweet flavours. JUUL was also hauled over the coals in a typically snide article in The New York Times for not having population level public health interests front and centre of its ambition.
---

---
Paul Barnes, Facts Do Matter
In paper bought to my attention via Frank Baeyens, it comes as no surprise that, once again, tobacco control 'research' hasn't got the faintest idea.

The paper, paywalled of course, grandly claims that users of Sub-Ohm Devices (SODs) are daily exposed to similar amounts of carbon monoxide as cigarette smokers. Yes, you read that right.

Depending on use patterns and device operation, users of SOD devices may be exposed daily to similar levels of CO as are cigarette smokers.

El Hellani, A et al (2019) – Chemical Research in Toxicology


Y'see, they've tried this before with the infamous 'Juice Monsters' paper which, with the help of Clive Bates, I had a comment posted on PubMed (since removed), but the crux of the comment can be found here.
---
The results fall under the "Well duuuhhh" category an while the results are positive for vaping, I'm really upset that had the nerve to ask vapers who were abstaining from smoking to go back to cigarettes for a week.https://t.co/H0in5XQaEs

— Anonymous Drew (@skrymir42) January 20, 2019
Global Forum on Nicotine #GFN19 – Submit an abstract for oral presentations – closing date Sunday 10th February 2019 https://t.co/Cd27rVAt0S

— GlobalForumNicotine (@GFNicotine) January 17, 2019
---
Public health advocates gathered at the Maryland campus of the U.S. Food and Drug Administration (FDA) on January 18th to discuss the implications of the so-called youth vaping epidemic. During a public hearing regarding potential regulatory action, representatives from some of the country's leading anti-tobacco organizations utilized an event that was intended for even-handed discussion as a platform to misinform the broader public on e-cigarettes further. Though I wholeheartedly respect and support the sentiments of curtailing youth vaping, the hearing was hijacked by activists who want to see vaping in the United States forever changed.
---

---
At one of New Zealand's top vaping factories
QJ Satchell puts on a laboratory coat and enters the "cool room," strolling towards a large machine in the corner that looks like something out of a space film.

It's a white, sterile environment that feels like a hospital. But QJ isn't a scientist or a doctor. He's the owner of a vape company, an occupation vastly different to what he was doing when he went into business with older brother Kayne six years ago.
---
---
Kevin Crowley, Vaping Links
E-cigarettes OK to Quit Smoking ~ Vaping is Much Safer Than Smoking ~ NYU: "Substantially Less Harmful Than Cigarettes". ~ Vaping and the Mic ~ A Harm Reduction Guide for Parents of Teens Who Vape ~ What do cigarette smokers think of vapers who are against tobacco? ~ Solution Announced for Vaping Cessation ~ Alternative Nicotine Delivery Options ~ Health, Science, & Technology Requests for Proposals ~ Clowns ~ Let's Change The Conversation

Reframing Societal Views of Nicotine Use to Rapidly Save Lives
David B. Abrams, Allison M. Glasser, Jennifer L. Pearson, Andrea C. Villanti, Lauren K. Collins, Raymond S. Niaura
The fiftieth-anniversary US Surgeon General's Report, in 2014, concluded, "The burden of death and disease from tobacco use in the U.S. is overwhelmingly caused by cigarette and other combusted tobacco products; rapid elimination of their use will dramatically reduce this burden" (117, p. 7). Globally, smoking-caused annual deaths will rise to 8 million by 2030 if current trends continue (137, 139). It is imperative to find additional ways to accelerate the decline in smoking because, if nothing changes, a billion lives will be lost prematurely by 2100 (136)
Of e-cigarettes in Vermont
A new bill introduced in the Vermont House of Representatives would ban internet sales of electronic cigarettes. The bill was introduced Tuesday and referred to the House Committee on Human Services. The Rutland Herald reports the bill would prevent sales on all types of e-cigarettes unless the seller is a licensed wholesale dealer.

The bill would also prohibit shipping these items to anyone in Vermont other than licensed wholesale dealers.
For people to use e-cigarettes?
A bill was introduced on Wednesday by Sen. Tom Shipley, a Republican from Adams County. The legislation, if passed and signed into law, would bump up the age from 18 to 21 for use and distribution of vapor products, otherwise known as e-cigarettes. The bill, Senate File 66, also has language that restricts the sale of vapor products in vending machines, giving away samples of vapor products to individuals below the age of 21 within a certain distance of a school or playground, and other restrictions.
Chris Riotta
E-cigarettes and vaping products face an "existential threat" in the US if their use among young people continues to rise, the commissioner of the Food and Drug Administration (FDA) has warned.

Scott Gottlieb spoke on Friday at a public hearing in Maryland focused on eliminating the use of "electronic cigarette and other tobacco product use" among American youth, at a time when the agency has threatened stores selling e-cigarettes to minors and seized thousands of documents from Juul Labs, the maker of a popular vaporising product, during a surprise inspection of the company's corporate headquarters.
For Alternative Nicotine Delivery Options
In a country where the life-threatening risks of smoking are well-known and 22 million smokers want to quit, a milestone agreement between a drug delivery platform innovator and one of the world's largest producers and marketers of tobacco and cigarettes may offer tobacco users an alternative method of satisfying their needs along with greatly reduced risk.
---
A look back at how things have moved on or otherwise….
As tax decision put off for a year – Fergus Mason
The EU Commission has delayed a decision on taxing vapour products until 2019, as they couldn't find enough data to justify the move. Meanwhile several groups around the world have spoken up against anti-vaping laws. A Tennessee politician is calling on the state to take a more enlightened approach to e-cigarettes, while a Filipino group is calling on an influential medical association to drop its opposition to harm reduction and CASAA have fired a damaging shot at the CDC.
Next Thursday, on the 25th of January, the New Nicotine Alliance (NNA), will be at the European Court of Justice in Luxembourg, fighting the current EU snus ban alongside public health experts and consumers of reduced risk nicotine products.

The case against the ban on snus was originally put forward by the Swedish Match. Then, around this time last year, the NNA had appealed to the High Court in London, asking "for permission to act as an independent intervenor in the Swedish Match application to challenge the ban on snus".
Mawsley, Planet of the Vapes
Small-town mentalities are running amok as school principals become hysterical in their approach to vaping. After a week of seemingly coordinated media stories, other school administrations are being coerced into making rash judgements and daft decisions regarding harm reduction.

Nobody want to see children vaping, certainly not in schools, but it is a sad fact of life that some will experiment with tobacco – as all of the generations before them have done.
---
Visit Nicotine Science & Policy for more News from around the World

---