Vapers Digest January 19th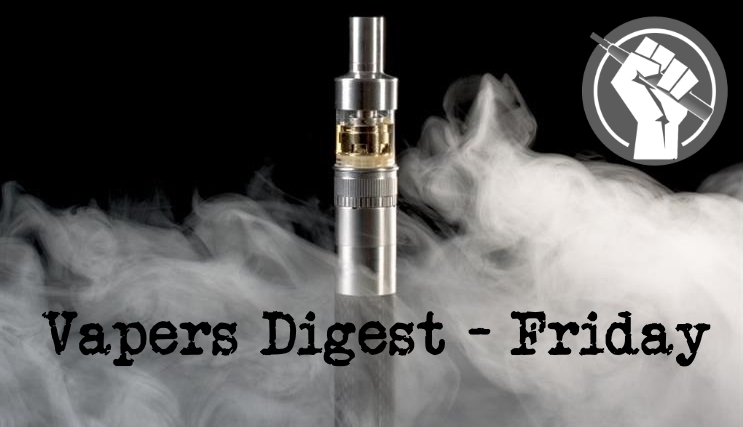 Friday's News at a glance:
Reprieve for EU vapers – NNA joins the case against the EU snus ban – Schools Criminalising Vaping Kids – 1.7 Million High Schoolers Vaped in 2016 – New FDA Statement On Vape Products – E-cigarette helps mum-of-two kick 25-year smoking habit – Snus tobacco on the rise as Norway smoking halved in a decade – Farsalinos Exposes Faults – Is Science or Policy Preference Leading the Way? – Chinese Adolescents and Vaping – Vapers Face An Onslaught Of New Taxes – Misleading Animal Research On Nicotine – Electronic cigarettes for smoking cessation – More data in favour of the relative safety of HnB products – Nicotine Science and Policy Daily Digest
As tax decision put off for a year – Fergus Mason
The EU Commission has delayed a decision on taxing vapour products until 2019, as they couldn't find enough data to justify the move. Meanwhile several groups around the world have spoken up against anti-vaping laws. A Tennessee politician is calling on the state to take a more enlightened approach to e-cigarettes, while a Filipino group is calling on an influential medical association to drop its opposition to harm reduction and CASAA have fired a damaging shot at the CDC.
Next Thursday, on the 25th of January, the New Nicotine Alliance (NNA), will be at the European Court of Justice in Luxembourg, fighting the current EU snus ban alongside public health experts and consumers of reduced risk nicotine products.

The case against the ban on snus was originally put forward by the Swedish Match. Then, around this time last year, the NNA had appealed to the High Court in London, asking "for permission to act as an independent intervenor in the Swedish Match application to challenge the ban on snus".
Mawsley, Planet of the Vapes
Small-town mentalities are running amok as school principals become hysterical in their approach to vaping. After a week of seemingly coordinated media stories, other school administrations are being coerced into making rash judgements and daft decisions regarding harm reduction.

Nobody want to see children vaping, certainly not in schools, but it is a sad fact of life that some will experiment with tobacco – as all of the generations before them have done.
---

---
As Both Vaping and Smoking Declined – Brad Rodu
The Centers for Disease Control and Prevention 2016 National Youth Tobacco Survey (NYTS) shows that 1.08 million (7.2%) American high school students used e-cigarettes in the past 30 days, 580,000 (3.9%) smoked, and 660,000 (4.4%) used both products.

Compared with 2015, smoking declined by about 14% and vaping by 28%. The apparent spike in e-cigarette use from 2013 to 2014 was partially due to what scientific researchers refer to as an artifact, as it stemmed from a change in the survey design. Questions about e-cigarette use were bundled with those for other rarely used tobacco products until 2014, when they appeared in a separate section.
Nice Rhetoric, No Substance – Carl V. Phillips
In a new document entitled, "Healthy Innovation, Safer Families: FDA's 2018 Strategic Policy Roadmap," the FDA lays out its goals for nicotine policy among other topics. On its face, it reads like good news for vaping. A deeper read, along with background knowledge about FDA policy and practice, suggests that this interpretation may be too optimistic.

The document states, "the Agency must also take a fresh look at products that can deliver satisfying levels of nicotine to adults who want access to it without burning tobacco."
---
---
Rosalyn Roden, Bury Times
A FORMER smoker has shared her e-cigarette success story after kicking the 25-year habit. From the age of 16, Karen Lee, from Bury, smoked 15 cigarettes a day. She said she was so ashamed, she would sneak downstairs in the early hours to stop her family from knowing she was desperate for a smoke.

The 44-year-old had tried nicotine patches, gum, and going 'cold turkey'. Ms Lee said: "I had reached the point where I thought I would never be able to stop smoking. "I had tried so many times and then started once again.
Reuters
The share of Norwegians who smoke on a daily basis has halved in the last decade and was last year exceeded for the first time by the use of snus, a wet snuff tobacco product, Statistics Norway said on Thursday.

Among the adult population, 11 percent were daily smokers in 2017, a fall of one percentage point from the previous year and down from 22 percent in 2007 as authorities continue to campaign against the use of tobacco.
In Formaldehyde Vape Studies – Lee Johnson
Out of all of the health panics that have engulfed vaping over the years, the formaldehyde scare was arguably the biggest and most damaging. After publication of the now-infamous New England Journal of Medicine research letter from scientists at Portland State University, headlines around the world declared vaping to be a bigger cancer risk than smoking. It confused people about the relative risks of vaping, and even drove some vapers back to cigarettes.
---

---
 Leading the Way? – Joel Nitzkin
Early afternoon, on Dec. 12, 2017, I sat in on the Duke/Margolis Center for Health Policy's webcast, "FDA's New Regulatory Framework for Tobacco and Nicotine: The Role of Medicinal Nicotine." This two-hour webcast featured Dr. Scott Gottlieb, the new Food and Drug Administration (FDA) Commissioner, as keynote speaker, with a distinguished panel of six individuals representing the FDA, Tobacco-Free Kids, GlaxoSmithKline Consumer Healthcare and the academic community.
Mawsley, Planet of the Vapes
China, as if anybody didn't know, is the world's most populous country with over 1.4 billion people. This means that there are almost 7 times the entire UK population who smoke, and 2.3 million Chinese will be dying every year by 2030. The 2015 smoking ban hasn't had the impact officials would have hoped – is vaping being given a chance?
And Restrictions From New York Lawmakers – Steve Birr
Lawmakers in New York are introducing an array of anti-vaping measures in 2018, including an e-cigarette tax, mandatory warnings about battery explosions and total bans on flavors.

Members of the New York State Legislature are heavily focused on stamping out the vaping industry this year, offering proposals that actively ignore peer-reviewed science on the devices, instead relying on debunked narratives about the alleged dangers of the products.

The independent Committee on Toxicity of Chemicals in Food, Consumer Products and the Environment (COT) reviewed the two "heat-not-burn" tobacco products that are sold in the UK, and found them to be less risky than regular cigarettes.

The COT reviewed PMI's IQOS and British American Tobacco's iFuse. The evidence gathered by the committee indicated that the products still pose a risk, but despite not being able to quantify the exact level, the COT said that this risk is less than that from smoking.
Carl V. Phillips, Daily Vaper
As previously reported, the FDA recently conducted nicotine consumption and withdrawal research on captive baby monkeys. This was apparently part of their effort to rationalize their planned nicotine policies. This was discovered and challenged by White Coat Waste Project, a taxpayer watchdog group devoted to ending wasteful U.S. government funding of animal research. WCW succeeded in pressuring the FDA to shut down the research, though not until it was nearly, or perhaps entirely, completed.
Jamie Hartmann-Boyce, BMJ
A 42 year old electrician has tried to stop smoking several times, including with the aid of pharmacotherapy and behavioural support. He asks you about using electronic cigarettes (e-cigarettes). His work partner stopped smoking a year ago and is still using e-cigarettes now. He has heard that e-cigarettes are as damaging as the real things and worries that if he ends up addicted to e-cigarettes he'll not have gained anything.
Mawsley, Planet of the Vapes
Japanese scientists believe they have proved that vaping doesn't work as a smoking cessation product. It's the kind of sloppy, bias work that people like the legislators in Singapore rely on to justify their blinkered actions. Vapers have been lumped in with drug users and banned from vaping at a major US music festival. Vape juice has even been seized by security officers at the South East Suffolk Magistrates' Court – feeling targeted yet? It's not easy being a vaper.
---
A look back at how things have moved on or otherwise….
But it's time to say goodbye – Fergus Mason
A couple of years ago you'd rarely see me without one of my FastTech Nemesis clones in my hand. Mech mods were basically all I used; none of the regulated devices on the market at the time could deliver the power I liked or handle the coils I was building. My first mech was a K-100, one of those odd little telescopic things that cost hardly anything but nevertheless worked surprisingly well. Then I bought my first Nemesis clone, and soon I had three of them. I thought they were great, and I would have been lost without them….
Jessica Harding, New Nicotine Alliance
NNA associates attended a debate at London South Bank University on Tuesday evening entitled "A way forward – How e-cigarettes could and should affect public health" which, sadly, only resulted in conveying an entirely misleading message to the approximately 50 people in the auditorium along with many more who logged on to watch a live stream of the event on Facebook.
Kellie Ann is a Canadian Registered Nurse, former smoker, and current vaper. Kellie is also the founder of VAEP, Vaping Advocacy, and Education Project.

Kellie has accomplished so much while still working as an ER nurse. She has had letters read on the floor of Queen's Park during the Bill 45 debate, her paper Vaping the Truth has been adapted to reflect American's statistics and she has spoken in support of vaping. Again, all this and working!
---
Visit Nicotine Science & Policy for more News from around the World

---