Vapers Digest January 22nd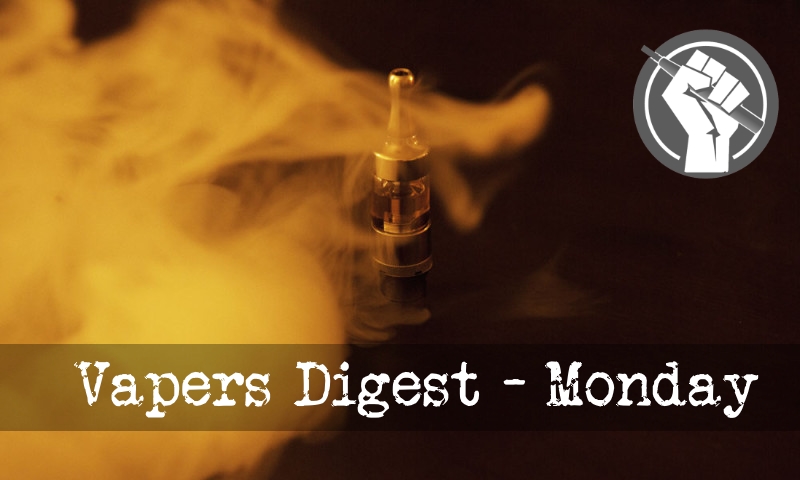 Monday's News at a glance:
Stephen Fry challenges ban on smoking substitute – Does Big irredeemably mean Bad? – A junk history of tobacco harm reduction – There Should Be More Smoking On TV, Not Less – FDA's tobacco stance faces test with Philip Morris iQOS device – Fears about adolescent vaping overstated – Vaping In The News – January 20th – Nicotine Science and Policy Daily Digest
New Nicotine Alliance
Stephen Fry challenged the ban on the smoking substitute snus just days ahead of a key legal hearing on the oral tobacco product.

On Thursday 25 January the European Court of Justice will be hearing evidence on the EU prohibition on snus which is very popular in Sweden.(1) It has driven the astonishing reduction in the country's smoking rate from 50% to just 5%. By contrast the EU average is 24%.
Harry Shapiro
If you attach the word Big to any multi-national industry, it immediately takes on a threatening and evil connotation: Big Pharma, Big Food, Big Alcohol, Big Energy and of course, Big Tobacco. And often this is for very good reasons: their prime directive is to make profits for shareholders, often at the expense of customers' health and wellbeing (eg fast food, cheap alcohol and cigarettes) and have used their extreme wealth at best to try and thwart legislative controls on their business and at worst, engaged in rampant bribery and corruption.
---

---
 Christopher Snowdon, Velvet Glove Iron Fist
An article in Tobacco Control by a pair of professional anti-smokers from San Francisco asks why the US and UK have such different approaches to e-cigarettes and other reduced-risk nicotine products.

Major British health organisations support tobacco harm reduction for smokers struggling to quit. The USA, in contrast, classifies e-cigarettes as tobacco products and leaders are less supportive of tobacco harm reduction.
Dick Puddlecote
I also have some other things in mind to write about, it's just finding the time to write them. However, I noticed something in the Irish Sunday Times today that might amuse/infuriate you. It seems some purse-lipped misery guts is getting arsey about smoking on TV.

An anti-tobacco lobby group has criticised RTE's drama series Striking Out for its portrayal of smoking.
Ash Ireland has written to RTE director general Dee Forbes to complain about the "normalising" of cigarettes through showing smoking on screen. It has also contacted the Broadcasting Authority of Ireland, the industry regulator.

I struggle to see how TV can "normalise smoking", for the simple reason that smoking is normal. TV reflects real life and so it – naturally – will sometimes feature characters who smoke. In fact, I'd say that daft prudish morality has meant that TV shows recently under-represent smoking.
---
I'm converting ward staff to the idea of #vaping for poorly smokers, while they're doing my meds & observations. Just talked to Deputy Sister who thought it was as bad as smoking. Hopefully better informed now

— Louise (@grannylouisa) January 22, 2018
---
With Philip Morris iQOS device – Toni Clarke
In a decision expected to test the Trump administration's approach to tobacco regulation, U.S. health advisers will vote this week on whether to allow Philip Morris International Inc (PM.N) to sell its novel iQOS tobacco device and claim it is less harmful than cigarettes.
---

---
Colin Mendelsohn
NOTHING has inflamed the e-cigarette debate like fears that vaping will entice young people to take up smoking. This concern has led to calls for a very precautionary and restrictive approach to their use in Australia.

However, public policy on vaping should be based on a calm assessment of the best available evidence. It should also take into account the overall public health impact of any regulatory decisions and the ethical issues involved. This article reviews the latest evidence on some of the key issues in this debate.

Kevin Crowley, Vaping Links
Nicotine degrading enzyme could help smokers quit ~ After 40 years of anti smoking messages ~ UKVIA calls for TPD repeal, while USA publishes fire statistics ~ *Saturday Night Live* Chantix Commercial ~ Reality of Nicotine Reform ~ Is Science or Policy Preference Leading the Way? ~ 1.7 Million High Schoolers Vaped in 2016, As Both Vaping and Smoking Declined ~ New FDA Statement On Vape Products: Nice Rhetoric, No Substance ~ Consumer Groups Challenge FDA's Misleading Animal Research On Nicotine ~ FDA considering plan to promote reduced-risk products over cigarettes: report ~ David Goerlitz

Neil H – E Cig Click
Anyone who says the 10ml bottle of e-liquid rule is something we should just 'get over' should be removed from your circle – you don't need that sort of negativity in your life

If that sounds harsh then consider this – plastic waste is choking the planet – and here in the UK things are about to get a whole lot worse.
---
A look back at how things have moved on or otherwise….
Vapers in Power
Respond to this consultation, it's important. The wrong decision will shut shops and deter new ecig users.

The European Union wants to tax ecigs. As they have to – to pretend they are democratic somehow – they have a consultation on their suggestion, closing date 16th Feb. Replying to this consultation is about the best thing you can do for ecigs right now – and I've tried to make it simple!

If you don't want simple, here is the link to find the consultation, here is Clive Bates on it, and here is the NNA's take.

For the rest of us morons, here is the easy way to tell them how they can stuff it:
To challenge the ban on snus – New Nicotine Alliance
NNA is seeking to overturn the UK and EU ban on snus. Snus is a popular and effective harm reduction product which has helped thousands in Sweden and Norway to avoid the risks of smoking. As a result Sweden and Norway have the lowest rates of lung cancer in Europe. But the sale of snus is banned in the EU, except in Sweden.
While New York pushes for tax – Fergus Mason
Media reporting about vaping has been dominated by battery safety for the past week, with most attention focused on an explosion in Idaho that seriously injured a 30-year-old man. However regulators weren't standing still, with New York joining the list of states which plan to impose punitive taxes on vapers. However there was some good news with a slight easing of the FDA's rules, while a new Australian paper broke ranks with the country's generally negative attitudes to harm reduction…
---
Visit Nicotine Science & Policy for more News from around the World

---