Vaping Digest January 18th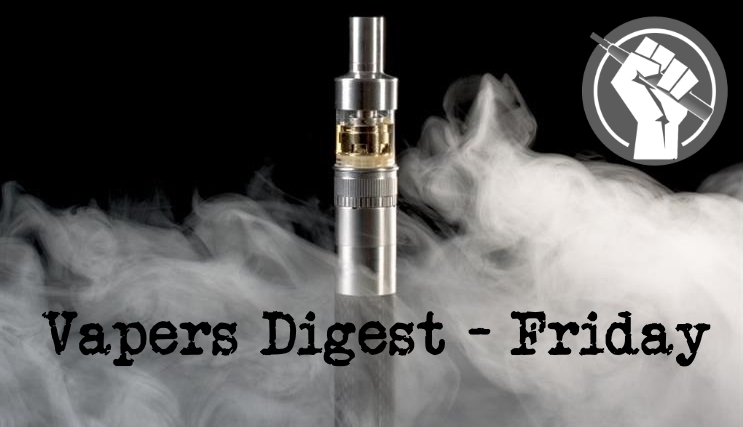 Friday's News at a glance:
Nicotine and Vaping: Let's Change The Conversation – It's Time for Tobacco 21 – Greeks Turn to E-Cigarettes to Quit Tobacco – Government mulls ban on e-cigarette sales – Japan Tobacco ratchets up smokeless war – Protecting The Youth – Chapman Knocks Quit Claims – Ooo, Poo! – News Round-up – Queensland Health caught out in vaping bungle … again – States should reform how they spend tobacco funds – Regulation, not prohibition is the answer – Is The Ban On ENDS Healthy? – Nicotine Science and Policy Daily Digest
Let's Change The Conversation – Kevin Crowley
Let's change the conversation about the myths surrounding nicotine and vaping.

The government resists ignores the opportunity to correct myths surrounding nicotine, vaping, and snus. Most things shared in mainstream media is full of multi-layered bias. There are difficulties explaining admitting vaping products and nicotine (and snus) are a safer, less harmful alternative to smoking, and the government continues to mislead the public.
Brad Rodu, Tobacco Truth
A December 19 "teen vaping epidemic" presentation by U.S. Surgeon General Jerome Adams at the University of Texas MD Anderson Cancer Center was particularly noteworthy for one passage (here):

"We want the science to be an important part of that policy discussion. I think the science is clear that raising the age of which youth can purchase these tobacco products to 21 has clear public health benefits. There's no doubt about that. The science part of this policy equation is clear: Tobacco 21 works."
---

---
Kerry Kolasa-Sikiaridi
A new study commissioned by the Onassis Cardiac Surgery Center in Athens, the National School of Public Health and the universities of Patra and Macedonia has revealed that  cigarette smoking in Greece has been drastically reduced.

Credit for this sea change in behavior is thought to be due to the use of electronic cigarettes. A high proportion of Greek citizens has quit smoking altogether due to the use of these new types of cigarettes as they weaned themselves away from smoking traditional cigarettes.
---
---
Hong Kong Business
It is aiming to reduce smoking prevalence from the current 10% to 7.8% by 2025. The Hong Kong government is moving to propose legislative amendments to ban the import and sale of electronic cigarettes, according to a statement.

The administration is hoping to reduce smoking prevalence amongst people aged 15 and above to 7.8% by 2025 from the current 10%. The emergence of new smoking products like e-cigarettes and heat-not-burn tobacco products poses new health risks and challenges, said secretary for food and health Sophia Chan.
Taiga Uranaka
Japan Tobacco Inc (2914.T) on Thursday unveiled two "heat-not-burn" products, as it races against market leader Philip Morris International Inc (PM.N) for a larger share of the vaping space with conventional cigarettes steadily falling out of favor.

Despite commanding 60 percent of the local cigarette market, Japan Tobacco has been caught on the wrong side of the rising popularity of heat-not-burn (HNB) alternatives and has lagged in the category in its own backyard versus the Marlboro maker.
---

---
A Quartet from Dave Cross – Planet of the Vapes
Surgeon General Jerome Adams and the Food and Drug Administration's Scott Gottlieb are pushing on with attacking vaping and tobacco harm reduction under the guise of protecting America's youth. Polite commentators are saying the pair are being disingenuous, others are claiming this is a politically driven campaign of lies.
Jerome Adams told CNN: "Studies show youth like my son [who is 14] have no clue what's in these products." The studies he fails to cite also claim that teens think vaping is "cool" and "safe", and a third of teen vapers are abusing illegal substances with their devices.
Simon Chapman is attacking vaping and vapers again. Nobody is sure why he does this, given his support for harm reduction in all other aspects of life. He derides vapers and their success stories and selectively quotes from work by Robert West.
"Any radio discussion of ecigarettes inevitably attracts evangelical callers wanting to tell their story of the miracle they have experienced," writes Chapman. The dismissive analogy is in keeping with his superior atheist attitude, writing off callers as fantasists believing in something that doesn't carry any evidence.
The Medical Journal of Australia (MJA) carries a paper this week where researchers claim they discovered unwanted contaminants in samples of eliquid. With vaping subjected to stringent bans and restrictions across the country, the Australian Tobacco Harm Reduction Association (ATHRA) feels it emphasises the need for "e-liquid to be legalised and regulated".
Competitive Enterprise Institute (CEI) warn about the 'Fear Profiteers'. Israel bans harm reduction product advertising. Researchers find that smokers opt to vape in order to reduce their exposure to tobacco-related harm. Ethiopia proposes a law that would ban the sale of vape products entirely.

The CEI is a non-profit public policy organisation. It campaigns on libertarian issues. In "How E-cigarette Panic Benefits Health Activists", Michelle Minton writes that despite vaping becoming widely accepted as being "vastly safer than smoking … public perception of e-cigarette safety has declined while demands for stricter regulation – even bans on certain e-cigarettes – have only intensified."

Colin Mendelsohn – ATHRA
Queensland Health has been misleading smokers about the laws on vaping and has been caught out twice in the past year. Although there are ways to legally vape with nicotine in Australia, Queensland Health has been telling smokers that they do not apply in Queensland. This behaviour is bungling at best, or dishonest at worst.

Whatever their beliefs, governments have a responsibility to ensure accurate information is provided to consumers. Queensland Health's opposition to vaping is no justification for deceiving the public to further its agenda.
Lindsey Stroud
This week, thousands of lawmakers in more than 30 states trekked to their respective capitals. Surely, these public servants are eager to work hard for their constituents by passing new laws and much-needed reforms.

Unfortunately, many of these lawmakers are also interested in restricting adults' choices and access to tobacco products, including electronic cigarettes and vaping devices.
So Government Is Trying To Kill It – Derek Hunter
I used to be a smoker. It was stupid, I know, but I did it for a very long time. I'm not alone, not unique, plenty of people made that same choice I did to take up the nasty habit when we were young and convinced we were invincible. Like tens of millions of Americans, I managed to quit and haven't looked back. I would still be smoking today if not for the miracle (and it is indeed a miracle) of the e-cigarette. I vaped like a madman…and it was my bridge to a much healthier and happier lifestyle.

To paraphrase one of the greatest modern cinematic scenes: Vaping is good. Vaping works.
Krishna Sarma
During the recent winter session of Parliament, the ministry of health and family welfare stated that it had issued an "advisory" to all states and Union Territories to stop sales of electronic nicotine delivery systems (ENDS), or electronic cigarettes (e-cigarettes). Without missing a beat, the government also said it has no plans to treat the conventional paper rolled cigarettes in a similar fashion. This defies logic.
Anupam Sanghi, Abhinava Jayaswal
Is it fair for the Government, as a stakeholder in India's largest cigarette company, to advise banning a product without even considering the views prevailing in other jurisdictions and the reasons why they have regulated and allowed sale of ENDS?…

The recent Advisory (dated 28.08.2018) issued by the Ministry of Health and Family Welfare to ban Electronic Nicotine Delivery System (ENDS), including e-cigarettes, in a market which is flooded with conventional tobacco cigarettes and other tobacco and nicotine-based products raises many questions on public health.
---
A look back at how things have moved on or otherwise….
Fontem Ventures, Eureka Alert
A new peer-reviewed clinical trial to be published in the February edition of Regulatory Toxicology and Pharmacology shows that regular use of e-cigarettes does not have any negative health impact on smokers. The study, "Evaluation of the Safety Profile of an Electronic Vapour Product Used for Two Years by Smokers in a Real-life Setting", examined 209 volunteer smokers who used a typical closed-system e-cigarette for 24 months while researchers monitored for adverse events, as well as lung function, electrocardiogram results, and exposure to nicotine and tobacco constituents.
In Tennessee, 1.1 million citizens — or 21.9 percent of the population — smoke; this is much higher than the national rate of 15.1 percent. This year alone, more than 11,000 Tennesseans will die from a smoking-related disease. In comparison to other important issues, the Tennessee Department of Health reports that 1,631 deaths in 2016 were attributable to opioid overdoses. Despite these staggering statistics, the only assistance provided to addicted smokers in the state is to offer them counseling and nicotine replacement therapy — including patches and gums. Studies related to these products have shown they fail to help smokers more than 90 percent of the time.
Language matters. In my last blog, I highlighted the campaign by Cancer Research UK to counteract the idea that e-cigarettes are just as dangerous as smoking.  And part of the problem resides in conflation of 'smoking' and 'tobacco' when communicating about smoking-related death and disease and more generally the denial of accurate public health information to smokers.

Lynn Kozlowski and various colleagues have written on the ethics and legality of withholding or distorting health information
---
Visit Nicotine Science & Policy for more News from around the World

---