Vapers Digest 23rd Jan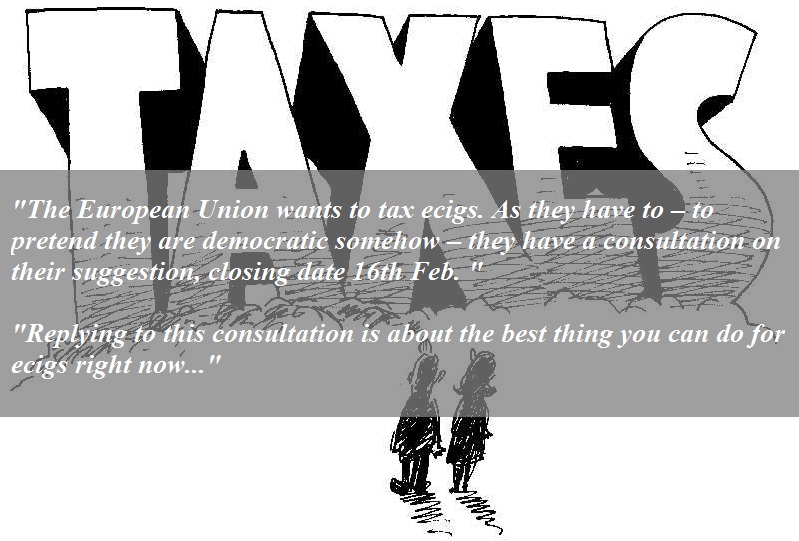 Monday's News at a glance:
Snus and the EU – Banning is easier than explaining – Bullshit Asymmetry Principle – It's not taxing – Clearing the air around e-cigarettes – IBVTA Launches New Business Support Package – INNCO react to overzealous measures against Ecigs – Dealing with tobacco control liars: – Battery Safety – Making Peace With Power – Vaping Industry Renewed Hope – The FDA's War on Vaping Will Cost Millions of Lives – Let them vape – Youth vaping not a gateway to cigarettes – Nicotine Science and Policy Daily Digest – Monday, 23 January 2017
Paul Barnes, Facts Do Matter
The European Union doesn't have much love for tobacco at all, in fact it does everything it can to make life as miserable as possible for those they think are daft enough to smoke. Not content with pushing prices on all forms of tobacco in a vain effort to get people to quit, the EU has undertaken a massive regulatory campaign to make it impossible or next to impossible for reduced risk products to be made available.
---
Vapers in Power
Respond to this consultation, it's important. The wrong decision will shut shops and deter new ecig users.

The European Union wants to tax ecigs. As they have to – to pretend they are democratic somehow – they have a consultation on their suggestion, closing date 16th Feb. Replying to this consultation is about the best thing you can do for ecigs right now – and I've tried to make it simple!

If you don't want simple, here is the link to find the consultation, here is Clive Bates on it, and here is the NNA's take.

For the rest of us morons, here is the easy way to tell them how they can stuff it:
---
Paul Barnes, Facts Do Matter
It must be something about this time of year for all the idiotic anti-vaping, anti-nicotine or anti-anything, to crawl out from under whatever rock they've been hiding under and spout a tranche of utter bullshit before scuttling back to their safe space, complete with a shiny new grant to cook up more bullshit.
Looking for a #vaper in Manchester who would be up for talking with me at an event on Thursday 30 March, daytime. Thanks!

— Louise (@grannylouisa) January 23, 2017
Mawsley, Planet of the Vapes
Rather than deal with the tricky things like pee-reviewed research, evidence and facts, the Food and Drug Administration (FDA) would like everybody to remain quiet and toe the line. Some in New Zealand like that approach, they would much rather have outright bans than discussion and freedom of choice.
---

---
UKCTAS
Fears that "vaping" is a gateway to tobacco smoking are unfounded, shows a comprehensive review of available evidence on the harms and benefits of electronic or e-cigarettes and vapour devices, released today by University of Victoria's Centre for Addictions Research of BC (CARBC) in a report called "Clearing the Air."
The team comes together to look at a new mod and discuss the issues of the day
IBVTA
IBVTA members now have access to a new suite of membership HR, legal, and employment advice benefits to help them in the day-to-day running of their businesses.

IBVTA members now have unlimited access to the following…
---
---
Jérôme Harlay, Vaping Post
The price of tobacco products recently rose by 6.4% due to a hike in excise duty introduced earlier in 2016 but money is not the only lever used by the Estonian government to reduce "the spread of addiction and health damage" that result from use of tobacco and tobacco products, including the e-cigarette. This is indeed the position adopted by Estonian officials on e-cigarettes that is not without recalling the draconian position of a neighbour country, Finland.
Under Trump, everyone will see what it's like
Carl V. Phillips, Anti-THR Lies
I found myself struck by the parallels between my typical Twitter feed about the behavior of "public health" people and the flurry of tweets about Trump's relationship with the truth that the inauguration has created. We are not talking strained similarities here, but rather the exact same playbook. In the former category, we have my observation here:
---

---
CASAA
CASAA has produced a comprehensive guide to battery safety for those who use vapor products. The guide discusses how batteries are made, how they work, and what damages them. From this understanding, users can formulate some pretty clear rules to keep them and their batteries living together peacefully.
Steve Birr, Daily Caller
Leaders in the vaping industry are hopeful President Donald Trump will help slash regulations threatening to put electronic cigarette vendors across the country out of business.

E-cigarette manufacturers and vendors faced a brutal year of new rules and regulations from the federal government and localities throughout many states.
Will Cost Millions of Lives – Michelle Minton
Electronic cigarettes or vapes, which involve no combustion, are likely not risk-free in the long-term, but they are clearly less harmful than traditional cigarettes. According to a Britain's Department of Health, the available e-cigarette brands are at least 95 percent less harmful than regular cigarettes.
Nick Wallis, Tasmania
E-cigarettes are devices which vaporise a liquid for inhalation, first successfully developed for commercial sale by a Chinese scientist in 2003. Hon Lik was a 52 year old pharmacist and heavy smoker and like most smokers, he was quite aware of the harms of smoking tobacco…
Karin Larsen, CBC News
Researchers from the University of Victoria say there is no evidence vaping acts as a gateway to cigarette smoking in young people.

"We were pleasantly surprised," said study co-author Dr. Marjorie MacDonald. "This is a very common thing that you hear among our tobacco control colleagues."
---
A look back at how things have moved on or otherwise…
New Nicotine Alliance:
Everyone who attended the last Glasgow School of Vape agreed that it was a terrific event. There was something for everyone, from new vapers to experienced enthusiasts. Many of us have been badgering the organiser of the events to give us a repeat performance. Well that is about to happen and here are the details……
Zero tobacco cigarettes smoked – Beki Vapes
It is two years since I last smoked a tobacco cigarette. The main reason why vaping has worked to bring me this far is that I enjoy it. I have come down in nicotine levels to 6mg from 36mg in easy stages and I have no interest in reducing that level further at the moment, but then nicotine has never been the issue with smoking…
Grandad – Head Rambles
I had to laugh, but in a sad sort of way and not an hilarious sort of way. I explained that all those "studies" about Popcorn Lung and the cries of deadly danger were from the Anti-Smoker Lobby who for some inexplicable reason were dead against Electrofags. I told him that the "studies" were full of crap, exaggerated and in most cases downright lies….
---
Visit Nicotine Science & Policy for more News from around the World

---