Vapers Digest 12th March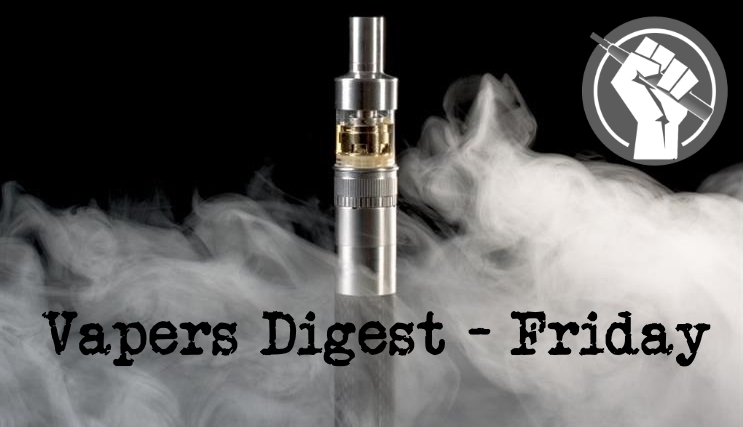 Friday's News at a glance:
The truth about vaping – Daily e-cigarette use shows 'clear benefit' – NNA Suggests Post-Brexit Nicotine Policy Reforms – Cash for honours at the W.H.O – Annalizeing* – Leicester woman kicks 60 year smoking habit – WHO's Patronising Women – More Proof of Ecig Efficacy – A Film for No Smoking Day – Vaping Industry condemns US 'Vape Mail' ban – IECIE Shanghai – Don't Ban E-Cigarette Delivery by Mail – Critical appraisal of the SCHEER Preliminary Opinion – What Made This Rhode Island Legislator Change Her Mind? – Smoking won't keep falling if vaping regulations too tough – States defy science and cost lives – A high tax on e-cigarettes will bring evasion and illegality – That umbrella, we employed it – Suansing calls 'deplorable' FDA's premature issuance of vape – Customs Seizes 77,000 Illegal Rick and Morty Vapes – Nicotine Science and Policy Daily Digest
Yorkshire Cancer Research
Vaping products are often portrayed in a negative way, and this has led to confusion and a common misperception that vaping is as harmful as smoking tobacco.

We answer your questions about vaping, its safety compared to smoking, and how it works as a stop smoking aid.
In helping smokers to quit – Leonie Brose
A new study published Tuesday 10 March, No Smoking Day, from King's College London highlights the 'clear benefit' of using e-cigarettes daily in order to quit smoking, and supports their effectiveness when compared to other methods of quitting, including nicotine replacement therapy or medication.

Although the number of people in England who smoke has continued to fall in recent years, tobacco smoking is still the leading preventable cause of premature death and disease – killing nearly 75,000 people in England in 2019.

While e-cigarettes have been around for more than a decade, evidence on their effectiveness for helping people to quit smoking is still limited.
---

---
Diane Caruana, Vaping Post
Registered UK charity New Nicotine Alliance (NNA) has written to the Parliamentary Under-Secretary of State for Prevention, Public Health and Primary Care at the Department of Health and Social Care, Jo Churchill, and the Director of the Number 10 Policy Unit, Munira Mirza, suggesting post-Brexit tobacco and nicotine policy reforms.

In a release on its website, the NNA explained that on behalf of UK consumers of vaping and other low-risk nicotine products, the charity is proposing the creation of "a coherent risk-based framework for all safer nicotine products" in order to promote advances in public health, personal and economic well-being across the country.
Christopher Snowdon, Velvet Glove Iron Fist
The World Health Organisation has given the UK an award. Public health minister Jo Churchill picked it up on a Zoom call on Wednesday and the Secretariat of the WHO Framework Convention on Tobacco Control made a little speech.

We are very pleased that the United Kingdom has been awarded a 2020 United Nations Inter-Agency Task Force Award recognizing the UK's role in the global prevention and control of noncommunicable diseases.

How exciting.
---
It's said that never-smokers should never start #vaping, but this highlights how differently we treat nicotine vs alcohol. You never hear 'never-drinkers should never start drinking alcohol', but alcohol is responsible for fatalities/road traffic accidents/domestic violence +++

— Louise (@grannylouisa) March 12, 2021
Daily e-cigarette use increases the odds of smoking abstinence by 3.3-fold (disposable/cartridge) to 5.5-fold (refillables) in the UK. Any surprises?https://t.co/KH2ASpXgPs

— K. Farsalinos (@FarsalinosK) March 11, 2021
---
thatgotmethinkingblog
A few weeks ago Public Health England released their annual report on vaping in England. https://www.gov.uk/government/publications/vaping-in-england-evidence-update-february-2021/vaping-in-england-2021-evidence-update-summary

They release this report every year, (the clue is in the name), and since the first one, very little has changed. No evidence of a gateway, still about 95% safer, can still help people stop smoking, ect. The only thing of note is the shift from 'yet no evidence of harm' to 'still no evidence of harm'.

Meanwhile in Ireland, our Health Service Executive released their annual report on vaping in Ireland, so I thought I would compare and contrast.
Francesca Wright
"I quit immediately, using patches and a vape. That was seven months ago, and I haven't smoked a single cigarette since."

The support Pauline needed to quit permanently was provided by the city council's free Live Well service.

The service has a team of stop-smoking advisors available to provide telephone support and treatment to help people quit.

Pauline said: "I can't stress enough how valuable to me it's been to get phone calls from Live Well.

Four from Dave Cross, Planet of the Vapes
Coming to light on 8 March, International Women's Day, The World Health Organization (WHO) has released a document titled "Through A Gender Lens; Women and Tobacco in The Who European Region". Veering between patronising and nonsensical, it adds nothing to the debate over tobacco harm reduction other than reaffirming the blinkered approach coming from

The WHO says the report(1) provides, "a summary of some of the challenges, old and new, that women and girls face in the context of the tobacco epidemic in the WHO European Region".
New research looking at smoking cessation treatment by tobacco counsellors in Flanders has found that vaping produces "similar if not higher smoking cessation rates compared to those choosing other evidence-based smoking cessation aids." The volume of supportive studies and the experience of British ex-smokers demonstrates how nonsensical the European Union is being to push to restrict access to products and flavours.

The work by Karolien Adriaens, Eline Belmans, Dinska Van Gucht and Frank Baeyens is published this month in Harm Reduction Journal
Yorkshire Cancer Research (YCR) asks: "Are misconceptions about vaping harming our greatest opportunity to help reduce Yorkshire's leading cause of early death?" Released today to mark National No Smoking Day, YCR has produced a thirty-two-minute film demystifying vaping and is working with the national media to combat myths about electronic cigarettes.

"The message is very clear. Vaping is better than smoking cigarettes" – Dr Amir Khan

YCR(1) has teamed up with TV celebrity doctor Amir Khan, a working GP in Bradford, who until recently shared a sofa with Piers Morgan on Good Morning Britain (until the host parted ways with ITV under a cloud yesterday).
The UK Vaping Industry Association (UKVIA) is deeply concerned by news that UK businesses are being impacted by the United States' so-called 'Vape Mail' ban, part of a congressional spending bill passed under former President Trump. By 5th April leading carriers such as UPS, FedEX, DHL and the US Postal Service itself will be off-limits for vaping shipments.

FedEx cites "cigarettes, cigars, loose tobacco, smokeless tobacco, hooka or shisha, vaporizers (and) E-cigarettes" as 'tobacco products' which will no longer be accepted. UPS will prohibit "any and all non-combustible liquid or gel, regardless of the presence of nicotine, capable of being used with or for the consumption of nicotine" as well as "all related vape devices, products and accessories are included in this prohibition."
---

---
The First Large Professional Vape Expo of 2021 in China
The IECIE Shanghai Vape Culture Week (IECIE.Shanghai) hosted by Shenzhen Informa Markets Creativity Exhibition Co., Ltd., will be held at Hall N4 of Shanghai New International Expo Center from 18-20th, May 2021. The 2021 IECIE Shanghai occupies an exhibition area of 12,000 square meters and is expected to attract 20,000+ visitors and 300 worldwide famous e-cigarette exhibitors. With less than 100 days to go before the official launch, let's have a look at the highlights of this Shanghai expo!
Michelle Minton
Amid the economic devastation caused by COVID-19, one industry has actually thrived: the cigarette business. Some people are smoking to relieve the emotional and economic stress of lockdowns. But many others returned to smoking when the lower-risk options they relied on, such as nicotine vapor products, became too expensive or hard to find when compared with the combustible tobacco available at every gas station and corner store. Now, Congress wants to eliminate the ability for adults to receive e-cigarettes by mail, a measure that will reduce access to these life-saving options even after the lockdowns end.
Renée O'Leary, Riccardo Polosa, Giovanni Li Volti
In preparation for the 2021 revision of the European Union Tobacco Products Directive, the Scientific Committee on Health, Environmental and Emerging Risks (SCHEER) has posted its Preliminary Opinion on Electronic Cigarettes. They concluded that e-cigarettes only achieve a sub-optimal level of protection of human health. In this paper, we provide evidence that the Opinion's conclusions are not adequately backed up by scientific evidence and did not discuss the potential health benefits of using alternative combustion-free nicotine-containing products as substitute for tobacco cigarettes.
Jim McDonald, Vaping 360
Customs officials on Tuesday seized 77,400 vaping devices branded with names and images from the popular Rick and Morty cartoon. The products were found during inspections at Chicago's O'Hare Airport, and were destined for a Georgia distributor.

While examining two shipments of 258 boxes from Shenzhen, China, U.S. Customs and Border Protection (CBP) officers "found popular cartoon characters on the vape pen packaging and suspected the vape pens violated copyright and trademark laws," according to a CBP press release. The agency then contacted Warner Bros. Entertainment to verify that the company's copyright was being infringed by the Chinese products.

Change Her Mind About Vaping? – Alex Norcia
In September 2019, when cases of "EVALI" lung injuries peaked in the United States and news outlets began aggressively covering the subject, Rhode Island Representative Julie Casimiro did what many politicians had done: She called for the prohibition of flavored vaping products.

The Centers for Disease Control and Prevention had not yet determined, as they belatedly did later that fall, that the mysterious lung illnesses were coming from vitamin E acetate found in tainted illicit THC cartridges.
If vaping regulations too tough – AVCA
Plummeting tobacco tax revenue for the Government is great to see as Kiwis continue to quit smoking. However, if the Ministry of Health makes the vaping regulations too tough, fewer smokers in the future will move to much safer and less expensive vaping products, says a leading tobacco harm reduction advocate.

Nancy Loucas, co-director of Aotearoa Vapers Community Advocacy (AVCA), says Crown accounts for the seven months to 31 January have revealed tobacco excise revenue has fallen by almost half.

Released by Treasury, the accounts show a 47.8% decline in tobacco duty driven by reduced demand for tobacco products.
With Vape flavor bans – Karl Abramson
Politicians in 13 states are considering bans on flavored vaping products. But flavors are the very thing that allows smokers to quit. If these politicians had bothered to visit their local vape shop and talk to the people there, they would know this.

The lawmakers are ignoring the overwhelming evidence that vaping is the best possible tool to help smokers quit smoking. A landmark study was just released proving what tobacco harm reduction experts have known for quite some time. Conducted by ten of the world's leading experts on public health, the study determined that flavors lead to a 43% increase in the likelihood of smoking cessation. Prohibiting access to lifesaving products could lead to millions of easily preventable deaths.
Will bring evasion and illegality – Donato Raponi
The finance minister's recent budget was SA's most important in years. Tito Mboweni faces a tricky balancing act. Spending and economic pressures from the pandemic have caused government debt to soar to 80% of GDP in 2020/2021, up from 66% the year before.

The economy cannot grow fast enough for the inflated fiscal deficit to dissipate of its own accord. Spending cuts and more revenues are needed to pay back the country's escalating debt. But premature fiscal consolidation risks harming economic growth and delaying the recovery.
By August we were an indoor area subject to a vaping ban
It's a good thing I don't vape. If I did, I'd be depressed about the Ministry of Health's proposed vaping regulations. Instead, I get to see the dark humour in the rules rather than suffer under them.

For a brief shining period, vapers had freedom. The courts said vaping had never been illegal in the first place, and the abruptly-legalised sector organised itself rather well. Retailers didn't sell to kids, and Action on Smoking and Health consistently reported that very few kids ever took up vaping.
FDA's premature issuance of vape, HTP regulations
Nueva Ecija First District Rep. Estrellita Suansing called "premature" and "deplorable" the Food and Drug Administrations' (FDA) issuance of the administrative order regulating vapes and heated tobacco products (HTP) amidst unresolved issues raised by stakeholders and the call for a House probe on FDA's receipt of funds from foreign anti-tobacco group.

"Despite the unfinished public consultation on the FDA's draft guidelines and numerous unresolved matters raised by legislators and stakeholders alike, prompting all three lawmakers present to call for more hearings, the FDA, through the Department of Health, still proceeded to issue their regulations, without any prior notice or resolution. For whatever reason, it's as if the valid concerns raised were deliberately ignored," lamented Rep. Suansing.
---
A look back at how things have moved on or otherwise….
Combining reduced-harm nicotine products can lead to improvement in smoking cessation without short-term harm, according to a study published in The Lancet Respiratory Medicine.

"When looking at continuous abstinence from smoking, provision of patches plus a nicotine e-cigarette resulted in three to seven more smokers per 100 quitting long term than with patches plus a nicotine-free e-cigarette," Natalie Walker, PhD, of the National Institute for Health Innovation at the School of Population Health in New Zealand, and colleagues wrote.
Frost & Sullivan, Cision
The lack of harm reduction principles for tobacco use in Australia is inconsistent with their implementation in many other areas of public policy. Alcohol restrictions, needle exchange programmes, legalisation of medicinal cannabis, free condom programmes, and even mandatory bike helmets are just some of the harm reduction measures that have been introduced by the Commonwealth and State/Territory governments in recent years. Although the use of harm reduction principles for illegal drugs has been a key part of national policy since the 1980s, they have not been applied to tobacco.
---
Visit Nicotine Science & Policy for more News from around the World

---