Vapers Digest 14th March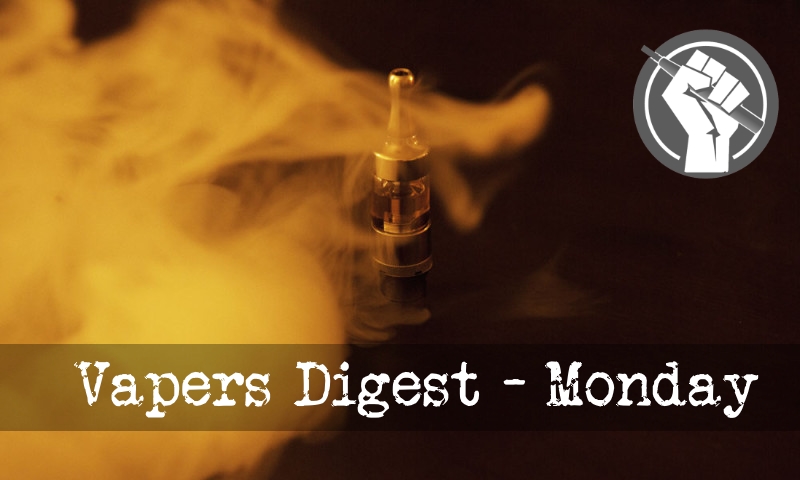 Monday's News at a glance:
VBI Addresses Potential Bans – Nicotine Products to Be Banned in Schools – Shenzhen Locked Down – 10 things you need to know – What Does the Synthetic Nicotine Law Mean? – Bill gives FDA oversight over synthetic nicotine – The Advocates Voice – Episode 2 – Regulator sends smoke signals – Cigarette smoking and the pandemic – Government ticks all the wrong tobacco boxes – Public health experts affirm vaping can improve public health – Nicotine Science and Policy Daily Digest
Dave Cross, Planet of the Vapes
On behalf of Vape Business Ireland, John Dunne addressed The All-Party Committee on Health about vaping, tobacco harm reduction, and legislation in Ireland. He spoke eloquently on the evidence supporting the use of electronic cigarettes and the need for a responsible evidence-based approach.

"We need to ban underage sales while ensuring that adult smokers have access to an alternative that works," John told the meeting. It comes as the Irish government is considering banning all sales to people under 21.

The Royal College of Physicians in Ireland (RCPI) already argued for a comprehensive ban on sales and flavours to an Oireachtas Committee.
Ragnar Tómas – Iceland
In a new parliamentary bill, Minister of Health Willum Þór Þórsson proposes an amendment to Act No. 87/2018 on Electronic Cigarettes and Refill Containers for Electronic Cigarettes. Among changes to the legislation is a ban on the import, manufacture, and sale of nicotine products and e-cigarettes containing flavours that may appeal to children (such as candy and fruit).

According to a report appended to the bill, the purpose of the ban is to decrease the use of nicotine products among children and young adults: research has shown that flavouring, especially fruit and candy, play a significant role in the popularity of e-cigarettes among children and young adults.
---

---
To Prevent COVID Spread from Hong Kong – Jim McDonald
The city of Shenzhen, China—the world capital of vaping product manufacturing—has been locked down by Chinese health authorities because of a COVID-19 surge in neighboring Hong Kong. Hong Kong is considered an island, but actually has 11 crossings into Shenzhen, including multiple land crossings that allow automotive or rail travel.

The lockdown is scheduled to last eight days, until March 20, according to the Hong Kong Free Press. Shenzhen residents, except those who work in essential enterprises like food and energy, were told to stay home beginning Sunday. Public transit throughout the city will be shut down, and all 17.5 million residents will be tested for COVID at least three times during the eight-day lockdown. Some employees will be able to work from home.
---
"VPZ, the UK's largest vaping retailer, called for a complete ban on smoking on National No Smoking Day, partnering with Neil 'Razor' Ruddock"https://t.co/X3jq8dOx12

— European Tobacco Harm Reduction Advocates (@europethra) March 14, 2022
---
About Tobacco, Vaping & Next Generation
Factory Made Cigarette (FMC) sales declined by over £46m year on year, (IRI 12 Weeks to 26/12/21), according to Juul Labs UK. "Volume-wise 14 million less units of FMCs and RYO were sold compared to the same period last year [ibid]," says sales director John Patterson. "E-cigarettes and oral nicotine offset this with a sales increase of £48m. E-cigarettes contributed over 92% of this growth (£44.5m) with 6.6m additional e-cigarette units sold [ibid]."

Nisa is convinced that vaping will continue to flourish in 2022. "We have observed a long-term decline in cigarettes and hand rolling tobacco, and although shoppers turned to convenience stores to buy these products during the pandemic with travel and illicit trade restricted, things are now starting to return to normal," says Helen Ludlam…

Jim McDonald
The Senate voted 68-31 Thursday evening to pass the omnibus spending bill that includes a rider granting the FDA authority over synthetic nicotine. The bill was passed Wednesday by the House, and will now go to President Biden to be signed into law.

The $1.5 trillion spending bill funds major parts of the government through September (the end of the 2022 fiscal year), and also appropriates $13.6 billion for aid to Ukraine. Like most such bills, it is loaded with senators' pet projects and completely unrelated legislation—like the nicotine law.
CASAA
Over synthetic nicotine – Richard Craver
Tucked in the $1.5 trillion federal funding bill currently before Congress is legislation that would place the use of synthetic nicotine under the regulatory authority of the Food and Drug Administration.

The U.S. House passed the bill Wednesday and the U.S. Senate Thursday. The bill's main focus is providing $13.6 billion in aid to Ukraine.

According to The Associated Press, the bill would increase spending for child nutrition and child care, local law enforcement, improving broadband in rural areas, and education aid for disabled students and historically black colleges and universities.
---

---
CAPHRA Asia Pacific
In this episode:  Most of Asia Pacific is turning the corner towards including tobacco harm reduction in public health policy – except for Australia, the last holdout of Quit or Die. We speak with Dr. Robert Beaglehole about New Zealand's Smokefree 2025 Action plan and also give an update on what is going on in China.

About flavored e-cigarettes ban – Li Qian
China is considering banning flavored e-cigarettes over concerns about vaping by teens and children.

It has been more than three months since China's Tobacco Monopoly Administration started to solicit opinions from the public on regulating e-cigarettes after the vaping industry was subsumed into tobacco supervision last November.

A draft listing Chinese national standards for e-cigarettes was published on Friday. It underlined the importance of reducing the appeal of e-cigarettes to the underage, stating: "Flavors other than tobacco taste shall not be offered in products."
Why e-cigarettes and their regulated use is seen as the way to stem tobacco use
The ongoing pandemic has brought to the fore critical issues concerning our health – be it physical or mental – especially in a country like the Philippines that is hard hit by COVID-19. As reported by The Lancet, "the longstanding battle with infectious diseases has been compounded with the rise in non-communicable diseases due to lifestyle changes and an increase in risk behaviors."

Among these risk behaviors, cigarette smoking can be considered one of the most detrimental to one's health, more so in light of how tobacco kills approximately 87,600 Filipinos per—240 deaths per day—per The Union in their report.
There's a seriously unhealthy synergy between our Treasury's tax policy architects and our health department when it comes to non-combustible nicotine products. Our health department slavishly follows the World Health Organisation's (WHO) hotly contested shooting down of everything nicotine, while Treasury gladly widens its tax net to siphon billions of extra rands from the lucrative harm-reducing non-combustible nicotine product market. They have jointly conspired to ignore a huge body of scientific evidence showing the major health harm comes from burning tobacco, not consuming nicotine.
Can improve public health – Manila Bulletin
International experts and advocates said evidence from several countries confirms that regulated access to less harmful alternatives, such as e-cigarettes and heated tobacco products (HTPs), leads to substantial improvement in a country's overall public health condition.

Tobacco treatment clinician Dr. Colin Mendelsohn, harm reduction advocate Dr. Alex Wodak and public interest policy consultant Clive Bates, citing experiences of other countries, are one in saying that the availability of e-cigarettes or vapes and HTPS has led to significant decline in smoking prevalence.
---
A look back at how things have moved on or otherwise…
Yorkshire Cancer Research
Vaping products are often portrayed in a negative way, and this has led to confusion and a common misperception that vaping is as harmful as smoking tobacco.

We answer your questions about vaping, its safety compared to smoking, and how it works as a stop smoking aid.
In helping smokers to quit – Leonie Brose
A new study published Tuesday 10 March, No Smoking Day, from King's College London highlights the 'clear benefit' of using e-cigarettes daily in order to quit smoking, and supports their effectiveness when compared to other methods of quitting, including nicotine replacement therapy or medication.

Although the number of people in England who smoke has continued to fall in recent years, tobacco smoking is still the leading preventable cause of premature death and disease – killing nearly 75,000 people in England in 2019.

While e-cigarettes have been around for more than a decade, evidence on their effectiveness for helping people to quit smoking is still limited.
---
Visit Nicotine Science & Policy for more News from around the World

---