Vapers Digest 9th March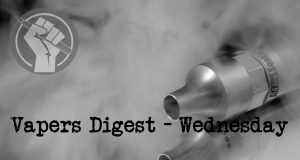 Wednesday's News at a glance:
Alternative tobacco products may help smokers kick the habit? ~ Australia Tightens the Screws Further on Vaping Nicotine ~ Bengt Wiberg: one inventor's fight to legalise snus in the EU ~ Ignore The Headlines: There's No Science Linking Vaping To Prediabetes ~ Synthetic Nicotine: CASSA Position Statement ~ Congress Seems Poised To Let the FDA Ban E-Cigarettes ~ FDA Poised to Gain Regulatory Power Over Synthetic Nicotine ~ URGENT! Congress Will Vote on Synthetic Nicotine Ban This Week ~ No Smoking Day: March 9th ~ ENDS Agenda Features Leading Experts ~ Complete Webinar: Are you feeling Burnout? ~ International Validation of CoEHAR Studies: Fewer Covid-19 ~ Bantam Vape Exempted from Shipping Ban ~ Why Taxing E-Cigarettes Is Backfiring for States — and Consumers
---
Cameron English, American Council on Smoking and Health, ACSH
Another day, another bad vaping study makes headlines. This time researchers speculate that e-cigarette use may increase your risk for prediabetes.

Recent research has suggested that e-cigarette use is linked to bone damage, erectile dysfunction, smoking relapse, depression and heightened stroke risk. None of these associations is supported by good data, and it appears we may have to add a new malady to this list.
---
8 years ago today I received my first vape kit in the mail.

8 years ago today I instantly became a non-smoker.

Many thanks to the people who made that possible. pic.twitter.com/JbDImUGjVw

— Phil (@phil_w888) March 7, 2022
---
Consumer Advocates for Smoke-free Alternatives Association (CASAA)
WHY SYNTHETIC NICOTINE? Recently, various e-liquid manufacturers announced they are switching from tobacco-derived nicotine to synthetically made nicotine. You may be wondering why companies are shifting to synthetic and what this will mean for vapor or other nicotine products you use.
Jacob Sullum, Reason
The Food and Drug Administration (FDA) seems intent on banning nearly all of the nicotine vaping products currently available in the United States, even though it acknowledges their harm-reducing potential as an alternative to combustible cigarettes. But under current law, the FDA's e-cigarette authority is limited to nicotine derived from tobacco, which means the synthetic nicotine in products made by companies such as Puff Bar is beyond its purview.
Alex Norcia, Filter Magazine
Lawmakers have inserted language into a federal spending bill that would give the Food and Drug Administration (FDA) regulatory authority over synthetic nicotine, clamping down on a legal gray area for vapes. The proposed legislation would change the definition of a "tobacco product," which currently means anything made or derived from tobacco, to include products "containing nicotine from any source"—with the exception of foods with trace amounts.
Jim McDonald, Vaping 360
Congress is likely to vote this week on a synthetic nicotine ban, if a bipartisan group of House members and senators have their way. Since the ban is part of the must-pass omnibus spending bill, it will become law unless the language is stripped from the final bill before the vote.
---

---
TWO from Dave Cross, Planet of the Vapes
The Today Is The Day website is live to help smokers hoping to switch to vaping or quit on March 9th, national No Smoking Day. Organisers are providing a toolkit to support local campaign activity, building on the theme "Don't give up on giving up. Every time you try to stop smoking, you're a step closer to success."
ENDS 2022, Europe's leading e-cigarette conference, will cover scientific, regulatory, and commercial developments. The agenda has been released and features leading experts from across the supply chain. More than 130 key stakeholders from across the electronic nicotine delivery systems industry will convene online on 24-25 May 2022 for the fifth edition of Smithers' hugely popular ENDS conference.
---
---

---
COVID-19 epidemic: rumors vs. evidence – Dr Farsalinos
One of the main issues that many people, especially vapers, are discussing concerning the coronavirus epidemic is about the effects of e-cigarette use (and smoking) on the vulnerability to, and severity of coronavirus infection. Recently, New York City (NYC) Mayor Bill de Blasio mentioned in a news briefing that smokers of vapers are at increased risk. Miraculously, this statement was even reported by Reuters.  I wonder, what is the reason for considering valid and reporting statements made by people who have zero background on public health issues?
Dave Cross, Planet of the Vapes
Last week, Planet of the Vapes reported how Chinese academics are lying by linking vaping to the COVID-19 outbreak. Shortly afterwards, Stanton Glantz, U.S. Mayor Bill de Blasio, and a World Health Organisation's Dr Alexey Kulikov jumped on the bandwagon to spread disinformation and fear.

A number of ardent anti-vape crusaders have been quick to try to profit from fear and misery, yet again ignoring evidence and facts as they seek to pursue their ideological agenda in their war against tobacco harm reduction.
---
Visit Nicotine Science & Policy for more News from around the World

---