Vapers Digest 7th March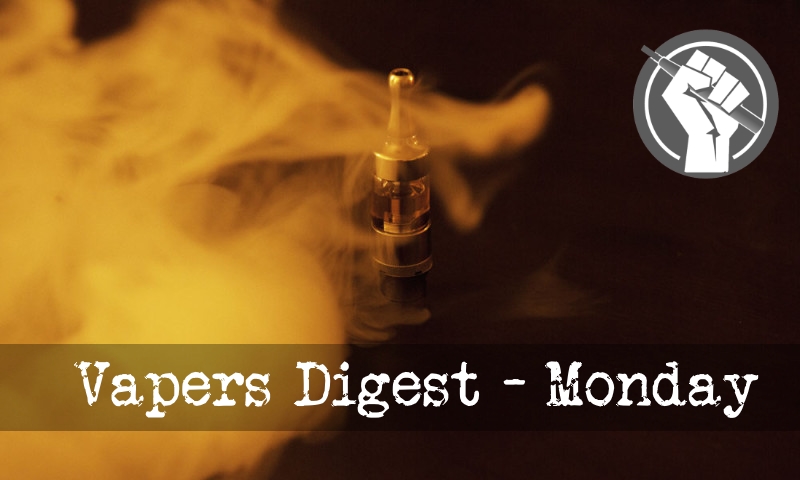 Monday's News at a glance:
Neil Humber – RIP – You Will Be Missed – Finnish customs seize record quantity of snus – Tobacco Harm Reduction – The Topography of Vaping – Farewell UK Vapers – Survey Says – Cali Safety Lies – The science and non-science of vaping – We should do anything to stop people smoking – THR strategies have radically reduced smoking rates – Told you so! Massachusetts Reports Rise – Gélinas' bill on vaping misses the point – Battle Over Vaping Within Public Health – Malaysians Give Thumbs Down To Cigarette & Vape Ban – Philippines to benefit from regulation – Nicotine Science and Policy Daily Digest
Jonny – Ecigclick
It's with a heavy heart we bring sad news. After a short illness, our good friend and editor at Ecigclick, Neil Humber, sadly passed away this week with his son, Harry, by his side.

Neil joined the Ecigclick team 6 years ago and I personally (as well as other members of the team) had been lucky enough to get to know him and call him a good friend over those years.

He was ever-present at Ecigclick and a great advocate for the vape community. Not a week would pass where his commentary on the world of vaping wouldn't bring a smile to my face, he certainly had a gift when it came to words.
Yle News – Finland
New Customs statistics (siirryt toiseen palveluun) show a thriving black market in snus and a huge increase in smuggling. In 2011, customs seized just over 30 kilos of snus, last year it was more than 9 000 kilos.

Snus smuggling has become more professional over the years. It is an oral tobacco product, normally placed under a users' upper or lower lip. Sales of snus was banned by the EU, but Sweden was permitted to continue producing and marketing it. It was formally banned in Finland in 1995.
---

---
Dr John's Blog
"Harm reduction" is an established policy in public health. For various reasons, some people sometimes find themselves doing things that are bad for their health. In an ideal world, no one would be a drug addict, prostitution would not exist and no one would smoke. All that public health would have to do is to make sure people were informed of the health risks of their behaviour, refer them to a program, and the problem would be solved.

In our real world, that rarely works. A harm reduction approach recognizes the reality that some people are unable to quit taking drugs, having sex with strangers or smoking cigarettes, even though these behaviours may have deadly consequences for themselves and harm the people around them.
---
According to a 2021 Sigma Dos study , 93.1% of respondents say they have been a smoker before opting for vaping and 83% of them say they only vape. As a whole, they conclude that 76% of vapers have completely abandoned tobacco https://t.co/vBLxaEElhb

— European Tobacco Harm Reduction Advocates (@europethra) March 7, 2022
---
Chuck Dinerstein
A new study looks at how those who vape, and use hookahs, inhale and exhale – the duration, volume, and velocity. In a phrase, the product-specific puff topographies.

The idea of a puff topography should not really be news to any of us. After all, it was that young scientist, turn President that said over 25 years ago…

Three from Dave Cross, Planet of the Vapes:
The UK Vapers online forum played a key role in the lives of ecig users in the early days of vaping. It provided a steppingstone for smokers switching and a key role in encouraging vapers to set up independent juice and mod making businesses. Due to an undisclosed legal issue, British vapers have sadly waved goodbye to it.

Planet of the Vapes' owner Toby Kilroy said: "I was extremely saddened to hear the news of the UKV shutdown, which was a great source of support and advice for many members of the vaping community – including me when I first came to vaping over 10 years ago.
A new survey conducted by GoSmokeFree.co.uk has looked at vapers' attitudes and buying decisions. It has come up with a number of findings that will resonate with Planet of the Vapes newsletter subscribers.

Cigarette smoking holds a vice-like grip over most tobacco users. Smokers experience multiple attempts to quit during their time with cigarettes, frequently failing or relapsing to smoking afterwards. All of this changed when electronic cigarettes burst onto the scene.
University of California San Diego physician Dr Laura Crotty is spreading more lies about the relative safety of electronic cigarettes. She is telling smokers that vaping is not a safer alternative to traditional cigarettes. The pulmonologist says people are "apparently unaware that e-cigarettes come with wide-ranging dangers of their own."

Over the last couple of years, researchers have noted that there has been an issue with smokers becoming more reticent to switch and vapers returning to smoking cigarettes. Public Health England, the Royal College of Physicians, and ASH have all pointed to the misinformation spread by overseas sources.
---

---
And a heart-stopper just for the boys – Aidan Semmens
We hear a lot these days, especially from politicians, about "following the science" – which must be a lot better, surely, than merely following the politicians. But it's not unproblematic.

There's the all-too-common problem of science following the politics. And then there's the simple fact that with an awful lot of science out there, that includes a lot of awful science. Which gives the politicians, the regulators, the media et al the difficulty of choosing which science to follow.
To stop people smoking – including e-cig licences – Miriam Stoppard
When I was a feisty junior doctor I considered not treating patients who were smokers. I reckoned I couldn't help them anywhere near as much as they could help themselves by quitting. I didn't of course, but I firmly believe that smoking is so damaging to health we should do anything to stop it.

Then along came e-cigarettes. They've always been controversial and they are creating waves once again after an announcement by the UK's Medicines and Healthcare Products Regulatory Agency that it will look favourably on licence applications from e-cig firms so doctors can prescribe them to patients wanting to kick the habit. This has set the cat among the pigeons.
Have radically reduced smoking rates – CVA
The Canadian Vaping Association (CVA) has repeatedly articulated the merits of embracing tobacco harm reduction as part of tobacco control strategies. The Asia Harm Reduction Forum 2021 attended by the leading experts in technology, public health policy, and science met to discuss the tobacco harm reduction (THR) strategies deployed in various countries.

As documented by the Vaping Post, the results of embracing tobacco harm reduction were astounding. "We have known the risks from smoking for many decades. We have known that it is the smoke, not the nicotine that is responsible. We also know that we can deliver nicotine in ways that have minimal risk," said Professor David Sweanor, the Chair of the Center for Health Law, Policy and Ethics and an adjunct professor of law at the University of Ottawa.

In E-Cigarette Smuggling After Statewide Bans
Massachusetts law enforcement officials are reporting that illicit e-cigarette smuggling has seen a meteoric rise over the course of last year. This comes after the 2019 Tobacco Control Law criminalized the sale of flavored electronic cigarettes. More than 200,000 electronic nicotine delivery systems (ENDS) were seized by state police and members of the Multi-Agency Illegal Tobacco Task force in 2021, setting a record in the state's rate of tobacco smuggling.
Maria Papaioannoy
Recently, Nickel Belt MPP France Gélinas tabled a bill that outlined a series of ill-conceived regulatory proposals that target vapour products. Her bill is titled Vaping is not for Kids. We agree on the title of her bill, vaping is not for kids. But this is where our agreement ends.

She details measures that would give unprecedented powers to regional health boards, that would increase taxes on vapour products, that would ban flavoured vapour products, and that would ban all forms of advertising and promotion.
Brent Stafford
As we've reported endlessly over the past years, there appears to be a schism within public health between those who believe safer nicotine products play a valuable role in helping smokers to quit.  And with those who believe that compared to vaping, smoking is the lesser of two evils. Joining us today to unpack this question and more is world-renowned tobacco control researcher Dr. Michael Cummings, Professor in the Department of Psychiatry & Behavioral Sciences at the Medical University of South Carolina. He formerly led the tobacco control program at Roswell Park Cancer Center and in 2002 Dr. Cummings helped establish the ITC-Project.
To Cigarette & Vape Ban – Akmal Hakim
Everyone knows that smoking is a terrible habit, but will banning it work to stop smokers at all? Well, it seems that some Malaysians aren't so sure that an all-out ban is a correct answer.

Recently, Health Minister Khairy Jamaluddin Abu Bakar announced that he plans to table a "generational smoking ban" law in Parliament.

For those who don't know what it is all about, the ban would basically outlaw people born after 2005 from legally purchasing tobacco and smoking products.
Of less harmful cigarette options
The Philippines public heath will benefit substantially from the enactment of the vape bill that regulates alternatives to cigarettes, as scientific studies show that vaping is at least 25 times less harmful than traditional tobacco products, according to international experts.

"My research nearly 10 years ago showed vaping to be at least 25 times less harmful than cigarettes and many subsequent studies have confirmed this risk ratio. The Philippines would surely benefit in the same way if vaping was encouraged over cigarettes like it is in the UK and New Zealand," said Prof. David Nutt of the Imperial College of London.
---
A look back at how things have moved on or otherwise…
Attitudes of Europeans towards tobacco and electronic cigarettes – ETHRA
On 3 February 2021, the long-awaited Eurobarometer report was published. Titled "Attitudes of Europeans towards tobacco and electronic cigarettes," the survey examined European citizen's relationship with tobacco and related products. Fieldwork was conducted between August 2020 and September 2020 and involved interviews with 28,228 people from 27 EU member states and the UK.  Data from the previous Eurobarometer report in 2017 is also made available for comparison. It is an extensive report, 334 pages long, with separate factsheets available for each member state plus the UK. A 54-page summary of the main points is also available. The importance of the Eurobarometer cannot be overstated as it will feed into the TPD review due latest 20 May. See our article "What do we know about the TPD application report" for more details.
Panel Discussion; misconceptions, challenges and opportunities for vape products in smoking cessation
Yorkshire Cancer Research presents a panel discussion on No Smoking Day bringing together contributors from the charity's new film, Vaping Demystified, to discuss the misconceptions surrounding vaping products, and whether they are preventing Yorkshire's greatest opportunity to reduce the region's leading cause of preventable cancer.

The discussion will be hosted by Yorkshire Cancer Research's Engagement Manager, Andy Wilson, and will provide insightful discussion about how myths have developed, what the truth is about the safety of vaping products and how the vape industry can build the confidence of the public.
---
Visit Nicotine Science & Policy for more News from around the World

---