Vaping Digest October 4th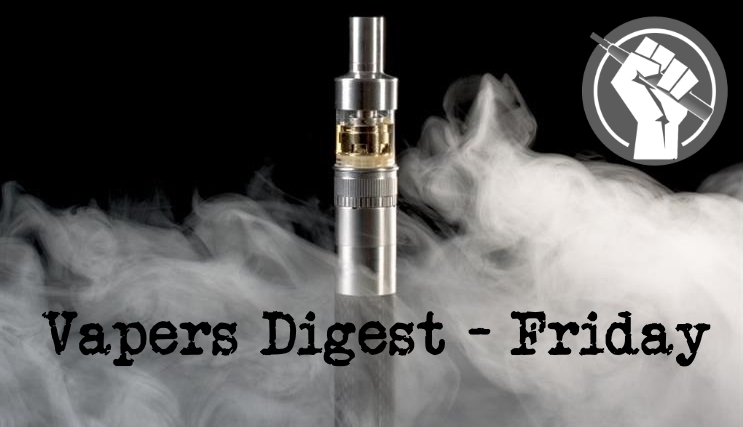 Friday's News at a glance:
New beginnings and old debates – US vapers face a new wave of bans – That teen vaping epidemic – Mysterious vaping illness – latest – A False Connection Between E-Cigs and Heart Attacks – Here We Go Again – NNA 'Labours' For Vapers – How Safe Is The BBC? – Irish Flavour Ban Proposal – VTA's 11 Steps – Epidemic of youth nicotine addiction? – Stoptober 2019 – Turkey to ban e-cigs – Africa missing out – CDC's Communications – Vaping Illness Update – Vaping Panic – The FDA Plans To Ban Flavored E-Cigs – NY court blocks vaping ban – Altria launches Iqos  in US – Anti-smoking groups butt heads – Nothing but the truth? Not for Congress – THC Lung Illness Patient Speaks Out – Nicotine Science and Policy Daily Digest
New Nicotine Alliance
August is generally recognised as 'silly season' where the absence of any concrete political news sees media puff out their content with barely newsworthy articles. There was little going on for NNA last month either so we let the August newsletter slide in favour of a summer and autumn one covering September too, not that we were entirely redundant during the school holidays, as this round-up of our activities will show. It's been a couple of months of exciting new initiatives coupled with fighting the relentless anti-harm reduction zombie arguments emanating from the public health community.
And India is no better – Fergus Mason, Vaping Post
State and local politicians across the USA continue to over-react to the country's lung disease outbreak. With 13 people now dead, a series of knee-jerk bans are being implemented or called for. All these bans will achieve is to drive vapers onto the black market – which is where the contaminated liquids causing the outbreak are coming from. It seems that, a century after Prohibition and decades into the failed "war on drugs", the USA still hasn't learned any lessons from its historic errors.
---

---
Christopher Snowdon, Velvet Glove Iron Fist
All the data you need to debunk America's teen vaping panic is freely available on government websites. Martin Jarvis and colleagues have been looking at the National Youth Tobacco Survey and the number of high school students who regularly vape without having previously used tobacco is very small indeed.

Past-30-day e-cigarette use increased by 78% from 11.7% in 2017 to 20.8% in 2018. In both years, use was strongly associated with lifetime tobacco use history: it was seen in 8.4% of never tobacco users in 2018, in 29.0% of those who had tried a non-combustible, but never a combustible, product (OR 4.4 (CI 2.8-7.2) by comparison with never tobacco users), and in 71.0 % of those who had smoked more than 100 cigarettes in their lifetime (OR 26.8, CI 17.7-40.5)
Christopher Snowdon, Velvet Glove Iron Fist
It's been over a month and there is still no sign of the USA coming to its senses about the 'mysterious vaping-related disease'. The media reporting has been generally abysmal, but the response of politicians and health agencies has been nothing short of reprehensible.

Here is the latest advert from the Illinois Department of Public Health, for example…
---
---
E-Cigarettes and Heart Attacks – Brad Rodu, Tobacco Truth
The Journal of the American Heart Association on June 5, 2019, published an article, "Electronic cigarette use and myocardial infarction among adults in the US Population Assessment of Tobacco and Health [PATH]," by Dharma N. Bhatta and Stanton A. Glantz (here). In reading the article, I discovered that the authors misrepresented the research record; presented a grossly inaccurate analysis of PATH Wave 1 survey data, and omitted critical information with respect to (a) when survey participants were first told that they had a heart attack, and (b) when participants first started using e-cigarettes. The article reflected a significant departure from accepted research practices.
Paul Barnes, Facts Do Matter
There's always something, isn't there? Last year, back in March, there was a "bit of a kerfuffle" in the vaping community which led to a lot of name calling and general unpleasantness.

So much so that this post was needed. As was this one.

Sadly, nothing seems to have changed as it has all kicked off, once again. The only saving grace is that it doesn't appear to have been as widespread. Yet.

Four from Dave Cross, Planet of the Vapes
The New Nicotine Alliance (NNA) was on the front foot over the wave of vapers being scared by family members as a result of the American THC deaths. Also, the UK's leading charity supporting alternative nicotine products has been encouraging Labour members to become enthusiastic supporters of harm reduction at its recent conference.

The NNA was concerned to hear reports of British vapers being urged by their friends and family to immediately quit e-cigarette use. The rise of incidents like this have followed the slanted coverage of recent events in America in the national media.
Professor John Newton, Director of Health Improvement at Public Health England, appeared on Radio 4's Today program recently. While this ought to be the norm for commentary on scientific matters relating to tobacco harm reduction, the BBC appears to be using more stories originating from the United States – copy-pasted directly onto its website unchallenged.

In the last month, the BBC has reported on nine times on its site in addition to chat shows, radio interviews and "investigative" specials. Of those nine stories, eight were wholly negative or carried ridiculous negative statemements purporting to be facts:
---
Discussed on TRT World Oct 2nd, 2019
Thanks as always to @dnglos for the YouTubage
---
Former Irish health minister James Reilly has lodged cotton wool in his ears and donned an eye mask so he can't be influenced by evidence and has called upon the Taoiseach and government to implement a flavour ban akin to some parts of the United States. Vape Business Ireland (VBI) is encouraging legislators and the Central Statistical Office to use the next census as a means to improve their understanding of how vaping is helping smokers.
The Vapor Technology Association (VTA) has requested American regulators and legislators to adopt its serious eleven step proposal to circumvent the need for a national ban on flavoured eliquids. The 1000-strong trade association says that bans would be short-sighted and would not address the issue of teen use.

The VTA announced that the flavour ban proposed by the Trump Administration and certain members of Congress would "do little to address underage use of e-cigarettes" and, more importantly, will do nothing to control the marketing of vapour products.
---

---
What does the National Youth Tobacco Survey reveal about high school e-cigarette use in the USA?
In November 2018 the US Food and Drug Administration announced restrictions on e-cigarette manufacturers in response to a perceived epidemic of e-cigarette use among high school students. The stimulus was headline figures from the 2018 National Youth Tobacco Survey (NYTS). We analyse e-cigarette use and dependence in the NYTS in relation to lifetime history of use of tobacco products.
Design and setting: Nationally representative survey of high school students in 2017 and 2018.
Embraces Vaping As Best Way To Quit Smoking
Neil Humber, ecigclick
Stoptober is back for its 8th year and despite the global vaping bans and anti-vape campaigns, the use of e-cigarettes as an aid to quitting smoking is once again front and centre.

Compare that to the current hysteria over in America and most recently India, and you have to to be thankful if you're a UK or even European vaper.
Turkey is preparing to ban the use of e-cigarettes and stop them from entering the country, Health Minister Faruk Koca said.

Koca said that ministry was currently working on the legal regulation for the ban and it would soon be brought to parliament, independent news site Diken reported on Tuesday.

Turkish President Recep Tayyip Erdoğan, who is a fierce opponent of smoking, has labelled e-cigarettes as products as "bizarre" and addictive.
Over Melbourne vaping conference – Melissa Cunningham and Noel Towell
Anti-smoking groups have gone to war over a vaping conference in Melbourne amid allegations of intimidation of the event's attendees and secret tobacco industry funding.

National health bodies including the Cancer Council denounced the conference, alleging that organisation Foundation for a Smoke-Free World – which was funded by tobacco giant Philip Morris – was linked to the event.
As world debates future of e-cigarettes – Dominic Omondi
Last week, as the world immersed itself in a heated debated on the less harmful alternative to cigarettes, Africa was conspicuously missing. For three days in Washington DC, from September 27 to 29, stakeholders from tobacco firms, health professionals and legal experts, tried to find a middle ground on weaning off smokers from harmful tobacco products.

The Global Tobacco and Nicotine Forum was held on the backdrop of an impending ban on vaping – the inhaling of a vapour created by an electronic cigarette (e-cigarette) or other vaping device- by the US Government, citing negative health effects on young people.

Likely Making this Outbreak Much Worse – Michael Siegel
A new survey released yesterday by the National Opinion Research Center (NORC) at the University of Chicago found that the public believes that vaping nicotine-based e-liquids is much more harmful than vaping THC e-liquids.

While 54% of the public believes that vaping nicotine is very harmful, only 38% believe that vaping THC is very harmful. And while just 16% of the public does not believe that nicotine vapes are harmful, an amazing one-third (33%) of the public does not believe that vaping marijuana carries any risk.
FDA Warns Public to Stop Using Tetrahydrocannabinol (THC)
In its continued efforts to protect the public, the U.S. Food and Drug Administration (FDA) is strengthening its warning to consumers to stop using vaping products containing THC amid more than 1,000 reports of lung injuries—including some resulting in deaths—following the use of vaping products. The FDA is working closely with the U.S. Centers for Disease Control and Prevention (CDC), as well as state and local public health partners to investigate these illnesses as quickly as possible.
About Alleged Deceptive Reporting by KVII Amarillo's Lamyiah Harvel
Last week, Harvel produced a story (archive link) on Benjamin Caramillo, an Amarillo man who suffered a serious lung injury from what Harvel described as the use of both THC and flavored nicotine vaping products. While Harvel's report does include an interview with a pulmonologist who stated that THC vaping was the "most likely" cause of the illnesses, the report nonetheless leaves open the possibility that flavored nicotine products caused Caramillo's lung illness.
Steven Greenhut, Reason
H.L. Mencken defined Puritanism as "the haunting fear that someone, somewhere, may be happy." The rub against vaping, and other smokeless tobacco products, is that people enjoy it.

During a public meeting of California's official tobacco committee, formed largely to divvy up the proceeds of a large tobacco-tax hike approved by voters in 2016, commissioners bemoaned the small number of smokers who took advantage of official Food and Drug Administration-approved products that help smokers quit their deadly habit. Some people use nicotine gum, patches, and nasal sprays, but not enough to satisfy the regulators.
Based on a Nonexistent 'Epidemic' of Adolescent Nicotine Addiction
Jacob Sullum, Reason
A new study indicates that heavy vaping remains rare among teenagers who don't smoke. The main justification for state and federal bans on flavored e-cigarettes is the "epidemic" of underage vaping, which former Food and Drug Administration Commissioner Scott Gottlieb worried might result in "a whole generation of young people becoming addicted to nicotine." A new analysis of survey data on e-cigarette use by teenagers suggests such fears are overblown, since heavy vaping is rare among adolescents who are not current or former smokers.
Vicki McKenna
Last week I got to do something few Americans ever get to do. I testified before CONGRESS. I was honored to be invited by the minority counsel for the House Committee on Oversight and Reform.

The hearing was on vaping, specifically e-cigarettes. As a long-time user of e-cigarettes who successfully used the product to quit smoking, and as a passionate advocate for smoking-harm reduction, I was asked to share my experience. I trusted the invitation was an honest one, so I carefully prepared and practiced my testimony. I didn't know going in just how rigged the game was.
Further Implicates Contaminated THC Oils in Respiratory Disease Outbreaks
Michael Siegel, The Rest Of The Story
A study published yesterday in the New England Journal of Medicine by a team of researchers at the Mayo Clinic provides further evidence that contaminated THC oils are likely playing a major role in the vaping-associated respiratory disease outbreak and makes it even less likely that store-bought nicotine e-liquids are playing any role at all. Here is the key evidence provided by the paper:
Bernadette Hogan and Laura Italiano
In a reprieve for Juul and other vaping companies, a state appellate court on Thursday temporarily halted a proposed ban on flavored e-cigarettes that was set to take effect Friday.

The ruling by an appellate panel in Albany delays Gov. Andrew Cuomo's emergency executive action banning all flavored vape products besides menthol for at least a week, after the vaping industry filed suit to stop it.
Angelica LaVito
Marlboro maker Altria started developing its new tobacco device more than a decade ago — as smoking rates declined but long before vaping took hold in the U.S.

It took two more years for regulatory clearance. But Altria is finally launching Iqos in the U.S. this week, and the company's timing — though coincidental — couldn't be better.
---
A look back at how things have moved on or otherwise….
The GSTHR report maps for the first time the global, regional and national availability and use of SNP, the regulatory responses to these products, and the public health potential of tobacco harm reduction.

The advent of SNP opens up the possibility of a major advance in global public health, helping to bring about the UN goal of reducing non-communicable diseases by a third by 2030 and, moreover, at no cost to governments.
Mawsley, Planet Of The Vapes
The World Health Organisation's FCTC COP8 has started in Switzerland and managed to evoke strong emotions at the very start. Following claims that it aimed to have transparent discussions, a vote was carried out and all of the journalists were removed; not so much something being rotten in Denmark as much as something stinks in Switzerland.

"Fifteen years after the World Health Assembly adopted the WHO Framework Convention on Tobacco Control (WHO FCTC)," says the FCTC press office, "Parties to the treaty once again find themselves in Geneva faced with the opportunity to make history once again."
Diane Caruana, Vaping Post
Public Health experts at the World Health Organization's biennial conference FCTC COP8, are left disappointed as the WHO still fails to take into account scientific data in favour of e-cigarettes for harm reduction, and commends countries who have implemented unreasonable vaping bans.

The authors of a new report titled "No Fire, No Smoke" point out that safer alternatives alternatives such as e-cigarettes, heat-not-burn devices and Swedish snus have been hugely successful at reducing smoking rates.
---
Visit Nicotine Science & Policy for more News from around the World

---