Vaping Digest 4th September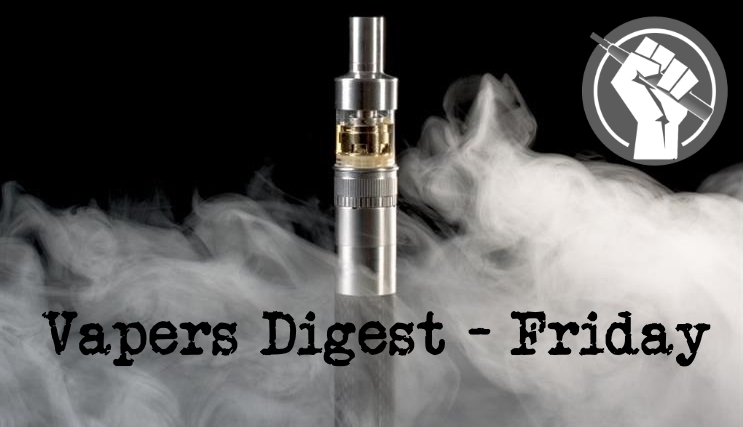 Friday's News at a glance:
The KAC Global Tobacco Harm Reduction Scholarship Programme 2021 – Damage Done – As the PMTA Deadline Looms, the Vaping Industry Faces Potential Disaster – Why Vape Flavors Matter – Big Tobacco Is About to Dominate the E-Cig Industry – The Future of Tobacco – TPD 3 – Advertising and Youth – Heavy Metal – COVID Jackass – Vapers Vote! – Tobacco Harm Reduction (Part One) – Epidemic of youth nicotine addiction? – Responsible adults who vape should have access to flavors – Juul to slash more than half its workforce – Nicotine Science and Policy Daily Digest
Knowledge Action Change
Building on the successes of previous scholarship programmes, Knowledge Action Change (K-A-C) is pleased to announce the launch of the 4th K-A-C Global Tobacco Harm Reduction Scholarship Programme.

We are looking for proposals that will inspire change!

We have developed a scholarship package to ground scholars in the theory and practice of tobacco harm reduction (THR). The scholarships will commence at the Global Forum on Nicotine Conference (GFN), which will be held in Warsaw, Poland, between 17th & 19th June 2021.
Stefanie Rossel
Roughly a year ago, a mysterious lung illness struck thousands of U.S. vapers. Emergency room visits increased from July 2019 and peaked in September before ebbing off. By Feb. 18, 2020, 68 people had died from complications of the lung disease, which was quickly termed EVALI—"e-cigarette, or vaping, product use associated lung injury."

However, EVALI turned out to be a misnomer, and the mystery surrounding vaping illness was quickly resolved—although some experts took longer to recognize the obvious than others. As the Centers for Disease Control (CDC) eventually acknowledged, illegal THC-containing vapor cartridges, also known as carts, were the true cause of the vaping-related illness.
---

---
Jacob Grier
Smoking kills. Quit now." There was no missing the blunt warnings plastered on the cartons of Marlboro cigarettes as the flight attendants half-heartedly paraded the duty-free cart down the aisle of my plane to Switzerland. In case the message wasn't clear, graphic photographs drove it home: a blackened lung, a close-up of a tracheostomy. There are still plenty of smokers in the world — about a billion of them, actually — but the glamour of smoking has nearly been extinguished.

Even the big tobacco companies, once utterly shameless in their denials of the dangers of smoking, have given up defending cigarettes on the merits. Philip Morris International, the world's largest tobacco company and the maker of those Marlboros, now boasts instead of "delivering a smoke-free future" in which the cigarette is eradicated.
The Vaping Industry Faces Potential Disaster – Michael McGrady
The Family Smoking Prevention & Tobacco Control Act mandates that all new tobacco products must receive a premarket tobacco application authorization to be sold on the U.S. market. Any product without a PMTA approval cannot be legally sold in the United States and is considered "adulterated" or "illicit" under federal statute. Believe it or not, the FDA and economic advisers to President Barack Obama at the time feared that quickly implementing the new tobacco regulations would result in catastrophe for a blossoming vaping industry.

Despite his campaign against nicotine user rights, President Donald Trump did his best to extend the PMTA deadline as much as possible. According to the law, new tobacco products need to be authorized for virtually every other marketing component a product may undergo.
---
---
David Clement, Yaël Ossowski, Michael Landl
Vaping devices offer adult smokers the opportunity to consumenicotine using a liquid heated by a vaporizer, paired with variousflavors to offer a better taste to users. Because of the growth inpopularity of these vaping devices and the flavors that areinherent to their use, in this paper, we focus on why theseflavors are essential to giving reasonable and less harmfulalternatives to smokers looking to quit. We evaluate anddemonstrate the efficacy of flavors for smoking cessation, andforecast the negative externalities that will arise shouldjurisdictions implement vaping flavor bans. Given the importanceof flavor availability, we estimate that flavor bans will ultimatelydrive consumers to other legal jurisdictions, push them towardsthe black market, or back to traditional cigarettes. Given thatforecast, we urge legislators against the implementation ofvaping flavor bans.
Dominate the E-Cig Industry – Rich Duprey
The electronic cigarette industry is poised to irreversibly change next week. Manufacturers face a Sept. 9 deadline to submit premarket tobacco product applications (PMTA) to the Food & Drug Administration or face having their e-cigs and e-liquids pulled from store shelves.

Because the cost of complying with the regulations is staggeringly high, many manufacturers will not be able to make it over the hurdle, and the e-cig market will be left largely to the tobacco giants.

Five from Dave Cross, Planet of the Vapes
The Tobacco Products Directive (TPD) regulates the manufacture, sale and marketing of most safer nicotine products. It has been implemented to varying degrees across Europe and underpins the UK's current legislation. It is generally believed that the UK will end up conforming with a sizeable part of TPD3. The European Tobacco Harm Reduction Advocates (ETHRA) organisation has released a summary of what we know about it so far.

ETHRA exists to link the actions of nicotine user groups from across the continent. It believes that access to reduced harm products is a basic human right and that legislators should recognise the value of flavours and having a wide choice of products.
University of British Columbia researchers claim their "first of its kind" study lays bare the evils of the vape industry, luring teens into a life of vice thanks to targeted advertising extolling the joys of reducing harm, swapping tobacco flavours for cake, and spending downtime not smelling like an uncleaned, six week-old, full ashtray. Bad, bad vape companies.

"This is the first study of its kind," said Assistant Professor Laura Struik, describing a piece of research identical to plenty of other pseudoscientific reams of junk. It, "makes direct links between reasons for youth uptake and the marketing strategies of e-cigarette companies. The public needs to know how the next generation is being targeted to take up and ultimately become addicted to these nicotine products."
Studies like the 2018 one from the Johns Hopkins Bloomberg School of Public Health claimed they found substantial levels of toxic heavy metals in eliquid and vapour. The results have then been used as part of overexcited lectures to the media by the likes of the lamentable Bonnie Halpern-Felsher. A study from researchers at West Virginia University pours cold water over the argument by finding that vapers' blood and urine matches those who neither vape or smoke.

In 2018, Ana María Rule worried journalists that the study she'd been a part of had discovered lead, chromium, manganese, zinc and nickel in vape that had been obtained from unrealistic puffing regime samples.
Dr Robert Jackler has a long history of attacking tobacco harm reduction and vaping in an attempt to get funding for his junk science. This time around he is telling anyone who is in the market for a salacious story that vape companies have been "exploiting" the COVID pandemic to boost sales.

When Californian zealots helped set up the Centre for Disease Control's (CDC) Still Blowing Smoke evidence-free attack on vaping website, Stefan Didak humorously created the Not Blowing Smoke parody site, providing visitors with genuine facts about vaping.
The party that is most passionate about incorporating tobacco harm reduction and vaping in its smokefree vision could pick up an additional 200,000 votes, says the Aotearoa Vapers Community Advocacy (AVCA). It believes this massive voting constituency is so far being ignored in the New Zealand election campaign.

AVCA believes that if politicians switch on to the potential and appeal to vapers it could make or break success for a minor party. The General Election will take place on 17 October, with the call also being made by Kiwi vaping advocates to encourage the Australian Federal Government to change its "backward" stance on vaping.
---

---
Guiding Principles – Ian Irvine
The central challenge for governments in the area of e-cigarette use is to formulate policies that simultaneously encourage smokers to switch to vaping (or quit nicotine use entirely) and to discourage young people from starting. To date, the increase in youth experimentation has led government ministries, elected officials and the media to focus almost solely on policies designed to prevent youth use. But huge health gains may also materialize if habituated smokers can switch in large numbers. Several principles should guide policy to meet these twin goals.

What does the National Youth Tobacco Survey 2017-2019 reveal about high school e-cigarette use in the USA?
Martin Jarvis, Sarah Jackson, Robert West, Jamie Brown
Between 2018 and 2020, the US Food and Drug Administration announced various restrictions on e-cigarette manufacturers in response to a perceived epidemic of e-cigarette use and nicotine dependence among high school students. The stimulus came from headline figures from the 2018 and 2019 National Youth Tobacco Survey (NYTS). We analysed e-cigarette use and dependence in the NYTS in relation to lifetime history of use of tobacco products.
Should have access to flavors – Brenner Brightbill
The people who vape in Larimer County are responsible adults in our community who are looking for stores, like my former store, Legacy Vapors, to help them find solutions to end their addiction to smoking cigarettes. Vaping is a healthier alternative to traditional combustible cigarettes. Similar to how adults can make choices about which condiments to put on their food, which flavor of liquor to consume, or which candy bar to consume, adults should have the same options when it comes to vapor flavors.

Thanks to COVID combined with overregulation, I made the painful choice to close my store. The one misunderstanding about vape shops is our purpose. Unlike a restaurant, liquor store or candy store, vape shops are providing less harmful products to responsible adults.
Juul said it would make a "significant" cut to its global workforce and explore pulling out of some European and Asia-Pacific markets to save cash and weather a tumultuous period for the e-cigarette industry.

The company, partly owned by Marlboro maker Altria Group, is planning to lay off about 1,200 employees, more than half its workforce, the Wall Street Journal reported, citing people familiar with the matter.

"No final decisions have been made and we will continue to go through our evaluation process," a Juul spokesman said Thursday.
---
A look back at how things have moved on or otherwise….
Konstantinos E. Farsalinos, HeathWorld
An estimated 12% of the world's cigarette smokers live in India. Every year, India loses nearly 1.35 million people to smoking and spends 1.16% of its GDP in fighting the tobacco menace. India's tobacco crisis is exceptionally unique with the prevalence of a complex, 'rainbow' landscape. Not only smoking, but a large section of population also indulges in chewing tobacco in the form of smokeless tobacco (SLT) such as khaini, zarda, gutkha, etc. For over 270 million tobacco users in India, there has to be a viable alternative that helps them switch from tobacco dependence to harm-reducing choices such as ENDS i.e., Electronic Nicotine Delivery Systems.
Michael Siegel , The Rest of the Story
Last Friday, the Secretary of the Department of Health and Human Services (DHHS) issued a statement on the recent upsurge in reported cases of respiratory illnesses that have occurred among more than 200 youth and young adults, all of whom reported "vaping."
Joseph Magero

, Medium
Thanks to tobacco control, cigarette smoking is now a moralized behavior in the African culture, with smokers being judged as immoral people. Moralization refers to the gradual cultural and personal process by which objects or activities move from being morally neutral to morally contemptuous.
---
Visit Nicotine Science & Policy for more News from around the World

---