Vaping Digest 2nd September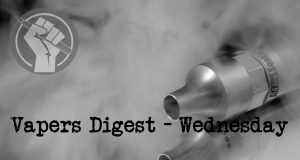 Wednesday's News at a glance:
UK Vapers May Face New Threats, as Public Health England is to be Dissolved ~ Vaping Group Calls for Continued Pragmatism ~ Vaping rates not associated with outbreaks of lung injury, study finds ~ Epidemic of youth nicotine addiction? What does the National Youth Tobacco Survey 2017-2019 reveal about high school e-cigarette use in the USA? ~ Making Smoking History ~ The Future of Open Vape Systems in Canada ~ Dr. Mendelsohn interview about vaping and smoking ~ Upper Hunter MP Michael Johnsen calls for legalisation of nicotine vaping in NSW ~ Women And Tobacco Harm Reduction \\ An LMIC Panel Discussion ~ News from Parliament ~ Vaping Smashes Cigarette Sales ~ Australia Blanks HNB Benefits ~ Vape Ban ~  Tobacco industry could ask California voters to overturn ban on flavored tobacco sales
Diane Caruana, Vaping Post
As the PHE was reportedly unable to deal with the Covid-19 crises effectively due to under-funding, UK ministers have decided to merge it with the NHS and distribute its responsibilities amongst other entities. According to The Sunday Telegraph, Health Secretary Matt Hancock is to announce that a new Institute for Health Protection will become "effective" as of this month.
TWO from Tobacco Reporter
The U.K. Vaping Industry Association (UKVIA) has urged British health authorities to continue their pragmatic policies on vaping.
The U.S. Patent Office has granted Sting Free AB a patent (US 15/255,163) for a technology that makes snus and other nicotine pouch products more accessible to adult consumers by eliminating the stinging sensation associated with their use.

The European Patent Organization too intends to grant a patent covering 39 nations for the technology. Sting Free AB already holds the Swedish patent rights to this invention.
Higher rates of e-cigarette and marijuana use in U.S. states did not result in more e-cigarette or vaping-related lung injuries (known as EVALI), a new study from the Yale School of Public Health finds.

Published in the journal Addiction, the study estimates the relationship between states' total reported EVALI cases per capita as of January 2020, and pre-outbreak rates of adult vaping and marijuana use.
---
What does the National Youth Tobacco Survey 2017-2019 reveal about high school e-cigarette use in the USA?
Martin Jarvis, Sarah Jackson, Robert West, Jamie Brown, Qeios
Background: Between 2018 and 2020, the US Food and Drug Administration announced various restrictions on e-cigarette manufacturers in response to a perceived epidemic of e-cigarette use and nicotine dependence among high school students. The stimulus came from headline figures from the 2018 and 2019 National Youth Tobacco Survey (NYTS). We analysed e-cigarette use and dependence in the NYTS in relation to lifetime history of use of tobacco products.
Dr. Michael Siegel, Public Health Post
Dr. Michael Siegel, an expert in tobacco control, alcohol use, and firearm violence, explains the surge in respiratory illness and death associated with vaping. (Podcast)
Saddle Horse Blues
Open systems, in their current form, will no longer be legal in Canada as of January 2021. In a repeat of experiments past, the government has once again inserted itself in an area it clearly has no expertise in and is making decisions that will affect a large consumer base in ways that it has failed to account for. And, as is so often the case with new legislation governing the masses, it isn't based on anything we can actually measure: pre or post implementation. It's unclear what problem this legislation would solve. Open systems have not presented a problem in Canada. Changing them to suit the government, on the other hand, will have serious implications.
---

---
---
Cody Tsaousis, MuswellBrooke Chronicle
OVER the past few years, the use of vapes and e-cigarettes has become increasingly popular, so much so it has now developed its own set of rules and regulations – to an extent.

Vaping is legal in NSW, but only if it is free of nicotine. It is legal to import e-cigarette nicotine liquid from overseas though.
---
The Member for the Upper Hunter is spearheading a new campaign to change the laws surrounding e-cigarettes.

Thousands have already shown their support via an online petition, launched this week.@LydiaBilton pic.twitter.com/OcyuzNOZLP

— NBN News (@nbnnews) September 2, 2020
TOPS #tobacco policy seminar 9/4/2020!

Presenter: Jean-François Etter @etterjf

Institution: University of Geneva

Title: The gateway effect and electronic cigarettes

The seminar will draw insight from: https://t.co/DTQFvA5O25

Zoom Registration URL: https://t.co/ouTJXTHfkw

— Tobacco Online Policy Seminar (TOPS) (@TobPolicy) September 1, 2020
---

---
Senator Matthew Canavan

(VIDEO) Two months ago the Government proposed banning the importation of liquid nicotine. Many people contacted me concerned that this would force them back to smokes. Thanks to their efforts the government deferred the ban. New evidence shows that vaping helps many kick the smoking habit and that they have much better health outcomes thanks to it. We should have a regulated market for harm reducing aids like vaping.
---
Patrick McGreevy, Los Angeles Times
California voters could be asked to overturn a new law banning the sale of flavored tobacco after opponents notified the state Monday of plans to seek a referendum on the measure.

A notice was filed with the state by an attorney who has represented firms including R.J. Reynolds, which led the opposition campaign to Senate Bill 793. Gov. Gavin Newsom signed the bill on Friday and it takes effect Jan. 1.
---
A look back at how things have moved on or otherwise…
Condemns 2.5 Million Ex-Smokers for Using E-Cigarettes to Quit
Michael Siegel, The Rest Of The Story
What do you say to a person who smoked two packs of cigarettes per day for 30 years and then quits completely by switching to vaping?

I would say: Congratulations on this amazing and difficult accomplishment. You've saved your life and done a huge service not only to yourself but to your family and friends.

The American Lung Association, in contrast, is saying to vapers: Shame on you! You shouldn't have done that. You're a bad person because you're still using a tobacco product. And you're at risk of dying from acute respiratory failure.
Not Legal E-Cigarettes, Are to Blame for Respiratory Illnesses
Jacob Sullum, Reason
Despite attempts to blame recent reports of respiratory illnesses among vapers on legal e-cigarettes, investigators are increasingly inclined to think the real problem is hazardous chemicals in black-market THC and nicotine products. The Washington Post reports that "state and federal health authorities are focusing on the role of contaminants or counterfeit substances as a likely cause of vaping-related lung illnesses." They "are narrowing the possible culprits to adulterants in vaping products purported to have THC…as well as adulterants in nicotine vaping products."
---
Visit Nicotine Science & Policy for more News from around the World

---