Vaping Digest September 2nd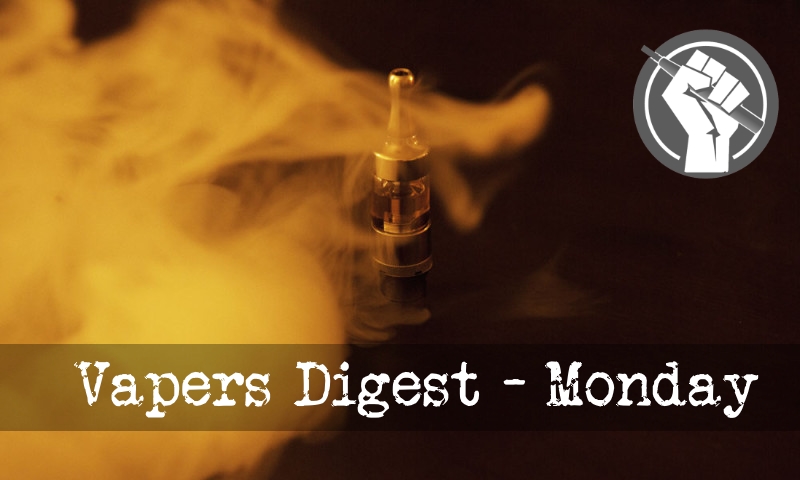 Monday's News at a glance:
Outbreak Update: New Possibilities, and the Feds Weigh In – American Lung Association Condemns 2.5 Million Ex-Smokers – Study: No Gateway Found – Vaping In The News – August 31st – Black-Market Vaping Products, Not Legal E-Cigarettes, Are to Blame for Respiratory Illnesses – Illicit 'Pot' Oil Culprit in Vaping Disease? – Vaping criticism will only protect cigarette trade – 3rd Asia Harm Reduction Forum – Workshop on Harm Reduction – Vaping reduces harm from tobacco – Nicotine Science and Policy Daily Digest
New Possibilities, and the Feds Weigh In
Jim McDonald, Vaping 360
Federal agencies issued statements Friday addressing the outbreak of "vaping-related" lung injuries, and one thing is clear: the FDA and CDC have every intention of continuing to misuse the terminology of vaping, causing public confusion and further.

The agencies are finally acknowledging that the problems are primarily being caused by black market THC oil products, usually called vape carts. However, both agencies continue to use confusing descriptions that could scare many newer vapers (and cigarette smokers who may be considering vapes) away from products not implicated in the outbreak.
The plain truth is that there is no evidence that any commercial nicotine vaping product has caused any of the more than 200 possible cases.
Condemns 2.5 Million Ex-Smokers for Using E-Cigarettes to Quit
Michael Siegel, The Rest Of The Story
What do you say to a person who smoked two packs of cigarettes per day for 30 years and then quits completely by switching to vaping?

I would say: Congratulations on this amazing and difficult accomplishment. You've saved your life and done a huge service not only to yourself but to your family and friends.

The American Lung Association, in contrast, is saying to vapers: Shame on you! You shouldn't have done that. You're a bad person because you're still using a tobacco product. And you're at risk of dying from acute respiratory failure.
That Smoking is No Worse than Vaping for Human Lung Disease
Michael Siegel, The Rest Of The Story
A major U.S. tobacco company on Saturday issued a press release boasting that smoking its cigarettes is no more harmful than vaping an e-cigarette that contains no tobacco and involves no combustion, at least in terms of lung disease. A spokesperson for the company was kind enough to allow The Rest of the Story to interview him. The transcript appears below, with only slight editing for purposes of clarity. I was given permission to publish the interview, but under the condition that I not name the spokesperson.
---

---
Dave Cross, Planet of the Vapes
A new study adds to the current wealth of evidence that there is no evidence to support the theory that vaping acts as a gateway into smoking. It was produced by Peter Lee and Katharine Coombs, of P.N.Lee Statistics and Computing Ltd., and Esther Afolalu, Philip Morris International. They concluded: "a true gateway effect in youths has not yet been demonstrated".

The team conducted a literature search, identified a key systematic review and meta-analysis on the association between initial use of e-cigarettes and subsequent cigarette smoking among adolescents and young adults.
Kevin Crowley, Vaping Links
Around the World of Tobacco Harm Reduction || Ms. Julie Woessner (INNCO & CASAA) ~ Smoke and mirrors: The nanny state critics behind the vape debate ~ Outbreak Update: New Possibilities, and the Feds Weigh In ~ The VTA Doesn't Need Juul Labs ~ A PMI and Altria Merger Would Threaten The Vaping Industry ~ IN MY VIEW: CDC and Health Groups' Bias Against E-Cigarettes is Putting Kids' Lives at Risk ~ Boston Pulmonologist Provides Misinformation About the Cause of Severe Lung Disease Associated with "Vaping" ~ Federal Officials Admit That Smoking Among Young Adults E-VAPORates ~ The Mysterious Vaping Illness That's 'Becoming an Epidemic' ~ MPs aghast over tobacco researcher Marewa Glover's claim
---
---
Not Legal E-Cigarettes, Are to Blame for Respiratory Illnesses
Jacob Sullum, Reason
Despite attempts to blame recent reports of respiratory illnesses among vapers on legal e-cigarettes, investigators are increasingly inclined to think the real problem is hazardous chemicals in black-market THC and nicotine products. The Washington Post reports that "state and federal health authorities are focusing on the role of contaminants or counterfeit substances as a likely cause of vaping-related lung illnesses." They "are narrowing the possible culprits to adulterants in vaping products purported to have THC…as well as adulterants in nicotine vaping products."
---
A number of people have asked about whether #vaping can still be said to be safe in the light of the recent US death, which is being widely linked to #ecigarettes by media reports. Thread…#publichealth

— Jim McManus OCDS (@jimmcmanusph) August 31, 2019
---
Salynn Boyles, MedPage Today
The parents of Texas teen Tryson Zohfeld had no idea their son was using vaping products when he became desperately ill with an unexplained, rapidly progressing respiratory disease earlier this summer.

The 17-year-old presented at Fort Worth's Cook Children's Medical Center with abdominal pain, vomiting, and extreme difficulty breathing.

A battery of tests quickly ruled out infection, and lung biopsy and autoimmune testing also failed to find a cause for his lung failure.

"He had the million-dollar work-up, but we found nothing that could explain what was happening with him," Karen Schultz, MD, a pediatric pulmonologist at Cook Children's told MedPage Today.
---

---
Will only protect cigarette trade – Professor Robert Beaglehole
A New Zealand academic has challenged the World Health Organisation's criticism that e-cigarettes are just as harmful as smoking, arguing that the approach will only protect the cigarette trade and do more harm than good.

The WHO recently warned that e-cigarettes are harmful to people's health as they contain addictive liquids with toxic substances. The organisation also says the devices are opening the door to addiction for youth, blaming the aggressive push for vaping products from big tobacco over the past few years.
Korea Harm Reduction Association
The KHRA is proud to be the co-host of the 3rd Asia Harm Reduction Forum, which will be held in Seoul on 29 August 2019. We look forward to welcoming all the participants from Asia and the Pacific region. We believe that this Forum will greatly benefit the public health sectors and particularly smokers in Asia who deserve the access to better alternative tobacco products.

Delhi Medical Association and Heart Care Foundation
The Delhi Medical Association, on 26th August, organized a workshop on harm reduction, a concept that focuses on decreasing the negative effects associated with certain behaviours, such as tobacco use. The workshop was attended by 35 doctors specializing in fields such as cardiology, pulmonology and oncology.

Notable among the speakers were Professor Riccardo Polosa, Director of the Institute of internal and Emergency Medicine at the University of Catania in Italy, and Professor Ron Borland, Nigel Gray, Distinguished Fellow in Cancer Prevention at Cancer Council, Victoria, Australia.
Park Gi-taek
The health authorities need a smoking cessation policy that promotes the use of electronic cigarettes and vaping devices to reduce harm from tobacco, experts said.

Asian, Canadian and European experts at the Asia Harm Reduction Forum Seoul 2019 Thursday picked e-cigarettes and heat-not-burn tobacco as one of the tools to induce harm reduction. Korea Harm Reduction Association and Yayasan Pemerhati Kesehatan Publik (YPKP) Indonesia jointly held the forum in Yeoui-do, Seoul.
---
A look back at how things have moved on or otherwise….
Mawsley, Planet of the Vapes
The team led by Neil McKeganey, at The Centre for Substance Use Research (CSUR), has produced a study, which suggests there are strong benefits to smoking cessation services providing smokers with e-cigarettes at "zero or minimal costs for at least a short period of time."

For McKeganey's team, the problem is clear: "Despite rates of smoking uptake declining in the western world, tobacco smoking still continues to kill more people, cause more disease, and contribute more to social inequalities in high-income countries than any other preventable factor."
And A Continued Smoking Decline in 2017 – Brad Rodu
Despite the rhetoric, there is no "Juul epidemic" among high school students.

The purported epidemic has been widely cited in the media.  Just last week, an article in theNew England Journal of Medicine (here) asserted that "use of these products is rampant among young people."  The authors based their claim on "Media stories about Juul … [that] highlight anecdotal reports from students, parents, teachers, and school superintendents."
---
Visit Nicotine Science & Policy for more News from around the World

---