Vaping Digest August 30th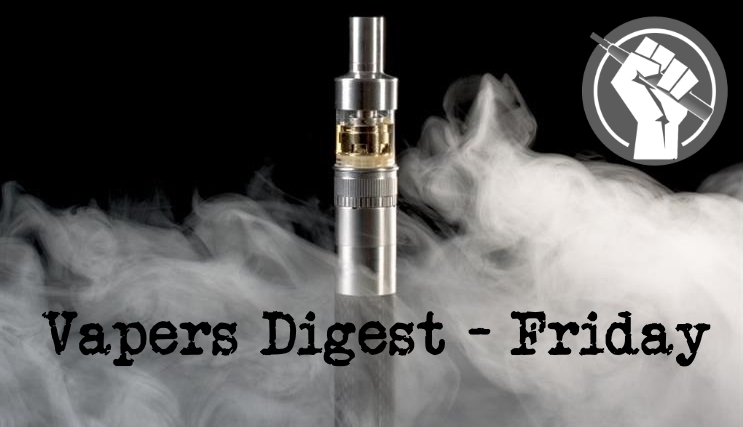 Friday's News at a glance:
Lancet commentary – Nicotine without smoke: – US lung disease outbreak claims first death and India mulls ban and lawyers circle – Confused vaping stories that cost lives – Lung Disease Epidemic: Will CDC and FDA Tell the Truth? – Boston Pulmonologist Provides Misinformation – Federal Officials Admit That Smoking Among Young Adults E-VAPORates – Yogi Makes a Boo-Boo – Stealthy Research Shocker – Marewa Glover Attacked – India Jail Proposal – Current E-Cig Scene in India – Vaping criticism will only protect cigarette trade – Flavor Bans Do Not Reduce Youth E-Cigarette Use – The demonization of vaping – Vape to Quit campaign coming soon in New Zealand – Nicotine Science and Policy Daily Digest
Nicotine without smoke: fighting the tobacco epidemic with harm reduction
Clive Bates, The Counterfactual
I am proud to be a co-author of a commentary published today in The Lancet: Nicotine without smoke: fighting the tobacco epidemic with harm reduction (PDF) with Robert Beaglehole (lead author), Ruth Bonita and Ben Youdan. In a nutshell, we take issue with the anti-innovation stance of WHO and many groups working in public health:

Before the full text, a word about the authors – Robert Beaglehole and Ruth Bonita are highly experienced in the field of non-communicable diseases.  Ben Youdan and I have both campaigned for years to reduce the harms caused by smoking.
India mulls ban and lawyers circle – Fergus Mason
The mystery epidemic of lung disease that's appeared in the United States claimed its first life last week, when an Illinois man died as a result of severe lung damage. The outbreak is being blamed on vaping even though health officials admit they have no idea what the actual disease is – and despite the fact that, with millions of vapers worldwide since 2003, this problem exists only in the USA and only since late June this year. Unfortunately, however flimsy the evidence it just gives more ammunition to legislators and lawyers in their ongoing war against safer nicotine products.
---

---
IBVTA
This week has seen a number of sensational headlines appear in US media, warning that "vaping" has been the cause of some clusters of illnesses, and in one distressing case, a death. The US authorities have issued statements and warnings about ''e-cigarettes'' and ''vaping'', but what is the real story?

The real story is that all the evidence is currently suggesting that these illnesses have been caused by the use of black market cannabis products, not by vaping nicotine e-liquid.

Yet the exaggeration, obfuscation, and misinformation at play have linked vaping e-liquid to serious respiratory illnesses. This link has been repeated by media and opponents of harm reduction and vaping, and is likely to have a detrimental and long term effect on public health by encouraging smoking instead of vaping.
Will CDC and FDA Tell the Truth? – Jim McDonald
The epidemic of lung disease connected to vaping has grown rapidly, and until public health officials start treating it as a public health issue, and not a weapon to bludgeon the legal vaping industry, the situation isn't likely to improve.

When we first reported on the issue less than three weeks ago, the outbreak was limited to fewer than two dozen cases in Wisconsin and Illinois. Last Friday, the Centers for Disease Control and Prevention (CDC) reported that it was investigating 193 suspected cases in at least 22 states.
---
---
About the Cause of Severe Lung Disease Associated with "Vaping"
Michael Siegel, The Rest Of The Story
In an article published today in the Boston Herald, a Boston pulmonologist attributed the growing number of cases of severe, acute respiratory disease to "vaping" in general, giving the impression that the risk factor for these illnesses is any type of e-cigarette use and implying that any youth who uses electronic cigarettes is at risk. She hyped up this claim about calling vaping "the number one respiratory public health concern in youth and young adults worldwide."
In Baseless Scaremongering by Linking 'Severe Lung Illness' to 'E-Cigarette Aerosol'
Jacob Sullum, Reason
What happens when public health officials tell people to be on the lookout for respiratory conditions that might be related to "vaping"? They get a lot more cases, less clarity about what is going on, and a handy propaganda weapon to deploy against potentially lifesaving products they irrationally dislike.

Since early last week, when a couple dozen cases of breathing problems following vaping had been reported in Illinois, Minnesota, and Wisconsin, the number has climbed into the triple digits. According to an August 23 update from the Centers for Disease Control and Prevention (CDC), "193 potential cases of severe lung illness associated with e-cigarette product use had been reported by 22 states." Those cases include the first reported fatality, which happened in Illinois.
Among Young Adults E-VAPORates – Brad Rodu
One month ago I used data from the federal National Health Interview Survey (or NHIS, which is administered by the Centers for Disease Control and Prevention) to illustrate that smoking among young adults (age 18-24 years) is evaporating. In fact, the prevalence of current smoking in this group, defined in NHIS as every day or some days, was 7.8% in 2018.

The federal National Survey on Drug Use and Health (NSDUH) is another annual survey that measures smoking. It is administered by the Substance Abuse and Mental Health Services Administration (SAMHSA). Although the NSDUH collects information on smoking, in addition to alcohol and many other drugs, it does not use the every-day or some-day questions. Instead, it asks about use in the past month.
---

---
Four from Dave Cross, Planet of the Vapes
In a piece copy-pasted from America, the UK's Guardian newspaper asks if recycling is "Vaping's other problem". The article revolves around University of California San Francisco's (UCSF) Dr Yogi Hale Hendlin's far-fetched and unsupported beliefs that vaping presents "a significant environmental problem".

The reproductive sciences academic has worked on multiple pieces of research with anti-vape zealots like Glantz, Chafee, and Ling. The stories currently circulating media newsrooms result from a solo editorial he had published in the American Journal of Public Health in 2018, asking: "Are e-cigarettes creating a recycling disaster?"
Researchers at the Department of Medicine and the Department of Public Health Sciences at Penn State College of Medicine have demonstrated that there is too much money sloshing about for lightweight studies. The Pennsylvanian sextet concluded that where vaping is banned, vapers often stealth-vape.

In "E-cigarette users commonly stealth vape in places where e-cigarette use is prohibited", the team begins with conflation from the outset: "Smoke-free air policies protect non-smokers from hazardous secondhand tobacco smoke, promote quitting and smoking reduction among current smokers, and discourage initiation among youth."
When Marewa Glover was nominated to be New Zealander of the Year several anti-vaping noses were bent out of shape. An admirable tobacco harm reduction campaigner, she holds opinions that irk the likes of Simon Chapman. Speaking about a government proposal to criminalise smoking in cars with children has triggered a spate of cultish ad hominem attacks from "the Church of Tobacco Control".

The story doesn't begin with the government's proposal, but this was the event that triggered a spate of attacks on New Zealand's leading harm reduction advocate. "Criminalising smoking in the car will disproportionately target Māori women and it will lead to fines, people unable to pay the fines, penalties added and eventually imprisonment," said Martyn Bradbury.
India has attempted to ban vaping but the national government was defeated in the courts. Instead, it advised states to implement their own bans as it continued its work to oppose tobacco harm reduction. Recently, POTV exposed how the government is blocking independent research. Now the Ministry of Health is lobbying for an executive order to ban the manufacture and sale of all vape products.

Executive orders tend to be used when the government is not in session and emergencies need to be addressed. To use it to control vaping means the Ministry of Health is admitting it has lost all legal arguments and has no other way to force through its ridiculous and undemocratic measures.

Dr Farsalinos, Diane Caruana
Renowned cardiologist and anti-smoking researcher Dr. Konstantinos Farsalinos, speaks about the situation surrounding e-cigarettes in India. Despite the research indicating the effectivity of e-cigarettes as smoking cessation tools, and the fact that India has one of the largest smoking populations in the world, local lawmakers continue to fight vaping.

According to a June report by the Press Trust of India, a proposal by the Drugs Technical Advisory Board of India, suggests prohibiting the sale, manufacture, import and distribution of all ENDS, under Sections 26A and 10A of the Drugs and Cosmetics Act, 1940. The proposal states that, "After revisiting its earlier deliberations, the Drugs Consultative Committee has recommended that concluded that these devices fall under the definition of 'drug'.
Flavor Bans Do Not Reduce Youth E-Cigarette Use – Lindsey Stroud
State Government Relations Manager Lindsey Stroud examines the California Youth Tobacco Survey results from 2017-18, finding youth vaping has increased in several California localities that have restricted access to flavored tobacco products.

As lawmakers across the country consider legislation to curb youth use of electronic cigarettes and vaping devices, one policy gaining traction is banning the sale of flavored e-cigarettes. Although addressing youth e-cigarette use is laudable, policymakers should refrain from such bans because they threaten tobacco harm reduction options for adults. Moreover, according to data from the California Youth Tobacco Survey (CYTS), flavor bans have not reduced youth use of electronic cigarettes and vaping devices.
Paul Crespo, Washington Examiner
Despite the overwhelming evidence of the deadly danger of cigarette smoking, the government and media are now weirdly obsessing over one of the few proven tools to help smokers quit smoking. Vaping, which contains no tobacco and uses electronic devices, also called e-cigarettes, to produce vapor from liquids instead of burning tobacco, is used by millions of adults to help wean them off cigarettes. However, vaping is now being hysterically touted by some as an "epidemic" and the Food and Drug Administration (FDA) is considering banning the manufacturing of flavored vaping liquids.
A New Zealand academic has challenged the World Health Organisation's criticism that e-cigarettes are just as harmful as smoking, arguing that the approach will only protect the cigarette trade and do more harm than good.

The WHO recently warned that e-cigarettes are harmful to people's health as they contain addictive liquids with toxic substances. The organisation also says the devices are opening the door to addiction for youth, blaming the aggressive push for vaping products from big tobacco over the past few years.
Coming soon in New Zealand – ATHRA
New Zealand continues to show leadership in tobacco harm reduction with the new Vape to Quit campaign to go live on 13 October 2019. The government campaign will encourage smokers to quit with vaping on TV, radio and digital channels.

The campaign will feature videos of support and positivity filmed with real people encouraging someone close to them to quit smoking with vaping.

Activities will centre around the Vaping Facts website which has been live for 3 months so far.
---
A look back at how things have moved on or otherwise….
Resulting From Tobacco Smoking in COPD Patients, Even in the Long Term
Riccardo Polosa, University of Catania , PR Newswire
A new study that was recently published in the International Journal of Chronic Obstructive Pulmonary Disease, led by Riccardo Polosa, MD, PhD (Department of Clinical and Experimental Medicine of the University of Catania, Italy), suggests that electronic cigarette (EC) use may reverse some of the harm resulting from tobacco smoking in patients with chronic obstructive pulmonary disease (COPD). Furthermore, EC use may ameliorate objective and subjective COPD outcomes, which may persist in the long term.
CASAA, CASAA.ORG
Two recent study findings that were released to the media this month are just wild speculation, and possibly intentional misrepresentation, according to analysis by The Consumer Advocates for Smoke-free Alternatives Association (CASAA).

In an as-yet-to-be-published (or peer reviewed) preliminary study, researchers looked at the saliva of just 5 vapers, testing for the presence of carcinogenic chemicals. Researchers found increased levels of formaldehyde, acrolein and methylglyoxal. They reportedly found "increased DNA damage" in the mouths of 4 of the participants.
, Global News CA
---
Visit Nicotine Science & Policy for more News from around the World

---