Vaping Digest 7th September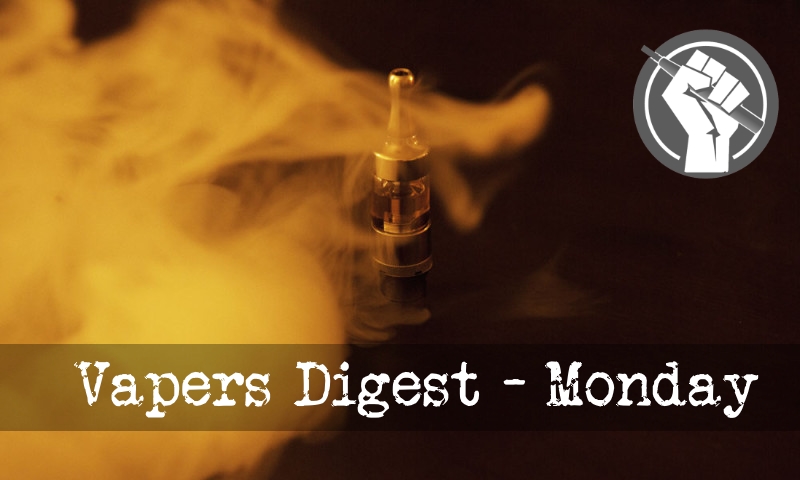 Monday's News at a glance:
Harry's Blog 104: Baptists and Bootleggers – Perthshire vape shop owner takes his business on the road – Vaping Advocates and Leaders Hold Successful DC Rally – Hundreds rally in DC – Lamentable Lancet Editorial – City of Chicago Flavor Ban Unlikely to Reduce Youth Vaping – Reynolds Seeks FDA Nod to Reintroduce Mixed Berry E-Cigarettes – Health Minister misinformed about nicotine poisoning – Time ripe for inclusion of harm reduction in tobacco control policy – PMFTC opens IQOS stores in the Philippines – The FDA vs. Tobacco Harm Reduction – Nicotine Science and Policy Daily Digest
Harry's Blog 104:
The term was coined by an economist to explain why those with seemingly opposing interests can sometimes find themselves in accord with one another. His example was how those campaigning for Prohibition found unwitting common cause with bootleggers whose fortunes were made with the passing of the Volstead Act. Regarding the battle over vaping, it's more to do with the Baptists aiding the bootleggers to preserve their existing mega bucks.

The narrative constructed by those who oppose tobacco harm reduction (THR) through the use of safer nicotine products (SNP) is that the whole business is a Big Tobacco ploy to hook kids on nicotine through the promotion of cool products in order to compensate for falling cigarette sales.
Perthshire vape shop owner takes his business on the road
Scotland's first mobile vape shop has hit the road in Perthshire after official backing from local licensing chiefs.

Former forensic psychologist Demis Cunningham seized on a gap in the market after becoming disillusioned with life on the high street.

Just months after opening his Whisk E-Vapes store in Crieff town centre, it was raided by thieves who made off with large amounts of stock and cash. But Demis decided to pull the shutters down for good in the face of mounting rent and his own personal mental health challenges.
---

---
Hold Successful DC Rally Ahead of Industry-Killing PMTA Deadline & November Elections
Vaping advocates from across the country descended on Washington D.C. on Saturday to show support for small vapor businesses and to demonstrate to President Trump that their votes have the power to change the upcoming election. Vaping advocates demanded President Trump push for the Food & Drug Administration to reform the Pre-Market Tobacco Application (PMTA) process or extend the cutoff before the looming deadline of Sept. 9. With 14,000 small businesses in jeopardy of vanishing overnight, the FDA is still tracking towards the Sept. 9 deadline requiring small businesses to file pricey and burdensome PMTAs to keep their products for sale.
---
Let's hope obtuse regulators get the message from the #SavetheVape rally on in DC yesterday—vaping is the best way to stop smoking!

— Steve Forbes (@SteveForbesCEO) September 6, 2020
1/12 @FDATobacco has failed as a regulator for vaping products. Given most products are similar, @FDATobacco FDA could have set up a standardised form. It could even have populated it with what is already known (a lot) and spared millions of hours of work and repetitive waste. https://t.co/b2ihABnvkl

— Clive Bates (@Clive_Bates) September 6, 2020
---
For continued access to vaping and other smoke-free alternatives – Valerie Bonk
The "We Vape, We Vote" movement descended on D.C. this weekend to ask for continued access to smoke-free alternatives to cigarettes.

Dimitris Agrafiotis, executive director of the Tennessee Smoke-Free Association, traveled to the event to raise awareness. He said after trying gums and patches, vaping was the only thing that helped him successfully quit smoking 10 years ago at the age of 39.

"Ironically, my father died at the age of 39 from smoking when I was just 2 years old," Agrafiotis said.

Two from Dave Cross, Planet of the Vapes
The United Vapers Alliance (UVA) organised a mass demonstration in Washington this Saturday to push home the message that vaping saves lives, the administration is set to kill the bulk of the independent business sector, and remind politicians that vapers vote – a key message for Donald Trump as he continues to sit behind in the polls.

The UVA says it "educates the public and politicians regarding the benefits of harm reduction via vapour products, and strongly conveys that changes must be made, within the FDA, to provide an economically feasible pathway to market."
The Lancet says it has "the best science for better lives", but when it comes to tobacco harm reduction it prefers to ignore evidence and grasp firmly to fiction. In yet another anonymous attack on vaping, it has published an editorial linking vape to the EVALI lung outbreak and the COVID-19 pandemic.

One year ago, reports began to detail a serious lung condition that resulted in 2807 cases and 68 deaths. Ever quick to see an opportunity, those opposed to tobacco harm reduction and vaping were quick to label it EVALI, standing for "e-cigarette, or vaping, product use-associated lung injury".
---

---
Unlikely to Reduce Youth Vaping – Heartland
Aldermen in Chicago are considering a local ordinance that would prohibit the sales of flavored liquid nicotine products, going further than most other proposals in other states that do allow mint or menthol flavors and to which industry has already responded.

Ostensibly, the ordinance intends to reduce vaping by the city's youth. And although addressing youth use of nicotine products is laudable, there is little evidence that flavor bans reduce youth e-cigarette use. Undoubtedly, such a ban would create a booming black market for flavored e-cigarettes that are consumed legally (as of now) by millions of American adults.
VIDA News SPOTLIGHT
To Reintroduce Mixed Berry E-Cigarettes – Angelica Lavito
Reynolds American submitted applications to keep selling its Vuse Alto e-cigarette in the U.S. just days ahead of the deadline for all vaping companies to pursue review from the Food and Drug Administration. Reynolds, a unit of British American Tobacco Plc, filed applications for its Vuse Alto-branded device and 12 cartridges in various flavors and nicotine strengths. It's seeking FDA permission to keep selling a menthol and two tobacco-flavored products, and to reintroduce the mixed berry nicotine liquid it stopped selling earlier this year to comply with an FDA ban on sweet flavors that might attract minors.

About nicotine poisoning – ATHRA
NICOTINE POISONING did not double in Victoria from 2018 to 2019 as stated by the TGA and Health Minister Greg Hunt. In fact, according to data released under Freedom of Information, there was no increase in poisoning at all in that 12 month period.

To justify the proposed ban on importing nicotine the Health Minister and the TGA claimed that "The Victorian Poisons Information Centre reported a doubling of liquid nicotine poisoning from 21 cases in in 2018 to 41 in 2019. The Minister's press release states:
Of harm reduction in tobacco control policy
Islamabad : With the draft National Tobacco Control Policy in the process of being finalized, the time is just right for Pakistan to incorporate the concept of harm reduction as a key component of the policy, thereby enabling smokers to quit or to switch over to alternatives that are proven to be less damaging than combustible cigarettes.

Even though the World Health Organization (WHO) and donor agencies supporting Pakistan in its fight against tobacco use are currently not giving specific focus to the concept of Tobacco Harm Reduction (THR) on the grounds that such interventions can potentially interfere with cessation and fuel initiation of tobacco use
Manila Bulletin
Philip Morris Fortune Tobacco Corporation (PMFTC) Inc., an affiliate of PMI, said the first four IQOS stores are making available a smoke-free alternative to cigarettes for Filipino adult smokers 21 years old and above who would otherwise wish to continue to smoke or use nicotine-containing products.

In a statement, PMFTC said the newly opened IQOS stores are located at the Eastwood Mall in Libis, Quezon City, SM Mall of Asia in Pasay City, SM Southmall in Las Piñas City, and Estancia Mall in Pasig City. The stores carry PMI's line of smoke-free products, the devices, heat sticks, and a full range of accessories.
---
A look back at how things have moved on or otherwise…
ANTZ are weaponizing it – Fergus Mason, Vaping Post
This week's vaping news is dominated by the outbreak of lung disease in the USA – which anti-vaping activists are exploiting to push for even more bans. This is ironic, because bans force people to buy on the black market; a few days ago, the CDC warned vapers against black market or counterfeit products, because they're the ones disease victims have been using. Has the USA learned nothing from the debacle of Prohibition? It certainly looks that way.
About the "vaping-related" (or cannabis-related?) lung disease
Dr Farsalinos, E-Cigarette Research
I have been following the recent developments and announcements in the US on the serious, acute cases of respiratory failure which have been presented as "vaping related". It would not be a hyperbole to characterize the reactions, announcements and statements of some authorities, regulators and scientists as hysterical. There is no doubt that they are emotional, inaccurate and without any scientific and epidemiological basis.

Almost all announcements, whether from health organizations or from local public health authorities refer to the cases as "vaping related".
---
Visit Nicotine Science & Policy for more News from around the World

---