Vaping Digest September 6th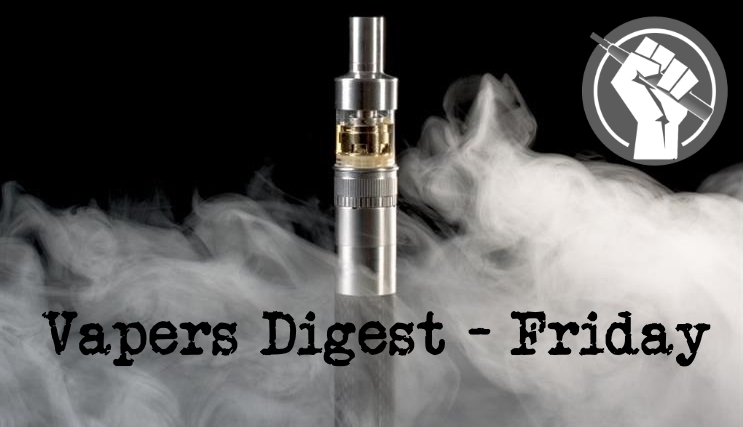 Friday's News at a glance:
Epidemic keeps growing and ANTZ are weaponizing it – The emotional and irrational hysteria in the US – Health Officials Name a Likely Culprit – ALERT: Major Breakthrough – CDC Has No Problem Attacking Vaping Companies – Exploiting Outlier Lung Disease Cases – Michigan Governor Declares Cigarettes Safe – Juul Labs Announces Support For Michigan Flavor Ban – Stop Smoking With VPZ – Diamond's Aren't Forever – Second-hand Tan – The Dominoes Start To Fall – Lung Reaction – E-Cigarettes and lung function in mice – FDA regulations on e-cigarettes – SBS's medical reporting goes up in smoke – Altria-Juul Labs deal – Nicotine Science and Policy Daily Digest
ANTZ are weaponizing it – Fergus Mason, Vaping Post
This week's vaping news is dominated by the outbreak of lung disease in the USA – which anti-vaping activists are exploiting to push for even more bans. This is ironic, because bans force people to buy on the black market; a few days ago, the CDC warned vapers against black market or counterfeit products, because they're the ones disease victims have been using. Has the USA learned nothing from the debacle of Prohibition? It certainly looks that way.
About the "vaping-related" (or cannabis-related?) lung disease
Dr Farsalinos, E-Cigarette Research
I have been following the recent developments and announcements in the US on the serious, acute cases of respiratory failure which have been presented as "vaping related". It would not be a hyperbole to characterize the reactions, announcements and statements of some authorities, regulators and scientists as hysterical. There is no doubt that they are emotional, inaccurate and without any scientific and epidemiological basis.

Almost all announcements, whether from health organizations or from local public health authorities refer to the cases as "vaping related".
---

---
In Lung Disease Outbreak – Jim McDonald
State and federal investigators have discovered that many of the illegal THC oil cartridges provided for testing by the victims of a mysterious lung condition contain a thick cutting agent called tocopherol acetate, or more commonly vitamin E acetate. New York State authorities are calling the substance a "key focus" of their investigation.

The story was first reported by the Washington Post, which referred to the substance as an oil. It technically isn't an oil (though it is oil soluble), but can cause serious lung damage anyway. The possibility that tocopherol acetate could be responsible for the lung injuries was first raised by Leafly's David Downs in an article published Aug. 30.
In Investigation of "Mysterious" Lung Disease Outbreak
Dr. Michael Siegel, The Rest of the Story
There has been a major breakthrough in the investigation of the outbreak of more than 300 cases of a "mysterious" lung disease that the CDC and many other health agencies have told the public is due to the vaping of electronic cigarettes. And now, everything is starting to make some sense.

Illicit THC vape carts that were obtained from a number of case patients that were tested in federal and state laboratories have tested positive for vitamin E acetate, an oil that just started to be used late last year as a thickening agent in bootleg THC vape carts.
So Why are They Protecting the Marijuana Drug Cartel?
Dr. Michael Siegel, The Rest of the Story
We now know that the majority of cases of the severe respiratory disease outbreak that has affected more than 300 people and resulted in three deaths across the United States are associated with the use of illicit, bootleg marijuana vape carts that are produced by what is most likely a relatively small cartel of illegal manufacturers. E-liquid samples from patients across multiple states have tested positive for tocopherol acetate and at high levels, with at least one sample reported to be comprised of 50% tocopherol acetate. The CDC itself reported today that a cluster of cases of lipoid pnemonia in North Carolina were all associated with the use of bootleg THC oils.
Does a Disservice to Public Health – Brad Rodu, Tobacco Truth
In her excellent August 28 USA Today article on the recent emergence of vaping-related lung illnesses, Jayne O'Donnell noted that "Some state health department and news reports suggest many of the cases of lung problems involve tetrahydrocannabinol, known as THC, the chemical in marijuana that causes psychological effects."

I fully agree with Boston University's Dr. Michael Siegel, who said, "The Centers for Disease Control and Prevention is being 'unnecessarily vague' about describing the injuries as simply vaping-related when many people might have been injured by vaping THC oil."
---
So blaming vaping is like blaming spoons for heroin-cooking? #banspoons https://t.co/jvNpYrnML4

— Louise (@grannylouisa) September 6, 2019
Successful meeting today with another local stop smoking service. They're starting a #vaping scheme with IBVTA member #vape shops. We provide the assurances local authorities need to ensure they are working with reputable businesses, which are independent of the tobacco industry.

— IBVTA (@TheIBVTA) September 6, 2019
---
Kevin Crowley, Vaping Links
Governor Gretchen Whitmer of Michigan has arrogantly declared cigarettes are safe and will remain available for consumers of all ages in her state. "Alternative nicotine products" will be banned to protect the children ™.

It seems the words "regulate, restrict, tax and ban" will not catch on (in that order) as I had envisioned. Michigan, like San Francisco, has chosen the word "ban" for less harmful products to protect the children™ … I'm happy to report however, cigarettes are safe.
 Michael McGrady
Juul Labs, one of the largest e-cigarette manufacturers in the world, released a statement to news media on September 4 announcing the company's support for a flavor ban recently instituted by Michigan Gov. Gretchen Whitmer, a Democrat.

Whitmer utilized her executive power to ban the sale of flavored e-cigarettes. Juul, in-kind, responded with the full support for aggressive policies targeted at reducing youth uptake of e-cigarettes.

"As governor, my number one priority is keeping our kids safe," said Whitmer in a previously released statement sent to Vaping Post. "And right now, companies selling vaping products are using candy flavors to hook children on nicotine and misleading claims to promote the belief that these products are safe. That ends today."
---

---
Five from Dave Cross, Planet of the Vapes
With 135 stores across the UK, VPZ is the UK's largest retailer of vaping products. Following a recent report from Action on Smoking and Health, and Cancer Research UK, VPZ has launched a new stop smoking service aiming to help a quarter of a million Brits quit smoking over the next 12 months.

VPZ was confirmed as Scotland's fastest growing company in Sunday Times Virgin Atlantic Fast Track Top 100 league table, ranking 24th in the overall UK standings. As part of the support service, the vaping specialist is also partnering with supplier Innokin to offer smokers a 30-day money back guarantee on their discounted starter-kit.
An ad for Diamond Mist Eliquids appeared on the side of a bus during April and May. It was reported to the Advertising Standards Authority (ASA) as it featured a man bearing a resemblance to the athlete Sir Mo Farah, and bore the phrase, "Mo's Mad for Menthol".

The advert featured an image of the eyes and eyebrows of a bald-headed man, along with the text: stated "Mo's Mad for Menthol. Explore Our Vape Flavours: Find Your Favourite #switchtomist. Some Eliquids contain Nicotine Which Is A Highly Addictive Substance".
Dana-Farber Cancer Institute's Andy Tan led a team that has published a letter on JAMA Network Open. The letter details research they conducted, looking at the prevalence of exposure to second-hand vape – but it failed to make any mention of the risk posed by vapour.

The research letter, "Trends in the Prevalence of Exposure to e-Cigarette Aerosol in Public Places Among US Middle and High School Students, 2015 to 2018", opens by ignoring risk and selectively taking a single source to say: "Approximately one-quarter of US youth were exposed to second-hand electronic cigarette (e-cigarette) aerosols between 2015 and 2017."
The responses to the recent spate of lung problems in the United States have been varied and (for the most part) intentionally misleading. The leading lung bodies in the United States and Great Britain have demonstrated their relative trustworthiness through the manner they have responded to the situation. While the American Lung Association whips up unfounded fear, the British Lung Foundation sticks to facts – it is obvious which one is really "trusted".

"[We are] our nation's most trusted voice and resource for lung health. This 4-star rating is further affirmation that when you make a donation to the Lung Association, you can trust that we will put it to the best, most impactful use," writes $470,420 p/a CEO Harold Wimmer.
Many predicted that 2019 would be a pivotal year for tobacco harm reduction in the United States. POTV agreed with Clive Bates' view that bans were inevitable given the volume of bias studies and the lies being spread by funded campaign groups. California's stupidity has now triggered the toppling of dominoes across the country as Michigan announces its ban.

Legislators in Boulder, Colorado, voted unanimously yesterday to bring forward a vape flavour ban, with an implementation date set for January 2020. In addition, they passed a resolution to implement an "emergency" 40% tax on "electronic smoking devices" on top of the $9 State tax.

E-cigarettes and lung function in mice
Prof John Britton, UK Centre for Tobacco & Alcohol Studies
"This will be helpful to doctors who are consulted by mice thinking of moving into a cage full of smoke or vapour for the rest of their lives.

"Lungs are delicate organs, and long-term inhalation of anything other than clean air is likely to cause damage, but the relevance of damage to mouse lungs to human health is far from clear."
An exercise in crony capitalism – Matt Mackowiak
Nearly a year ago, the Food and Drug Administration issued a major statement on "electronic nicotine delivery systems" (ENDS) — better known as e-cigarettes — accompanied by a speech from former Commissioner Scott Gottlieb declaring that there was an urgent need to address an "epidemic" of teenage use of flavored, cartridge-based products.

After a summit with the five leading e-cigarette sellers, Juul, Altria, Reynolds, JTI/Logic and Fontem/Blu), each of the companies issued statements announcing steps to address the FDA's concerns.
Colin Mendelsohn
The Nine (Fairfax) news publications recently established a set of guidelines for reporting medical research and is to be commended for this. A recent article on vaping for The Feed on SBS showed why this is so important.

The article broke almost all the rules for good medical reporting including not seeking independent comments from experts with opposing views, focusing on the potential risks and ignoring the benefits of the intervention and referencing animal studies as if they are valid for humans.

The experts were allowed to make unsubstantiated and misleading assertions which are guaranteed to misinform the average reader.
Why did it occur and what does it mean for the US nicotine delivery product market
On 19 December 2018, Altria announced an offer of US$12.8 billion for a 35% share of Juul Labs. The deal combines Altria (formerly Philip Morris), the company with the largest share of the US cigarette market, with the large and rapidly growing vaping product (aka e-cigarette) company, Juul Labs. The acquisition price was based on a US$38 billion valuation, which was more than twice Juul Labs' August valuation, and a surprise to many investors on Wall Street. The deal includes a 6-year agreement, in which Altria would not be allowed to acquire additional Juul Labs shares above the agreed 35%. In addition, Altria dropped its MarkTen e-cigarette brand.
---
A look back at how things have moved on or otherwise….
Dick Puddlecote
Let's leave aside for a moment the vile manipulation of children here – completely oblivious to how it must make kids with parents who smoke feel to see their loved ones treated like that – and look at what Barnsley is actually doing. Because, as is quite obvious, it's fuck all to do with the kids, and not really anything to do with health either.
Christopher Snowdon, Velvet Glove Iron Fist
The WHO's Framework Convention on Tobacco Control (FCTC) is holding its biennial conference in Geneva next month. It is the eighth 'Conference of the Parties', hence it is known as COP8.

In preparation for the event, various documents have been circling the global anti-smoking community to get a consensus on what to ban next. The depiction of tobacco use in the arts is one candidate. You can read the WHO's proposal here.
Dick Puddlecote
Remember that smoking ban which was about protecting bar workers? Oh yeah, and the plain packaging of cigarette packets which was solely about making sure kids don't start smoking?

It wasn't about bullying smokers, heaven forbid! No, you were free to make your own choices, they just wanted to safeguard the kiddies and put a welcoming arm around poor put-upon bar staff.
---
Visit Nicotine Science & Policy for more News from around the World

---