Vaping Digest September 9th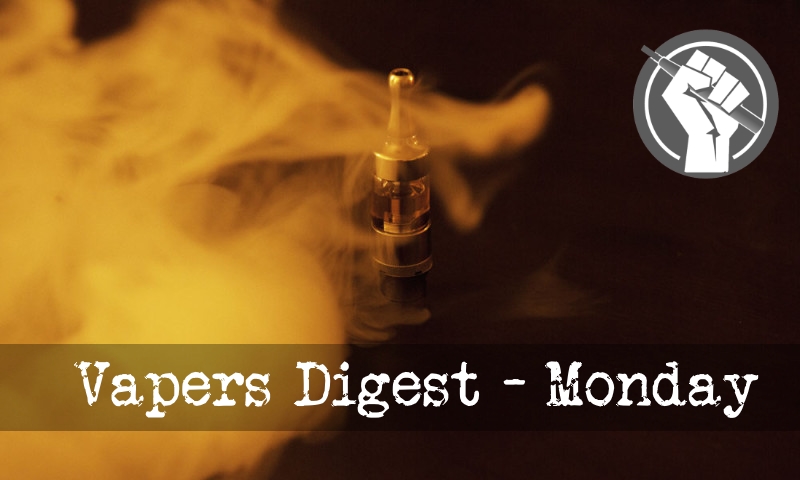 Monday's News at a glance:
Leaked papers: WHO to intensify its pointless and destructive war against innovation – expect many dead – Vaping In The News ~ September 7th – Leading Campaigners Address Indian Government – E-cigarette ban is no cure to India's tobacco problem – Hempstead Horrorshow – E-cigs touted as potential healthier alternative – THR: Applying the Evidence to Policy – Vaping debate rages in Australia – Over-regulating e-cigarettes – Legal e-cigs in the clear in US epidemic – CDC's Obfuscation of Link – Vaping Is NOT About To Kill You – The Facts on "Vaping-Related" Lung Illnesses – Nicotine Science and Policy Daily Digest
WHO to intensify its pointless and destructive war against innovation
Clive Bates, The Counterfactual
This week there will be a meeting of tobacco regulators under auspices of the FDA-funded WHO Global Tobacco Regulators' Forum (GTRF) in the Netherlands and part of the preparation for FCTC COP-9, which will be held in 2020, also the Netherlands. Two leaked papers from WHO's Eastern Mediterranean Regional Office (EMRO) suggest that WHO is building up to an attempt to treat reduced risk products no differently to cigarettes or with even greater hostility.

EMRO Paper on Electronic Nicotine Delivery Systems
EMRO Paper on Heated Tobacco Products

I do not have time for a line by line critique of these wretched documents, and to be honest, none is needed. There are common themes that describe the contents sufficiently:
Kevin Crowley, Vaping Links
If you are afraid of going back to smoking, seek out other smoke-free alternatives. ~ The emotional and irrational hysteria in the US ~ Vaping Illnesses: Consumers can Help Protect Themselves by Avoiding Tetrahydrocannabinol (THC)-Containing Vaping Products ~ VTA Responds to CDC & FDA Statements ~ Vaping and the Mic with Kim Shilling ~ E-Cigarettes: Smoke & Mirrors ~ Speaking of needing "treatment". ~ For posterity ~ Michigan Governor Declares Cigarettes Safe
---

---
Dave Cross, Planet of the Vapes
As reported by POTV last week, the Indian government is pushing through a vaping ban by using an executive order. Leading experts and advocacy organisations, like the UK's New Nicotine Alliance (NNA), from across the globe have written to point out the facts about vaping and the idiocy of banning smokers' access to reduced harm products.

The Indian government is claiming that vaping is a gateway into smoking and harm reduction is nothing more than a marketing ploy.
Riccardo Polosa
With over 267 million tobacco users in India, the country needs a solution to its tobacco problem. Rushing into unilateral approaches to this multifaceted problem by banning e-cigarettes needs careful thought and reflection. By suggesting an outright ban on the less harmful alternative option, Electronic Nicotine Delivery Systems (ENDS), the Indian Council of Medical Research (ICMR) could be missing the point.

Studies by credible International institutions show that e-cigarettes are less harmful than tobacco cigarettes. In 2014 and 2015, Public Health England (PHE) published a report stating that e-cigarettes are unlikely to have more than five percent of the risk of tobacco cigarettes.
---
The cases of severe lung illness in the #USA are connected to oil extracts in liquids illegally bought off the street. It's clear we are dealing with a shameful disinformation campaign and a nicotine vaping products demonization. https://t.co/Vu1WZhZN7X

— Riccardo Polosa (@RiccardoPolosa) September 9, 2019
My friend @melaniejo33 has been sending me some of the appalling anti-vaping comments appearing on Twitter. Here we are trying to get ppl to stop smoking, and the media are jumping on #vaping as though it's worse than smoking. Years of work being destroyed

— Louise (@grannylouisa) September 8, 2019
Smokers/vapers/ex-smokers/ex-vapers – please help us rate some text messages to help smokers use e-cigs to quit smoking: https://t.co/bmY5NfcqcY

— Lynne Dawkins (@LynneDawkins) September 9, 2019
---
Dave Cross, Planet of the Vapes
The Town of Hempstead is one of the three towns in Nassau County, New York, United States, twinned with the Shomron Regional Council in the Israeli-controlled West Bank. Town councilwoman Erin King Sweeney introduced a line of people who all spoke out against "an epidemic" and supported the banning of "flavoured vaping".

According to latest statistics, one in five high school seniors is a current cigarette smoker and, almost unbelievably, "in 2015, 8.6% of high school students were current cigar smokers 11.5% of boys and 5.6% of girls."
---

---
Tan Mei Zi
Tobacco alternatives such as e-cigarettes and heat-not-burn devices were hot topics at the 3rd Asia Harm Reduction Forum (AHRF) in Seoul, especially with regards to its role in curbing smoking habits.

Experts from 18 countries called on global public health authorities to adopt feasible solutions that can help smokers give up cigarettes for good.

This includes recognising the benefits of electronic nicotine delivery systems (ENDS) and heated tobacco products (HTPs) in that endeavour.
Chelsea Boyd
The nature of the 24-hour news cycle and our short collective attention span means that the media does not always present a holistic and balanced assessment of complex problems. In the case of alternative nicotine delivery systems, where every day a new report adds to the conversation, it can be difficult to keep up with the evidence. The R Street Institute's recent Tobacco Harm Reduction: Evidence Update, summarized by RealClearPublicAffairs, provides greater context to the debate about tobacco control. It is worthwhile to consider how this updated evidence can translate to policy and what effects may result from embracing tobacco harm reduction as part of the tobacco control strategy.
Paul Karp, The Guardian
When parliament conducted an inquiry into vaping that concluded e-cigarettes should remain effectively banned in Australia, the paediatrician turned MP Mike Freelander said the lobbyists came knocking.

"We were lobbied quite heavily prior to and during the inquiry by a number of agencies including those promoting the tobacco industry and some medical professionals who argued for legalisation on the basis of harm minimisation," the Labor MP says.

"In the last few months there has been more activity … but I think our inquiry came out with the right result and I don't want to reopen it."
Hurts those who need them most – Jenesa Jeram
E-cigarette regulations are on the horizon to deal with the vaping Wild West, an industry landscape with no legislation or enforcement.

For a long time, the lack of regulation didn't really matter. The vaping industry has managed to get along quite peacefully, winning goodwill from public health and generally acting responsibly through self-regulation.

But lately, media headlines have been dominated by some "bad guys" who have entered the vaping scene: Big Tobacco. And they've brought their big guns of money, scope, and experience. They also have a reputation for doing bad things that threaten public health.

But pressure for bans continues – Fergus Mason
The vaping news is still dominated by the outbreak of lung disease across the USA, which has now killed five people. While anti-vapers continue to claim e-cigarettes are the problem, the CDC (which has also warned smokers not to switch) thinks it's identified the cause – contaminated cannabis oil. Meanwhile Michigan's governor is trying to ram through a ban on flavoured vapour products while avoiding a democratic vote on the issue, while an e-cig company that's trying to water down San Francisco's recent vaping ban has won a minor victory in the city's highest court.
Expert Reaction:
Consumers can Help Protect Themselves by Avoiding THC-Containing Products
Consumers are likely aware of the recent reports of respiratory illnesses — including some resulting in deaths – following the use of vaping products. The U.S. Food and Drug Administration (FDA) remains deeply concerned about these incidents and is working closely with the U.S. Centers for Disease Control and Prevention (CDC), as well as state and local public health partners to investigate them as quickly as possible.
Between Illicit THC Carts and Lung Disease Outbreak is Worsening the Situation
Michael Siegel, The Rest of the Story
Instead of simply acknowledging that a large number of cases in the recent outbreak of severe, acute respiratory failure are due to black market THC vape carts, the Centers for Disease Control and Prevention (CDC) is undermining that key information and continuing to do everything it can to pin the outbreak on the use of traditional, nicotine-containing electronic cigarettes. Today, I provide three examples to show how the CDC's fraudulent conduct is causing state officials to issue inappropriate warnings that are almost certainly worsening the situation and leading to more cases of disease.
Also from Michael Siegel:
But Black-Market THC Cartridges Might – Neil Humber
Two deaths and 450 cases of respiratory illnesses have now been reported in the USA, which as you have probably seen, the mainstream media has blamed on vaping.

Nothing could be further from the truth – but as always the anti-vape media has ignored the science and gone straight for the vaping jugular.

So what is the science behind this? And are these tragic deaths and illnesses really caused by vaping? It's a case of yes and no…
Gregory Conley, AVA News
As of September 6th, the Centers for Disease Control & Prevention (CDC) is reporting over 450 possible cases of severe lung illness linked to the use of "e-cigarettes." Three types of pulmonary injury are being seen in these cases — lipoid pneumonia, alveolar hemorrhage, and cryptogenic organizing pneumonia.

There have been five deaths reported.
ATHRA
Vitamin E Acetate is an oily agent found recently in black market THC products. It creates a greasy layer in the lungs when inhaled causing severe lung inflammation. Examination of lung tissue has found 'macrophage cells' full of oil and confirmed the diagnosis of 'lipoid (fatty) pneumonia' in many cases.

New York's health department said laboratory test results showed very high levels of vitamin E oil in cannabis cartridges used by all 34 people in the state who had fallen ill after 'vaping'.
---
A look back at how things have moved on or otherwise….
Mawsley, Planet Of The Vapes
The World Health Organisation (WHO) is hosting the Framework Convention on Tobacco Control (FCTC) convention at the beginning of October in Switzerland. Its progress report on "electronic nicotine delivery systems (ENDS)" makes for grim reading. This, and a report funded by Mike Bloomberg, has prompted Clive Bates to partner up with other advocates and write to the Director General, asking for balance and common sense with vape regulations.
Norman Lamb, The Times
You might have seen some huffing and puffing over the Science and Technology Committee supposedly recommending that e-cigarettes should be allowed on public transport.

Yesterday, I made a statement to the House of Commons about our recent report on e-cigarettes to clarify what we actually said. The evidence is clear: e-cigarettes are significantly less harmful to a smoker's health than conventional cigarettes.
Jim McDonald, Vaping 360
Vaping can help reverse some of the harm caused by smoking in people suffering from chronic obstructive pulmonary disease (COPD). That's the finding of a new study published in the International Journal of Chronic Obstructive Pulmonary Disease.

The research found that smokers with COPD who used e-cigarettes showed consistently improved overall health and physical activity, and respiratory infections and other effects of COPD were reduced. They also showed that vaping did not worsen the patients' lung health.
---
Visit Nicotine Science & Policy for more News from around the World

---