Vaping Digest 9th September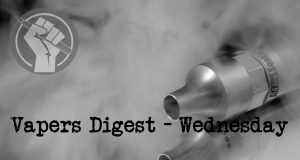 Wednesday's News at a glance:
E-cigarettes likely to reduce harm to health for smokers but are not entirely risk-free ~ Expert reaction to Committee on Toxicity report on ecigs ~ Bad Data and Bad Conclusions Will Lead to Bad Policy – Implausible Claims that Vaping Increases COVID-19 Risk for Youth and Young Adults ~ Investigation on the antibacterial activity of electronic cigarette liquids (ECLs): a proof of concept study ~ Position statement on vaping ~ How Will the PMTA Deadline Affect Vapers and the Industry? ~ Florida Gov. Vetoes Bill Banning Sale of Flavored Nicotine Vapor Products ~ Hundreds Gather In Washington D.C. Ahead of the PMTA Deadline ~ How the FDA Is Saving the Cigarette ~ Sting Free Patent Approvals ~ Video Stars Wanted ~ Unicorns Wanted ~ Former FDA chief Scott Gottlieb on report that Juul will cut more than half its workforce ~ Anti-Vape Campaigns Are Likely Counterproductive to Fighting Teen Vaping ~ National Taxpayers Union Urges Chicago Council to Oppose Ordinance Banning Flavored Vaping Products
Public Health England
E-cigarettes are likely to reduce the harm to health if used as a replacement for conventional cigarettes but still pose a risk to health says the independent Committee on Toxicity of Chemicals in Food, Consumer Products and the Environment (COT).
Dr Nicholas Hopkinson, Dr Jamie Hartmann-Boyce, Prof Peter Hajek,
Dr Debbie Robson, Prof John Britton, Science Media Centre
A report, published by the Committee on Toxicity of Chemicals in Food, Consumer Products and the Environment (COT), has looked at potential toxicological risks from electronic nicotine (and
non-nicotine) delivery systems.
– Implausible Claims that Vaping Increases COVID-19 Risk for Youth and Young Adults
Joe G. Gitchell, Bethea Kleykamp, Raymond Niaura, Saul Shiffman,
K. Michael Cummings, David Sweanor, David Abrams, Qeois
In this brief peer review, we argue that the data reported by Gaiha et al (https://doi.org/10.1016/j.jadohealth.2020.07.002) regarding associations between vaping and COVID-19 testing are so suspect that any conclusions drawn from it cannot be relied upon. We discuss six main areas of concern and conclude that the paper should be retracted.
---
Ministry of Health, New Zealand
In 2011, the Government set a goal for Smokefree 2025. The goal aims to reduce smoking prevalence to minimal levels.

The Ministry of Health considers vaping products have the potential to make a contribution to the Smokefree 2025 goal and could disrupt the significant inequities that are present.

The potential of vaping products to help improve public health depends on the extent to which they can act as a route out of smoking for New Zealand's 550,000 daily smokers, without providing a route into smoking for children and non-smokers.
---
Jim McDonald, Vaping 360
After Sept. 9, 2020, the only vaping products that can be legally sold in the United States will be products approved for marketing by the FDA Center for Tobacco Products, or submitted to the agency and accepted for further review. The submission process is called a Premarket Tobacco Application, or PMTA. The actual deadline to submit is at 4:00 p.m. on Sept. 9.

How the PMTA deadline will affect the lives of vapers and the businesses that serve them has been the subject of a lot of speculation, starting when the PMTA deadline was first announced in 2016.
VIDA News
Florida Gov. Ron DeSantis vetoed Tuesday a bill that would have banned the sale of flavored nicotine vapor products in the state. The bill originally passed in March, but due to coronavirus-related delays, it only reached his desk on Thursday, Sept 4th.

The bill, SB810, was set to ban all flavors except for menthol and tobacco. It was originally designed to raise the legal age to purchase products to 21, but the addition of the flavor ban was part of an amendment late in the legislative process.
On Saturday, September 5th, hundreds of small business owners, harm reduction advocates, and consumers gathered under the Washington Monument's shadow to stand on a stage pointed directly at the White House and deliver a clear message to President Trump – We vape, we vote.
---

---
Guy Bentley, Reason Foundation
A large part of the e-cigarette industry may soon be put out of business and the Big Tobacco companies' positions as the leading providers of vapor products could be cemented.

Wednesday, Sept. 9, is the deadline for e-cigarette and other vaping-related products to submit their pre-market tobacco applications (PMTA) to the Food and Drug Administration (FDA).
---
---
THREE from Dave Cross, Planet of The Vapes
Sting Free AB's award-winning nicotine pouch innovation has received patent approvals in the United States and Europe. Sting Free Technology makes snus and nicotine pouch products more accessible to adult consumers by eliminating the stinging sensation on the sensitive gum associated with their use. Sweden leads Europe in combatting tobacco related illness and disease thanks to snus, which is currently banned as part of the Tobacco Products Directive.
The Australian Tobacco Harm Reduction Association (ATHRA) is pleading with vapers to submit short video clips that could be used as part of a campaign to fight the unjust ban on nicotine base import. They are also after friends and families of vapers and shop owners who all stand to suffer from the prohibition.
Dr. Carl V. Philips and Professor Riccardo Polosa are conducting a new long-term study looking at the health effects of vaping, but they need "unicorns". The pair are hunting for people who vape regularly but have (almost) never smoked before. Find out more below.
---

---
Diane Caruana, Vaping Post
An article on the National Review, rightly points out that given teenagers' natural inclination to rebel and be curious about any forbidden behavior, the approach that American policymakers and activists' are taking to combat teen vaping, is very likely being counterproductive.
---
to Oppose Ordinance Banning Flavored Vaping Products
Jess Ward, National Taxpayers Union
On Friday, the Chicago City Council Health Committee passed a revised version of its tobacco flavor ban that would prohibit the sale of flavored vapor products, with an exception for menthol and mint flavored combustible cigarettes. The proposal will receive consideration by the full council this Wednesday.
---
WHO to intensify its pointless and destructive war against innovation
Clive Bates, The Counterfactual
This week there will be a meeting of tobacco regulators under auspices of the FDA-funded WHO Global Tobacco Regulators' Forum (GTRF) in the Netherlands and part of the preparation for FCTC COP-9, which will be held in 2020, also the Netherlands. Two leaked papers from WHO's Eastern Mediterranean Regional Office (EMRO) suggest that WHO is building up to an attempt to treat reduced risk products no differently to cigarettes or with even greater hostility.

EMRO Paper on Electronic Nicotine Delivery Systems
EMRO Paper on Heated Tobacco Products

I do not have time for a line by line critique of these wretched documents, and to be honest, none is needed. There are common themes that describe the contents sufficiently:
Paul Karp, The Guardian
When parliament conducted an inquiry into vaping that concluded e-cigarettes should remain effectively banned in Australia, the paediatrician turned MP Mike Freelander said the lobbyists came knocking.

"We were lobbied quite heavily prior to and during the inquiry by a number of agencies including those promoting the tobacco industry and some medical professionals who argued for legalisation on the basis of harm minimisation," the Labor MP says.

"In the last few months there has been more activity … but I think our inquiry came out with the right result and I don't want to reopen it."
---
Visit Nicotine Science & Policy for more News from around the World

---