Vaping Digest 11th September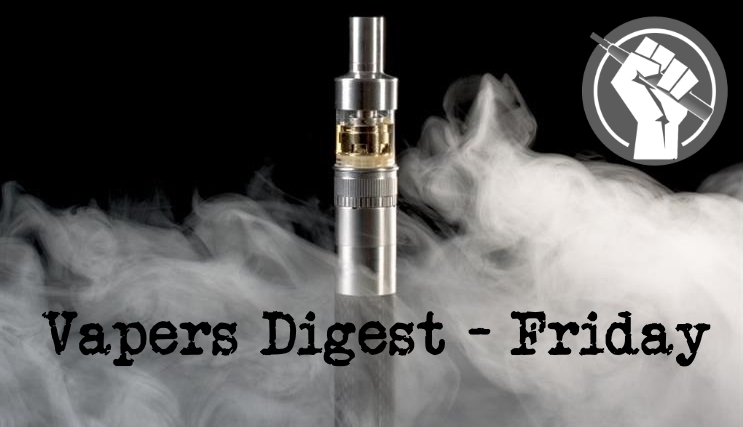 Friday's News at a glance:
The Revision of the EU TPD – Revolutionary nicotine pouch invention – Harm reduction is a flavoured journey – FDA Rules on E-cigarette Makers – Stanton Glantz Retires Suddenly – Flavor Bans Vetoed in Florida, Passed in Chicago – Goodbye Not Goodbye From Glantz – Putting The Dead Into Deadline – Fab Four Find Flaws – Vaping Doesn't Work – Vaping Works – Dear U.S. Vapers: "This Is Not The End" – Indian Study Looking Into Patterns of Tobacco and E-Cigarette Use – Europe's Beating #Cancer Plan – Support our campaign to save vaping in Australia – Cigarette sales plunging – Encouraging Decline in Overall Youth E-Cigarette Use – Nicotine Science and Policy Daily Digest
IEVA
The Independent European Vape Alliance is pleased to be able to invite you to a webinar on the revision of the EU Tobacco Products Directive, a process which kicks into gear right now.
The impact of this revision will be felt by the European vaping industry for decades to come.

The event will take place on Zoom at 12pm Central European Time / 6pm China Standard Time.

IEVA members, potential IEVA members, and members of trade associations that are IEVA members are encouraged to join us. The webinar will feature presentations and a question and answer session from:
Conquers patent approvals in US/EUR
Sting Free AB's award-winning nicotine pouch innovation receives patent approvals in the U.S. and Europe. Sting Free Technology makes snus and nicotine pouch products more accessible to adult consumers by eliminating the stinging sensation on the sensitive gum associated with their use.

Sting Free AB is proud to announce that our US patent application [1], has been approved by the United States Patent Office (USPAT). The European Patent Organization (EPO) has presently issued an intention to grant European patent [2], covering 39 nations. The company already holds the Swedish patent rights to this invention [3].
---

---
Prof. Riccardo Polosa
New studies show flavoured vaping products are more effective for adults who want to quit smoking for good without relapsing.

A study conducted by researchers at the Yale School of Public Health and published in the Journal of American Medical Association (JAMA) examines the role of flavours in electronic cigarettes (e-cigs) and vaping products and their influence on subsequent smoking initiation and cessation by both adults and youth. The five-year study (2013-2019) had 17, 929 respondents between the ages of 12 to 54 years.

The study's findings "… suggest that efforts to ban flavoured e-cigs could increase smoking: non tobacco flavours were no more strongly associated with youth smoking initiation than tobacco flavours but were more strongly associated with adult cessation," JAMA concluded.
Special Coverage of FDA's Anti-Vaping Regulation | RegWatch (Live)
Go into Effect Today – Michelle Minton • Sept. 9th 2020
The world was simpler in 2009 when Congress enacted a law that gave the Food and Drug Administration (FDA) the power to regulate tobacco. Back then, consumers' choices were functionally limited to cigarettes and other combustible products, with little difference in risk between brands. The advent of nicotine vapor changed everything: E-cigarettes were not made by "big tobacco," heated rather than burned their ingredients, and carried almost none of the risks of smoking. Regulations should have been amended to reflect this groundbreaking development. Now the failure of lawmakers and regulators to keep pace with innovation threatens to destroy an entire industry, eliminate a life-saving option for smokers, and put public health at greater risk.
---
---
Jim McDonald, Vaping 360
Stanton Glantz, the longtime anti-tobacco (and anti-vaping) activist, has retired from the University of California-San Francisco. The resignation came without warning and is effective immediately.

"I have finally retired from UCSF, ready to move to the next phase," Glantz wrote in a message to colleagues. "I will also be continuing to work with my UCSF colleagues to complete work that is under way. From talking to colleagues who have already retired, I am confident that there will be more ways that I can keep contributing to fighting the tobacco industry and promoting public health."
Passed in Chicago – Jim McDonald
Overlooked yesterday because the hoopla surrounding the PMTA deadline were the stories of the state of Florida and the city of Chicago both taking action on flavor bans. In one case, people who vape and smoke were well-served by the clear-headed decision of a political leader. In the other, those groups were let down yet again by a political body known for its shady backroom deals.

On Sept. 8, Florida Governor Ron DeSantis vetoed a bill that would have banned all flavored vaping products, except tobacco and menthol flavors. The bill, SB 810, passed the legislature in March, but was only sent to the governor for a decision on Sept. 4.

Five from Dave Cross, Planet of the Vapes:
Stanton Glantz is a professor of medicine at the Center for Tobacco Control, Research and Education at the University of California, San Francisco. He was the director of this centre until recently. In leaving his post, some might be hoping that we will hear less of his nonsense, but a recent press statement indicates he will continue to wage a vexatious war on sanity and place the lives of smokers and ex-smokers at risk.

Writing on his blog at the beginning of the year, Glantz said: "I have notified Dean Talmadge King that I will be stepping down as Director of the Center for Tobacco Control Research and Education effective June 30, 2020.
The Food and Drug Administration's (FDA) premarket tobacco product application (PMTA) submission process is almost up. By the time this article is published online, vast swathes of the independent American vape market will no longer be allowed to conduct business. Restricting supply and products will only play into the hands of Big Tobacco, according to experts.

Chris Allen, Broughton Nicotine Services' vice president of scientific and regulatory affairs, told Tobacco Reporter: "Those working towards a PMTA have benefited most as this [the deadline change] has either provided the time to complete existing studies or generate more data. Also, those that are intending to exit the market have a slight reprieve in that they can continue selling their products for an extra 120 days."
Public Health England's Martin Dockrell hailed a new study by "The Fantastic Four" of tobacco and nicotine research. The team looked at claims surrounding a so-called teen epidemic of vaping in the United States. They analysed the National Youth Tobacco Survey to see if it could reveal the true picture of who is vaping and what this means.

Dockrell marvelled at their work: "Epidemic of youth nicotine addiction? It turns out that the U.K. isn't like the U.S., the U.S. is like the U.K. Regular vaping is rare in kids who didn't already smoke. Thanks to the Fantastic Four of tobacco and nicotine research."
E-cigarettes don't help smokers quit, so says a huge body of researchers, and they may become addicted to vaping. The news was welcomed with joy by anti-vape tobacco controllers, but the slant being put on the press release was quickly rounded upon by harm reduction experts.

The researchers work for a mass of institutions: UC San Diego, New York University, the Food and Drug Administration, the National Institutes of Health, Rutgers Center for Tobacco Studies, the Centre for Addiction and Mental Health, Roswell Park Comprehensive Cancer Center, University of Waterloo, Ontario Institute for Cancer Research, University of Minnesota, Kelly Government Solutions, and Gillings School of Global Public Health.
A team of five researchers at the University of Salford have conducted research concluding that vaping is "an effective nicotine replacement therapy". Although they feel further research is required, the success rate of 60% outstrips anything seen with conventional quit smoking methods.

The carnage tobacco inflicts on smokers is well known to tobacco controllers, but so many still steadfastly refuse to accept that vaping can offer smokers a route out of cigarette addiction, leading them to promote "a cautionary approach" to vaping.
---

---
Vaping Post Editorial Team
Under the Tobacco Control Act of 2009, the PMTA regulatory pathway is a mandatory process that the U.S. Food and Drug Administration (FDA) must enforce due to the need to protect the public health in the most scientifically-focused manner possible. The PMTA deadline was initially well-intentioned, but the law turned into a morass of bureaucratic red-tape that truly places innocent lives at risk. But, what happened to the so-called transparency of government and the equitable treatment of people, services, goods, and beliefs under the banner of tolerance and freedom?
Diane Caruana
Last Summer, the Union Health Ministry had prepared the Prohibition of E-cigarettes Ordinance 2019 for review, and a bill replacing this ordinance was passed in Lok Sabha in January 2020. The latter officially banned the production, trade, transport, storage and advertisement of electronic cigarettes across India.

Meanwhile, in line with countless arguments by anti-smoking and public health experts across the globe, local doctors had pointed out that the government should have conducted more studies before banning the products. "There is data available regarding e-cigarettes as smoking cessation devices from the UK, so Indian studies should have been taken up by the government as well as health organisations," said Dr Bharat Gopal, Senior Pulmonologist and Director of the National Chest Centre in Delhi.
Europe's Beating Cancer Plan will form a core part of Health Commissioner Stella Kyriakiades' term in office. A pan-European strategy to combat cancer is long overdue and we welcome Commissioner Kyriakiades' initiative in tackling what is the second leading cause of death in Europe, write Dr Delon Human and Dr Anders Milton.

On 10 September, the Commission held a town hall on the Beating Cancer Plan. Unfortunately, this town hall did not fill us with hope – it seems that the Commission may be about to miss out on the chance of a lifetime and fail to sufficiently tackle preventable cancers in Europe.

ATHRA
ATHRA HAS LAUNCHED a fundraising campaign to ensure lifesaving vaping products remains accessible to Australian vapers and smokers. Please help us to help you.

In 3 months (on 1 January 2021), you will need to visit a doctor and go to a pharmacy to get the nicotine that is keeping you off cigarettes. You will not be able to import your own nicotine. We are still waiting to hear the final details of this plan. It could be worse.

ATHRA believes low concentrations of nicotine liquid are lifesaving consumer products and should be easier to get than combustible cigarettes.
Cigarette sales are plunging faster than any time before as smokers turn to alternatives like vaping – with 410 million fewer smokes sold annually than just two years ago.

Dr Murray Laugesen, a trustee of the End Smoking NZ charity, analysed tobacco company returns that are published by the Ministry of Health and found a remarkable drop in sales.

About 2132 million cigarettes were sold last year – 193 million fewer than 2018, and following a 217 million drop the previous year.
In Overall Youth E-Cigarette Use
Today, the U.S. Food and Drug Administration, in partnership with the Centers for Disease Control and Prevention, released new data from the 2020 National Youth Tobacco Survey (NYTS), which show 1.8 million fewer U.S. youth are currently using e-cigarettes compared to 2019. After two years of disturbing increases in youth e-cigarette use, we are encouraged by the overall significant decline reported in 2020. This is good news; however, the FDA remains very concerned about the 3.6 million U.S. youth who currently use e-cigarettes and we acknowledge there is work that still needs to be done to curb youth use.
Accurate nicotine risks better to assist patients addicted to the most harmful tobacco products
Most physicians mistakenly believe that nicotine leads to cancer, and heart and respiratory diseases, according to a Rutgers-led national survey, even though it is the toxic substances in cigarette smoke and not the nicotine that causes the primary health risk.

The study, published in the Journal of General Internal Medicine, surveying more than 1,000 doctors from six specialties between September 2018 and February 2019 about their knowledge of tobacco use, found that 80 percent of those surveyed believe it is the nicotine that directly causes cancer.
---
A look back at how things have moved on or otherwise….
Will Godfrey, Filter
President Donald Trump announced on September 11 that he wants the Food and Drug Administration to plan to pull flavored vaping products from the US market. Describing vaping as "a new problem in the country," he told reporters after a policy meeting that "very, very strong action" may be needed to protect "innocent children."

Health and Human Services Secretary Alex Azar confirmed that the FDA is finalizing plans to ban all flavors except tobacco across the country. The process of implementing a national ban would be expected to take several months.
Guy Bentley, Reason Foundation
The exact cause of this recent outbreak has yet to be determined but a clear pattern has emerged in terms of what these patients have been vaping and the common factor appears to be cannabis oils and other contaminants, not legal e-cigarette products.
, Adam Smith Institute
America is currently in the midst of moral panic. A cluster of people have developed severe and sudden lung injuries after vaping and at least 5 deaths have now been linked to e-cigarette use. It's important to state from the outset that this should not worry UK vapers or indeed the overwhelming majority of people around the world who use e-cigarettes as a reduced-risk smoking cessation aid.
---
Visit Nicotine Science & Policy for more News from around the World

---