Vaping Digest 14th September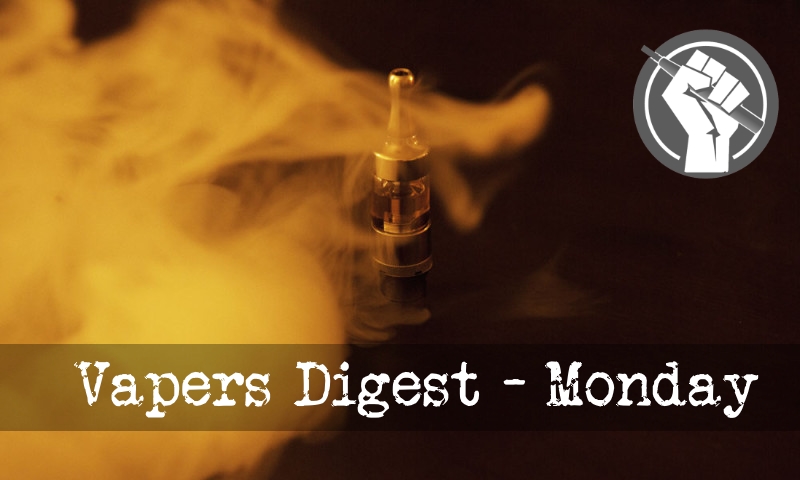 Monday's News at a glance:
Reversing Fortunes in Tobacco Harm Reduction – Europe's Beating Cancer Plan – Reduced Risk Confirmation – Great Britton – AMV Holdings Receives First FDA PMTA Acceptance – N.S. business owners challenge provincial vape restrictions in court – E-Cigarette Regulations Are a Necessity To Counter Illicit Trade in the Egyptian Market – Nicotine Science and Policy Daily Digest
B. Eubank
There are credible rumblings that the federal government will be revisiting the regulation of nicotine vaping in Canada. If sources are correct, we can expect a release in the Gazette in October following the resumption of parliament with a second release closer to year end. First up will be nicotine, specifically nicotine limits, followed by the flavours used in e-liquid. The timing is odd but then everything about this story is. If you don't follow the vaping file closely, the last news release (announcing a ban on advertising vaping products) was only issued on July 8th, 2020, a short time ago. This while the industry and manufacturers are in a  race to meet the January 1st deadline for new product requirements to replace those currently on the market, following the prior release.
Francis P. Crawley
Europe's Beating Cancer Plan forms a core part of Health Commissioner Stella Kyriakiades' strategic approach to addressing non-communicable diseases in Europe. A pan-European strategy to combat cancer is long overdue. Perhaps, without exception, the entire public health community in Europe welcomes Kyriakiades' initiative in tackling what is the second leading cause of death in Europe.

On September 10, the Commission held a town hall to review the Beating Cancer Plan. This open approach by the Commission to the full involvement of scientific experts and citizens demonstrated the potential of such a dialogue to improve the plan and more readily face the disastrous effects of cancer on the health, economy, and overall well-being of the EU.
---

---
Dave Cross, Planet Of The Vapes
The United Kingdom's independent Committee on Toxicity of Chemicals in Food, Consumer Products and the Environment (COT) looked at electronic nicotine and non-nicotine delivery systems and found vaping products "are likely to reduce the harm to health if used as a replacement for conventional cigarettes".

The COT is a committee of independent experts that provides advice to the Food Standards Agency, the Department of Health and Social Care and other government departments and agencies on matters concerning the toxicity of chemicals in food, consumer products and the environment.
---
---
Dave Cross, Planet Of The Vapes
Professor John Britton is a director of the United Kingdom Centre for Tobacco and Alcohol Studies (UKTAS), sits on the board of Action on Smoking and Health (ASH UK), and also works on the Royal College of Physicians Tobacco Advisory Group. It is fair to say that he knows a thing or two about vaping and tobacco harm reduction. He has called upon governments around the world to get behind reduced harm nicotine products to address the impact of tobacco smoking on the population.

"Governments should make e-cigarettes easily available, introduce modest regulations to reduce the risk of irresponsible marketing and product safety approaches, and give a medical endorsement.

Nicole Brewer
AMV Holdings, LLC (AMV) is pleased to announce that it has been notified by the FDA that its first Premarket Tobacco Product Application (PMTA) filed on 8/25/2020 has been accepted for review. Since receiving the notification, AMV has filed an additional 104 PMTA submissions accounting for over 5,000 SKUs. All of these submissions reflect the same file and information structure as the PMTA for which AMV has already received its acceptance for review notification.

The FDA's PMTA process requires an applicant to show that the product is appropriate for the protection of public health and is a regulatory requirement for vapor products to remain on the market. The deadline for PMTA submissions is September 9, 2020. Acceptance of a PMTA is the first step in a long approval process that, if positive, will cumulate in a marketing order.
---

---
Provincial vape restrictions in court
The owners of a Dartmouth, N.S., business are challenging the province in court over restrictions on the sale of some vape products. In an application filed to Nova Scotia Supreme Court this week, The Cloud Factory Vape Shop Inc. outlines its perceived violations of the Canadian Charter of Rights and Freedoms in three provincial laws.

The province announced last year it would be changing the rules around e-cigarettes; amendments to provincial laws and regulations have been coming into effect since the spring. There is now a ban on the sale of flavoured vape juices, a cap on nicotine concentration (20 milligrams per millilitre), and a taxation program based on a product's volume.

To Counter Illicit Trade in the Egyptian Market
Black market trade in e-cigarettes and associated products is being driven by smuggling. Regulating the category will protect consumers, secure much-needed tax revenues, and bolster Egypt's free-market model.

Illicit trade of e-cigarettes has emerged as a mounting problem in Egypt, as adult smokers across the country are gradually switching away from cigarettes to what is considered by global health bodies as a better alternative to combusted tobacco. The sale, distribution, and importation of electronic cigarettes have been prohibited in the country since 2015, when the Ministry of Health issued a ban in accordance with an earlier decision by the Specialized Technical Committee of Drugs in 2011.
---
A look back at how things have moved on or otherwise…
Carl V. Phillips, Anti-THR Lies
I suspect none of this is anything that my regular readers need to have explained. But I have been thin in my postings and an old friend asked for a clarification on this, so I thought I would do it. I imagined a Twitter thread and realized it is way too much for that. Also, I realized that perhaps I could organize the various bits in a way that helps clarify.

First, are the overarching first-line reasons why any policies that intentionally cripple vaping are harmful:
Brad Rodu, Tobacco Truth
Anti-tobacco activists portray themselves as enemies of "Big Tobacco," so they naturally characterize the current panic about vaping among American teens as a new campaign by the industry. This is fundamentally wrong, according to David Sweanor, a veteran anti-smoking advocate and chair of the advisory board for the Center for Health Law, Policy and Ethics at the University of Ottawa. In the following guest blog, Sweanor suggests that the war against vaping is cigarette manufacturers' best hope for a lucrative future.
---
Visit Nicotine Science & Policy for more News from around the World

---