Vaping Digest September 13th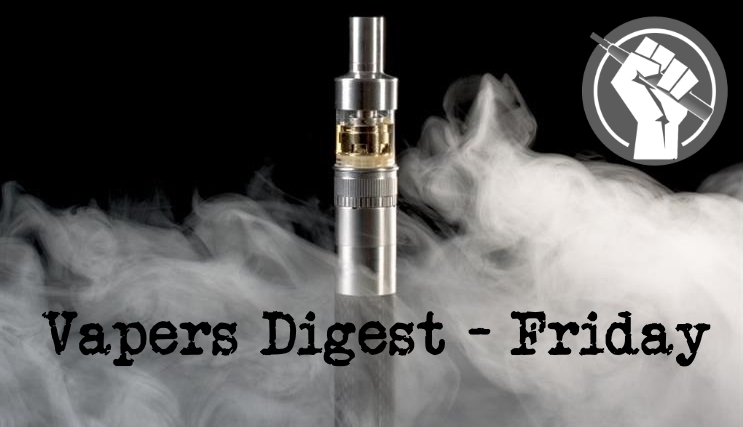 Friday's News at a glance:
Why ecig flavor bans are such a terrible policy – Tobacco Companies' Best Friends – Salt Lake's Angel Dust Juices – The End Of Vaping In America – Proposed Flavour Ban Reactions – The World Responds – What Exactly Is Vitamin E Oil? – Stop hating on vaping – Trump Administration Announces Flavor Ban – The Cries (and Lessons) from Michigan – Michael Bloomberg's Anti-Vaping Crusade Is Objectively Pro-Tobacco – The AVA's Greg Conley on the US vaping flavour ban – Juul's lobbying efforts fall short – Tobacco Financial Analysts: – Don't ban nontobacco flavored e-cigarettes – Nicotine Science and Policy Daily Digest
Carl V. Phillips, Anti-THR Lies
I suspect none of this is anything that my regular readers need to have explained. But I have been thin in my postings and an old friend asked for a clarification on this, so I thought I would do it. I imagined a Twitter thread and realized it is way too much for that. Also, I realized that perhaps I could organize the various bits in a way that helps clarify.

First, are the overarching first-line reasons why any policies that intentionally cripple vaping are harmful:
Brad Rodu, Tobacco Truth
Anti-tobacco activists portray themselves as enemies of "Big Tobacco," so they naturally characterize the current panic about vaping among American teens as a new campaign by the industry. This is fundamentally wrong, according to David Sweanor, a veteran anti-smoking advocate and chair of the advisory board for the Center for Health Law, Policy and Ethics at the University of Ottawa. In the following guest blog, Sweanor suggests that the war against vaping is cigarette manufacturers' best hope for a lucrative future.
---

---
Dave Cross, Planet of the Vapes
Utah State Representative Paul Ray called a press conference to announce that eLiquid samples purchased from Salt Lake County vape shops demonstrated high levels of illegal drugs. He labelled the findings of his little investigation a "health emergency" and promised a possible ban on vape products in Utah.

At the presentation, Paul Ray said he wanted to ban all vaping products and announced that he would be writing legislation to that effect. "If I can ban the entire product, I will," he said. "An outright ban on everything is what I will look for in the session."
Dave Cross, Planet of the Vapes
Secretary Alex Azar, the 24th Secretary of the U.S. Department of Health & Human Services, has announced measures that signal the end of vaping in the United States. The measure relies on self-reported data from children and conflating THC-related lung disease with vaping – and this has been described as "insane".

Konstantinos Farsalinos responded to the announcement by saying: "This is officially the end of electronic cigarettes in the US (unless courts have a different opinion). I feel sorry for American smokers."
---
---
Dave Cross, Planet of the Vapes
Earlier today, the Trump Administration announced a move that, according to harm reduction experts, could see the end of vaping in the United States. Predicted at the beginning of the year, POTV noted the dominoes were falling last week. The statement from the Health and Human Services department and a bizarre briefing at the White House confirms that the American crusade against vaping has now reached peak stupid.

President Donald Trump held a meeting on camera and said a number of things, some of them decidedly weird, but we chose this quote: "We can't allow people to get sick and we can't have our youth be so affected."
Dave Cross, Planet of the Vapes
US President Donald Trump announced that his administration will ban flavoured e-cigarettes to rapturous applause from recipients of Michael Bloomberg's millions and the quasi-religious anti-vape campaigners. A different response has been forthcoming from genuine experts and level-headed commentators.

"We can't allow people to get sick and we can't have our youth be so affected," bizarrely exclaimed President Trump as he announced his ban. "That's how the first lady got involved. She's got a son, together, that is a beautiful young man and she feels very, very strongly about it. She's seen it. We're both reading it, a lot of people are reading it. But people are dying with vaping so we're looking at it very, very closely."
---

---
Leading to a drug bust police believe is the biggest to date involving counterfeit carts
Raquel Rutledge and Mary Spicuzza – Milwaukee Journal Sentinel
Police are crediting the parents of a Wisconsin high school student for coming forward with information that led to a massive drug bust involving an operation that manufactured thousands of counterfeit vaping cartridges loaded with THC oil every day.

Officials said the investigation started after parents caught their son in possession of vaping cartridges with THC. They brought him to the Waukesha Police Department in early July in an effort to hold him accountable, officials said.
Scott Ballin says health officials send wrong message
"The simple message is, let's not throw the baby out with the bathwater," says Scott Ballin. "There is a population out there of 30 million adult smokers who are looking for alternatives. If you indiscriminately take vaping away from them, their solution, what happens to them, is they go back to smoking."

While sitting at his dining room table in his Staunton home, Ballin sat down to discuss why a ban on e-cigarettes is a mistake. He also lives in Washington, D.C., where he's worked more than 40 years in public health, focusing on tobacco and nicotine-related issues.
David Downs, Leafy
An unprecedented outbreak of vaping-associated pulmonary injury (VAPI) has sickened up to 450 people and killed as many as six in 33 states.

A current suspect in the outbreak is vitamin E acetate, sometimes used as a vape cartridge additive. It's a popular new diluent thickener found mostly in illicit market THC vape carts. What is vitamin E oil and what makes it dangerous? We explore below.
Connected to vitamin E additive – Rebecca Trager, Chemistry World
A vitamin E chemical is likely to be at least partly responsible for an outbreak of a vaping-linked lung disease that has caused 380 cases of pulmonary distress and six deaths across the US. The nutritional supplement vitamin E acetate or tocopheryl acetate is now the main focus of the US government's investigation into this vaping-associated medical condition that has emerged in recent months. No similar phenomenon has been reported in other countries.

There is no evidence of an infectious disease among patients, so the US Centers for Disease Control and Prevention (CDC) has concluded that the most likely cause is chemical exposure.
The hysteria over e-cigarettes could cost lives – Tom Chivers
A shocking statistic. Between them, in the last month or so, smoking tobacco and smoking e-cigarettes probably killed about 40,006 people.

Of course, it wasn't precisely 50/50. Smoking killed about 40,000 of them; the other six were caused by vaping.

In the average month, about 40,000 people are killed by smoking in the USA, according to the US Centres for Disease Control. Smokers die of "cancer, heart disease, stroke, lung diseases, diabetes, and chronic obstructive pulmonary disease (COPD), which includes emphysema and chronic bronchitis".

Jim McDonald, Vaping 360
Health and Human Services Secretary Alex Azar announced today that the FDA will ban flavored vaping products. The move came after a White House meeting between President Trump, Azar, and FDA Acting Commissioner Ned Sharpless. Trump spoke to reporters about the decision.

"Not only is it a problem overall, but really specifically with respect for children," Trump told reporters at the White House after the meeting. "People are dying with vaping," he said.

Trump's wife, First Lady Melania Trump, has tweeted in recent days about the "growing epidemic" of youth vaping. Trump in his remarks to reporters seemed to indicate that her involvement pushed him to take the extraordinary step of banning flavors.
Michael McGrady, Vaping Post
When does regulation go too far? According to some local vapers, Michigan's ban on flavored vaping products is a threat to their health. Others considering flavor bans should take note.

The moment Michigan Gov. Gretchen Whitmer, a Democrat, announced that she was banning flavored e-cigarettes, she was met with praise from an echo chamber.

Groups like the American Heart Association or the Campaign for Tobacco-Free Kids, both prominent tobacco control advocacy organizations, cheered.
Is Objectively Pro-Tobacco – Jacob Sullum
Former New York City Mayor Michael Bloomberg, the billionaire busybody who can be counted on to oppose individual freedom in almost every area of life, is launching a prohibition crusade against flavored e-cigarettes. In a New York Times op-ed piece co-authored by Matthew Myers, president of the Campaign for Tobacco-Free Kids, Bloomberg argues that "banning flavored e-cigarettes is the most important thing we can do to reduce use among young people."
Alex Gangitano
A recent lobbying and spending blitz by Juul Labs was dealt a serious blow this week when the Trump administration announced it would move to ban flavored e-cigarettes. The company spent $1.95 million on lobbying in the first two quarters of 2019, surpassing last year's total of $1.64 million.

"It shows you that just spending money on lobbying doesn't create magic results. This is an un-exact science when it comes to lobbying and Juul has found that out.
Thanks as always to @dnglos for the YouTubage
Might cost Trump reelection – Paul Blair
In a striking blow to common sense and the well-being of millions of people, President Trump announced Wednesday that his administration would be moving forward on rules to prohibit the sale of all flavored e-cigarettes. This misguided move will kill more than 10,000 small businesses, eliminate nearly 90,000 jobs, and force millions of adults who use e-cigarettes to reduce and eliminate their dependence on harmful cigarettes to seek out vaping products on the unregulated black market or return to smoking. Even more, this march toward prohibition will do irreparable harm to the coalition needed by Republicans to secure victory in 2020.
Flavored E-Cigarette Ban Will Substantially Boost Cigarette Sales
Michael Siegel, The Rest Of The Story
Due primarily to the CDC's hiding the fact that the overwhelming majority, if not all of the cases of "vaping-associated pulmonary illness (VAPI)" are most likely caused by vaping marijuana, not e-cigarettes, the Trump Administration and the FDA are poised to ban all flavored e-cigarettes.

This obviously makes no sense at all.

The logic is basically: Product X is causing a severe disease outbreak. Product Y is not. So we are going to immediately ban Product Y.
Adults are in more danger than your kids – Sally Satel
On Wednesday, the Trump administration announced its intention to ban all non-tobacco flavored e-cigarette vapes from the market. The impetus for the news, which came directly from the Oval Office, was the release of preliminary data from the National Youth Tobacco Survey which showed that more than one in four high school students had used an e-cigarette ("vaped") within the past month in 2019, with most using flavored products.
Further Reading….
---
A look back at how things have moved on or otherwise….
the Global State of Tobacco Harm Reduction 2018 (GSTHR)
Harry Shapiro, Nicotine Policy
Yes, it's nearly here folks, now safely in the hands of the printer is the very first global report covering all aspects of tobacco harm reduction. GSTHR will be launched in Geneva on 2nd October to coincide with the start of the Conference of the Parties to the Framework Convention on Tobacco Control (FCTC). It will be downloadable from a new website where you will also find executive summaries in several languages. The website is being engineered to be interactive and regularly updated with information about legislation, what's happening with tobacco harm reduction in every country, and much more.
of youth e-cigarette use, including a historic action against more than 1,300 retailers and 5 major manufacturers for their roles perpetuating youth access
Scott Gottlieb, FDA
The U.S. Food and Drug Administration today announced a series of critical and historic enforcement actions related to the sale and marketing of e-cigarettes to kids. In the largest coordinated enforcement effort in the FDA's history, the agency issued more than 1,300 warning letters and civil money penalty complaints (fines) to retailers who illegally sold JUUL and other e-cigarette products to minors during a nationwide, undercover blitz of brick-and-mortar and online stores this summer. As a result of these violations of the law – and other indications that e-cigarette use among youth has hit epidemic proportions – FDA Commissioner Scott Gottlieb, M.D., signaled that the agency intends to take new and significant steps to address this challenge in a speech at the agency's headquarters.
on new steps to address epidemic of youth e-cigarette use
Scott Gottlieb, FDA
More than a year ago, the FDA unveiled a broad policy to reduce the death and disease caused by smoking. Smoking remains the number one preventable cause of death in America, killing nearly half a million people a year. If we aren't successful in more sharply reducing the rate of addiction to tobacco, then we'll continue to see this needless death and disease. FDA's new legal authorities to regulate tobacco ‒ as part of the Tobacco Control Act ‒ empowered us to alter this trajectory.

We saw an opening to push a generational shift in the deadly course caused by tobacco. And we've seized it.
---
Visit Nicotine Science & Policy for more News from around the World

---