Vaping Digest September 16th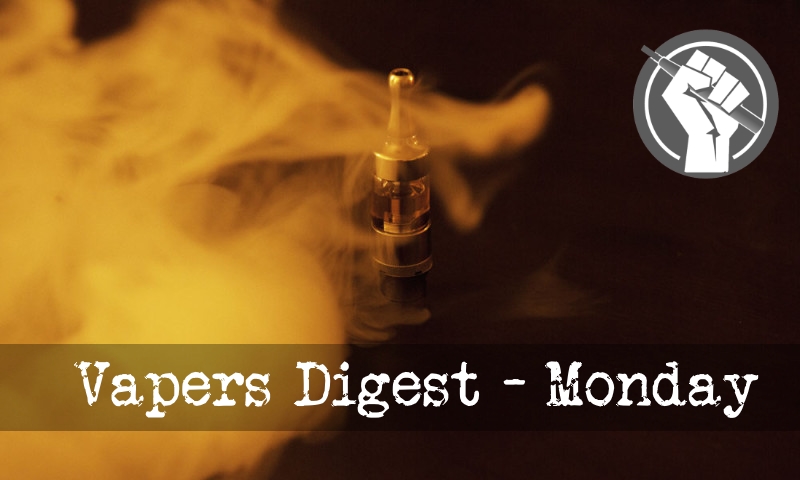 Monday's News at a glance:
The big vaping scare, nothing to see here – WHO Calls for Vigilance – Vaping In The News: A Ruckus – Sept 14th – Is Vaping Really Killing People? – If You Smoke, Make the Switch Says Public Health England – Were 2 Wisconsin Brothers the Walter Whites of THC Oils? – Why the Proposed US Vape Flavors Ban Risks Global Harm – Hysterics Aside – Vaping scaremongering will cost Australian lives – Banning Flavored E-Cigarettes Has Nothing to Do With the Hazards of Black-Market Cannabis Products – The Fight Against Smoking – India should not completely ban ANDS – Nicotine Science and Policy Daily Digest
New Nicotine Alliance
You may have read some pretty scary articles in recent weeks about how 'vaping' is causing health problems – including deaths – in the USA. We use inverted commas around the word vaping because it is by far the real story.

We have received concerned messages from supporters about this and have had reports of vapers being contacted by friends and family members saying they should immediately quit using e-cigarettes. Many of you reading this will have experienced the same first-hand or on social media.

We will not be going into detail about why these articles are irresponsible, ill-informed and wrong because others have already done so. We provide links to numerous comprehensive rebuttals below for you to send to those who have been sucked in by the negative coverage recently.
Heat Not Burn
Two days ago, the Framework Convention for Tobacco Control (FCTC) released a statement in relation to "novel and emerging nicotine and tobacco products" which builds on the disastrous history of the Conference Of the Parties (COP).

A quick refresher on the WHO FCTC first. It is a global public health treaty. It is supposed to be evidence-based. It was initially developed as a response to, what many in public health believe to be, a global tobacco epidemic. In short, it is a taxpayer funded (with some billionaire philanthropist donations) boondoggle designed, at least to begin with, to combat the harms from smoking. Except it has long since morphed into a global crusade against the tobacco industry and any form of reduced risk product. This really shouldn't come as any surprise.
---

---
Kevin Crowley, Vaping Links
What a week. There was a ruckus. Allow me to try to describe the ruckus.

10th Sept: Gazillionaire Bloomberg announced he was spending spare change found around in a cup holder in his car $160M on an initiative with Tobacco-Free Kids to ban flavored e-cigarettes.

Mutual Admiration Society [MAS] member and World Health Association (WHO) useless idiot "Director General" Tedros Adhanom Ghebreyesus — pissed all over himself applauded the effort to ban flavors.
---
In the UK teen vaping is not a big problem, says Arnott of @ASH_LDN: "I think one of the differences is there's a sort of moral panic going on in America which to be honest I think actually encourages young people to take up vaping." Fascinating interview: https://t.co/7hFaFEWqz1

— Elana Gordon (@Elana_Gordon) September 16, 2019
While I like the Vaping alternative to Cigarettes, we need to make sure this alternative is SAFE for ALL! Let's get counterfeits off the market, and keep young children from Vaping!

— Donald J. Trump (@realDonaldTrump) September 13, 2019
---
Here are the Facts – Lee Johnson
You'd have to have been living under a rock, with no cell phone, hundreds of miles away from society and with your fingers in your ears to have missed the recent furor over the "vaping related deaths" in the US.

With the death count recently rising to six, the finger is pointed firmly at vaping, with the CDC stating, "Until we know more, if you are concerned about these specific health risks, CDC recommends that you consider refraining from using e-cigarette or vaping products."

The secretary of the Department of Health and Environment for Kansas went even further, saying, "If you or a loved one is vaping, please stop. The recent deaths across our country, combined with hundreds of reported lung injury cases continue to intensify."
---

---
If You Smoke, Make the Switch Says Public Health England
Brent Stafford, Regulator Watch
The Walter Whites of THC Oils? – Julie Bosman and Matt Richtel
The drug bust shattered the early-morning stillness of this manicured subdivision in southeastern Wisconsin. The police pulled up outside a white-shuttered brick condo, jolting neighbors out of their beds with the thud of heavy banging on a door.

What they found inside was not crystal meth or cocaine or fentanyl but slim boxes of vaping cartridges labeled with flavors like strawberry and peaches and cream. An additional 98,000 cartridges lay empty. Fifty-seven Mason jars nearby contained a substance that resembled dark honey: THC-laced liquid used for vaping, a practice that is now at the heart of a major public health scare sweeping the country.

Risks Global Harm – Chelsea Boyd, Carrie Wade
The Trump administration's announcement of plans to ban all flavored vaping products will cause more harm than good. It will put vapers at risk of either purchasing adulterated products through the illicit market or turning back to smoking combustible cigarettes. The move also circumvents existing federal efforts to make vaping as safe as possible for adults.

At a higher level, it adds to the hysteria surrounding tobacco harm reduction internationally. As countries look to just a few examples of sane approaches to e-cigarette regulation, the United States has once again signaled that our regulatory agencies and public health bodies are in disarray.
Vaping Is the Safest Quit-Smoking Aid on the Market – Tim Andrews
In the absence of evidence or reason, fear is a truly dangerous thing. Amid reports that more than 300 vapers have fallen seriously ill in recent months, the media and public health lobby promptly proclaimed an epidemic and raised the alarm on e-cigarettes.

In this fog of fear and confusion, many vapers were scared into quitting despite ample evidence of the public health benefits of e-cigarettes. Some even took up smoking again. Adding to this hysteria, the Centers for Disease Control and Prevention recommended that people stop vaping
Colin Mendelsohn
An outbreak of a serious lung illness in the United States and six deaths, linked to vaping,  has led to calls to stop all vaping. Should former smokers who are now vaping nicotine go back to smoking?

In short, no. It is now clear that this outbreak is not about nicotine vaping. Nearly all the people affected have vaped black market THC oils (the psychoactive ingredient in cannabis plants) containing Vitamin E acetate oil, which has recently been introduced into illicit THC liquid production.

But this important fact hasn't stopped some of Australia's so-called "leading health experts" from engaging in another round of predictable scaremongering about the use of e-cigarettes.
Has Nothing to Do With the Hazards of Black-Market Cannabis Products
Jacob Sullum, Reason
New York Gov. Andrew Cuomo announced yesterday that he plans to impose an "emergency" ban on the sale of flavored e-cigarettes. Cuomo's ban, like Michigan Gov. Gretchen Whitmer's and the Trump administration's, is officially a response to "the increasing number of youth using vape products." Yet his press release also says "these efforts follow a series of actions taken by the Governor aimed at addressing the growing use of vaping products, which have come under national scrutiny following a rising number of cases of vaping-associated respiratory illnesses."
Less Harmful Alternatives Undermined by Provincial Governments
According to Research Co.'s survey for the Canadian Association of Consumers, only 25 percent of smokers who sought advice from a physician on how to quit had vaping mentioned as an option and referenced as a potential harm reduction tool. Only 33 percent of smokers surveyed believed the products were less harmful than tobacco.

This new information comes on the heels of a decision by the Ontario government to sign a joint submission in which Canada's ten provinces and three territories demand that the federal government impose further restrictions on vaping advertising.
And Smoking-Related Diseases Starts in Catania – Chiara Nobis
The fight against smoking and smoking-related disease starts in Catania: Professor Riccardo Polosa, Chief of CoEHAR, introduced nine research projects related to smoking and smoking-related diseases.

The conference was attended by Ruggero Razza, Assessor of Public Health of Sicily, Dr. Derek Yach, President of the Foundation of a Smoke Free World, and Francesco Purello, Director of the Clinical and Experimental Medicine of the University of Catania.
Shahid Akhter
The government should take a much broader approach to this. There have been a lot of headlines recently about vaping in the US, but these are not vaping products. There are additional users adding marijuana and other products to vape. With around 100 million smokers in India, they deserve an opportunity to improve their health. The government should absolutely consider regulation, but should not ban these products before science is presented.

There are still 1 billion smokers globally and 100 million in India. We need to give them an opportunity to quit burning tobacco and move to the other products. At the same time, the regulations need to be strong enough that we don't allow a new generation to become addicted to nicotine, which is a strong case in age restriction.
---
A look back at how things have moved on or otherwise….
BBC
The number of vapers in Great Britain has topped three million for the first time – four times the number in 2012, according to a survey by Action on Smoking and Health.

Most use e-cigarettes because they have quit smoking and 40% are smokers who are trying to give up. The estimations are based on a survey of 12,000 British adults.

But a "worrying" belief that vaping is as bad as smoking still exists, a King's College London analysis found.
Are getting the message – ASH
Findings from a new survey [1] for Action on Smoking and Health (ASH) published today show that GB smokers are getting the message that switching to vaping can improve their health.

YouGov surveyed over 12,000 adults for ASH, with a further analysis by King's College London, estimating that there are now 3.2 million vapers in Great Britain. This compares with an estimated 7.4 million smokers in the UK [2]. Of current GB vapers, over half have quit smoking and 40% are current smokers who are trying to quit.
Paul Barnes, Facts Do Matter
Yesterday demonstrated the effects of a coordinated effort to discredit one of the most disruptive technologies that has several groups within 'public health' worried. Not only for their funding source, which is neither here nor there, but also for the steadily decreasing relevance.

Naturally, the media headlines don't really get to the bottom of the issue:
---
Visit Nicotine Science & Policy for more News from around the World

---