Vaping Digest 17th January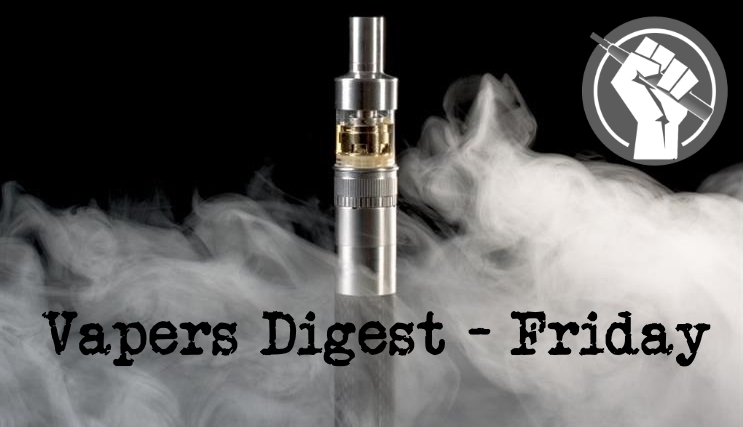 Friday's News at a glance:
CDC Confirms Black Markets, not "Vaping," Caused Outbreak – Vaping (Marijuana) and Lung Disease:  – USA wavers on flavour bans – Health: Vaping – Q&A on the FDA's Flavored E-Cig Policy – New CDC Report Highlights the Risks of Black-Market THC Vapes – Michael Bloomberg's E-Cigarette Ban – Scholarships Misrepresented – Queenstown Snobs – Forum Post Research Farce – Chasing The Juul Ambulance – News Roundup – E-cigs seen as less harmful relative to cigarettes – Smoking, vaping and the nanny state – Vaping Tax Economics – How to get around the vaping ban? – Nicotine Science and Policy Daily Digest
Not "Vaping," Caused Outbreak – Michelle Minton
A new report from the U.S. Centers for Disease Control and Prevention (CDC) puts the final nail in the coffin of the idea that the spate of lung injuries that occurred beginning last summer were caused by "vaping." The CDC admitted this week that the injuries appear to be exclusively linked to marijuana vapes—not nicotine e-cigarettes, most of which were purchased on the black market, a fact that CEI knew nearly six months ago.

According to the latest CDC findings, only one in six of the patients with the vaping-related lung injuries reported purchasing THC vapes from commercial sources. Some news outlets have interpreted this to mean that approximately 16 percent of the cases involved legally purchased cannabis vapes. But, as Jacob Sullum at Reason points out, this is incorrect.
Tale of Two State Health Departments – Brad Rodu
"The Michigan Department of Health and Human Services (MDHHS) [announced] the third death associated with the outbreak of vaping-related lung injuries in the state" on January 10. Dr. Joneigh Khaldun, MDHHS Chief Medical Executive and Chief Deputy for Health, said "We extend our deepest condolences to the family. I urge people not to use THC-containing e-cigarettes or vaping products until the specific cause of these vaping-related severe lung injuries being reported nationwide has been identified."

MDHHS recommendations start with the following: "People should not use THC-containing e-cigarette or vaping products, particularly from informal sources such as friends, family or in-person or online sellers."
---

---
Despite increasing pressure from Democrats – Fergus Mason
Across the USA at both state and federal levels, politicians – mostly from the Democratic Party – are pushing for a total ban on e-cigarette flavours. However the Trump administration has backed off from this, settling for a less restrictive law that only applies to pod systems, while a New York judge has just struck down a total flavour ban at state level.
My Lords, despite reductions in smoking rates, smoking remains the leading cause of preventable death in England. E-cigarettes are not risk free but are less harmful to health than smoking tobacco. ​Each year, more than 50,000 additional people who would not have quit through other means quit smoking through e-cigarette use. We continue to monitor the evidence base on e-cigarettes. The next Public Health England annual review is due in February 2020.
Jessica McDonald
After months of considering a complete ban on flavored electronic cigarettes, the Trump administration announced a new policy on Jan. 2 that soon will forbid the sale of some, but not all, flavored vapes.

According to the Food and Drug Administration, the agency responsible for the policy, the change is an attempt to limit the alarming rise in the use of e-cigarettes by teens — who overwhelmingly prefer flavors — while balancing the potential benefits to adults who already smoke.

E-cigarettes may be able to help existing smokers get off combustible cigarettes, which are regarded as more harmful than the electronic versions. But mounting evidence suggests vaping has lured millions of American teens into nicotine addiction and has led some to start smoking.
---
Humbled by the responses to this. Thnks 2 colleagues. Did another media interview today where my industry links were questioned (I have none) and had another publication (not that one @FionaDobbie!) 'deferred' because I said something positive about THR. https://t.co/yOPQFflVn8

— Linda Bauld (@LindaBauld) January 16, 2020
Merchants of Doubt: me in @tobaccoreporter on the fabricated and over-hyped controversies surrounding: (1) vaping lung injuries; (2) the 'youth vaping epidemic', and (3) the role of flavours.https://t.co/UskQLywbCS

— Clive Bates (@Clive_Bates) January 14, 2020
---
Of Black-Market THC Vapes – Jacob Sullum
According to a new report on the sources of cannabis products used by patients with vaping-related lung injuries, 84 percent said they had obtained them from "informal sources." The study, conducted by researchers at the Centers for Disease Control and Prevention (CDC), reinforces the point that the problem of potentially hazardous additives or contaminants is especially acute in the black market, where there is no quality control and consumers have no way to verify the contents of the products they purchase.

The information about THC vape sources, which is based on interviews with 809 patients or their relatives, found that 16 percent "reported acquiring their products from only commercial sources."
Would Endanger Public Health – Guy Bentley
Yesterday, presidential candidate Michael Bloomberg announced his intention to ban the sale of all flavored e-cigarettes should he win the White House this November. The former mayor of New York City says he'd go further than the Trump administration's recent ban on most e-cigarette flavors.

Bloomberg's plan says he promises to:

Direct the FDA to prohibit the sale of all flavored e-cigarettes, as well as all menthol-flavored tobacco products. He will also direct the FDA to speed up its review of e-cigarettes.

Push to reduce the amount of nicotine in traditional cigarettes, e-cigarettes, and other tobacco products to non-addictive levels.

Bloomberg has long been an opponent of tobacco use, but his criticism of e-cigarettes appears to be capable of eclipsing his efforts to reduce smoking. Bloomberg's passion for prohibition was given fresh impetus last year with new data showing another sharp rise in the number of teens experimenting with vaping…

Five from Dave Cross, Planet of the Vapes
Guido Baler, Karina Paci, Sarah Dorothy Kowitt, and lead author Adam Goldstein, from the University of North Carolina, have published a paper about vaping industry-funded academic scholarships in the journal Tobacco Control. In it, they attempt to make out the vaping industry is bribing children with cash to write pro-vape essays.

"Electronic cigarette companies offer academic scholarships to high school-age teenagers and young adults, showing a disconnect between the industry's desire to increase vaping among young people and the desire of health advocates to decrease such usage," writes Goldsmith in the press release accompanying his latest "study".
"Queenstown Lakes District Council's move to ban vaping on the popular beaches of Queenstown, Frankton, Wanaka and Glenorchy is sadly based on snobbery not scientific evidence," says Jonathan Devery, spokesperson for the Vaping Trade Association of New Zealand (VTANZ).

The representative of independent Kiwi vape businesses says the council is to be congratulated for hitting cigarette smoking and introducing a three-month smoke-free trial this summer. However, he says, including vaping in the ban is misguided and only stigmatises the best smoking cessation tool New Zealand has ever had.
Frequently, vapers have cautioned others about what they write on online forums and social media groups, fearing that unscrupulous researchers might misrepresent the posts. Anti-vape Prue Talbot (University of California Riverside) has just published a paper where her team analysed forum posts for "evidence" of self-reported vape ailments – rather than investigating medically diagnosed illnesses.

In 2010, Prue Talbot had already made up which side of funding fence she wanted to sit: "Some people believe that e-cigarettes are a safe substitute for conventional cigarettes. However, there are virtually no scientific studies on e-cigarettes and their safety.
The Food and Drug Administration (FDA) demanded marketing documents from Juul Labs in April 2018. It demanded the company produced a document detailing a plan to combat "epidemic" teen use the following September. Then, the next month, the FDA raided Juul's head office and seized thousands of documents. Juul knew it was under attack…and then came the lawsuits.

In response to the raid, now deposed Juul CEO Kevin Burns commented: "We are committed to preventing underage use, and we want to engage with FDA, lawmakers, public health advocates and others to keep JUUL out of the hands of young people.
News of spice and cannabis problems in UK and the USA comes as billionaire Presidential runner Michael Bloomberg promises to ban all vaping if he becomes POTUS. But, in Spain, the head of Bellvitge Preventive Medicine defends vaping. Also, Linda Bauld and Suzi Gage point out it's still safer than smoking.

One in five school-aged teens vape marijuana according to a report published in the Journal of the American Medical Association. Researchers also claim that one in four teens try vaping with nicotine at least once as people try to vilify the harm reduction potential of vaping in the States.
---

---
Rights 4 Vapers
This week, medical professionals, academics and policy makers are gathered in Ottawa to discuss policies, programs and tools to  help smokers quit. However, they are ignoring and even deriding one of the most  effective smoking cessation tools to date: vaping.

In fact, the 12th Annual Ottawa Conference: State of the Art Clinical Approaches to  Smoking Cessation's keynote speaker Dr. Glantz takes direct aim at vaping and the  conference organizers outright prevented Rights4Vapers, the country's leading  vaper rights organization, from hosting a simultaneous event at the same location.
Manila Standard Business
A representative of the World Health Organization who attended a congressional hearing in the Philippines acknowledged that electronic cigarettes are less harmful than cigarettes.
Dr. Ranti Fayokun, a scientist in the National Capacity-Tobacco Control Prevention of Non-Communicable Diseases, made the comment in response to a question from a Filipino congressman during the hearing on vaping regulation conducted by the House of Representatives in December last year.
Fayokun's admission was made amid the organization's cautious stand on e-cigarettes despite the mounting scientific evidence that they are less harmful than traditional cigarettes.

Bienvenido S. Oplas
Among the stories we hear and read in the debates on higher tobacco/alcohol tax, smoking/vaping ban, are that 1.) smoking prevalence remains high and rising, 2.) vaping is not a smoking-cessation tool but smoking-enhancement, and, 3.) more government taxation and prohibitions are good to protect public health.

These are all myths and not consistent with facts. Here are the numbers and reasons why.

On No. 1, in most countries, smoking prevalence is declining. There has been a big decline of 10-11 percentage points for South Korea, Japan, and the Philippines in a span of 16 years. And as of 2015, only 2% of Philippine adults and 4.5% of youths were users of smokeless tobacco or e-cigarettes, vaping products.
Jacob James Rich
A new study of the e-cigarette tax in Minnesota has verified the first rule of economics: the more something costs, the less people buy. The study's authors, mostly National Bureau of Economic Research economists, found Minnesota's tax levied on e-cigarettes "increased adult smoking and reduced smoking cessation in Minnesota." Although the findings agree with previous studies, showing that higher taxes successfully reduce vaping, they also find that e-cigarette taxes have re-incentivized the use of conventional cigarettes.
Ask a Seattle-area teenager – Sonya Harris
Seattle area teens said they have found ways around the temporary vaping ban and are still using.

But with a permanent ban on the horizon, complying small businesses face uncertainty.

When Washington state enacted a ban on flavored vaping oils last October, officials sought to protect users from chemicals linked to an epidemic of vaping-related lung illness. The Centers for Disease Control has documented at least 60 deaths since the outbreak was first reported last year.
---
A look back at how things have moved on or otherwise….
Dave Cross, Planet Of The Vapes
Dr Konstantinos Farsalinos is the lead author on a paper detailing the patterns of use and self-reported changes in health of vapers. Together with Diamantopoulou, Barbouni, Merakou, and Lagiou, he looked at a random sample of customers in Greek vape shops.

The team represent the University of West Attica, National School of Public Health, Onassis Cardiac Surgery Centre, and the University of Patras. The work, "Patterns of e-cigarette use, biochemically verified smoking status and self-reported changes in health status" was published in the journal Internal and Emergency Medicine last week.
Helen Redmond, FilterMag
The panic around teenagers who vape was ratcheted up a level last month, when the US Surgeon General, Dr. Jerome Adams, declared:

According to one media report, Adams warned:

"Nicotine is "very and uniquely harmful" to the developing brain. It can impair learning and memory for people under 25, "prime the brain" for addiction to other substances and increase the risk they will turn to combustible tobacco just as smoking is at a record low."
Fergus Mason, Vaping Post
Researchers claim vaping triggers asthma, as bans and harassment continue American researchers claim to have found a link between "second-hand vaping" and asthma attacks, according to a new study – but the data it's based on has serious flaws. Meanwhile a Nebraska state senator has introduced a bill that would prevent anyone under 21 from accessing reduced-risk nicotine products, while Chinese customs officials have caught a group of smugglers who were transporting e-cigarettes into China.
---
Visit Nicotine Science & Policy for more News from around the World

---