Vaping Digest 20th January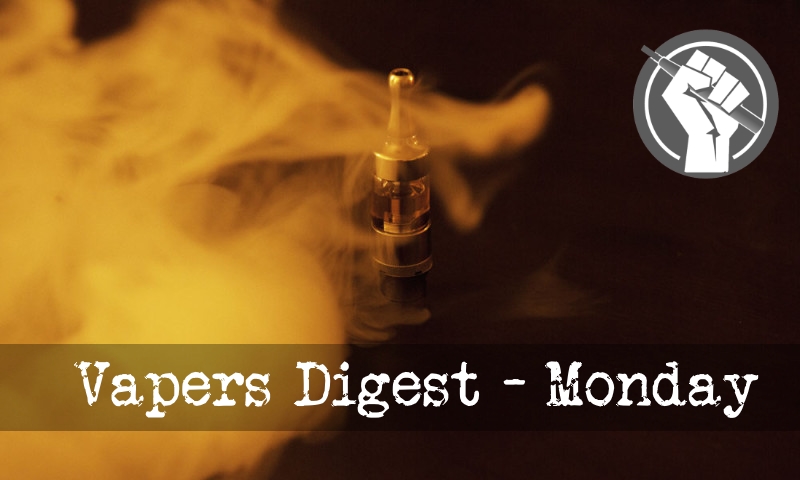 Monday's News at a glance:
Vaping is still at least 95% lower risk than smoking – America's anti-vaping scam – We in Sweden should be proud – Was drink involved? – Will Trump Stop the FDA's May 11 Vape Apocalypse? – Vaping In The News – January 18th – A Bauld Response – ECToH-Spasm – UKECRF Research Roundup – Queensland Health continues its vendetta against vapers – Unfiltered Conversations With Marewa Glover – 2020 Under Dr. Stephen Hahn – My (tobacco control) friends are not talking to each other – New Problems – Nicotine Science and Policy Daily Digest
Than smoking – debunking a feeble and empty critique
Clive Bates, The Counterfactual
This paper turned up in my weekly search of PubMed.

Invalidity of an Oft-Cited Estimate of the Relative Harms of Electronic Cigarettes.
Eissenberg T, Bhatnagar A, Chapman S, Jordt SE, Shihadeh A, Soule EK.
Am J Public Health. 2020 Feb;110(2):161-162. doi: 10.2105/AJPH.2019.305424.

The commentary claims to show the "invalidity" of the statements made by Public Health England (PHE) and the Royal College of Physicians (RCP) regarding the relative risk of vaping and smoking – in short that vaping is likely to be at least 95% lower risk than smoking.  As this is an important harm-reduction risk communication, it is worth asking: how valid is this critique?

I thought this might be a better critique than it actually is. But somewhat to my surprise, it is very poor indeed.
Christopher Snowdon, Velvet Glove Iron Fist
It took five months, but the US Centers for Disease Control has finally faced reality:

CDC no longer recommending people avoid all e-cigarettes, focuses on THC-containing products

The U.S. Centers for Disease Control and Prevention removed verbiage from its website this week suggesting that people refrain from all vaping products during its investigation into vaping-related lung injury.

The CDC previously urged people to consider refraining from the use of all e-cigarette or vaping products. Now the agency is focusing on THC-containing products.

This, and the role of Vitamin E acetate in the epidemic, was obvious a very long time ago to anyone who was paying attention. Donald Trump reportedly regrets getting involved…
---

---
thatgotmethinkingblog
We all make mistakes, sometimes we are just under too much pressure, say a deadline we can't make. So we just scribble some stuff and hope it gets by in the mix. I've done it lots of times and in fairness gotten away with it almost as often. I imagine if I were asked to make a presentation to a room full of academics at a conference I would pay some attention to what I was doing, spend long hours writing my presentation, checking it's facts and rechecking. If notice was short I might dig out an old presentation and rejig it's content, nothing radical and the safest option.

Well I'm never going to be asked to do this so I'm guessing at what might have happened, trying to find excuses for this;
Jim McDonald, Vaping 360
President Trump told Department of Health and Human Services Secretary Alex Azar that he regrets ever getting involved in vaping policy. "I should never have done that f***ing vaping thing," Trump told Azar over the phone during a campaign meeting, according to Axios. The topic came up during a campaign team discussion of healthcare policy.

According to White House officials, Trump doesn't regret the policy the White House finally settled on—banning the sale of pod- and cartridge-based vaping products in flavors other than tobacco and menthol. Rather, the President is sorry he ever personally waded into the controversy at all, and wishes he had left the decision to the FDA.
---
---
Kevin Crowley, Vaping Links
Dead Fish ~ What's the deal with Snus – the smokeless nicotine in a pouch? ~ A Cocaine Nasal Spray Just Received FDA Approval ~ CDC Survey Shows Flavors Aren't Driving Youth Vaping ~ U-Haul's Hateful Policy of Barring Nicotine Users From Employment ~ What's that? Prescribing smoking? ~ Trump told Azar he regrets involvement in vaping policy ~ Watch: Kat Timpf Warns FDA's New Vape Ban 'May Kill People' ~ Professor "Puff-N-Stuff" Glantz said what? ~ What's your story…We Vape We Write ~ THR4Life
EUforSnus asks the Swedish government to respond to Dutch proposal
The Dutch government are proposing to extend their ban on the use of tobacco products in public places to include the use of snus (see here for the notification detail for the draft act). The consultation period ended on 31 December 2019.

Bengt Wiberg, the co-founder of ETHRA partner EUforSnus, wrote to the Swedish government to urge them to respond to the proposal. We summarise the letter below.

The Dutch government is proposing to ban the use of cigarettes and e-cigarettes as well as snus and other smokeless products in all public places. In Sweden, there has been a ban on the use of cigarettes and e-cigarettes in public places since December 2018 but snus is not included…

A trio from Dave Cross, Planet of the Vapes
"In an era of anti-expert populism," writes Anna McKie, "it is more important than ever to stand up for scientific truth." Professor Linda Bauld has been doing precisely that for vaping – but has been attacked in the process. Now she claims that tobacco controllers are trying to dig up dirt to muddy her reputation.

McKie says that professionals attempting to speak out for truth and honesty places them at "high risk of personal attack". One of those she spoke to about advocacy was the Bruce and John Usher Chair of Public Health in The Usher Institute at the University of Edinburgh, President of the Society for Research on Nicotine and Tobacco Europe, and Deputy Director of the UK Centre for Tobacco and Alcohol Studies.
The European Conference on Tobacco or Health (ECToH) is organised every three years by the Association of European Cancer League. The eighth ECToH will take place in Berlin and claims to be the main European forum for tobacco control advocates – but vapers and vape advocates are set to be banned from witnessing the sessions, in the same way they do at the World Health Organisation FCTC Conference of Parties.

"We have made progress in combating the tobacco epidemic with the adoption and implementation of the Framework Convention on Tobacco Control, the 2014 EU Tobacco Products Directive. But we are still not there. Tobacco is the major cause of cancer and remains one of the leading causes for death and disease in Europe," say the organisers.
The UK E-Cigarette Research Forum (UKECRF) is an initiative developed by Cancer Research UK in partnership with Public Health England (PHE) and the UK Centre for Tobacco and Alcohol Studies (UKCTAS). Among other things, it brings together genuine experts to look at research related to vaping.

This month, UKECRF published analysis of three studies. The first focused on the cardiovascular effects of e-cigarettes by researchers at the University of Dundee, the second is a small observational study conducted by researchers at London South Bank University, and the last is a systematic review addressing the influence of social factors on e-cigarette intentions and use.
---

---
Colin Mendelsohn, ATHRA
Queensland Health has continued its vindictive and ideological war on vaping by fining a vape shop for breaching advertising and display rules. Vape Central at Capalaba willfully exposed consenting adults to full view of life-threatening cotton wool and tweezers.

Specifically, the shop displayed some vaping accessories: drip tips, coils, cotton wool, tweezers and funnels. Drip tips are the small tips of the mouthpieces of vaporisers. The advertising breach was for having a single brand logo sticker on the outside of the premises.
The latest episode of the Vaping Weekly podcast is an experiment in format and an interview with world-renowned smoking cessation expert Marewa Glover, director of The Centre of Research Excellence for Indigenous Sovereignty & Smoking, in Auckland, New Zealand.

This episode is also "Unfiltered #2." All of the scripts were thrown out. Here's the result: a pleasant conversation about academics, bullying, and being Māori in the New Zealand public health system.
Last month, Dr. Stephen Hahn was officially sworn in as the new commissioner of the U.S. Food and Drug Administration (FDA). The Senate confirmed him by a 73-17 vote. Hahn became the fourth leader of FDA in 2019 and the first confirmed nominee since former Commissioner Dr. Scott Gottlieb resigned unexpectedly in April and was followed by two temporary acting commissioners. Under a permanent commissioner, we will likely see more consistent and future-oriented policy agendas and programs, but the 2020 presidential election may threaten Hahn's extended tenure as commissioner—a position nominated by the president with no fixed term. Hahn will most likely be compared to Dr. Gottlieb, the well liked and effective communicator.

Dr John's Blog
Anyone who knows me well understands that I hate tobacco and the tobacco industry, Thirty years in the operating room, seeing the damage tobacco does to the human body should do that to anyone. People talk about the 45,000 Canadians that die every year from tobacco, but they often fail to mention how much they suffer before they die. It is tough to watch someone try to breathe after a lung has been removed or to see an elderly lady come back for a more aggressive amputation after a previous one failed to heal.
Is looking eerily like the start of a new drug war
The vaping epidemic was one of 2019's biggest health and policy stories. The really bad news is yet to come. Over the past year, a media narrative emerged that any given American could be maimed by a Juul. Government officials also piled on.

Just this week, Surgeon General Jerome M. Adams tweeted, "@CDCgov reports a total of 2,602 hospitalizations and 57 deaths associated with e-cigarettes and vaping lung injuries. A single death or hospitalization is one too many!" Lawmakers have tripped over themselves to impose sweeping bans on flavored vapes (and in some cases, all vapes).
WHYY
Many people have used vaping as a way to quit smoking. But then we started hearing about a mysterious lung illness that's put more than 2,000 people in the hospital, and killed more than 50. Since then, there's been a backlash against vaping — with some claiming that it could be just as unhealthy as smoking regular old cigarettes. Is that true? Reporter Liz Tung — who recently traded Camels in for mango-flavored e-cigarettes — investigates.
---
A look back at how things have moved on or otherwise…
Let's Change The Conversation – Kevin Crowley
Let's change the conversation about the myths surrounding nicotine and vaping.

The government resists ignores the opportunity to correct myths surrounding nicotine, vaping, and snus. Most things shared in mainstream media is full of multi-layered bias. There are difficulties explaining admitting vaping products and nicotine (and snus) are a safer, less harmful alternative to smoking, and the government continues to mislead the public.
Brad Rodu, Tobacco Truth
A December 19 "teen vaping epidemic" presentation by U.S. Surgeon General Jerome Adams at the University of Texas MD Anderson Cancer Center was particularly noteworthy for one passage (here):

"We want the science to be an important part of that policy discussion. I think the science is clear that raising the age of which youth can purchase these tobacco products to 21 has clear public health benefits. There's no doubt about that. The science part of this policy equation is clear: Tobacco 21 works."
---
Visit Nicotine Science & Policy for more News from around the World

---