Vaping Digest 22 January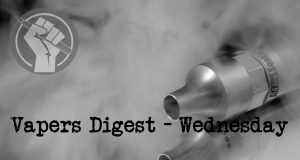 Wednesday's News at a glance:
The World Health Organisation lies about vaping on an epic scale ~ Harry's Blog 96: The WHO reneges on universal health rights for all ~ Expert reaction to World Health Organisation Q&A on electronic cigarettes ~ How opponents of vaping aid and abet Big Tobacco ~ A New Drug War ~ Infiltration ~ Why Vaping is Taking the Exhibition World by Storm ~ The "Vape Apocalypse" is still the law. Only legislation can change that ~ Confiscation at airports, e-cigarette users cry foul, says law allows personal use ~ Tobacco Free Nicotine ~ Health & Nutrition – In a puff! ~ Vaping mum's babies weigh the same as non-smokers
Christopher Snowden, Velvet Glove, Iron Fist
The deadly coronavirus that has infected hundreds of people in China and has now spread to the USA is the biggest global public health threat we have seen for some years. Naturally, therefore, the World Health Organisation spent yesterday putting out a series of deranged tweets about vaping.
Harry Shapiro, Nicotine Science and Policy
On 10th  December 2017, the Director General of the WHO Tedros Ghebreyesus released this statement on Human Rights Day. It was headed "Health is a fundamental human right". He said:

"The enjoyment of the highest attainable standard of health is one of the fundamental rights of every human being without distinction of race, religion, political belief, economic or social condition".

Almost 70 years after these words were adopted in the Constitution of the World Health Organization, they are more powerful and relevant than ever.
Dr Nick Hopkinson, Prof Peter Hajek, Prof John Britton, Science Media Centre
The World Health Organisation (WHO) have run a Q&A via their website on electronic cigarettes. (Here are expert reactions.)
---

---
Australian Tobacco Harm Reduction Association
Many opponents of vaping think it is a big tobacco conspiracy to keep people smoking and hook more kids. The reality is that vaping is a huge and disruptive threat to the tobacco industry. Campaigns against vaping support the cigarette market and are a huge gift to Big Tobacco.
---
Did some rudimentary science today to investigate some of @WHO recent claims about #vaping. Maybe i'm lighting mine wrong? pic.twitter.com/EMdDmzlorf

— GrimmGreen (@GrimmGreen) January 22, 2020
---
Three from Dave Cross, Planet Of The Vapes
"The vaping panic is looking eerily like the start of a new drug war," writes Anthony Fisher. It is becoming a hot topic for candidates seeking to become the next occupant of the White House as they tour the nation and give interviews. Meanwhile, President Trump's flipflopping and fence sitting fails to offer a clear and reasonable way forward.
Dr Andrew Pipe, the organiser of the "12th annual Ottawa Conference on state-of-the-art clinical approaches to smoking cessation", appears to think he is at war with vapers. He describes their attempt at communicating with conference attendees as an act of "infiltration".
After exploding on these shores a few years ago, the vape industry has now firmly found its place on the UK exhibition scene. This is not surprising when you look at the figures . . .

Back in 2011, there were about 7 million vapers worldwide, now that number is at a whopping 42 million. Market research group, Euromonitor estimates the number of vapers worldwide will rise to 55 million in the next couple of years, and the market for vaping is predicted to reach a staggering value of $50 billion by the year 2025.
---
Michael McGrady, Vaping Post
Trump reportedly regrets getting involved with the government's vaping policy. However, the president needs to remember that the law is still the law. Unfortunately, the "vape apocalypse" is mandated by federal law and a federal court. Congress has the power to curtail a vaping prohibition through legislation. What is also unfortunate, is that executive power has exceeded the authority of Congress and the courts, which indirectly makes the president, his cabinet, and the responsible regulators de facto lawmakers.
---
K R Balasubramanyam, The Economic Times
Despite the new e-cigarette prohibition law excluding personal use, e-cigarette users are reporting seizures of their devices at airports across the country after the civil aviation ministry issued an ambiguous circular, according to the Association of Vapers India.
Five Pawns
The changes that have occurred over the last 10 years in how people consume their nicotine have been quite remarkable, especially, when you consider the lack of innovation that occurred over the previous 100 years. And here we are again on the precipice of something new and exciting that will undoubtably garner some attention and market share over the next 6 to 12 months. Five Pawns is proud to announce the launch of a new product line of premium fruit flavors that solely utilizes Tobacco Free Nicotine.
---
Meredith Jones-Russell, Nursery World
In 2008, a year after smoking was banned indoors across the UK, e-cigarettes hit the market. By 2019, according to a YouGov survey, more than 3.6 million adults in Great Britain were using e-cigarettes or vaping, a total of 7.1 per cent of the adult population. However, as relatively new products, there is very little long-term evidence on e-cigarettes, and many people remain unsure as to whether or not vaping may pose a risk to children, particularly as more and more stories about the dangers of vaping are now hitting the headlines.
---

Eilish O'Regan, PressReader
Pregnant women in a dublin maternity hospital who used e-cigarettes delivered babies who had the same birthweight as non-smokers, a new study reveals.

The study at the Coombe Hospital found it was significantly greater than the birthweight of tobacco smokers.
---
---
Visit Nicotine Science & Policy for more News from around the World

---