Vaping Digest 15th January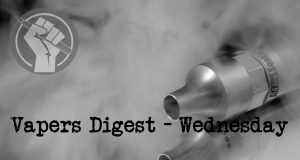 Wednesday's News at a glance:
Conflated Harm | Dr. Polosa Talks Truth About Vaping and Lung Heath ~ Give out e-cigarette starter kits to help quitters, report recommends ~ Merchants of doubt ~ CDC Survey Shows Flavors Aren't Driving Youth Vaping ~ Youth Vaping and Tobacco Use in Context in the United States ~ Gaze Upon the Worst Anti-Vaping Poster Ever and Despair ~ Gaze Upon the Worst Anti-Vaping Poster Ever and Despair ~ Everything You Need To Know About Vaping And Its Effect On Your Health ~ The View From The Cave ~ New York Ban Knockback ~ RELX World Domination Plans ~ The Mental Gymnastics of Anti-Vaping Legislators ~ This week Israel became the first country to implement plain packaging of e-cigarettes. ~ Indian Doctors Raise Concern About Increase in Cancer Due to E-Cig Ban ~ Juul to stop selling most flavoured vaping pods in Canada ~ New Jersey Passes Statewide Flavor Ban; Who's Next?
Brent Stafford, Regulator Watch
Dr. Polosa is an expert in lung disease and over numerous studies, his research provides clinical evidence supporting the health benefits of vaping; not only to reduce harm but in some cases, even reverse the harm caused by smoking.

What does he think about the CDC sponsored smear campaign that falsely implicated nicotine vaping as a cause of the deadly lung-illness? What does science say about the relative harms (and benefits) of vaping on the lung? And, is the damage done to vaping's reputation permanent?
Editorial Board, Pharmacy Business
E-cigarette starter packs should be made available to smokers for free to encourage them to quit, a joint report by two leading anti-tobacco groups has said.

Many Ways Forward: stop smoking services and tobacco control work in English local authorities was co-authored by Action on Smoking and Health (ASH) and Cancer Research UK (CRUK). It recommends: "Local authorities which do not currently provide e-cigarette starter packs as part of their cessation offer should consider doing so to give local smokers the best possible chance to quit".
Clive Bates, Tobacco Reporter
For those of us who support the public health strategy of tobacco harm reduction, it has been a tough few months. Several crises emerged suddenly and the boundaries between them have become blurred: an outbreak of severe lung injuries and deaths, a sharp rise in youth vaping in the United States and the claim that e-liquid flavors are the problem and should be banned.
---

---
J.J. Rich, Reason Foundation
Over 75 percent of youth vapers apparently don't care much about flavors, according to the most recent survey conducted by the Centers for Disease Control and Prevention.

"Among middle and high school students who ever tried using e-cigarettes, the most common reasons for e-cigarette use were 'I was curious about them.' (55.3 percent)," the CDC reports in its report "Tobacco Product Use and Associated Factors Among Middle and High School Students — United States, 2019."
Results from the 2018 National Youth Tobacco Survey
Oxford Academic, Nicotine & Tobacco Research
Abstract/Introduction

According to the National Youth Tobacco Survey (NYTS), youth e-cigarette use (vaping) rose between 2017-2018. Frequency of vaping and concurrent past 30-day (p30d) use of e-cigarettes and tobacco products have not been reported.
Reason Foundation
My home state of New Jersey has many things to be proud of, from being the only state of two colonial colleges to hosting the first baseball and college football games to having the only official Twitter account that routinely traffics in "your mom" jokes. Sadly, it now has something to be just as ashamed of as its number-one ranking in toxic dumps, its role in the Hindenburg tragedy, and its absolute bottom-of-the-barrel standing in the Tax Foundation's State Business Tax Climate Index.

I speak of this anti-vaping poster, which comes via the Twitter feed of Commentary's Noah Rothman and asserts that "vaping is as safe as skydiving without a parachute!"
Jack Phillips , Australian Mens Health
Spinning an e-cigarette between his fingers like a tiny cheerleader's baton, Jamal orders another coffee because it's apparent I'm picking up the bill. The 19-year-old student has just spent the last five minutes sipping a soy flat white while waxing lyrically about a rapper I've never heard of. But although I find his hackneyed use of the word "legend" grating, I have to admit he has my attention due to his ability to gush so enthusiastically while expelling plumes of blueberry-smelling smoke.
---
#ecig what are we talking about?! The #riskreduction generally stands in the range 90 to 99%. Innovation in #vaping product design is likely to reduce these residual risks. https://t.co/nN3AMgLSqy

— Riccardo Polosa (@RiccardoPolosa) January 14, 2020
---
Three from Dave Cross, Planet Of The Vapes
Tobacco control troglodytes crawled out of their cave to complain about the 95% safer figure in the American Journal of Public Health. Thomas Eissenberg, Aruni Bhatnagar, Simon Chapman, Sven-Eric Jordt, Alan Shihadeh, and Eric Soule submitted a paper titled "Invalidity of an Oft-Cited Estimate of the Relative Harms of Electronic Cigarettes". Michael Siegel slams their position that smoking cigarettes might be safer than vaping.
A judge in a state Supreme Court has struck a blow to Democrat Governor Andrew Cuomo's attempts to ban vaping in New York. The judge granted an injunction thanks to a lawsuit brought by the Vapor Technology Association (VTA) and means that companies can resume sales until further legislation is enacted or a successful appeal made.
Chinese electronic cigarette market leader RELX has announced that it plans to spend 500 million Chinese Yuan (£56 million) on establishing 10,000 brick and mortar stores around the world. Currently, the brand is imported and distributed by Relaxer Technology UK LTD. to 153 outlets in Great Britain.
---
Carrie Wade, Filter
With a new round of legislative hearing looming ahead there is no doubt that vaping—and various prohibition strategies—will be at the forefront of national policymakers' agendas in 2020. The first hearing of the new decade held by the District of Columbia's Committee on the Judiciary & Public Safety, which I attended on January 2, serves as a harbinger of what's to come.

In discussing proposed zoning, sales and flavor restrictions, witnesses and councilmembers provided insight into the mental gymnastics required to endorse prohibitions of products that are not only far less dangerous than those readily available, but can actually prevent early death and disease.
---
Physicians for a Smoke-Free Canada
On January the 8th, several elements of Israel's law prohibiting advertising of tobacco and smoking products came into effect. Among these were requirements that tobacco products and smoking products (including e-cigarettes,  heat not burn products like IQOS, and non-tobacco products designed for smoking like shisha) be sold in generic packages.

In addition to plain packaging, the new law requires larger health warnings on cigarettes (65%) and on smoking products (30%). In September 2018, shortly after JUUL entered the market, Israel prohibited nicotine concentrations above 20 mg / ml.
---
Diane Caruana, Vaping Post
In line with arguments by countless public health experts, in response to the nationwide e-cig ban recently passed by Parliament, Indian doctors are concerned about the resulting likely increase in cancers and chronic heart and lung diseases, as former smokers who vape to quit cigarettes, may now turn back to smoking.
CBC News
Juul Labs will stop selling most of its flavoured vaping pods in Canada, CBC News has confirmed.

The company will not pull existing supplies of the mango, vanilla, fruit and cucumber varieties from store shelves, but it will stop re-supplying outlets with those products once the existing stock has sold out.

The company, a leader in the electronic cigarette market, will halt production of those pods as of Wednesday. Tobacco and mint flavoured varieties will still be sold in Canada, a spokesperson confirmed.
---

---
---
Visit Nicotine Science & Policy for more News from around the World

---