Vaping Digest 13th January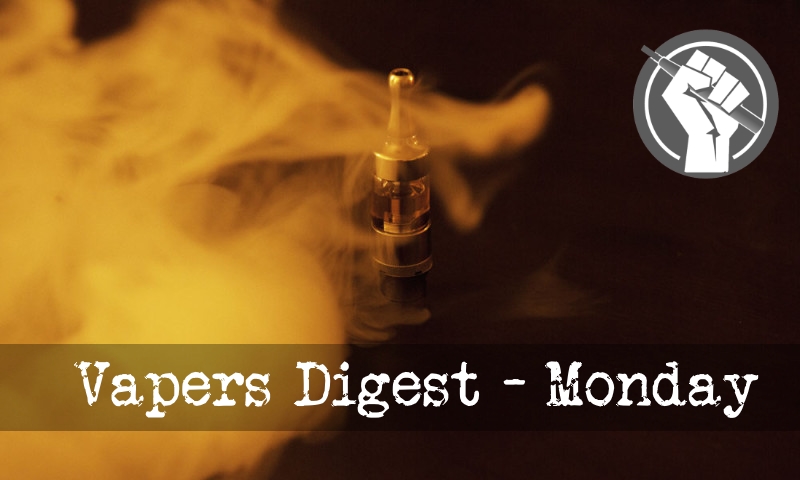 Monday's News at a glance:
How Truth Became a Casualty of the War on Smoking – Vaping In The News – January 11th – What Is The Future For Vaping? – Committee To Hear Flavour Recommendations – U-Haul's Zero-Nicotine Hiring Policy Widely Criticized – U-Haul's Hateful Policy – 2019 NYTS Data Reveals Teen Vaping Up – Hungary lowers its excise tax – Where's the vaping legislation Labour promised? – Some may be quitting the wrong vaping products – Judge strikes down New York's ban – Nicotine Science and Policy Daily Digest
Of the War on Smoking – Jacob Sullum
When Clara Gouin started running the Group Against Smokers' Pollution (GASP) out of her College Park, Maryland, living room in 1971, she was rebelling against social norms she deemed oppressive. "Gouin was a housewife and the mother of two daughters, the youngest of whom had an allergy to smoke," University of Virginia historian Sarah Milov writes in The Cigarette: A Political History. "The child's reaction to cigarettes was so severe that it prevented the family from going out to eat. Even worse than being restricted in public was the expectation that nonsmokers had to accommodate smoking guests in their own homes. Ashtrays in the homes of nonsmokers were monuments to smokers' supremacy…
Kevin Crowley, Vaping Links
How Truth Became a Casualty of the War on Smoking ~ 12.2 billion less cigarettes were sold ~ Coffee 21. Campaign for Caffeine Free Children ~ New e-cig policy a 'first step': HHS Assistant Secretary ~ The David Goerlitz Story ~ Business Insider ~ FDA's New "Flavor Ban Lite" Ignores May PMTA Deadline ~ Truth Initiative Promo Encourages Risky Teen Behavior ~ Health Insurance Companies Can Charge People Who Vape Up to 50% More ~ America's Flavour Crisis ~ A Billion For Free ~ A Reminder ~ A Twitter Reminder
---

---
Dave Cross, Planet of the Vapes
American Doctor Brian Goldman has opted to ignore the reduced harm of vaping and supports his family members smoking instead. The benefits of switching from cigarettes to vapes is all too obvious to vapers, and is supported by the science, but the likes of Goldman are wilfully choosing to ignore it. Will 2020 see sense return to the debate or a further slide into stupidity?

The situation has got to such a grave level that American Doctor Brian Goldman advertised his ignorance to the world by choosing to sideline ecigs and purchased cigarettes for his son.
Dave Cross, Planet of the Vapes
As the USA strengthens its bans on eliquid flavours, the UK is taking a more pragmatic approach. A group of experts is due to report back to the cross-party government committee soon, but current indications are that the United Kingdom will not follow the States in restricting access.

Professor John Britton, director of the UK Centre for Tobacco and Alcohol Studies at Nottingham University and the UK Medicines and Healthcare Products Regulatory Agency (MHRA)'s panel on e-cigarettes, spoke about how flavours were important vapers and to getting current smokers to switch. He said: "If you restrict the flavours, you may restrict the tolerability of vaping to people trying it for the first time, but you will also lose an awful lot of smokers.
---
Must-read article on the misreporting of vaping lung injury outbreak. Lives were put at risk not just by illicit THC vapes with rogue additives – also by the confusing messaging from official agencies, the opportunistic spin of activists and media loving a click bait opportunity. https://t.co/pwS7nGPMMQ

— Clive Bates (@Clive_Bates) January 13, 2020
---
Widely Criticized – Jim McDonald
Moving company U-Haul will soon implement a hiring policy that discriminates against applicants who use nicotine in any form. According to the company, the policy "furthers the progression of U-Haul to establish one of the healthiest corporate cultures in the U.S. and Canada." The policy will go into effect Feb. 1 for new hires, but will not apply to current employees.

Since typical nicotine testing can't distinguish how the drug was absorbed, such policies can never draw a line between users of the most dangerous product—cigarettes—and users of products that have not been proven to cause any harm, like e-cigarettes.
Of Barring Nicotine Users From Employment – Helen Redmond
U-Haul? More like U-Hate. The ubiquitous moving-and-storage company has made clear that it hates workers who use nicotine—even on their own time.

At the turn of the year, U-Haul announced that starting in February, they will "decline job applicants who are nicotine users" in the 21 states* where it's legal to do so. And it doesn't matter if the nicotine comes from a cigarette, a patch, gum or a vape.

Smoking Eradication Within Reach – Brad Rodu
The Centers for Disease Control and Prevention recently released data from the 2019 National Youth Tobacco Survey (NYTS). My analysis confirms the FDA claim of an increase in vaping among high school students, as seen in the chart at left. The most dramatic change is that exclusive use of cigarettes almost fell off the chart from 2018 to 2019, from 2.6% to 0.8%. This unprecedented rate of decline suggests that the eradication of combustible cigarette use among high schoolers is within reach.

Government health officials are finding in the NYTS some added support for their claim of an e-cigarette epidemic. Exclusive current (past-30-day) use of electronic cigarettes rose from 15.1% the year before to 22.4% in 2019.
A new law goes into effect today which restricts the sales of electronic cigarettes and e-cigarette cartridges to a state rune network of tobacco shops. The legislation also limits the number of tobacco shops in the country by raising the population threshold per shop from 3000 to 4000.

Another provision of the law reduces the excise tax on liquid used in e-cigarettes from HUF 55 to HUF 20 (EUR 0.06) per milliliter. The intent of the measure is to close the tax gap with neighboring countries in order to restrict illegal imports. Current tax rates on e-liquid in Serbia and Romania stand at EUR 0.037 and EUR 0.109 per ml, respectively. Croatia, on the southeastern border, has a zero-rate excise tax.
---

---
Of the US outbreak of lung diseases in vapers by public health authorities and the media
Coral Gartner, Billie Bonevski, Wayne Hall
Nicotine vaping has become a popular alternative to tobacco cigarette smoking worldwide. In the USA, where vaping nicotine e‐liquid is legal for people aged over 18 years in all states, around 6.9 million adults vape nicotine 1. Cannabis or tetrahydrocannabinol (THC) oil vaping is also popular but less common and its legal status depends on the state, the concentration of THC and the type of hemp used to manufacture the oil. Penalties for THC vaping vary state by state
Jan Parcel
Re: "Bay Area cities should get behind vaping ban" (Editorial, Mercurynews.com, Dec. 10):

A Mercury News editorial published Dec. 10 said the vaping death toll is due to e-cigarettes.

That is extremely misleading. Per Scott Gottlieb, M.D., formerly FDA: "If a product contains THC, it's not an e-cigarette. An e-cigarette is a term of art under existing regulations, it's an electronic nicotine delivery system (ENDS)."

Brendan J. Lyons
A state Supreme Court justice has struck down New York's ban on the sale of certain flavored electronic liquids, granting an injunction sought by the vaping industry that challenged the legality and constitutionality of an emergency order issued last year by Gov. Andrew M. Cuomo and the state Health Department.

The ban was issued in September by the state Department of Health's Public Health and Health Planning Council, a day after Cuomo signed an executive order to ban the sale of e-flavored cigarettes and related products.
Scoop
"More than a year after new vaping legislation was promised, and with the school year rapidly approaching, there's still no sign of Labour's vaping legislation", says ACT Leader David Seymour.

"Labour announced plans to regulate vaping way back in November 2018. More than a year has passed and we've seen nothing from the Government.

"Associate Health Minister Jenny Salesa has said on multiple occasions that we'll see a new law 'very soon
---
A look back at how things have moved on or otherwise…
New Nicotine Alliance
The survey will take just five minutes of your time and by doing it you will be helping to decide the research priorities for e-cigarettes.  This research is being conducted by Dr Abby Hunter from the UK Centre for Tobacco and Alcohol Studies and will be followed up later with a second survey, to prioritise the responses from this one.

You can read more about the E-cigarettes Priority Setting Partnership here:
https://ukctas.net/featured-projects/ecig-psp
Kevin Crowley, Vaping Links
In a recent post, James Jarvis discussed common myths about vaping, stating "Let's get this out of the way for 2019."

Not only is James Jarvis is President of Ohio Vapor Trade Association (OHVTA), he's also a consumer. I've been to Columbus a couple times to see him, and I'll describe James simply as good people. He cares about smokers having proper information and he cares about the industry.

To the point, a post on his Facebook page got me to thinking… if some vapers genuinely don't know or are confused about information, how can the public know?
---
Visit Nicotine Science & Policy for more News from around the World

---