Vaping Digest January 11th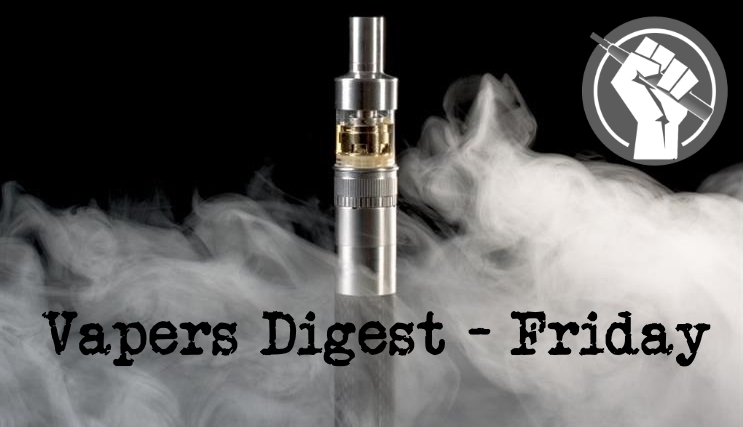 Friday's News at a glance:
E-cigarettes Priority Setting Partnership questionnaire – Vaping: Let's Get This Out Of The Way – Research: The Benefit of Vapers – UEA Advice for New Vapers – The War Against Vaping: Déjà Vu All Over Again –  JUUL Launches Nationwide Ad Campaign Aimed at Adult Smokers – Intolerable False Statements by FDA's Mitch Zeller – New House Bill Would Tax Vapes Like Cigarettes and Ban Flavors – Why I cancelled my membership of the Australian Medical Association – Regulating Vaping While Understanding Policy Comparisons – A case study in bad policymaking – Nicotine Science and Policy Daily Digest
New Nicotine Alliance
The survey will take just five minutes of your time and by doing it you will be helping to decide the research priorities for e-cigarettes.  This research is being conducted by Dr Abby Hunter from the UK Centre for Tobacco and Alcohol Studies and will be followed up later with a second survey, to prioritise the responses from this one.

You can read more about the E-cigarettes Priority Setting Partnership here:
https://ukctas.net/featured-projects/ecig-psp
Kevin Crowley, Vaping Links
In a recent post, James Jarvis discussed common myths about vaping, stating "Let's get this out of the way for 2019."

Not only is James Jarvis is President of Ohio Vapor Trade Association (OHVTA), he's also a consumer. I've been to Columbus a couple times to see him, and I'll describe James simply as good people. He cares about smokers having proper information and he cares about the industry.

To the point, a post on his Facebook page got me to thinking… if some vapers genuinely don't know or are confused about information, how can the public know?
---

---
Dave Cross, Planet of the Vapes
A commentary in this month's Harm Reduction journal asks, "What is the value of peer involvement in advancing tobacco harm reduction?" The authors argue that involving vapers in during the various stages of research can lead to benefits for researchers – and improve society's understanding of the impact and use of vaping as a tobacco harm reduction tool.
The University of East Anglia's Caitlin Notley is the lead author, and constructed the commentary in conjunction with Sharon Cox from the Centre for Addictive Behaviours Research, the New Nicotine Alliance's Sarah Jakes, and Louise Ross from the National Centre for Smoking Cessation and Training.
Dave Cross, Planet of the Vapes
Planet of the Vapes welcomes University of East Anglia (UEA) researchers' attempts to help smokers make a successful switch to vaping. The University's Addiction Research unit is providing a free leaflet and planning on sending supportive tweets – and would like your help to do this.
The UEA's research to date has shown that there's certain myths that lie in the way of smokers wanting to make the switch to vaping. These include:
---
---
Brad Rodu, Tobacco Truth
A document in the University of California San Francisco tobacco industry archives describes the hostile reaction in 1995 to my smokeless tobacco harm reduction strategy for smokers (here). Opponents used messaging they would later redeploy against e-cigarettes: (1) all tobacco is dangerous, (2) medicines work, so substitutes aren't needed, and (3) the children.

In a CNN "Your Health" segment on October 21, 1995, correspondent Loretta Lepore "met a doctor who actually prescribes tobacco pouches as a way to satisfy the craving for nicotine without lighting up."
Jim McDonald, Vaping 360
JUUL Labs is launching an "adult education campaign" that will include $10 million in TV advertising. The TV spots follow similar ads on radio, social media, and in print publications. The entire campaign will cost the company $20 million.

The ads will appear on cable networks after prime time, and are carefully adult-oriented. The three commercials that are featured in the campaign show ex-smokers "describing the impact switching from cigarettes has had on their lives," according to JUUL Labs. None of the participants look even close to being under 30
Brad Rodu, Tobacco Truth
Mitch Zeller, director of the FDA Center for Tobacco Products, should stop making false statements about smokeless tobacco.

The FDA earlier this week expanded its smokeless tobacco campaign, arranging a series of interviews for Zeller (example here), whose script included two provably false statements.

"Every year more then [sic] 2,000 new [mouth or throat] cancer [cases] are diagnosed in the United States solely caused by smokeless tobacco use."
---

---
 Like Cigarettes and Ban Flavors – Jim McDonald
This year will likely be the most challenging ever for both state and federal attacks on the vaping industry and the rights of vapers. Already one member of Congress has introduced a bill that would ban e-liquid flavors.

Connecticut Democrat Rosa DeLauro, a longtime foe of vaping, has introduced a House bill called the Youth Vaping Prevention Act. Rep. DeLauro announced the legislation Tuesday at a school in New Haven.
Dr Colin Mendelsohn, ATHRA
I cancelled my membership of the Australian Medical Association (AMA) last month after 30 years as a loyal member. I could no longer tolerate the AMA's hypocrisy on harm reduction, in supporting pill testing but opposing vaping to reduce the harm from smoking.

The AMA's flawed policy was highlighted recently by its vocal support for pill testing at music festivals. Pill testing is sensible harm reduction policy which aims to the reduce harm from illicit drugs.

While Understanding Policy Comparisons – Michael McGrady
Vaping is a valid means for harm reduction and eventual cessation. This is a truthful claim backed by governments and academic researchers from all over the world. Sadly, this claim seems to elude the U.S. government.

Declaring a public health epidemic among the country's youth, FDA Commissioner Scott Gottlieb has fallen to a successful hysteria campaign, propped up by anti-smoking activists, by threatening market-damaging regulation.
Arjun Sinha
The objective of any regulatory action must be to provide a clear path that helps in socio-economic development and adequately accounts for unintended consequences. However, there is a rising trend, especially in the implementation of new technologies, to ban first and ask questions later. We saw this with ride-sharing, where following an unfortunate incident the government decided to issue an 'advisory' to ban these apps
To snuff out tobacco, vaping in township parks and buildings
Smoke 'em if you got 'em — just not in any of Ross Township's parks.

Ross officials are poised to introduce a measure that would outlaw the use of cigarettes, cigars, smokeless tobacco products, e-cigarettes and other electronic vaping devices in the municipality's 23 parks, playgrounds and recreational facilities.
Ban vaping devices for minors
The ordinance applies to people under the age of 18. It makes it illegal to even carry the electronic devices–including ones that don't contain nicotine.

The fine is the same as possession of tobacco: $92.50 for a first offense. Kimberly High School Resource Officer Duane Dissen says after talking with students, it's estimated 70 percent of their classmates have tried vaping and maybe 30 to 40 percent of teens still vape.
---
A look back at how things have moved on or otherwise….
Diane Caruana, Vaping Post
Capitalizing on the fact that with the start of a New Year, a lot of smokers will set a resolution to quit smoking, Public Health England (PHE) has launched a campaign encouraging smokers to attempt quitting with the help of electronic cigarettes. Thanks to the widespread use of e-cigs, the UK is now boasting the second lowest smoking rates in Europe and the lowest ever reported locally.
Brexit may provide a boost for the electronic cigarette industry as it could allow ministers to slash red tape which dictates the size and strength of nicotine refill containers. The use of e-cigarettes, widely known as vaping, has proven popular among those who wish to kick the habit as they contain nicotine but no tar or smoke. The devices heat up liquid nicotine, known as e-liquid, until it becomes vapour which is then inhaled by the user.
Harry Shapiro, Nicotine In The News
First off, if it's not too late, a happy new year to all and for those who have seen the new Star Wars movie, let the Resistance to public misinformation about tobacco harm reduction intensify with the growing Force of evidence. (OK that's enough). And to see in the new year with a bang, is a very welcome development. It's very hard not to be rather smug about the overall UK response to tobacco harm reduction. It would be great to be able to report on the publication of ground-breaking reports from equivalent overseas bodies to Public Health England and the Royal College of Physicians or supportive statements from other globally respected medical journals like the British Medical Journal.
---
Visit Nicotine Science & Policy for more News from around the World

---