Vaping Digest 10th January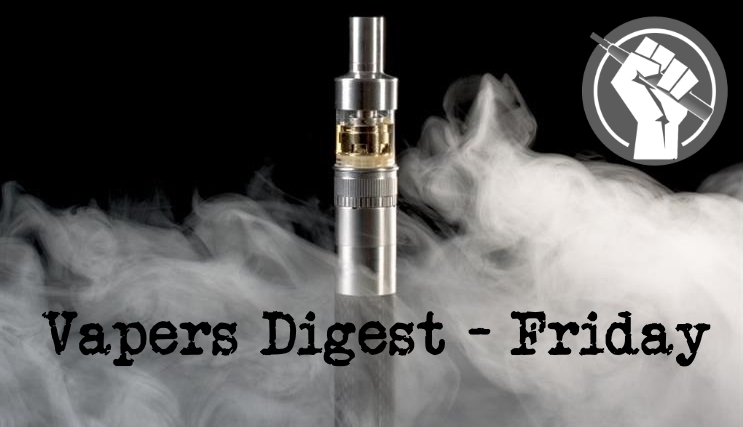 Friday's News at a glance:
E-cigarettes and the creation of ignorance – NYC bans flavours; Democrat hopefuls want total vape ban – Tobacco Researcher Claims that Smoking May Be Safer than E-Cigarettes – Nikan is founded in 2019  – Truth Initiative Promo Encourages Risky Teen Behavior – Happy 2020 Stanton – Vype Vid Breached Code – Quit Smoking Campaign Axed – America's Flavour Crisis – Vaping Stroke Risk Research "Misleading" – The Misplaced Moral Panic Over Vaping – Banning e-cigarettes is not the answer – "Quit, Don't Switch" Campaign a Big Mistake – Health Insurance Companies – Vaping divides opinion in smoke-free trial – Nicotine Science and Policy Daily Digest
Robert Innes, Vaping Post
The American Heart Association (AHA), when discussing e cigarettes, warns that e cigarette use, "is a dangerous trend with real health risks", and that, "e cigarettes should not be promoted as a safe alternative to smoking."[1] Is this the case?

The AHA go on to list a number of, 'dangers' from e cigarette use. These include, under the sub-heading, "Many downsides. Few potential upsides," the claim that e cigarettes are not effective as smoking cessation tools. It also supplies a link to, 'proven methods to successfully quit smoking.' [2] I would not go there, it is just a glitzy version of the, '…is vaping safer than…' page; indeed, repetition is a hallmark of ignorance production.
Democrat hopefuls want total vape ban – Fergus Mason
Recent studies hint at links between vaping and both lung disease and depression – but, as usual, there are some serious caveats. One study admitted that it couldn't prove causality, while the other was published by an unqualified activist notorious for his hatred of vaping. Meanwhile New York City is pushing ahead with a total ban on flavours – a fate that US vapers narrowly escaped having imposed at the federal level last month.

A new study has found a link between vaping and clinical depression – but, like several studies that showed a link between vaping and heart attacks (all written by Stanton Glantz) it fails to identify which direction causality is pointing.
---

---
May Be Safer than E-Cigarettes – Michael Siegel
Imagine if a tobacco company came out today and publicly claimed that smoking might very well be safer than using an e-cigarette. It would be a completely irresponsible statement and the company would rightly be vigorously criticized and attacked for asserting that its deadly products, which kill more than 400,000 people each year, are potentially safer than e-cigarettes, which do not contain tobacco, involve no combustion, and have been documented to have much lower levels of thousands of different chemicals compared to cigarettes.

In a strange an shocking irony, that exact claim was made today, but it came not from Big Tobacco but from a tobacco researcher.
Nikan is a non-profit organization who works to have smoke free nicotine products recognized as less harmful alternatives.

Our goal is for products like vape (e-cigarettes), snus and heat-not-burn to be recognized as good alternatives for those who smoke today. We wish to offer aid and counseling to all who seek advice about such products and market the alternatives actively. In addition, we will inform about already recognized NRT products (nicotine gum etc.) as alternatives to quit smoking.
---
---
Encourages Risky Teen Behavior – Jim McDonald
The last time we checked in with Truth Initiative, the organization was embarrassing itself with a video depicting a GWAR-inspired metal demon ranting about nicotine-addicted worms. Since then, the anti-nicotine advertising moguls have run a series of TV commercials featuring anti-JUUL talking animals and anti-JUUL talking garbage. Earlier the media geniuses ran an ad that included anti-JUUL puppets blowing air horns.

Truth doesn't like JUUL—or vaping in general—and the organization is willing to spend some of its billion-dollar endowment to spread the hate. But it just can't seem to get the message right, and its motivations are suspect.

Five from Dave Cross, Planet of the Vapes
Stanton Glantz has brought total disgrace to his position as a professor and as director of the University of California San Francisco (UCSF) Tobacco Centre through shoddy science, lying, sexual harassment and more besides. He was found guilty at a UCSF disciplinary hearing and 'sentenced' to re-education (that he would have to pay for). 2020 begins on a more positive note as he is to "step down" as UCSF Tobacco Centre director.

"I have notified Dean Talmadge King that I will be stepping down as Director of the Center for Tobacco Control Research and Education effective June 30, 2020," writes Glantz.
"Please sir," cried Johnson & Johnson (J&J) Ltd. "Please sir, BAT are doing it again, sir." The pharmaceutical giant complained (again) to the Advertising Standards Authority (ASA) about British American Tobacco-owned (BAT) Nicoventures breach of the advertising codes due to a video on www.govype.com.

Nicoventures Trading Ltd is a company owned by BAT. It carried a video for the Vype brand on https://www.govype.com/uk/ in June 2019. The video featured information about a collaboration between Henry Holland's fashion label House of Holland and Vype to create five Vype x House of Holland Limited Edition designs for the Vype ePen 3.
---
ITV News 8th Jan '20 – Thanks as alwasy to @dnglos for the YouTubage
---
Public Health England (PHE) has run a new year new resolution quit smoking campaign every January, but not in 2020. The government instituted a 24% cut to the public health budget and follows the slashing of funding for stop smoking services last year. The measure has been called out as "foolhardy" and adds to concerns for the nation's smokers.

Last year, research from University College London showed that vaping helps between 50,000 and 70,000 quit smoking in England every year [link]. George Butterworth, senior policy manager at Cancer Research UK, commented on the findings:
The Trump administration leaked news of a flavour restriction on New Year's Eve, and the full announcement came last week. It gives companies a 30-day notice to cease manufacture and sale of flavoured pods. Open system juices escape this Food and Drug Administration (FDA) order, but remain under threat with the impending Premarket Tobacco Product Applications (PMTA) May deadline.

Once the thirty days are up, tobacco and menthol will be the only pod-based flavours available to American purchasers as a result of the FDA hiding behind the teen epidemic hype and enforcing the Deeming Rule.
Researchers claim there has been a rising trend of young adults presenting in hospital with stroke incidence and resulting hospitalisations due to smoking and believed there might be a link to vaping. Their study, published in the American Journal of Preventive Medicine, reports that vaping and the use of traditional cigarettes increases risk of stroke.

Parekh (George Mason University), Pemmasani (Franconia Paediatrics Associates) and Desai (Atlanta VA Medical Centre) write: "Current dual use of e-cigarettes and combustible cigarettes was associated with 2.91 times higher odds of stroke versus non-smokers and 1.83 times higher odds versus current sole combustible cigarette users.
---

---
Is Killing Smokers – Tristan Justice
Manufactured hysteria about electronic cigarettes is perpetuating a public health crisis more severe than the one it seeks to address. A groundbreaking 2015 study conducted by Great Britain's public health agency, Public Health England, shows that vaping is 95 percent safer than using combustible cigarettes.

An outbreak of a mysterious lung illness last fall, however, called into question vaping's safety, igniting a scare that has led to heightened anxiety over use of the products. The illness has now claimed the lives of 57 people and injured more than 2,500 more, fuelling panic among people concerned over the use of vaping products that have been blamed for the outbreak.
Sensible regulation is the way to go – Guy Bentley
The Michigan Supreme Court recently declined to reintroduce Gov. Gretchen Whitmer's emergency ban on flavored e-cigarettes, which had been blocked by lower courts. With the federal government targeting e-cigarettes in recent weeks, a lot has changed since Whitmer's original ban in September. It would be wise for state leaders to step back and seek more effective ways to reduce youth vaping.

While the spike in youth vaping over recent years is concerning, when it comes to public health, banning all e-cigarette flavors is likely to cause more harm than good to public health since it would deny adult smokers access to a safer alternative to cigarettes.

"Quit, Don't Switch" Campaign a Big Mistake – Chelsea Boyd
Nearly 70 percent of smokers say they want to quit. In an effort to help them, the American Lung Association (ALA) recently launched its "Quit, Don't Switch" campaign. The ALA "believes everyone who uses tobacco products can quit using methods that are proven safe and effective by the FDA…."

Unfortunately, not only does this campaign deliberately avoid acknowledging the benefits of new smoking quit tools, it is embarrassingly out of touch with the people whom traditional quit methods have failed.
Francesca Maria Nespolo
"Queenstown Lakes District Council's (QLDC) move to ban vaping on the popular beaches of Queenstown, Frankton, Wānaka and Glenorchy is sadly based on snobbery not scientific evidence," said Jonathan Devery, spokesperson for the Vaping Trade Association of New Zealand.

He said "including vaping in the ban is misguided and only stigmatises the best smoking cessation tool New Zealand has ever had. The council claims that vaping creates second-hand smoke issues, is smelly and offensive, while the Mayor says it's all about helping the district become smoke-free. Sadly, by confusing vaping with smoking, they're only hindering, not helping, national progress on New Zealand's Smoke Free 2025 ambition".
Can Charge People Who Vape Up to 50% More – Alex Norcia
Ask any vaper why they do it, and you'll probably hear a similar answer: "It's not a lifestyle choice. It's life or death."

That phrase, for all its political hokiness, has become something of their refrain—chanted at protests, shouted at speeches, plastered all over their insular Twitter world. It's a sentiment, they know, not everybody shares. Just last week, U-Haul announced that it would be implementing a new policy not to hire nicotine users, regardless of how they consumed it. But there's a distinction between vaping and smoking, vapers say; that's precisely their point.
---
A look back at how things have moved on or otherwise….
Caitlin Notley

, 

Sharon Cox

, 

Sarah Jakes

 and 

Louise Ross, Harm Reduction Journal
E-cigarettes are considered a disruptive technology [1], evidencing rapid growth in the financial market and attracting a distinct new customer base of would-be quitters, especially in Great Britain and the USA. Where use is permitted, and regulation is favourable to users [2], e-cigarettes have become the most popular method of smoking cessation [3] and for many are a long-term alternative to smoking [4]. Outside of a medical lens, vaping can be recreational, not just a smoking cessation aid [5]. Simply trying vaping has, for many, had the happy side effect of encouraging smoking cessation through a non-medicalised route.
Brad Rodu, Tobacco Truth
A document in the University of California San Francisco tobacco industry archives describes the hostile reaction in 1995 to my smokeless tobacco harm reduction strategy for smokers (here).  Opponents used messaging they would later redeploy against e-cigarettes: (1) all tobacco is dangerous, (2) medicines work, so substitutes aren't needed, and (3) the children.
Raymond March, Independent Institute
In July 2017, the Food and Drug Administration enacted a comprehensive plan to regulate tobacco and nicotine products. The goal of this plain was "to better protect kids [from nicotine addiction] and significantly reduce tobacco-related disease and death." Although most of the FDA's efforts involved creating educational materials and bolstering warning labels, recent proposed regulatory changes have been described as a "historic crackdown" of the nicotine and tobacco products market.
---
Visit Nicotine Science & Policy for more News from around the World

---