Vaping Digest 8th January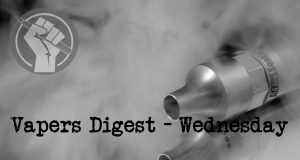 Wednesday's News at a glance:
Nicotine E-Cigarettes, Patches Benefit Smoking Cessation ~ Expert reaction to study on smoking/vaping and stroke risk ~ FDA's Vape Ban Is What Happens When People Legislate What They Don't Understand ~ A Billion For Free ~ Tobacco Flavour Ban Sparks Fears ~ VTANZ Fag Curb Call ~ The "Winston Man" Speaks Out in Support of Vaping ~ Tax hike makes it pricier to buy vape products in B.C. ~ To save lives, California must end war on vaping ~ Two Old Guys Reveal They Know Nothing About Vaping
Kevin Kunzmann, MD Mag
A combination of reduced-harm, non-cigarette nicotine products could provide a small improvement to a person's smoking cessation efforts, according to a new study.

A team of investigators from the University of Auckland's National Institute for Health Innovation found that combining nicotine patches with an electronic cigarette which includes nicotine could slightly improve a person's nicotine cigarette smoking cessation with no risk of serious, short-term harm.
Prof John Britton, Prof Peter Hajek, Dr. Lion Shahab

A study, published in the American Journal of Preventive Medicine, reports that use of e-cigarettes and traditional cigarettes increases risk of stroke.
---

---
Katherine Timpf, National Review
When our government passes laws based on the emotional whims of media and public hysteria rather than statistical fact, the American people lose.

On Thursday, the Trump administration announced that it would ban the sale of pre-filled flavored e-cigarette cartridges nationwide — which is both a terrible idea and a perfect example of what happens when government officials insist on legislating what they don't understand.
---
Interview – Louise Ross
Michael Russell Oration #GFN20

Louise describes how she felt when she was asked to undertake the Oration, and how she plans to use it as an opportunity to champion the voice of the consumer. pic.twitter.com/WRaIM77YbR

— Global Forum on Nicotine (@GFNicotine) January 7, 2020
---
Three from Dave Cross, Planet Of The Vapes
'A Billion Lives' was a celebrated cinematic first and lifted many awards and rave reviews for the powerful way it told the story of vaping and those who campaign against it. Following a select tour of some cinema theatres, the film was available for purchase or rent. Now, people in certain countries can view it for free.
Menthol cigarettes and menthol hand-rolled tobacco is set to be banned from sale in the United Kingdom from May. The ban also encompasses "click" cigarettes that change from tobacco to menthol flavour when squeezed or clicked. The move is part of the phasing in of the European Tobacco Products Directive.
The Vaping Trade Association of New Zealand (VTANZ) has called upon the Kiwi government to restrict access to cigarettes as it continues to fall short in its support for vaping. Following the New Year's tobacco price hike, VTANZ are concerned that vaping isn't being given its day in the sun.
---
The Dom Giordano Program, Radio.com
Dom Giordano talks with former "Winston cigarette man" David Goerlitz about how smoking has negatively impacted his life and his journey from being an overweight kid to becoming the spokesperson for Winston cigarettes. David explains why vaping is significantly safer than cigarette smoking. Plus, David reveals whether he was a ladies' man as a cigarette spokesman and remembers his wife, who recently passed away.
---
CBC News
If you vape, expect to pay more for your products at the register in B.C.

As of Jan.1, the provincial sales tax on vaping devices and substances jumped from seven to 20 per cent. The tax increase applies to e-cigarettes and vape pens, as well as the vapour pods and liquids that go in them and can contain nicotine or cannabis.

The Ministry of Finance says British Columbia is the first province in Canada to introduce a specific tax rate related to vaping products.
---
Ross Marchand, The Orange County Register
As millions of smokers across California readied their New Year's resolutions on December 31 to kick their deadly habit for good, bureaucrats at the Food and Drug Administration (FDA) had, well, other plans.

The federal agency announced a ban on flavored, disposable vaping pods (other than mint and tobacco), making it more difficult for smokers to quit cigarettes and embrace e-cigarettes, which are 95 percent safer than combustible tobacco products according to leading medical bodies. And now, California lawmakers are furiously trying to outdo the FDA, courting restrictions on vaping products that would make federal agency officials blush.
Alex Norcia, Vice
Over the weekend, voters asked Bernie Sanders and Joe Biden how they'd handle the vaping crisis as president. They were rare questions—ones that nearly all the Democratic contenders have yet to address. And though the two frontrunners clearly differ on a range of issues, their remarks here were similar: All vape products should be removed from the market.
---

---
---
Visit Nicotine Science & Policy for more News from around the World

---