Vapers Digest January 8th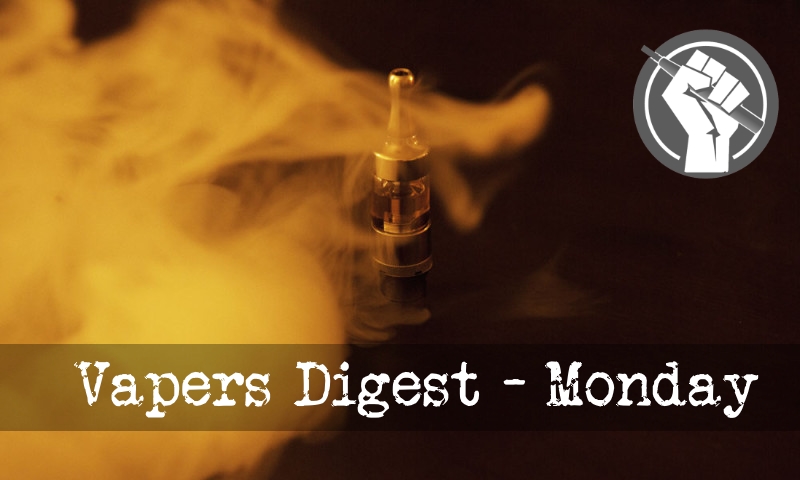 Monday's News at a glance:
Challenging prohibition – New Zealand liberalisation faces delays, while bans and taxes continue to spread – Turningover a new leaf – Vaping vouchers from Hampshire's Quit4Life service – The travesties that are Glantz – Take cue from BMA about-face – Expert Debunks Vaping 'Gateway' Myth – The Philip Morris Initiative – More quitters than smokers in Ireland – What do the latest rules mean for smokers? – Vaping In The News – January 6th – Nicotine Science and Policy Daily Digest
New Nicotine Alliance
E-cigarettes do not emit smoke. There are no known harms or anticipated harms to bystanders from second hand vapour. Therefore there is no scientific basis on which to ban vaping in public places. Bans send the wrong message to the public, including smokers, vapers and potential vapers, that e-cigarettes are as harmful as smoking. This discourages smokers from trying e-cigarettes or from making a full switch to the substantially safer product, and may lead to vapers relapsing to smoking.
While bans and taxes continue to spread
Fergus Mason, Vaping Post
Vapers in New Zealand fear that their government is trying to roll back the progress made before the country's elections last September, as failed tobacco control policies contribute to spiralling crime and nicotine e-liquid remains illegal. Meanwhile Singapore is moving towards a total ban on vaping, while another US state has just introduced a punitive tax on vapour products. As the responses to a pro-vaping article by Professor Linda Bauld show, dangerous ignorance is still on the rise.
thatgotmethinkingblog
I bought a new calendar today. One with big boxes to write stuff in and big enough print to see it without having to walk up to the wall. I already have a calendar app on my phone, one which syncs my social media and email appointments and audible reminders while presenting me with nifty quotes of the day. But there is something familiar and convenient about a big picture with the whole month visible at a glance hanging on the wall and covering the dodgy plasterwork. I like turning over the leaves each month, looking forward to the next pretty picture.
---

---
Ellie Pilmoor
PEOPLE wanting to give up smoking can get support through a new programme. Quit4Life, the NHS stop smoking service in Gosport, Havant and Fareham, will be offering support to people looking to quit the habit by taking up e-cigarettes. They will be offering a new voucher scheme for those who choose to give up tobacco through vaping.
Epidemiology modeling, and PubMed Commons
Carl V. Phillips, Anti-THR Lies
I was asked to rescue from the memory hole a criticism of a Glantz junk paper from a year ago. I originally covered it in this post, though I do not necessarily recommend going back to read it (it is definitely one of my less elegant posts).

I analyzed this paper from Dutra and Glantz, which claimed to assess the effect of e-cigarette availability on youth smoking. What they did would be a cute first-semester stats homework exercise, but is beyond stupid to present it as informative. It is simple to summarize:
---
---
Business Mirror
The Philippine College of Chest Physicians (PCCP) should consider following the lead of the British Medical Association (BMA), which recently reversed its negative position on electronic cigarettes (e-cigarettes or "vapes") and now supports their availability as a means to reduce harm caused by smoking cigarettes.
Ripping 'Bad Science In Service Of Bad Theories'
Steve Birr, Daily Vaper
The media is currently saturated with headlines decrying alternative smoking technologies as "gateway" products that are hooking a new generation on combustible cigarettes. The hysteria is being fueled by tobacco control researchers with, "blind commitment to a bad theory," says Dr. Carrie Wade, harm reduction policy director for the R Street Institute, in an editorial for Real Clear Science.
Carrie Wade
As Imre Lakatos so eloquently stated in 1973, "Blind commitment to a theory is not an intellectual virtue: it is an intellectual crime." Indeed, blind commitment to a bad theory in the public policy realm will have long lasting impacts, negatively affecting the pursuit of improved public health.

That is why it baffles me when otherwise smart researchers remain committed to bad theories. Indeed, the theory that e-cigarette use will lead to cigarette smoking is a bad theory.
---

---
Bolton Smokers Club
I don't think that I have commented upon this subject directly, other than to say that Siegel has claimed that it is all a scam:

He said that he refused to be a consultant, but it is not clear that he was personally invited. Perhaps he was, but it seems that lots of emails were sent out to persons who might be interested in contributing to the initiative, so he could have just ignored it.
New Delhi, Jan 7 (IANS) As the government continues to caution people against tobacco and e-cigarettes, a study by the North East Hills University (NEHU) has stated that Electronics Nicotine Delivery System (ENDS) or vaping has minimum health and safety concerns compared to high risk associated with conventional cigarettes.

THERE'S NOW MORE people who've quit smoking than smokers in the country, according to new research from the HSE.

The HSE's latest Quit campaign has seen the publication of a new survey which shows that there are now over 1 million people in the country who've successfully quit smoking.
Felicia Choo, Singapore
Smokers cannot light up freely in many more places since new rules started coming into effect last year.

Since Oct 1, smoking has been banned in the outdoor areas of universities and inside the compounds of private institutions, except in designated smoking areas, said the National Environment Agency.

Smoking is also banned within 5m of educational institutions like preschools, madrasahs, junior colleges and polytechnics.
Kevin Crowley, Vaping Links
Deeming Regs: A War on Science and Common Sense ~ Smokers Willing to Try E-Cigarettes More Successful at Smoking Less, Study Says ~ Iowa attorney general questions attacks on e-cigs ~ Govt urged to remain committed to tobacco excise tax increases ~ Aussies, Watch This Space In 2018 ~ Cigarette maker Philip Morris resolves to 'give up cigarettes' with new ads and website ~ Smoking and the Public Purse ~ Tobacco Control Pigeons, Meet Philip Morris's Cat ~ Tobacco Gateway Report Omits Important Information ~ Comparing the cancer potencies of emissions from vapourised nicotine products including e-cigarettes with those of tobacco smoke ~ The health impact of e-cigarettes they don't want you to know ~ Vapers in India are facing the fight of their lives ~ Derek Yach Calls For Cooperation Over Skepticism ~ Survey
---
A look back at how things have moved on or otherwise….
Paul Barnes, Facts Do Matter
Stan is an idiot. There. I've said it diplomatically. For once. Never again.

Starting with e-cigs triples odds of starting cigarettes among college students; the evidence just keeps piling up

The latest of his blog titles screams at you that starting the use of an e-cig will most definitely lead the crazy youth of today to take up smoking. Y'see, Stan is a firm believer in the whole gateway theory.
19, Jan, 2016 – Tom Pruen
Stan Glantz is not a very good scientist. Examples of his ineptitude, and others' criticism of it, are trivially easy to find. Some interesting examples (a definitive list would run to several pages) include:

Clive Bates' chiding Glantz about gateway effect claims "Cease and desist: making false claims about the gateway effect(link is external)"

Michael Siegel criticising Glantz on the same point "Glantz Tells Public There is No Question that E-Cigarettes are a Gateway to Smoking, But Today's Monitoring the Future Data Show the Opposite(link is external)"
Michael Siegel – The Rest of the Story
The first longitudinal study that examines progression from vaping to smoking among young people has been published in the journal Addictive Behaviors. The study followed college freshmen at Virginia Commonwealth University for one year to examine whether vaping at baseline was associated with the progression from never smoking to ever and/or current smoking at follow-up.
November, 2014: Original Danish article Klaus K blog
A court case in Washington DC has revealed massive conflicts of interest with three prominent anti-tobacco experts who were on the payroll of the pharmaceutical industry, while they were designated by the US government as scientific editors of the official "Surgeon General" reports on tobacco. These include the report "Nicotine Addiction" in 1988, and the report on secondhand smoke in 2006.
---
Visit Nicotine Science & Policy for more News from around the World

---