Vapers Digest January 5th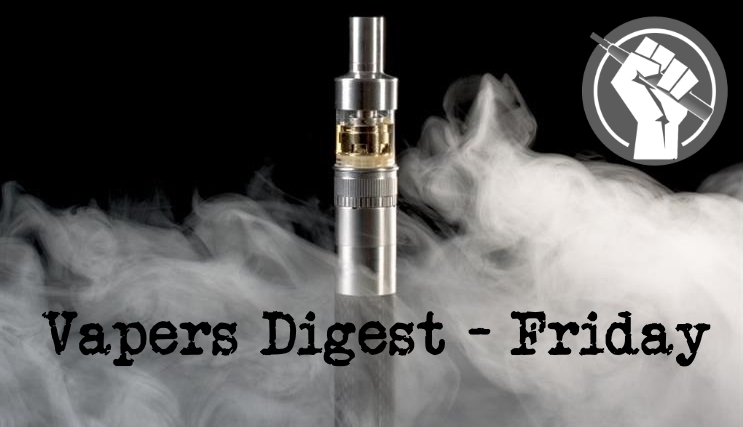 Friday's News at a glance:
A cautious welcome for a new campaign – Tobacco Control Pigeons, Meet Philip Morris's Cat – PHE Launch Pro-Vaping Campaign – Vapers in India are facing the fight of their lives – The health impact of e-cigarettes they don't want you to know – NZ Union urges government to regulate e-cigs  – Gateway Report Omits Important Information – New Paper Reports Inaccuracies In E-Liquid Nicotine Labels – Derek Yach Calls For Cooperation – Singapore's Ban on E-cigarettes – Lawmaker pushes to tax e-cigs – Local Gov'ts Feeling the Pinch – Smokers pan patio ban pitch – Comparing the cancer potencies of emissions
New Nicotine Alliance
As 2018 gets underway, Philip Morris International has reinforced its recent claims to be committed to a smokefree future by placing full page advertisements in three prominent and widely read UK newspapers, backed up by a website  offering simple advice on alternatives for smokers. Grounded on the premise that the best thing a smoker can do is to stop smoking entirely, the company sets out some key goals which they would like to achieve to encourage those who can't:
Meet Philip Morris's Cat – Dick Puddlecote
Boom! Yesterday saw Philip Morris International (PMI) – the tobacco company that owns the Marlboro brand amongst others – making a New Year's Resolution with full page adverts in the Daily Mirror, The Times and The Sun. Here is what they said…
Ashtray Blog
With the excesses of the holiday season still fresh in mind, and a 'new year – new me' mentality inspiring many people's New Year's resolutions, January is always a popular time for those hoping to give up smoking.

Capitalising on this, Public Health England have launched a fresh campaign titled 'Because there's only one you' hoping to encourage people to kick the habit. Similar to 2017's Stoptober campaign, they have again teamed up with the Independent British Vape Trade Association (IBVTA) to make e-cigarettes a key focus of the campaign.
---

---
Samrat Chowdhery, Vaping 360
I am here to tell you about the befuddling case of India, where conventional wisdom meets the brick wall of staggering numbers and skewed tobacco policy. The country is the second largest consumer of tobacco in the world: India spends $22 billion a year on tobacco-related illnesses, 120 million Indians smoke, and 900,000 die from tobacco use each year. Surely, nearly a million annual deaths should spur the state to seriously consider preventive measures through harm reduction.
Dr Hayden McRobbie and Sam, sharing his experiences of switching
They don't want you to know – Kevin Crowley
Health is important. The impact of proper information for smokers making choices about their health is more important. The health impacts e-cigarettes make on less smoking are beyond the wildest dreams of those genuinely interested in less smoking.

A more common objective is biased information permeating public opinion through the media – who always seem happy to oblige. Unethical hypocrites censor valuable information for fear of their own fiscal health. It isn't what they tell you behind a shroud of important titles, it's what they decide to tell you. Is there an underlying method to their approach?
The New Zealand Taxpayers' Union is urging the local government to regulate electronic cigarettes, as increased cigarettes taxes have been linked to a rise in robberies of tobacco retailers.

Earlier this year the government of New Zealand announced that vaping products were in the process of being legalized, however so far no steps have been formally taken to this effect.
---
---
Brad Rodu, Tobacco Truth
Here we go again.  Another federally funded study from the University of California, San Francisco, claims that "Nonsmoking adolescents who use e-cigarettes, smokeless tobacco or tobacco water pipes are more likely to start smoking conventional cigarettes within a year." (UCSF press release here)  Researchers analyzed data on some 10,400 teens enrolled in the Population Assessment of Tobacco and Health (PATH) Survey in 2013-2014, then followed up with the subjects one year later.
In E-Liquid Nicotine Labels – Carl V. Phillips
A new paper by Barrett H. Raymond and other researchers at Brigham Young University reports that the stated nicotine content of some American-made e-cigarette liquid is not as accurate as it should be. While benefiting consumers was clearly not the goal of this research, it is still a small contribution toward consumer protection.
It was September of last year when Philip Morris International announced that they'd be giving 80 million dollars a year for the next 12 years to help set up the Foundation for a Smoke-Free World. They said that the express goal of this foundation would be to support and fund research that looks into the efficacy of vaping and heat-not-burn technology as a safer alternative to smoking.
---

---
What on the surface appears to be good news actually has municipal governments worried. Last year, tobacco consumption tax revenues declined considerably, which may be interpreted by some as a sign of a healthier public who, deterred by a government-ordered price hike of around 80 percent, are willing to embrace a non-smoker lifestyle.
A proposed cigarette and vape ban for Winnipeg restaurant patios is being called discriminatory by some local smokers.

Winnipeg is the last major Canadian municipality where people can light up a smoke while enjoying a meal or patio beer — but that may not be the case by the spring.
Benjamin Lim
First, they took away shisha tobacco and hookahs, citing a need to reduce the public's tobacco consumption. Now, the authorities are not sparing the "healthier" alternative to tobacco cigarettes either.

A total ban on electronic cigarettes, which was passed in November last year, will come into effect in the next few months.

William E Stephens
Opinion is divided about vapourised nicotine products (VNPs), such as e-cigarettes (ECs) which heat a nicotine-containing liquid and heat-not-burn (HnB) products which heat tobacco. The general public tends to view 'vaping' ECs as equally or more harmful than smoking tobacco. More scientific evidence addressing the factors that lead to harm and, where possible, quantification of their effects is needed to inform scientific debates and address public uncertainty.
In the United States 2009 – 2016
Lawrence A. McKenna Jr. National Fire Data Center U.S. Fire Administration
This report is an update to the report "Electronic Cigarette Fires and Explosions" published by the U.S. Fire Administration (USFA) in October 2014. Data on electronic cigarette incidents that occurred in the U.S. between September 2014 and December 2016 have been added to the data reported in the previous report for this analysis. Any additional incidents that occurred prior to September 2014 and discovered during this literature survey were included in the data reported herein.
State Sen. David Carlucci's new bill calls for a 25-cent tax on nicotine liquid used in e-cigarettes and vaping pens.

He says it could help stop nicotine addiction. "New York State we have the highest tax on cigarettes in the nation, but yet we have no tax on e-cigarettes. It's really a loop hole. I think the big tobacco companies are manipulating that and deliberately trying to addict a new generation of smokers," says Carlucci.
---
A look back at how things have moved on or otherwise….
Dave Dorn, The Sun Also Rises
I keep seeing it, you keep seeing it – those anti-nicotine who say stupid things like "Yes, ecigs are safer than smoking, but they're not SAFE".

Here's MY point… NOTHING is safe. Nothing. There is no such thing as "safe" in the real world.

Every instance of "safe" needs a modifier – even the definitions to the left there have modifiers – "Safe from marine predators" – but not devoid of all risks. "Not likely to lead to harm or injury" – again, implies zero risk, but the example given, crossing a river where it is "safe to do so" actually DOES involve risk.
'Public Health' Aids Public Health – Dick Puddlecote
Following swiftly on from the tobacco controllers who believe lying about the benefits of reduced risk products is a fine and ethical idea, comes this remarkable article in the Guardian.

Brace yourselves, because this one is through the looking glass with Alice and the fucking Mad Hatter!
Mawsley, Planet of the Vapes
When voters gave their backing to Donald Trump as the next President of the United States, they also delivered support for the legalisation of recreational marijuana in eight of the nine states putting it on the ballot. Other regions began to head down that path by legalising medical cannabis. Concerns about the weed's widespread adoption show echoes of the anti-vape movement.
---
Visit Nicotine Science & Policy for more News from around the World

---