Vapers Digest 6th Jan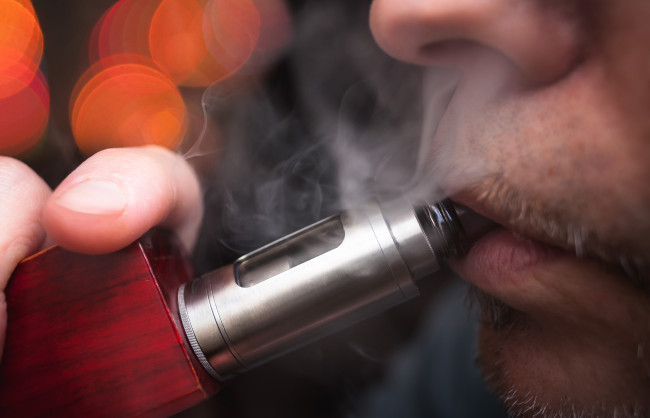 Friday's News at a glance:
The Evidence is Incontrovertible – The problem with Stanton Glantz – Progression from Vaping to Smoking – Anti-smoking experts paid by Big Pharma – Between the rock and a hard place – Vaping the lesser evil  – Hospital vaping ban sends 'mixed message' – Sperm and bubblegum ejuice – Former CDC director commends e-cigs for smoking cessation – Mastercard doesn't want your money, vapers! – What to Expect From Big Tobacco In 2017 – Nicotine Science and Policy Daily Digest – Friday, 6 January 2017
Paul Barnes, Facts Do Matter
Stan is an idiot. There. I've said it diplomatically. For once. Never again.

Starting with e-cigs triples odds of starting cigarettes among college students; the evidence just keeps piling up

The latest of his blog titles screams at you that starting the use of an e-cig will most definitely lead the crazy youth of today to take up smoking. Y'see, Stan is a firm believer in the whole gateway theory.
19, Jan, 2016 – Tom Pruen
Stan Glantz is not a very good scientist. Examples of his ineptitude, and others' criticism of it, are trivially easy to find. Some interesting examples (a definitive list would run to several pages) include:

Clive Bates' chiding Glantz about gateway effect claims "Cease and desist: making false claims about the gateway effect(link is external)"

Michael Siegel criticising Glantz on the same point "Glantz Tells Public There is No Question that E-Cigarettes are a Gateway to Smoking, But Today's Monitoring the Future Data Show the Opposite(link is external)"
Michael Siegel – The Rest of the Story
The first longitudinal study that examines progression from vaping to smoking among young people has been published in the journal Addictive Behaviors. The study followed college freshmen at Virginia Commonwealth University for one year to examine whether vaping at baseline was associated with the progression from never smoking to ever and/or current smoking at follow-up.
November, 2014: Original Danish article Klaus K blog
A court case in Washington DC has revealed massive conflicts of interest with three prominent anti-tobacco experts who were on the payroll of the pharmaceutical industry, while they were designated by the US government as scientific editors of the official "Surgeon General" reports on tobacco. These include the report "Nicotine Addiction" in 1988, and the report on secondhand smoke in 2006.
---

---
Head Rambles
An interesting study was published here in Ireland yesterday. It is interesting on several levels.

E-cigarettes likely to increase number of smokers who quit.

So they seem to be saying that electrofags might have some benefits after all?  They seem to be admitting that electrofags aren't a gateway to crack cocaine and might actually be "safer" than ordinary cigarettes?  They could actually be saying that there is a place in the world for electronic devices despite all their friends across the Atlantic saying precisely the opposite?  Their friends in Big Pharma can't be too happy today…
In the battle against smoking – The Scotsman
Electronic, or e-cigarettes, have also proved tremendously popular over the decade since their introduction, with dedicated shops now as common as mobile phone stores. One in three smokers in Scotland have used them in an attempt to quit, with only 1 per cent of non-smokers giving them a try.
---
---
Sends 'mixed message' about dangers
BANNING people from smoking e-cigarettes in hospital grounds sends a mixed message about their dangers, a public health expert has warned.

Smoking tobacco products was banned in all Scottish hospital grounds in 2015, but individual health boards can choose whether to allow "vaping" – smoking electronic cigarettes which give smokers a nicotine fix without tobacco.

Professor Linda Bauld, of Stirling University, said there was little evidence to support a ban and warned that it could discourage smokers from quitting cigarettes.
Greg Conley, AVA
The study, which is newly-published in the journal Addictive Behaviors, followed 3,757 college freshmen at Virginia Commonwealth University for one year to examine whether vaping at baseline was associated with the progression from never smoking to ever and/or current smoking at follow-up.
"Science" gets more absurd – Jim McDonald
Science leaps forward when bright minds ask difficult questions. Why do objects fall to the ground? Do planets revolve around the earth or the sun? Might it be possible to split an atom? What happens when you put bubblegum flavoring on living semen?

That last one is not a joke. In perhaps the greatest effort ever by scientists to smear vaping, a group of British scientists gathered sperm samples from 30 men and grew them in petri dishes with PG and bubblegum and cinnamon food flavorings….
Commends e-cigs for smoking cessation – Diane Caruana
Last month in December, Michael Eriksen, who is the former Director of the Center for Disease Control and Prevention (CDC), and is currently Dean and Regents' Professor at the Georgia State School of Public Health, attracted significant attention online by tweeting in favour of electronic cigarettes…
Jim McDonald
Thanks to the FDA, ordering a new mod or your favorite e-juice with a Mastercard is about to become a real pain. And vaping vendors will suffer because of it.

Beginning on Jan. 15, the credit card giant will institute several conditions for credit card processors and their customers that will make it harder for vape retailers to turn a profit when accepting payment with Mastercard.
---

---
Will Permanently Ban Vaping Wherever it Bans Smoking
The National Park Service (NPS) today proposed revisions to the regulations that address smoking in national parks. The proposed revisions would change the regulation that defines smoking to include the use of electronic cigarettes and other electronic nicotine delivery systems (ENDS). The proposed revisions would also allow a superintendent to close an area, building, structure, or facility to smoking, which would include the use of ENDS, when necessary to maintain public health and safety.
NEW YORK – Vapers will have to follow the same laws as smokers following a ruling by the State Supreme Court.

The court dismissed a lawsuit filed by a smoker's rights group to overturn the city's ban on electronic cigarettes in the same places where traditional cigarettes are banned.
Sale, use of tobacco and e-cigs to Nebraskans under 21
Legislative Bill 73 would raise the age for smoking, chewing or vaping to 21 from the current minimum of 18. The bill was introduced Thursday in the Nebraska Legislature by State Sen. Merv Riepe, the new Health and Human Services Committee chairman.
---
---
The Riverside City Council is set to consider banning electronic cigarettes in public places at its Jan. 10 meeting.

The battery-operated devices which vaporize liquid solutions containing nicotine are considered tobacco products under state law and are effectively treated the same as actual cigarettes, despite not posing the same risks to users or those around them.
In 2014, 55% of adult smokers reported making a serious quit attempt during the previous year, up from 51% in 2011, according to an analysis of data from the National Health Interview Survey (NHIS). This is the highest rate reported since 1997. More than 22% of those who made quit attempts were not smoking at the time of interview.
To an MRTP application for Very-Low Nicotine Cigarettes – Jérôme Harlay
The FDA requests more information about clinical trials after the company 22nd Century submitted a modified-risk tobacco product (MRTP) application to the agency for their very low-nicotine cigarette (VLNC). An interesting case-study to assess the pertinence of FDA's evaluations in the Deeming Regulations.
Nicholas Rossolillo, Motley Fool
After posting a particularly strong run over the last few years, the U.S. tobacco industry turned in a solid performance again during 2016. However, these particular sin stocks have been facing pressure from regulators and a declining base of users in the U.S. Can the companies continue their run in 2017? Let's take a look.
---
A look back at how things have moved on or otherwise…
Dick Puddlecote
Regular visitors here will be aware that I've often remarked on the marvellous capacity of e-cigs to expose irrational hatred from condescending, anti-social, psychotic smoker-haters, as exhibited nicely by Duncan Bannatyne in 2010.

Of course, he didn't know exactly why he despised e-cigs back then because he knew absolutely nothing about them and probably still doesn't. He just despised them. I theorised as to why at the time…
Where Do We Go From Here
A quick look back at the last 365 days before pulling out the crystal ball and gazing into the world of tomorrow. We are just wrapping up the Best Of 2015 polls and while we all wait with bated breath for the release of the companies chosen by the vaping community, we should take a look at the achievements we have made and the road we have yet to travel….
Fergus Mason – ECigs Plaza
There is no evidence that vaping is a gateway to smoking. There never has been and there never will be. You wouldn't guess that from listening to the usual assortment of puritans, quacks and "public health experts" though. They just keep on repeating it, as though by doing so they can make it true.

So, without further ado, let's raise the curtain on tonight's play…..
---
Visit Nicotine Science & Policy for more News from around the World

---