Vaping Digest 6th January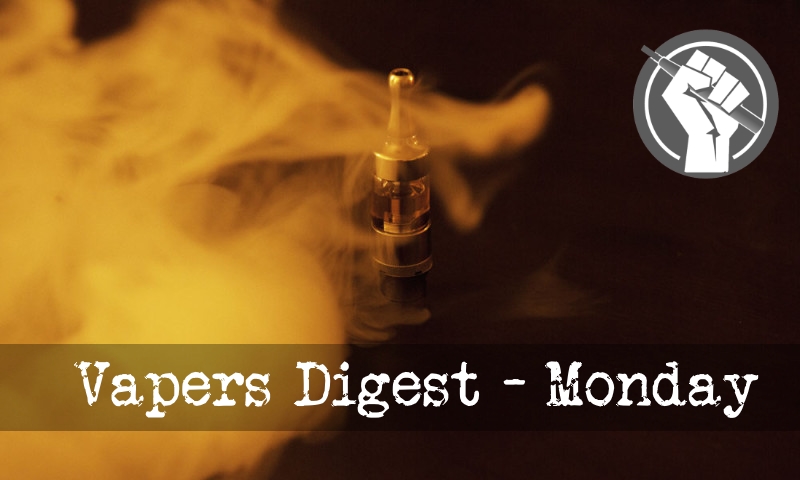 Monday's News at a glance:
GFN 2020 – Banning most vape pods – As the FDA cracks down on e-cigarettes – Flavored Vapes: The Partial US Ban Brings Very Mixed Feelings – New research suggests higher levels of nicotine may help – Sanders calls for vaping industry shutdown – Nicotine Science and Policy Daily Digest
Dave Cross, Planet of the Vapes
Global Forum for Nicotine 2020 (GFN20) is the world's leading event for discussion about safer nicotine products, set to take place in Warsaw during June. This year's theme for #GFN20 is 'Nicotine: science, ethics and human rights', and the conference will examine advances in the science of nicotine, the ethical and moral arguments and the human rights issues.

The 7th Global Forum on Nicotine will take place over 11-13 June 2020 at Marriott Hotel, Warsaw, Poland.

The conference places consumers at the very heart of its premier event. They "will again be represented in many of the sessions in the #GFN20 conference programme and there will also be satellite events planned around topics of consumer interest."
Continues to reminds us of Trump's disregard for the vaping industry
Michael McGrady, Vaping Post
Deja vu in the new year, already. What a healthy beginning to 2020. "We will protect the industry," President Donald Trump said during remarks to reporters at a New Year's Eve gala.

The Wall Street Journal alleged that the Food and Drug Administration (FDA) will move to ban most flavored vapor products across the U.S. market. This was confirmed.

The partial ban is now active and a reality. The FDA also remains adamant that this isn't a "ban" because products can return to the market through the existing PMTA processes. Still, it's a ban in one form or another.
---

---
Vapers are starting to become one-issue voters
Barbara Corbellini Duarte and Robin Lindsay
Following the US Food and Drug Administration's most recent crackdown on flavored e-cigarette pods, vaping activists have a new goal: to become a bloc of voters that cannot be ignored.

FDA officials announced on Thursday it planned to prohibit on the sale of sweet and fruity flavored e-cigarette pods, excluding tobacco and menthol varieties. The new rule would still allow open-tank systems and e-liquids popular among vapers who've held dozens of rallies across the country — and even followed President Donald Trump to his Mar-a-Lago resort over the holidays.
---
---
The Partial US Ban Brings Very Mixed Feelings – Alison Knopf
It was a cold, rainy morning when I walked into "Happy Habits," our local vape store in the Hudson Valley. It was the day after the federal government's January 2 announcement of an effective ban on flavored vape cartridges.

The mood inside matched the weather, despite the brightly-lit JUUL display and many other colorful items. When I asked the friendly employee at the counter how the ban would affect the business, she immediately replied that more people would get sick from smoking. She added that jobs would be lost.

---

---
New research suggests higher levels of nicotine may help
Queen Mary, University of London
Allowing smokers to determine their nicotine intake while they are trying to quit is likely to help them kick the habit, according to an early study in 50 people led by Queen Mary University of London.

In the first study to tailor nicotine dosing based on smokers' choices while trying to quit, the results suggest that most smokers who use stop-smoking medications can easily tolerate doses that are four times higher than those normally recommended.

David Siders and Sarah Owermohle
For a moment — before his campaign almost immediately walked it back — Bernie Sanders appeared to call Saturday for the vaping industry to be "shut down."

Responding to a question about the youth vaping epidemic at a town hall meeting here, the Vermont senator said, "The answer is, I think we shut down the industry if they're causing addiction and if the evidence is that people are getting sick as a result or inhaling a lot of bad stuff."
---
A look back at how things have moved on or otherwise…
Dick Puddlecote
If you have half an hour to spare, you could do worse than watch the two excellent films by YouTuber Grimm Green embedded below

Long-time readers here will remember the history of anti-smoking legislation and how it developed from an aspiration in the 1970s with the Godber Blueprint. Specifically:
And Glantz loses the plot – Fergus Mason
The gap in understanding between the UK and USA continued to widen this week, as US lawmakers and federal agencies continued to attack tobacco harm reduction while Britain's PHE launched a campaign to educate smokers about the benefits of e-cigarettes. Meanwhile notorious anti-vaping crank Stanton Glantz finally jumped the shark, after he penned a blog post where he openly called on smokers to keep smoking rather than move to safer alternatives.
---
Visit Nicotine Science & Policy for more News from around the World

---