Vaping Digest 3rd January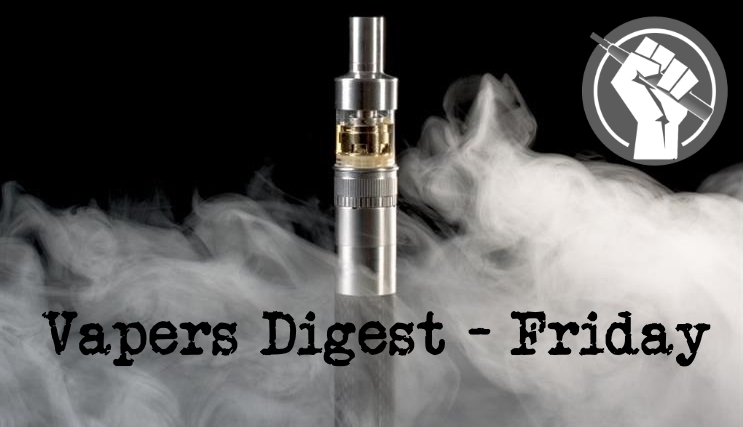 Friday's News at a glance:
2019 in review, a busy year for the NNA – European vapers must mobilise in 2020 – E-cigarettes are still safer than smoking – Sweden is the harm reduction capital of the world – Congratulations Minnesota! You "Saved" 32,400 Smokers from Quitting – The Teen Vaping Trends We're Not Talking About – Why did the CDC ignore vaping evidence? – Vape Shops Saved for Now – Britain's positive embrace of vaping puts our nanny state to shame – Mitt Romney Made Millions off Cigarettes – Beware the vaping fearmongers – Harm Reduction Approach Should Extend to Patient Smoking – Nicotine Science and Policy Daily Digest
New Nicotine Alliance
As 2020 approaches we can look back at what the NNA has been up to in the last 12 months. It has been a difficult year, but we expect an even more difficult one to come and we will need all your support to get through it. Please share our posts, make a financial donation, but most of all in 2020, be prepared to get active as there are momentous challenges ahead. To learn how to donate to the NNA and support our work, please see the bottom of this page. In the meantime, here are highlights from 2019.
European Harm Reduction Advocates
ETHRA founder partner, the New Nicotine Alliance in the UK, is calling on European Harm Reduction Advocates to prepare for worrying developments in the new year.

In an article just before Christmas, they urged vapers, especially, to "prepare for battle" in the coming year. The European Union is currently gathering evidence for a review of the Tobacco Products Directive and meetings have already been planned to discuss how misinformation emanating from the US can be used to close down the sensible regulations Europe has enjoyed since 2014.
---

---
Prof Linda Bauld, Dr Suzi Gage
The past decade in British healthcare has been disappointing: improvements in life expectancy and neonatal mortality have stalled and public satisfaction with the NHS has fallen sharply.

But one positive singled out in a recent review of healthcare developments was the rise of e-cigarettes use, which the article noted had given "tobacco cessation a boost at no cost to the public purse".
New research suggests higher levels of nicotine may help
Allowing smokers to determine their nicotine intake while they are trying to quit is likely to help them kick the habit, according to an early study in 50 people led by Queen Mary University of London.

In the first study to tailor nicotine dosing based on smokers' choices while trying to quit, the results suggest that most smokers who use stop-smoking medications can easily tolerate doses that are four times higher than those normally recommended.
---
I'm looking for stop smoking advisors on the West Coast of the US, in Australia and New Zealand, to act as experts for users of a Smokefree app. Must be vaping-friendly and willing to do the NCSCT online training. Let me know if you're interested

— Louise (@grannylouisa) January 2, 2020
Under this policy, companies that do not cease manufacture, distribution and sale of unauthorized flavored cartridge-based e-cigarettes (other than tobacco or menthol) within 30 days risk FDA enforcement actions. More from @US_FDA ⬇️ https://t.co/XjOMc5UAIw

— HHS.gov (@HHSGov) January 2, 2020
---
Mark Oates, Snusforumet
A representative from a UK harm reduction advocacy group claims snus-using Swedes – and not policymakers – deserve credit for making Sweden the "harm reduction capital of the world".

He proceeded to take Sweden to task, however, for failing to communicate the public health benefits of snus more forcefully, asking why the government hasn't done more to promote snus exports to countries struggling to reduce smoking rates.
You "Saved" 32,400 Smokers from Quitting – Brad Rodu
Minnesota in 2010 became the first state to impose an e-cigarette excise tax, set at 35% of the wholesale price. Three years later, the tax was increased to a whopping 95%. It remains the nation's highest e-cigarette tax.

Economists at the National Bureau of Economic Research, the City University of New York and Bentley University just released a report on the consequences of the Minnesota tax.

We're Not Talking About
Teen cannabis and nicotine vaping spiked between January 2018 and January 2019, a widely-cited US survey on adolescent drug use highlighted in its December 18 press release. Less emphasized was the finding that overall marijuana use didn't rise, which suggests that teens are simply switching consumption methods. Additionally, the cigarette smoking rates hit record lows. Meanwhile teens' perceptions of nicotine and THC vaping's harms increased.
Bruce Barcott, Leafly
If 2019 was the year of the vaping health crisis, 2020 will be a year of reckoning. The first question that must be asked is this: Why did American public health officials fail so spectacularly?

Let me say that again clearly: The VAPI/EVALI emergency represents one of the greatest derelictions of duty on the part of American public health leaders that I've seen in my lifetime.

Here at Leafly, we witnessed the train wreck firsthand.
---

---
Dodged One Bullet, But Now Must Dodge Another One
Dr. Michael Siegel, The Rest Of The Story
I am expecting the FDA to announce this afternoon that it plans to enforce a ban on the sale of all flavored e-cigarette pods and cartridges for closed vaping systems, with the exception of tobacco and menthol flavors, but that it is exempting e-liquids and vape juices sold for open systems. This means that the restriction will primarily affect the vaping products sold by convenience stores, but not all of the products sold by vape shops.
Will Target Pods Only – Jim McDonald
The FDA will issue guidance soon that bans pod- and cartridge-based vaping products that contain flavors other than tobacco and menthol, the Wall Street Journal reported late Tuesday. The move has been the subject of intense rumors since just before Christmas.

The action will not apply to open-system products like bottled e-liquid and mods.

The move is described by White House insiders as a compromise between the complete flavor ban some Trump administration officials (and Trump family members) want, and the hands-off approach Trump campaign officials have sought.
Of Flavored Vaping Cartridges Is Bad for Public Health – Guy Bentley
While Trump's policy isn't the worst possible outcome it's still a terrible blow for public health.

The Trump administration's decision to pull back from a total flavor ban of all vapor products, which it previously considered, is good news. Unfortunately, the administration's new policy is still harmful to public health.

The Associated Press reports on the details of today's announcement:

Puts our nanny state to shame – Brad Polumbo
Between Congress's recent decision to raise the age to buy vaping products to 21, states imposing high taxes on e-cigarettes, and the Trump administration's decision, announced Thursday, to go through with a partial ban of flavored vaping products, America's war on vaping is in full swing. But when you consider the positive approach taken in the United Kingdom, the foolishness of this new conflict is laid bare.

The entire recent moral panic over vaping is baseless to begin with. Isolated instances of deaths from vaping-related lung illnesses have been used to paint a false picture that legal vaping products are dangerous.
Now He Wants to Kill its Competition – Michelle Minton
Though they (probably) aren't car surfing or eating Tide pods, lawmakers and government bureaucrats are as susceptible to passing fads as bored teenagers. For government folks, efforts to prevent death and disease from smoking is so last century. Cigarettes are "out," e-cigarettes are "in." And with the media now in a constant feeding-frenzy over youth vaping, introducing legislation to rein in the e-cigarette industry is all the rage with lawmakers. The latest to board the bandwagon is Sen. Mitt Romney (R-UT), who just last month proposed a measure that would functionally eliminate the vapor industry, killing thousands of small businesses and robbing adults of a life-saving tobacco alternative. Romney is promoting his bill as a way to protect children from nicotine addiction. But, what it really protects is something in which Romney has a personal, political, and financial interest: cigarette sales.
Noel Yaxley
Ewan Fisher, a teenager from Nottingham, UK, hit the headlines last month. It emerged that two years ago, when he was 17, he had suffered lung failure caused by an e-cigarette he had been using to quit smoking.

This was yet another bad news story for the vaping industry, after reports emerged in September of people dying in the US from vaping-related conditions.
Should Extend to Patient Smoking – John de Miranda
The addiction treatment and recovery system in the United States is massive. The industry comprises approximately 15,000 public and private service units with more than 1.3 million persons in care at any point in time. Some 24 million people are in long-term recovery, having benefited from treatment, recovery support and/or a variety of mutual aid organizations. Considerable innovation occurs regularly in the system, including motivational/cognitive-behavioral approaches, recovery community organizations, and harm reduction strategies such as needle exchange and naloxone distribution.
---
A look back at how things have moved on or otherwise….
New Nicotine Alliance
As we prepare to celebrate the new year and move into 2019, it is time to look back on a momentous year in the life of the NNA. As you will see from this round-up, it has been a very busy one but none of it is possible without you, the consumers.
Rod Ardehali, Daily Mail
More than £100 billion has been wiped off the value of five of the world's biggest tobacco companies amid growing fears over the rise of vaping and increased regulation.

British American Tobacco (BAT), which is listed on the London Stock Exchange, has been the worst affected losing about half of its stock market value.

In November, the US Food and Drug Administration (FDA) announced that it is to consider banning menthol cigarettes, a move that would compound a disastrous year for the firm with more than half of its sales coming from the product.
 Colin Mendelsohn, Australian Tobacco Harm Reduction Association
Australia's performance in tobacco harm reduction has been dismal in 2018. Where most western countries are making it easier for smokers to switch to less harmful nicotine products, Australia maintains its prohibitionist, precautionary, 'quit or die' stance.
---
Visit Nicotine Science & Policy for more News from around the World

---