Vaping Digest January 2nd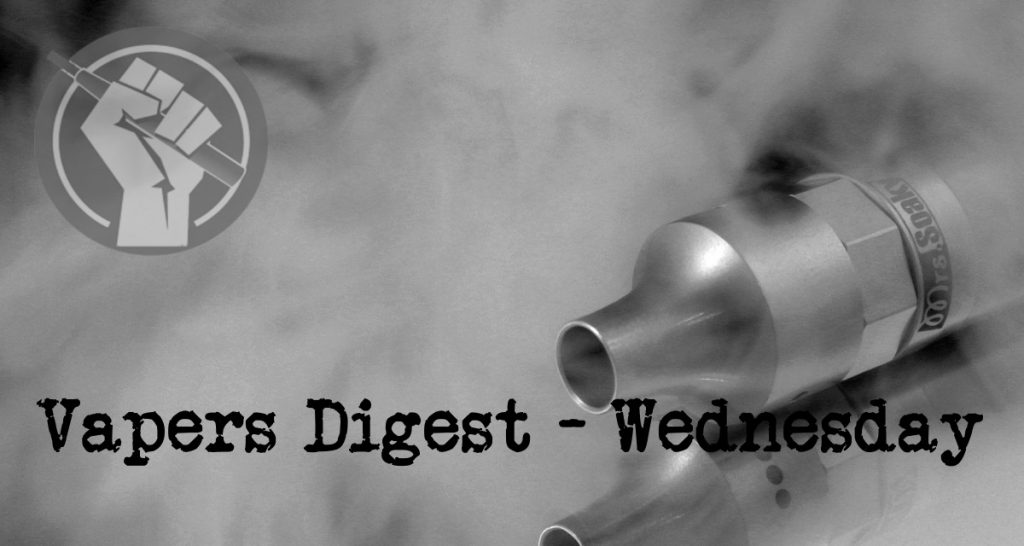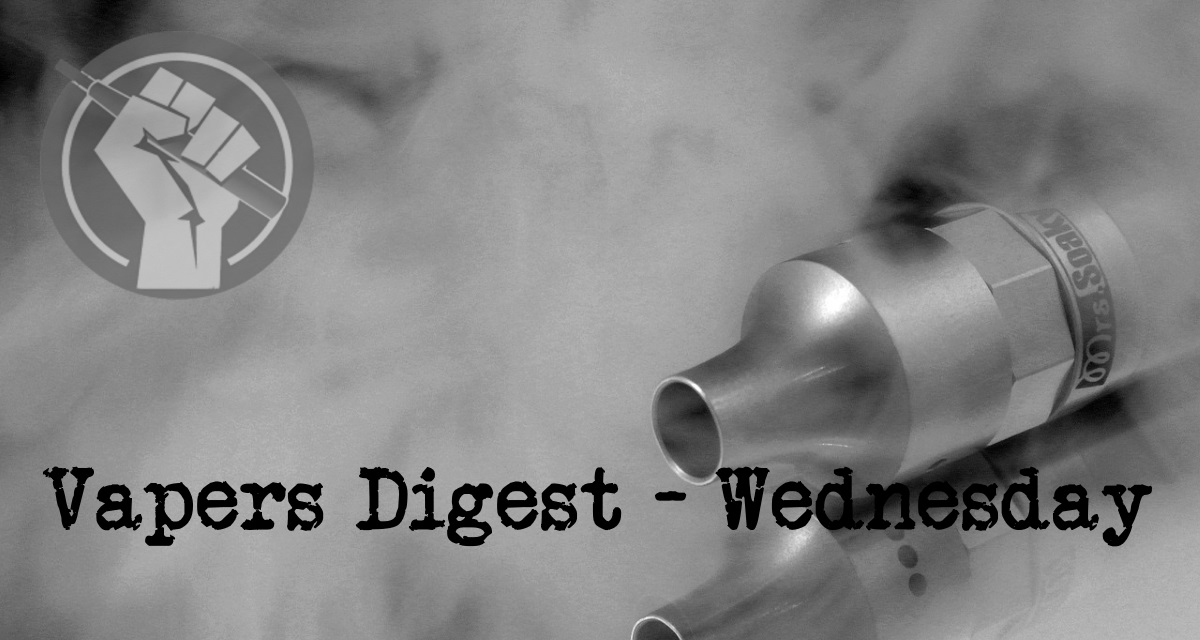 Wednesday's News at a glance:
2018, a successful year in the life of the NNA ~ Vaping wipes £100billion off tobacco industry THIS YEAR ~ Report card. How did Australia do in tobacco harm reduction in 2018? ~ What exactly is the origin behind vaping? ~ Stanton Glantz Says Vapers Should Smoke Cigarettes, Instead ~ "Truth" Campaign to Kids: Better to Smoke 19 Cigarettes than to Vape One Juul Pod ~ Largest study ever confirms reduced harm from vaping ~ Vaping 'at least 95 per cent less harmful than smoking' ~ Kiwi smokers urged to make New Year's switch to vaping ~ Govt restricts import of e-cigarettes ~ Partnership gets $87,000 state grant to combat e-cigs ~Vaping Is Not the Real Health & Safety Threat in Kentucky High Schools ~ Minimum age to buy tobacco now 21 throughout the state ~ CT lawmakers propose state vaping tax
New Nicotine Alliance
As we prepare to celebrate the new year and move into 2019, it is time to look back on a momentous year in the life of the NNA. As you will see from this round-up, it has been a very busy one but none of it is possible without you, the consumers.
Rod Ardehali, Daily Mail
More than £100 billion has been wiped off the value of five of the world's biggest tobacco companies amid growing fears over the rise of vaping and increased regulation.

British American Tobacco (BAT), which is listed on the London Stock Exchange, has been the worst affected losing about half of its stock market value.

In November, the US Food and Drug Administration (FDA) announced that it is to consider banning menthol cigarettes, a move that would compound a disastrous year for the firm with more than half of its sales coming from the product.
 Colin Mendelsohn, Australian Tobacco Harm Reduction Association
Australia's performance in tobacco harm reduction has been dismal in 2018. Where most western countries are making it easier for smokers to switch to less harmful nicotine products, Australia maintains its prohibitionist, precautionary, 'quit or die' stance.
---

---
Chris Price, Quora.com
The ecig (e-cigarette, PV or personal vaporiser, or vape pen) was invented in the late 1990s by a Chinese pharmacist called Han Li, popularly known as Hon Lik [1].

He was a smoker whose father had died from lung cancer, due to smoking. He was very familiar with medical inhalers, and thought about developing an inhaler that delivered nicotine without the smoke. The smoke from combusted tobacco is what causes all harm from smoking, not the nicotine, which is merely a nutrient found in vegetables that everyone tests positive for since it is part of the normal diet [2].
Alex Berezo, ACSH.org
Just yesterday, I put the finishing touches on an article titled, "10 Worst Bogus Health Stories of 2018." It turns out that my publication was slightly premature. I should have waited a few more hours.

Stanton Glantz is a professor at the University of California-San Francisco (UCSF). He became famous for exposing the shenanigans of the tobacco industry, namely its dishonest public relations campaign to downplay the harmful effects of smoking. As an anti-smoking activist, his efforts have undoubtedly helped save many, many lives.

Unfortunately, Dr. Glantz has become something of an ideologue.
Michael Siegel, The Rest of the Story
One of the oft-repeated "facts" being disseminated by the "truth" campaign is that one Juul pod is equal to 20 cigarettes worth of nicotine.

More specifically, the "truth" campaign claims, as its #1 most important fact about Juul that: "The amount of nicotine in one JUUL cartridge is roughly equal to the amount of nicotine in a pack of cigarettes."

Joining the "truth" campaign in spreading this factual information is the Centers for Disease Control and Prevention (CDC), whose web site currently states that: "a single JUUL pod contains as much nicotine as a pack of 20 regular cigarettes."
---
Whether this statement is true or not, the reason @TobaccoFreeKids lobbies for bans of tobacco products in pharmacies is to eliminate the advantage tobacco sales provides @CVSHealth competitors. CVS is a major funder of tobacco control groups like TFK. https://t.co/ohoRrI6yyE

— Jim McDonald (@whycherrywhy) January 2, 2019
---
 Colin Mendelsohn, Australian Tobacco Harm Reduction Association
The largest study on vaping safety to date has confirmed that vapers are exposed to far fewer toxic chemicals than smokers.

The study of 5,105 adults was published this week in JAMA Network Open by a group of leading researchers, led by Maciej Goniewicz. Levels of tobacco toxins were measured in the urine in four different groups:

Exclusive vapers (vaping only)
Exclusive smokers (smoking only)
Dual users (smoking and vaping)
Never-smokers
---

---
Dorset Echo
A NEW film has been released by Public Health England (PHE) showing the harmful effects of smoking and how these can be avoided by switching to an e-cigarette or another type of quit aid.

Related:

, New Zealand Herald
Smokers are being encouraged to switch to vaping when the Government's grip on their wallets tightens with a tobacco tax hike tomorrow.

The excise tax increases by 10 per cent tomorrow are part of a series of annual rises, the last of which, on the current plan, will be on January 1, 2020.
---

---
The Hindu Business Line
The order comes even as the High Court recently quashed an advisory by the Health Ministry to state governments to prohibit manufacture, distribution, sale (online) of ENDS and other related products
Rocket City Now
E-cigarettes and electronic nicotine delivery systems, like JUULs, are surging in popularity with youth. The Partnership for a Drug-Free Community is addressing the issue locally through a grant from the Alabama Department of Public Health. The Partnership has been awarded an $87,000 grant to be used for youth tobacco prevention programs in Huntsville, Madison and Madison County, says Candice Dunaway, executive director.
Brad Rodu, Tobacco Truth
Foundation for a Healthy Kentucky (FHK) and Kentucky Youth Advocates (KYA) recently launched a campaign to discourage e-cigarette use by youth (here).  KYA executive director Dr. Terry Brooks predicted that "unless we as a commonwealth treat e-cigs as the health threat it is — in terms of now and in the future — then in 2038, Kentucky will still be the cancer capital of the nation."  According to Ben Chandler, FHK chairman and CEO, "the fact that youth e-cig use is often a gateway to cigarette smoking makes immediate action imperative."
---
, Telegram.com
The minimum age to purchase cigarettes and other tobacco products, including electronic cigarettes and liquid nicotine for vaping, increased to 21 statewide on Monday.

The law also prohibits the sale of tobacco products by licensed pharmacies and bans the use of e-cigarettes in places where state law already prohibits smoking.
News12 Connecticut
Lawmakers in Connecticut are proposing a state vaping tax and additional rules for e-cigarettes, officials say.

Vaping has been billed as a safer alternative to cigarettes, although experts say the jury is still out on whether that is true or not.

With vaping among teens skyrocketing, some lawmakers want to ban flavored e-cigarettes. The state has also proposed taxing vape products.

Hector Gonzalez, manager of U Vape LLC in Milford, says that a tax will end up driving e-cigarette users back to old habits.
---
Visit Nicotine Science & Policy for more News from around the World

---