Vapers Digest December 21st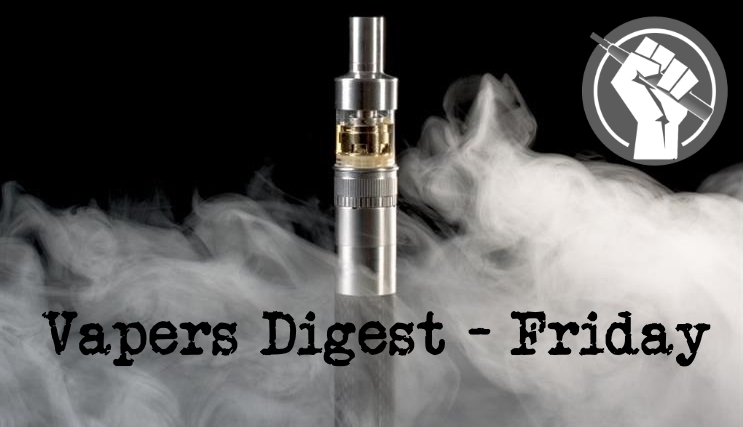 Friday's News at a glance:
Harry's blog 78: The end of the beginning – Federal Officials Obsessed By Teen Vaping – Questions In Parliament – Great Vape Mates – Wow! Altria Buys 35% of JUUL for $12.8 Billion – York's last tobacconist closes as e-cigs boom – Pleas and Anger in Public Comments on Youth E-Cig Use – Vaping is part of the smoker's quitting toolkit – Myth busting the effects of vaping – The harmful hysteria about vaping – Lawmaker wants to ban import of e-cigs – Nicotine Science and Policy Daily Digest
---
Merry Christmas & A Happy New Year!
To all of our contributors, readers, subscribers, tweeters and sharers!
We are taking a break for the festivities and will return on Weds. 2nd Jan 2019
---
Harry Shapiro
This will be my last blog of 2018. In 2019, I enter year 40 of working in the drugs field, currently as Director of DrugWise, an online drug information service, and as a member of the UK Advisory Council on the Misuse of Drugs and the Secretariat of the All-Party Parliamentary Group on Prescribed Drug Dependence. The drugs work continues, but little did I know when the charity I worked for, DrugScope, fell over in 2015, that 2019 would also be the year when I would be part of a team taking the message of tobacco harm reduction across the world.
But Ignore Teen Drinking and Toking – Brad Rodu
The newly released 2018 Monitoring the Future survey results provide further evidence of a sharp decline in cigarette smoking among high school seniors, coinciding with increased vaping.  The rate of current smoking (in the past 30 days) plummeted to 7.6% from 9.7% the year before. Even more impressive, the rate represents a 60% drop from 2011 (18.7%), which is the year that teens started to vape (evidence here).
---

---
Dave Cross, Planet of the Vapes
Steve Brine MP, The Parliamentary Under-Secretary for Health and Social Care has responded to vape and general tobacco harm-related questions from Alex Cunningham MP, Bob Blackman MP and Gregory Campbell MP. The frequency of such points being raised in parliament is indicative of the higher profile vaping and harm reduction now enjoy.
Alex Cunningham, who represents Labour for Stockton North, asked the Parliamentary Under-Secretary for details about the meetings and discussions the government has held with companies representing the tobacco and vaping industries. He was particularly interested in discussions relating to vape regulation and policy over the last three years.
Dave Cross, Planet of the Vapes
Research from University College London's (UCL) Institute of Epidemiology & Health Care finds that vapers are not 'renormalising' smoking. Moreover, smokers who come into regular contact with vapers are more likely to make a quit attempt.
The study, led by Dr Sarah Jackson, was funded by funded by Cancer Research UK and published in BMC Medicine. Using data from the 13,209 participants of Professor Robert West's Smoking Toolkit Study,
---
Thema der Woche:
In der Schweiz geht eine Suchtberatungsstelle den Weg der Tobacco Harm Reduction und empfiehlt Rauchern auch E-Dampfprodukte.

weiterlesen: https://t.co/v2GLohK8QQ https://t.co/v2GLohK8QQ

— IG-ED (@ig_ed) December 21, 2018
And still not willing to engage with the evidence? Come on the Simons. As health professionals this is what you should be doing. And if you don't feel qualified don't just take the word of another group who are parroting slogans – admit that you are not up to speed https://t.co/uvE4uPCtgx

— Robert West (@robertjwest) December 21, 2018
---
Jim McDonald, Vaping 360
Following a month of rumors, cigarette giant Altria has bought a 35 percent stake in JUUL Labs, the San Francisco-based private company that makes the most popular vaping device in the country. Altria is investing $12.8 billion.

The deal will give JUUL access to Altria's distribution network, and provide direct access to millions of smokers who use the brands Altria markets in the United States, including the single most popular cigarette brand, Marlboro.
Mike Laycock
YORK'S last traditional tobacconist – which sold everything from £75 Cuban Havana cigars to pipes and tobacco – has closed its doors for the final time.

John Terry, owner of Choice Select in Coppergate, says customers will now have to travel to places as far away as Harrogate, Leeds and Newcastle to get to a specialist tobacconist.
---

---
On Youth E-Cig Use – Sessi Kuwabara Blanchard
Throughout 2018, the US Food and Drug Administration (FDA) has tried to stymie rising rates of youth vaping. As part its latest effort, the federal agency says it'll be exploring drugs, specifically tailored at stopping teen use of e-cigarettes. The public is responding with both criticisms and affirmations in the lead up to a public hearing in January.
Just not here … yet – Sydney Morning Herald
Last week's National Health Survey confirmed that smoking rates have continued to plateau in Australia. The survey of 21,000 people found that 15.2 per cent of adults smoked in 2017-18 compared with 16 per cent three years earlier.

These disturbing findings are consistent with other surveys showing that smoking rates have stagnated nationally since 2013 and are rising in NSW and South Australia. Smokers are struggling to quit, and we need new ways to help them.

Hapai Te Hauora
The government believe vaping products "have the potential to make a contribution to the Smokefree 2025 goal and could disrupt the significant inequities that are present." However, there appears to be no current plan to allocate funding for whānau to use vapes. Health professionals have voiced their concerns on this perceived inaction because it adds to increasing inequities inherent in our tobacco tax structure whereby only 3% of the $2 billion annual tax take from tobacco sales are reinvested into public campaigns and support for people to quit smoking.
Carrie Wade and David Bahr
Food and Drug Administration (FDA) Commissioner Scott Gottlieb recently announced new tobacco-control measures that were, within minutes, greeted with adulation by everyone except, of course, that handful of health practitioners with any sense about them.

In an effort to tackle "the disturbing trend of youth nicotine use," Mr. Gottlieb and friends decided to limit, among other things, the sale of e-cigarettes. Should these limits be enacted, the products in question would be available only at vape and tobacco stores, or age-restricted sections of convenience stores.
Lawmaker Ho Ian Sang has suggested that the city ban the import of electronic cigarettes. In addition to calling for the ban, Ho suggested that "the SAR government study an increase in tobacco regulation, to extend the area reserved for warning messages on tobacco products' packaging, [… and] to reduce the smoking addiction of users, in order to reach a [milestone] in tobacco control."

Ho added that "Macau should do research on quickly banning the import of electronic cigarettes, enhancing supervision and on cracking down on online sales of electronic cigarettes."
The city of Duluth soon could join Hermantown in requiring people to be at least 21 years of age in order to purchase tobacco or e-cigarette products.

Duluth city councilors Em Westerlund and Zack Filipovich say they plan to bring forward a proposed ordinance along those lines on Jan. 14 for a first reading. If they do, the ordinance could go to a vote as soon as Jan. 28.
Whitney Amann, Jeremy Erickson
E-cigarette use among teens is a growing problem nationwide, now hitting Northern Michigan school districts. Leaving administrators to figure out how to respond to vaping in school buildings. Many schools are now installing new technology.

It's similar to a smoke detector but will detect e-cigarettes. They can be easily disguised as something like a flash drive with a smell sometimes hard to detect. "This was one of the major things that we've been battling," said Jame McCall, associate superintendent of student services.

Which is why TCAPS will soon launch a pilot program with vape detectors in their two high schools.
---
A look back at how things have moved on or otherwise….
Matt Ridley, VapersUK
Health organisations now agree vaping is far less harmful than smoking yet it continues to be demonised and restricted

Imagine if Britain led the world in a new electronic industry, both in production and consumption, if independent British manufacturers had a worldwide reputation for innovation and quality, were based mainly in the north and were exporting to Asia. And that this innovation was saving lives on a huge scale while saving consumers over £100 billion so far.
Harry Shapiro, Nicotine Science and Policy
One of my favourite Woody Allen quotes come from his film Stardust Memories which goes, "intellectuals are like the Mafia. They only kill their own."  Fortunately, within the conflicted world of tobacco control and tobacco harm reduction, there are relatively few albeit influential sabre-rattlers. But this area of public and scientific discourse is relatively new, so plenty of time for the dogs of war to be let loose.  I'm sure the hurricanes of hate blow through the climate change community and there is this salutary tale about Amy Cuddy, a social psychologist. She built a career on research around power posing, the idea that briefly adopting assertive, open poses can improve one's performance in various social settings (in part because doing so cues certain hormonal changes).
Jim McDonald, Vaping 360
The FDA Center for Tobacco Products is about to ask for public comment on flavored e-liquid, and the agency appears to be following the tobacco control party line that maintains that some flavors are geared toward teenagers.

A draft of the agency's Advanced Notice of Proposed Rulemaking (ANPRM) is working its way toward publication by the FDA in the Federal Register. No one is certain if the language currently in the document will change before the final call for comment is issued.
---
Visit Nicotine Science & Policy for more News from around the World

---