Vaping Digest January 4th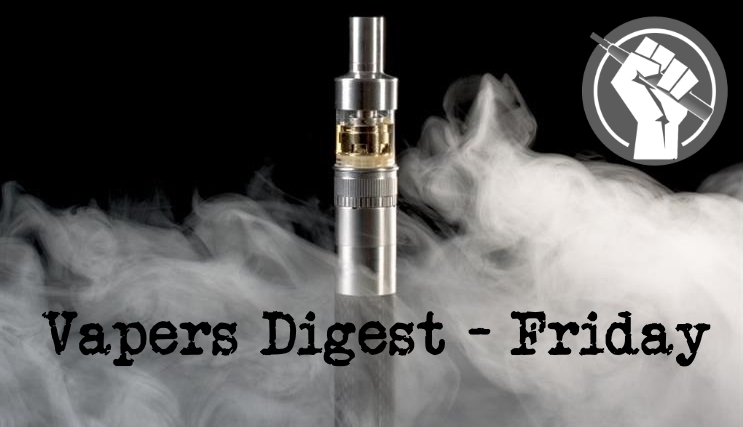 Friday's News at a glance:
A Short History Of Pharma-Bought Influence – Transatlantic divide on e-cigs deepens, and Glantz loses the plot – IBVTA writes to Public Health Minister & CAP – Harm perceptions of e‐cigarettes – Self-determining nicotine consumption –  PHE Smokefree Campaign – Stan's Daft Deceptions – Australia: Switch To Vaping – Jersey prison now smoke free – Nicotine Science and Policy Daily Digest
Dick Puddlecote
If you have half an hour to spare, you could do worse than watch the two excellent films by YouTuber Grimm Green embedded below

Long-time readers here will remember the history of anti-smoking legislation and how it developed from an aspiration in the 1970s with the Godber Blueprint. Specifically:
And Glantz loses the plot – Fergus Mason
The gap in understanding between the UK and USA continued to widen this week, as US lawmakers and federal agencies continued to attack tobacco harm reduction while Britain's PHE launched a campaign to educate smokers about the benefits of e-cigarettes. Meanwhile notorious anti-vaping crank Stanton Glantz finally jumped the shark, after he penned a blog post where he openly called on smokers to keep smoking rather than move to safer alternatives.
---

---
IBVTA
The IBVTA has partnered with Public Health England's Stoptober and Health Harms campaigns since 2017.

We have done so to help raise awareness of the relative risk of smoking versus vaping among the millions of smokers who incorrectly believe that vaping is as or more harmful than switching to vaping. In line with the Tobacco Control Plan for England, the IBVTA believes that more smokers switching to vaping is good for the individual, and good for public health.
---
---
And other nicotine products in a UK sample
Samara Wilson Timea Partos Ann McNeill Leonie S. Brose
The relative harms of EC and NRT compared to smoking tobacco cigarettes and the role of nicotine in the main health harms of smoking were overestimated by large proportions of smokers and ex‐smokers. These misperceptions have increased over time, and those who have never vaped are more likely to have misperceptions about relative harmfulness. Inaccurate nicotine knowledge was associated with increased relative harm misperceptions of EC and NRT compared to tobacco cigarettes.
Will assist people who smoke give up behavior – Denis Bedoya
A new study conducted by a team of researchers at the Queen Mary University of London has found that allowing smokers to determine their nicotine intake could help them to quit the deadly habit forever.

In an early study conducted on 50 participants, researchers found that most smokers who use stop-smoking medications can easily tolerate doses that are four times higher than those normally recommended.
---

---
Trio from Dave Cross – POTV
Public Health England (PHE) has launched the seventh version of its Smokefree Health Harms campaign. The campaign centres on a video by Dr Lion Shahab, demonstrating the clear benefits of switching to vaping or quitting altogether. PHE reiterates the fact that vaping is demonstrably safer than smoking.
Resources for the campaign can be found at the Campaign Resource Centre. The organisation repeats the statement that that vaping is 95% less harmful than smoking tobacco products.
Stanton Glantz had mixed fortunes in 2018 – receiving a ridiculous amount of money to continue the production of flawed studies at the University of California San Francisco (UCSF), and facing multiple claims of bullying, plagiarism, sexual harassment and racism. His beginning to the New Year has done nothing to raise his reputation from the gutter.
Glantz wrote: "Using e-cigs increases exposure to toxic chemicals for most users; they would be better off just smoking."
The Australian Tobacco Harm Reduction Association (ATHRA) has launched a switch to vaping campaign. Not only should this be newsworthy due to the promotion of reducing tobacco harm – but it's taking place in a country where vaping can involve breaking the law. This campaign will educate smokers how to legally make the transition.
"If you want to quit smoking in the New Year, the UK government recommends you switch to vaping. ATHRA agrees and is running our switch2vaping campaign over the New Year period," the organisation writes.

ITV News
Around 42 prisoners at La Moye in Jersey have been offered one-to-one sessions to help them quit smoking. The sessions have been delivered by Help 2 Quit and the Prison Healthcare teams.

It is all part of plans to help the prison become smoke-free, which were announced last March. It means there will be no option at all for inmates to purchase cigarettes. Of those taking part in the quitting programme, almost half have managed to give up smoking already.
To be sold in 'world's ugliest color'
Cigarettes will be sold in packaging the color of feces, and ads for smoking products will be banned from most media, following a law passed in a final vote in the Knesset on Monday, the second-to-last day before the legislature goes on its pre-election recess.

The law will require cigarette packages to be a brown color, Pantone 448c, which a study found to be the world's ugliest color. Australia, the UK and France have already begun selling cigarettes only in that color.
---
A look back at how things have moved on or otherwise….
, BBC News
Tobacco firm Philip Morris has placed an advertisement in some newspapers promoting its "ambition to stop selling cigarettes in the UK".  It is part of the company's drive to achieve a "smoke-free future". The owner of the Marlboro brand has also written to Prime Minister Theresa May asking to be allowed to print information about quitting and switching on its cigarette packs. However, anti-smoking campaigners described the campaign as a "PR stunt".
The Government is keeping mum on whether it intends to keep a National promise to legalise e-cigarettes after renewed calls for a law change as aggravated dairy robberies increase and fewer people quit smoking. Tax hikes on cigarettes have prompted just 10 per cent of the smoking population- about 550,000- to quit but retailers are bearing the brunt of the consequences as dairy robberies increase, the New Zealand Taxpayers' Union says.
Lifang, XinhuaNet
A new law to control smoking and the sale of tobacco has entered into force in Macao since Monday, the special administrative region's Health Service Bureau said. The bureau said in its latest announcement that the New Tobacco Control Act enters into force on Jan. 1, 2018 and called for the collaboration and support of Macao residents. The new tobacco control law includes the extension of non-smoking areas, such as all indoor areas except smoking room at the airport and in casinos, and areas 10 meters within the bus stops and taxi stands.
---
Visit Nicotine Science & Policy for more News from around the World

---