Vaping Digest January 7th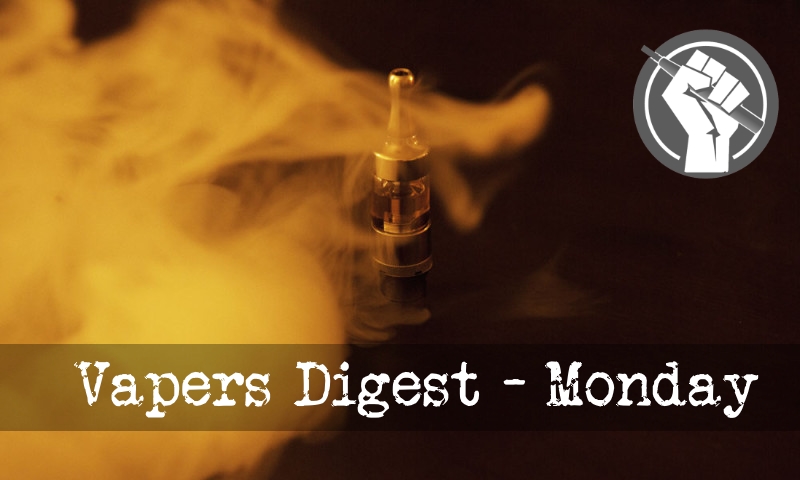 Monday's News at a glance:
PHE releases new film to encourage freedom of choice – Anti-vape propaganda keeps on causing harm, but lawmakers push ahead with bans – The principle of proportionality – Harry's blog 79: This above all: to thine own self be true – Swiss Success – Stanton's Spin: – The reality and myths of vaping safety – Health Agencies Grant Permission to Shame Vapers – I bought my dad a Juul – Why I Care About Harm Reduction – Proposal to ban vape info online – Vaping In The News January 5th – Nicotine Science and Policy Daily Digest
To encourage freedom of choice – New Nicotine Alliance
At the turn of the new year, Public Health England took the opportunity of a lack of political news to launch a short film showing the difference between what is inhaled from a cigarette and from an e-cigarette. It was featured prominently by the BBC, which reproduced the film with subtitles on December 28th, and also gained much national media coverage elsewhere.

As the film mentions, nearly 50 percent of smokers still believe that vaping is as bad, or worse, than smoking. This is a misperception that the NNA would like to see change and so we are pleased that such an important message has received so much publicity.
But lawmakers push ahead with bans – Fergus Mason
More research from the UK confirms that relentless fear-mongering by opponents of harm reduction is misleading the public about relative risks. Almost half the British public are unaware that vaping is safer than smoking – and a staggering nine out of ten think nicotine is a health risk. Unfortunately, too many politicians and "health" groups don't want to listen to the evidence; around the world, pressure groups and lawmakers continue to push for taxes, bans and other restrictions on safer nicotine products.
---

---
How to regulate reduced-risk products – Clive Bates
How should society regulate reduced-risk products like e-cigarettes, heated tobacco products, novel nicotine products or smokeless tobacco? These products challenge existing systems of tobacco regulation, which generally assume the products are an unqualified threat to be contained. In reality, the products represent a public health opportunity with relatively minor risks to be mitigated.
Harry's blog 79:
The blog title is a quote from Hamlet written by W. Shakespeare and set in Denmark because Bill ripped off an old Danish story for his plot. Even so, it's a pity that the Danish authors of a paper basically alleging that all pro-vaping studies are compromised by associations with the tobacco industry, couldn't have taken this quote to heart. In fact, so far from the truth is it, that the ever-estimable Carl Phillips has written the most damning indictment of a paper purporting to be 'peer-reviewed' that I have ever read.
---
---
Dave Cross, Planet of the Vapes
Helvetic Vape has celebrated the decision by a quit-smoking help service in Switzerland to integrate vaping into its support program. Swiss smokers can now, with the support of SuchtHilfe in Olten, access free vape products to help them beat their addiction and reduce their chance of tobacco-related harm.
Helvetic Vape was formed in 2013 as a non-profit advocacy association for vapers, with the goal of promoting and defending vaping in Switzerland. Inspired by the millions around the world who have been able to stop smoking by switching to vaping, the organisation believes it offers "a fantastic opportunity for public health."
Does a New Study Show That Vapers Might as Well Smoke?
Few people are responsible for as much misinformation about vaping as Stanton Glantz. Ever since the cigarette papers arrived at his office, he has been a huge name in the fight against smoking, and a name that's pretty hard to avoid if you spend long enough reading about vaping.

The problem is that he's a seemingly never-ending fountain of nonsense.

From claims that vaping actually makes quitting harder to the way he laughably assumes causation from correlation when interpreting – or conducting – studies claiming to show a gateway to smoking, you can pretty much rest assured that he'll promote anything that can be used to demonize vaping.
---

---
ATHRA
Last week two things highlighted the stark contrast between people's beliefs about the safety of vaping and the reality.

The reality:- A video by Public Health England demonstrated that vaping is dramatically safer than smoking by collecting the tar from a month of smoking and vaping. The huge amount of cancerous and toxic tar from smoke was in harsh contrast to the minimal release of chemicals from vaping.
Angelica LaVito
My dad isn't much of a texter, but he's been a smoker for 35 years. I bought him a Juul in November to see if he would finally stop smoking. Now he texts me every day with progress reports.

"Day 24 new beginning hoorah love dad." Cigarettes were always part of my childhood memories with my dad. He was always trying to quit, even eating carrots once to try to mimic the experience of holding a cigarette. That didn't last.
Health Agencies Grant Permission to Shame Vapers
It's a cruel bitter irony for millions of vapers who not only quit smoking in order to improve their health but also to escape the humiliation and stress caused by incessant shaming. Over decades, state and federal public health agencies have spent billions of dollars on advertising campaigns which gave friends, family, and even strangers 'carte blanche' to shame, degrade and demonize smokers.

Today the shaming is back and it's more painful than ever as its target is vaping, the very tool so many found instrumental in kicking their smoking habit and to stay quit.

David Williams
As president of the Taxpayers Protection Alliance, I don't usually write about policy from a personal perspective (even though I am a taxpayer). Over the past two years, TPA has written extensively about the Food and Drug Administration and its unique position to approve harm reduction products that help people switch from traditional cigarettes to reduced-risk products, such as vaping and heat-not-burn products like IQOS.
Need to Stop Treating Vaping as Though It Were the Same as Smoking
Should we care that much if teen's vape? It's a question I asked in a recent print column – my conclusion is that the vaping "epidemic" is yet another in a long line of moral panics and that the rise of vape technology is a net gain for public health – and it drew a response from Jason McCoy (a public health professional based in Minnesota) in the form of a letter to the editor.

"As a public health professional working with schools currently dealing with this crisis, the answer is a resounding 'yes.,'" he wrote.
Times of India
Tobacco harm reduction advocacy group Association of Vapers India (AVI) and experts have criticised the Centre's proposal of amending the Information Technology Act to ban publishing of any information related to electronic nicotine delivery systems (ENDS), stating that it threatens public health and safety.

The amendment is part of the measures proposed by the Centre to curb fake news and includes monitoring the online activity of Indians.
Kevin Crowley, Vaping Links
Managing nicotine ~ THR4Life ~ Self-determining nicotine consumption ~ I bought my dad a Juul ~ Dr. Gottlieb ~ Poison Control ~ Surgeon General Jerome Adams ~ Voices Of Vapers ~ VapeTithing ~ FDA Comments
---
A look back at how things have moved on or otherwise….
Paul Barnes, Facts Do Matter
Stan is an idiot. There. I've said it diplomatically. For once. Never again.

Starting with e-cigs triples odds of starting cigarettes among college students; the evidence just keeps piling up

The latest of his blog titles screams at you that starting the use of an e-cig will most definitely lead the crazy youth of today to take up smoking. Y'see, Stan is a firm believer in the whole gateway theory.
19, Jan, 2016 – Tom Pruen
Stan Glantz is not a very good scientist. Examples of his ineptitude, and others' criticism of it, are trivially easy to find. Some interesting examples (a definitive list would run to several pages) include:

Clive Bates' chiding Glantz about gateway effect claims "Cease and desist: making false claims about the gateway effect(link is external)"

Michael Siegel criticising Glantz on the same point "Glantz Tells Public There is No Question that E-Cigarettes are a Gateway to Smoking, But Today's Monitoring the Future Data Show the Opposite(link is external)"
Michael Siegel – The Rest of the Story
The first longitudinal study that examines progression from vaping to smoking among young people has been published in the journal Addictive Behaviors. The study followed college freshmen at Virginia Commonwealth University for one year to examine whether vaping at baseline was associated with the progression from never smoking to ever and/or current smoking at follow-up.
---
Visit Nicotine Science & Policy for more News from around the World

---