Vaping Digest December 30th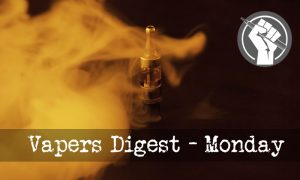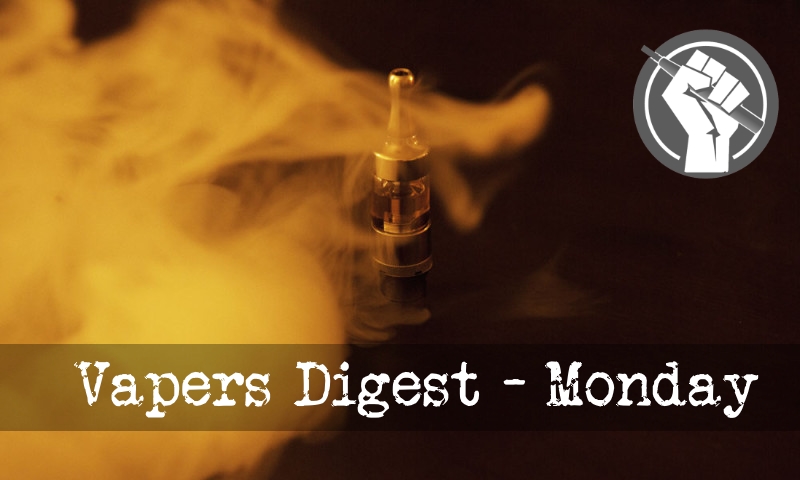 Monday's News at a glance:
Sudden enforcement of age-21 tobacco restrictions catches retailers, customers by surprise ~ Vape Bans Won't Make You Safer ~ The Vaping Panic Is a Major Setback for Public Health ~ John Dunne Director UKVIA – Christmas Interview With EcigClick ~ Martin Cullip NNA Chair – Christmas Interview With EcigClick ~ Against Reason | Public Health Careens Over Cliff on Vaping ~ How Vaping 'Might Just Save Your Life!' ~ Is vaping as harmful as traditional cigarettes? And other questions | Column ~ American Academy of Family Physicians Bemoans Fact that Many People Correctly Link Respiratory Disease Outbreak to THC Vapes ~ Until more is known about vaping and THC, caution is the best advice ~ The Wall Street Journal Blames Marijuana Legalization for Vaping-Related Lung Injuries, A Black-Market Hazard ~ The Best Articles on Vaping in December 2019
The age-21 tobacco era began quietly in North Carolina and across the country with a brief acknowledgement by the Trump administration Friday.

The three-sentence statement from the Food and Drug Administration confirmed the restrictions signed into law by President Donald Trump on Dec. 20 went into effect nationwide that day.
Teddy Ostrow, The Nation
After decades of anti-tobacco campaigns, cigarette use is at an all-time low. Despite that, smoking remains the leading preventable cause of death in the United States. Nearly half a million Americans die every year from smoking tobacco—approximately one in five US deaths. Another 16 million Americans live with smoking-related diseases.

Switching from combustible tobacco to vaped nicotine would dramatically reduce those numbers, according to several public health experts and advocates of harm reduction.
Jacob Sullom, Reason
When tainted lettuce causes an outbreak of gastrointestinal disease, the federal government does not issue general warnings about the hazards of eating. Nor does it order a recall of all fresh vegetables. Instead it focuses on the specific products consumed by the people who got sick.

After doctors began to report respiratory illnesses among vapers last summer, by contrast, federal agencies urged the public to avoid all vaping products, including legal e-cigarettes that deliver nicotine, even though it was clear early on that the vast majority of cases involved black-market cannabis extracts. That indiscriminate approach undermined public health in two ways.
---
Neil Humber, Ecig Click
John Dunne, Director of UKVIA, is an extremely busy man but has found the time for a chat with us about the organization's work and the future of vaping in the UK and worldwide.

The UK Vaping Industry Association has now become the leading light advocating on behalf of the vape industry and vapers.

Neil Humber, EcigClick
Martin Cullip NNA chair, chats with us about the future of vaping here in the UK and why in 2020 it's vital vapers get behind this nicotine advocacy charity.

Whilst trade organizations are funded via the industry, the New Nicotine Alliance is not – however, that certainly hasn't held it back.
---
Brent Stafford, Regulator Watch
2019 demonstrated in brutal fashion public health's penchant for orchestrated lying. CDC's obfuscation and outright deception, regarding the potential cause of the mysterious lung illness, falls nothing short of a national public health scandal, with worldwide impact.

In our final edition of RegWatch for 2019, Guy Bentley director of consumer freedom at the Reason Foundation recaps CDC's disastrous misjudgment of the lung crisis and the media's relentless efforts to smear vaping.
---
FDA gets rid of former administrator's old Twitter account

Gottlieb's archived tweets are now available for download as an HTML file from FDA's website https://t.co/ZRCslqD3Jyhttps://t.co/EXZosDTEwO

— David Newell (@dnglos) December 27, 2019
---
Reason TV
---
Tobacco Research & Intervention Program at Moffitt Cancer Center and Research Institute, Tampa Bay Times

There is growing public confusion about the true harms and potential benefits of vaping. Collectively, we have over 100 years of experience with tobacco research, including the development and evaluation of tobacco cessation treatments. We have seen the devastating effects that tobacco has on health, and we have dedicated our careers to fighting this epidemic. Here we address some of the common questions about e-cigarettes based on our interpretation of the most current research.
---
Michael Siegel, The Rest of the Story
The American Academy of Family Physicians (AAFP) has released the results of a survey it commissioned to examine public attitudes regarding what CDC has incorrectly called the EVALI (e-cigarette, or vaping-associated lung illness) outbreak. The AAFP reports the results as follows:

"In the online survey of 1,000 people aged 16 to 30 who vape, 93% of respondents said they were aware of the EVALI outbreak, and 65% said they were closely following news regarding the issue. More than 70% of respondents indicated they planned to be more careful about the products they buy and to reduce their use of vape products, and 86% were confident that they understood the health risks associated with vaping."
---
Anchorage Daily News
You've probably seen this play out in your neighborhood, town or village. Seemingly oblivious to danger, a group of teenagers pass between themselves a small black device that looks like a USB drive. They chat and take turns inhaling from the device, while a small puff of aerosol trails behind them.

E-cigarette, or vaping, products have grown in popularity nationwide, especially among youths, and are minimally regulated by the U.S. Food and Drug Administration, or FDA. Health officials have become increasingly concerned about the short- and long-term effects of these products on our children's health.
Jacob Sullom, Reason
Demonstrating a fundamental misunderstanding of how black markets work, a Wall Street Journal editorial blames marijuana legalization for vaping-related lung injuries involving illicit cannabis extracts. "A surge in vaping related lung illnesses this year caught the medical community by surprise, with the Centers for Disease Control and Prevention (CDC) reporting more than 2,500 lung illnesses and 54 deaths," the Journal says. "This is another reminder that America is undertaking a risky social experiment by legalizing and especially destigmatizing cannabis, and the potential effects are hard to foresee or control."
Saddle Horse Blues
Overwhelmed by all of the negative headlines around nicotine vaping? With some of the biggest networks in North America publishing and/or broadcasting a series of (largely uninformed and misleading) hit pieces against vaping, it can feel as if the only news on vaping is bad news- something both surprising and disheartening to advocates who see vaping as being a hugely promising off-ramp for millions of smokers around the world. But a look back at December 2019 shows that there were also some really great articles, opinion pieces, and studies that should give us some hope that if the tide isn't turning quite yet, it may be on the verge. We've collected some of them and included excerpts. Links are provided so that you can read the full articles.
---

---
---
Visit Nicotine Science & Policy for more News from around the World

---