Vaping Digest December 23rd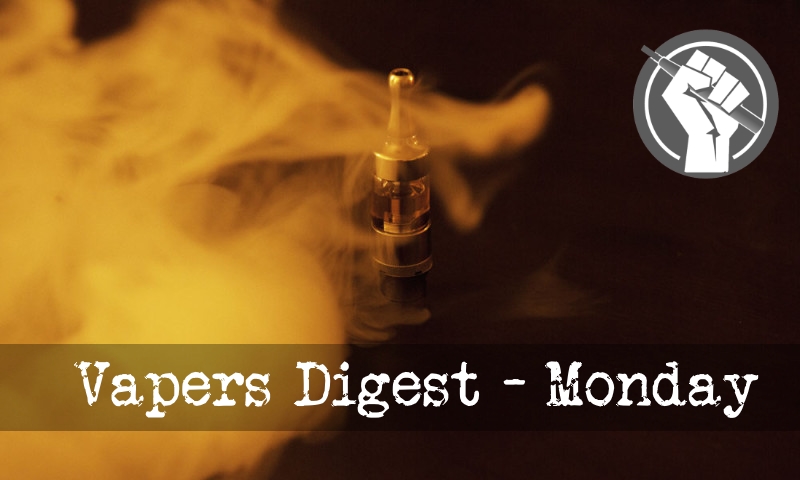 Monday's News at a glance:
Enjoy your Christmas, but prepare for battle in 2020 – Vaping In The News – December 21st – Great Heart News – 2019 – The Year of Bans – Newest CDC Data – Vaping-associated lung injuries can be attributed to vitamin E acetate – Association of prevalence of e- cig use – Examining the relationship of vaping – Tobacco 21 Doesn't Add Up – Juul wins court order banning British sales of fake vape pods – Vaping is 95% safer than smoking. Fact or factoid? – Minnesota's state government increased smoking by taxing e-cigarettes – Heat Not Burn TGA Application – Does IQOS stand a chance against vaping in the UK? – Nicotine Science and Policy Daily Digest
---
Merry Christmas & A Happy New Year!
To all of our contributors, readers, subscribers, tweeters and sharers!
We are taking a break for the festivities and will return on Friday. 3rd Jan 2020
---
But prepare for battle in 2020 – New Nicotine Alliance
In our November newsletter, we said that "2020 could present some major challenges for which we will have to be ready so please keep watching our website and social media for news very soon, we will be asking for your help". This was no idle or generic warning.

Preparations are already underway for a review of the EU's Tobacco Products Directive (TPD) and, this week, an upcoming meeting between the Commission and ENVI – the EU's health department -– was announced for the 20th and 21st of January. Rumours abound that this committee will wish to talk about the vaping scare in the US and try to employ it to force a harsher regulatory landscape in Europe.
Kevin Crowley, Vaping Links
E-Cigarettes: The HHS Smoking Gun ~ U.S. Prefers Mass Hysteria to Sound Policy on Vaping ~ America's Strange Nicotine Regulations Somehow Just Got Even Weirder ~ Low Nicotine Cigarettes?….. what?! ~ Blame Anti-Tobacco Advocates for Youth Vaping "Epidemic" ~ Vapers: A Key New Addition to the 'Leave Us Alone' Coalition ~ Tobacco 21 Doesn't Add Up ~ Trump Administration Must Balance Protecting Teens With Saving Adult Smokers ~ The State of Conversation ~ 2019 "Monitoring the Future" survey
---

---
Dave Cross, Planet of the Vapes
A study from the University of Dundee, published in the Journal of the American College of Cardiology, has great news for smokers looking to switch to vaping in the New Year. The research team led by Dr Jacob George concluded that vaping is less harmful than smoking for vascular health.

Study finds significant improvements in vascular health of chronic smokers who transition to e-cigarettes
Women see greater health benefits than men following switch to e-cigarettes
VESUVIUS is the largest study to-date on the vascular impact of e-cigarettes versus tobacco cigarettes
A video summary of the study can be viewed and downloaded here

Cigarette smokers who switch to nicotine containing vaporisers could significantly improve their vascular health, a major University of Dundee study has concluded.
Dave Cross, Planet of the Vapes
Supportive research, vape shops in hospitals and more organisations vocalising a support of vaping in the U.K., but it wasn't the same story elsewhere. Liars in America drove a global movement to clamp down on harm reduction and emboldened the outliers in England. What does this all mean for 2020?

2019 for vaping opened up pretty much how it finished, with Stanton Glantz making absurd claims and monstrous statements. Glantz said: "Using e-cigs increases exposure to toxic chemicals for most users; they would be better off just smoking."
---
'Credit, too, should go to PHE for championing e cigs, which has given tobacco cessation a boost at no cost to the public purse. Critics of vaping, vociferous at the start of the decade, have largely fallen silent, in the UK at least.' #vaping https://t.co/TFDD3ZxGTX

— Martin Dockrell (@SwitchFinder) December 22, 2019
The deadline for applications is creeping up – don't leave it too late!
Tobacco Harm Reduction Scholarship Programme – Home https://t.co/cDwZKMOeTd

— Jessica Harding (@jetsipha) December 23, 2019
Hopefully @realDonaldTrump isn't planning on announcing the closure of 10,000+ small businesses two days before Christmas. https://t.co/xfPXc8nG8m

— Gregory Conley (@GregTHR) December 23, 2019
---
Respiratory Disease Outbreak was Caused by Vitamin E Acetate Oil in THC Vaping Cartridges
Michael Siegel, The Rest Of The Story
The CDC has released new data which almost definitively confirm that the respiratory disease outbreak was caused by vitamin E acetate oil in THC vaping products (and perhaps some CBD vaping products as well).

I came to the same conclusion on August 25th, as did many experts from the cannabis industry who helped to inform my conclusion. Why it took the CDC four additional months of intensive investigation to discover something that cannabis industry experts had recognized much earlier is mystifying.
Can be attributed to vitamin E acetate – Nicole Wetsman
The outbreak of vaping-associated lung injuries this summer and fall can officially be attributed to vitamin E acetate in THC-containing vaping products, the Centers for Disease Control said today. The new confirmation of the link between the chemical and the injuries came after a new study found it in nearly all of the lung fluid samples from a new set of patients.

As of December 17, 2,506 people have been hospitalized with e-cigarette, or vaping, product use-associated lung injury (EVALI), according to the CDC. There have been 54 deaths. The injuries started increasing in June before peaking in September, new CDC data indicates, and the number of visits to emergency departments for vaping-associated injuries have been declining since.

In Bronchoalveolar-Lavage Fluid Associated with EVALI – NEJM
State and local health departments assigned EVALI case status as confirmed for 25 patients and as probable for 26 patients. Vitamin E acetate was identified in BAL fluid obtained from 48 of 51 case patients (94%) in 16 states but not in such fluid obtained from the healthy comparator group. No other priority toxicants were found in BAL fluid from the case patients or the comparator group, except for coconut oil and limonene, which were found in 1 patient each.
Or Vaping, Product Use–Associated Lung Injury – NEJM
On August 1, 2019, the first cases of electronic cigarette (e-cigarette), or vaping, product use–associated lung injury (EVALI) were reported to the Centers for Disease Control and Prevention (CDC).1 The cluster was an initial signal of an outbreak that by December 17, 2019, had resulted in 2506 cases involving hospitalized patients being reported to the CDC. Most patients with EVALI have been men and adolescent boys (67%), have been younger than 35 years of age (78%), and have reported using e-cigarette products containing tetrahydrocannabinol (THC) (80%)
---
Michelle Minton
---
With smoking cessation and cigarette consumption in England: a time–series analysis between 2007 and 2017
The potential for e‐cigarettes to contribute to population health by promoting smoking cessation or reduction remains contested 1. Different types of study design each have strengths and limitations in addressing this issue. Randomized controlled trials (RCTs) may be limited in terms of generalizability, while comparative observational studies are subject to potential bias by unmeasured confounding or selection bias. Population‐level time–series analyses can provide both an important source of triangulating evidence and direct estimates of population impact.
To smoking initiation among US youth and young adults: a reality check- BMJ
Conclusions: The inverse relationship between vaping and smoking was robust across different data sets for both youth and young adults and for current and more established smoking. While trying electronic cigarettes may causally increase smoking among some youth, the aggregate effect at the population level appears to be negligible given the reduction in smoking initiation during the period of vaping's ascendance.
---

---
Lindsey Stroud
On December 6, 2019, the U.S. House of Representatives passed a $1.4 trillion spending bill to fund the federal government's discretionary programs for the fiscal year 2020. Colossal spending bills, like the one passed earlier this week, are akin to political Christmas trees because they include a whole bunch of "presents" for legislators. President Trump is expected to sign the legislation on December 20.

Typically, these "gifts" include pork-barrel projects that congress members shove into the legislation to "bring home the bacon," aka please their constituents. We all know so-called omnibus spending bills are rife with all sorts of unnecessary goodies to entice bipartisan support.
Banning British sales of fake vape pods – Eddie Spence
E-cigarette company Juul Labs won a court ruling to stop stores on London's busiest retail street selling counterfeit versions of its products.

In a London hearing Friday, the vapemaker won an injunction stopping 10 stores on Oxford Street from selling fake Juul pods that contained illegaly high levels of nicotine. According to the company's court filing, it sent undercover agents to the stores to confirm that fake pods were being sold before trying to confiscate them.

Fact or factoid? – ATHRA
It is often said that vaping is 95% safer than smoking. Is this figure just plucked out of the air as some critics claim or is it based on solid scientific evidence? This video and article outline the science that underpins this figure and the leading health organisations that support it.

Where did the estimate come from? This estimate is based on comprehensive, independent reviews of the scientific evidence by both Public Health England (the English Government Public Health agency) and the Tobacco Advisory Committee of the UK Royal College of Physicians.
Increased smoking by taxing e-cigarettes – John Phelan
Last Friday I illustrated a couple of concepts from Econ 101. 'Complementary goods' are those like bread and butter, which are consumed together. As the price of one rises, demand for both goods will fall. 'Substitute goods' are those like butter and margarine, they are consumed instead of each other. As the price of one rises, demand for the other will rise.
ARVIA
The Australian Retail Vaping Industry Association (ARVIA), a member group of the Australian Retailers Association (ARA), has today expressed concern about the potential impact on its members if the Therapeutic Goods Administration (TGA) approves an application to make Heat Not Burn vaping products legal in Australia. Executive Director of the ARA, Russell Zimmerman, said the TGA application made by Phillip Morris International (PMI) would effectively legalise products such as their IQOS product which heats tobacco rather than burns it, but the decision would still ban the nicotine liquids that the majority of Australian vapers currently use.
Against vaping in the UK?
For decades, tobacco companies have attempted to design a safer cigarette as a hedge against the eventual obsolescence of their core products.

The tobacco companies knew, of course, that smoking kills, and they knew that fact would eventually lead to a decline in smoking rates unless something less harmful could be developed.

Ultimately, vaping beat the tobacco companies to the punch by providing an alternative that was significantly less harmful while being just as satisfying. The tobacco companies have pressed on undeterred in their quest to develop a safer cigarette, though, even as they ultimately developed or acquired vaping brands of their own.
---
A look back at how things have moved on or otherwise…
Harry Shapiro
This will be my last blog of 2018. In 2019, I enter year 40 of working in the drugs field, currently as Director of DrugWise, an online drug information service, and as a member of the UK Advisory Council on the Misuse of Drugs and the Secretariat of the All-Party Parliamentary Group on Prescribed Drug Dependence. The drugs work continues, but little did I know when the charity I worked for, DrugScope, fell over in 2015, that 2019 would also be the year when I would be part of a team taking the message of tobacco harm reduction across the world.
But Ignore Teen Drinking and Toking – Brad Rodu
The newly released 2018 Monitoring the Future survey results provide further evidence of a sharp decline in cigarette smoking among high school seniors, coinciding with increased vaping.  The rate of current smoking (in the past 30 days) plummeted to 7.6% from 9.7% the year before. Even more impressive, the rate represents a 60% drop from 2011 (18.7%), which is the year that teens started to vape (evidence here).
---
Visit Nicotine Science & Policy for more News from around the World

---