Vaping Digest December 20th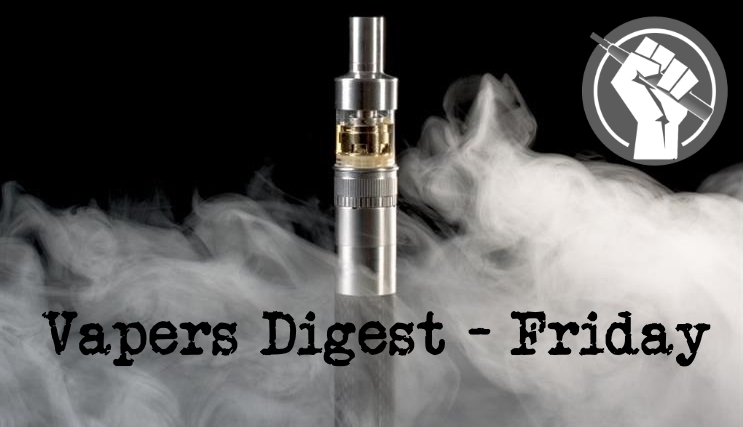 Friday's News at a glance:
Vape Predictions 2020:  – The Incomparable Deceit Of The WHO – FDA Infographic – Expert Reaction to two papers – Massachusetts Department of Public Health – U.S. Prefers Mass Hysteria – Study Highlights 'Fear Agenda' Impact – Mylo Rapped By ASA – Vape Recycling First for NZ – Ireland Attacks Flavours – Vatican Vatican't Vape – Vapers: A Key New Addition – Blame Anti-Tobacco Advocates for Youth Vaping "Epidemic" – China's e-cig industry cuts 10% of staff – Lessons for President Trump – The HHS Smoking Gun – Tobacco harm reduction saves lives – Let's Freak Out About Vaping – Nicotine Science and Policy Daily Digest
Expert Roundup From Scientists, Advocates, Analysts and more…
James Dunworth, Ashtray Blog
What a year it's been for the vaping industry. In the first half of the year it seemed nothing could stop vaping, with smokers switching from tobacco to electronic cigarettes in droves.

Then an outbreak of serious respiratory illness broke out in the USA. While the illness was caused by the use of Vitamin-E acetate in illicit cannabis products, early CDC reports conflated this with vaping. Sources tell me that this conflation was deliberate, and that many in the CDC were appalled at how the situation was handled.
And the Effort to Destroy It – Clive Bates
Imagine a new miracle drug with the potential to prevent one third of fatal cancers, to avoid one in four deaths from cardiovascular disease and to provide relief for six million Americans suffering from  serious lung disease. The side effects of this hypothetical treatment appear to be minimal and people can carry on with normal life while under treatment.

Imagine, too, that ordinary people will purchase this affordable drug at their own expense and on their own initiative in order to take personal responsibility for their own health—and even because they like it. That would be quite a breakthrough.
Dick Puddlecote
Today saw a lot of media coverage over a new report from the World Health Organisation claiming:

Number of males using tobacco globally on the decline, showing that government-led control efforts work to save lives, protect health, beat tobacco

It further boasts that …

[P]ositively, the new report shows that the number of male tobacco users has stopped growing and is projected to decline by more than 1 million fewer male users come 2020 (or 1.091 billion) compared to 2018 levels, and 5 million less by 2025 (1.087 billion).

Wow! A million globally, they say? That is a lot, isn't it? The Director General of the WHO – who once recruited Robert Mugabe as a goodwill ambassador before worldwide disgust forced him to backtrack – is ecstatic …
---

---
Brad Rodu, Tobacco Truth
Following my recent discussion of the FDA's self-proclaimed "laser-targeted" vaping epidemic ad campaign, I turn to the FDA Student Infographic: How Much Do You Know About the Epidemic?, shown in the photo at left.

Clive Bates kindly provides the following translations of the infographic's key elements. More than 5 million U.S. youth are using e-cigarettes. E-cigarettes, also known as "vapes," are becoming increasingly popular among teens.

Hey, time to get with the program. All kids, especially cooler kids are doing it…
Issues Emergency Order Banning the Sale of All Pets for Four Months
Michael Siegel, The Rest Of The Story
In response to an outbreak of multi-drug resistant Campylobacter infections associated with the purchase of puppies from pet stores, the Massachusetts Department of Public Health has issued a temporary, four-month ban on the sale of all animals by pet stores throughout the Commonwealth.

The CDC concluded that the outbreak is being caused by puppies sold by pet stores based on the finding that 88% of the case patients reported contact with a puppy and 71% of these reported contact with a puppy from a pet store.
---
---
e-cigarettes, vitamin E acetate and vaping-associated lung injury
Two studies, published in the New England Journal of Medicine (NEJM), report on the involvement of vitamin E acetate in vaping-associated lung injuries.

Original article: 'Vitamin E acetate in bronchoalveolar-lavage fluid associated with EVALI' by Benjamin C. Blount et al. was published in the NEJM at 18:00 UK time on Friday 20 December 2019.

Special report: 'Syndromic surveillance for e-cigarette or vaping-associated lung injury' by Kathleen P. Hartnett et al. was published in the NEJM at 18:00 UK time on Friday 20 December 2019.
To Sound Policy on Vaping – Joe Nocera
In 2006, I interviewed Matthew Myers, the president of the Campaign for Tobacco-Free Kids, about reduced-harm tobacco products. The idea that people might one day be able to get a nicotine fix without ingesting all the carcinogens derived from burning tobacco was still new. Tobacco companies were pouring millions into research labs trying to make such products a reality, but the only thing on the market was snus, the pouch tobacco product made by Swedish Match AB. Electronic cigarettes, first developed in China in 2003, hadn't yet migrated to the U.S.

Five from Dave Cross, Planet of the Vapes
Researchers at Georgia State University have discovered that the number of adults thinking that vaping is as dangerous or more dangerous than smoking has increased. The study used data from The Tobacco Products and Risk Perceptions Survey, a national online survey of about 6,000 U.S. adults conducted annually by Georgia State from 2014 through 2018.

The number of U.S. adults who perceive e-cigarettes to be at as harmful as, or more harmful than, cigarettes has increased between 2017 and 2018, even prior to the national outbreak of vaping-related lung disease and deaths, a study by tobacco researchers from Georgia State University's School of Public Health has found.
Allen Carr's Easyway has a hobby of scanning all forms of social media looking for things to whine to the Advertising Standards Authority (ASA) about. Last month ASA rejected the 'quit for cash' company's complaint about Blu, this month Mylo Vape UK has not been so lucky. Last year Planet of the Vapes was cleared by the ASA following an anonymous complaint.

The ASA investigated two complaints made by Allen Carr's Easyway relating to an advert in an Instagram post by Mylo Vape UK, an pod style e-cigarette retailer, posted 2 October 2018, including the caption "#repost @rae_eleanor loving her #mylo" alongside the image of someone with an e-cigarette.
New Zealand now has its own free nicotine vaping products recycling programme. A newly announced partnership between leading vape company Vapo and Alt New Zealand, and innovative recycling giant TerraCycle, means that Vapo and Alt brands of e-cigarette waste can be dropped off at any Vapo store for recycling.

The drop off facility is the first phase of the programme, which will be expanded next year to enable individuals to send their vaping equipment direct to TerraCycle, with the mailing costs covered by Vapo and Alt.
The Irish Heart Foundation and Irish Cancer Society have called for strict restrictions on e-cigarette flavours and advertising to be included in the upcoming legislation banning the sale of e-cigarettes to under 18s. The government has also announced that a number of restrictions will be placed on e-vape advertising during 2020.

The Irish Heart Foundation and Irish Cancer Society commissioned focus group research by IPSOS MRBI, among third and fourth year students, asking for opinions about flavours and packaging design.
Vatican City is a city-state surrounded by Rome in Italy. It is the headquarters of the Roman Catholic Church; home to the Pope, art and architecture like the Sistine Chapel with its Michelangelo ceiling. Having already banned cigarettes, the Pope has now decided that vaping should also be banned.

In 2017, the Pope banned the sale of tobacco cigarettes despite the fact sales had been a source of sizeable revenue for the church. Some said at the time that if the Catholic church was serious about helping smokers then this would be the ideal time to open up the first vape shop in the Vatican.
---

---
To the 'Leave Us Alone' Coalition – Grover Norquist
Some politicians want to ban vapes, water vapor products that millions of Americans now use instead of smoking combustible cigarettes. Who decides who will run your life — you or the government? This is the running argument that created America.
The American Revolution began when the colonists feared losing key liberties to the British crown. Small tax hikes, new mandates, and regulations sparked the war that won our independence.
For Youth Vaping "Epidemic" – Michelle Minton
Like most teenage crazes, youth interest in e-cigarettes once seemed a passing fad. In the early years youth vaping skyrocketed, but by 2016 began to plummet. Teens remained uninterested in e-cigarettes in 2017. But, the following year, something suddenly rekindled their interest. In 2018 the number of high school students who vaped jumped by 78 percent. According to the results of this year's national survey, released this month, that number only increased in 2019. The question is: what renewed adolescents' interest in e-cigarettes and what can policymakers do about it?
Somehow Just Got Even Weirder – Alex Norcia
On Tuesday, the Food and Drug Administration (FDA) announced that it would permit the sale of two new tobacco products: Moonlight and Moonlight Menthol, cigarettes that contain a much lower amount of nicotine than others currently available on the market.

Vape advocates and experts skeptical of cigarettes, whatever their nicotine content, were not happy.
China's e-cigarette industry has laid off around 50,000 people since October, roughly 10% of its workforce, trade association estimates showed, as tightened regulation in the United States and China smother the once-booming sector.

Ao Weinuo, secretary of the Electronic Cigarette Industry Committee, late on Thursday said media scrutiny of vaping in the United States, the largest e-cigarette market, has also caused demand to wane just as China banned online e-cigarette sales.
From the US Vaping Crisis – Greg Conley
Today, we stand at the ragged edge of one of Washington's most virulent recent health policy wars, awaiting President Trump's new plan on vaping products after months of heated debate clouded by personal agendas, fake news, and fearmongering. Activist groups fueled by deep pockets have spent the last three months calling for President Trump to enact broad bans on legal flavored products used by millions of American adults to quit cigarettes. With cigarettes killing more than 450,000 people per year, providing these people and their families with a dramatically less harmful alternative to combustible cigarettes isn't just good policy, it's the right thing to do.
Imperial Brands calls for legalisation of snus in EU
Following a new literature review* of the harm reduction potential of snus, Imperial Brands – owners of leading snus brand Skruf – has urged the European Union (EU) to re-examine its position on the product.

Published in the prestigious Harm Reduction Journal, the scientific literature review encouragingly indicates snus use is not a significant risk factor in the development of several cancers (inc. lung, oral and pancreatic), COPD, cardiovascular disease or diabetes.

Jacob Grier
As the federal government has backed away from a ban on flavored e-cigarettes, opponents of the products are shifting their attention to state and local levels. It's easy to understand the reasons for concern: Vaping is novel, we're protective of the youth, the wave of lung illness is frightening, and the carnage caused by cigarettes has made us wary of nicotine in any form. But getting risk right requires taking a step back, calmly evaluating the evidence, and not giving in to panic.
Steve Pociask & Krisztina Pusok
For months, the Department of Health and Human Services (HHS) has been telling us that young people are becoming hooked on flavored e-cigarettes. Now, we know that not only was HHS wrong, but they knew better and were outrightly dishonest to the American public.

After months of sitting on the information, the CDC finally released the National Youth Tobacco Survey (NYTS) results, and unsurprisingly, the responses confirmed that vaping flavors are not at the root of the youth smoking crisis in this country.
Canadian Student Tobacco, Alcohol and Drugs Survey 2018-19
The 2018-19 Canadian Student Tobacco, Alcohol and Drugs Survey (CSTADS), previously called the Youth Smoking Survey (YSS), is the tenth cycle of data collection on student tobacco, alcohol, and drug use. A total sample of 62,850 students in grades 7 to 12 (secondary I through V in Quebec) completed the survey, which ran between October 2018 and June 2019 in ten Canadian provinces. The weighted results represent over 2 million Canadian students. CSTADS 2018-19 collected information on tobacco use, alcohol and drug use, as well as information on bullying and sleep.
Jacob Sullum
Between 2018 and 2019, according to the latest results from a government-sponsored survey, illegal drug use rose slightly among eighth-graders and 10th-graders while falling slightly among 12th-graders. None of the changes was statistically significant, and the story for marijuana is similar. Meanwhile, drinking and smoking continued to fall in all three grades, and there were statistically significant drops in heroin use by 10th-graders and prescription opioid use by 12th-graders.
Of e-cigarettes and smoking cessation: A prospective study of smokers in England
Sarah E. Jackson, Lion Shahab, Robert West, Jamie Brown
In England, dual use of e-cigarettes is not associated with reduced overall quit rates compared with exclusive smoking or dual use of NRT. However, dual use of e-cigarettes is associated with a slightly higher quit attempt rate than exclusive smoking but lower than dual use of NRT.
Share e-cigs insights with lawmakers
Global experts on tobacco control policy shared their insights on e-cigarettes and tobacco harm reduction with members of the Joint Trade and Health Committee of the House of Representatives during the committee hearing on Dec. 10.

The hearing tackled several bills that seek to regulate the manufacture, importation, packaging, use, sale, distribution and advertisement of e-cigarettes and heated tobacco products.
Finally… If it's got "Ban" in the title:
---
A look back at how things have moved on or otherwise….
Jim McDonald, Vaping 360
Announcing the results of its annual Monitoring the Future survey, the National Institute on Drug Abuse (NIDA) ignored the good news about the continued low rates of teenage smoking and binge drinking, and instead chose to focus on occasional teen vaping to support FDA Commissioner Scott Gottlieb's epidemic narrative.

The word "smoking" appears just once in the three-page NIDA press release. "Vaping," "vape," "e-cigarette," or "JUUL" appear a total of 40 times, driving home the agency's message that the country is facing a public health threat from smoke-free vaping.
Royal College of Psychiatrists
Summary of key messages and advice

Smoking rates among people with SMI are much higher than in the general population, contributing to increased morbidity and

premature mortality among this group. Psychiatrists are well placed to help them stop smoking. The decline in prescriptions of stop smoking treatments needs addressing: greater investment is required in stop smoking services – tailored to meeting the needs of people with SMI – which provide access to a range of effective treatments.
Dave Cross, Planet Of The Vapes
The Viscount Ridley requested 'the pleasure' of Planet of the Vapes' (POTV) company at the official launch of the Global State of Tobacco Harm Reduction report, at Parliament this Tuesday. A wide range of stakeholders, including MPs, researchers, advocacy groups and individual vapers heard from Viscount Ridley, Mark Pawsey MP (Chair of the APPG for Vaping) and Professor Gerry Stimson.
---
Visit Nicotine Science & Policy for more News from around the World

---