Vapers Digest March 16th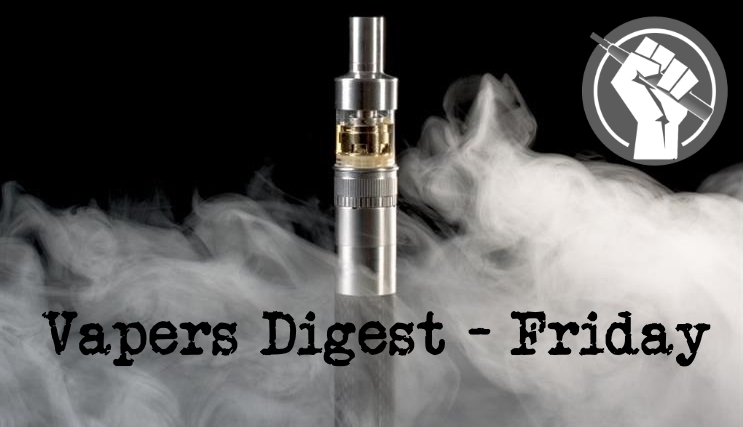 Friday's News at a glance:
Plain Packs: The Failure Continues – 'Weak' evidence linking e-cigarette use with future smoking – 'Oh what a lovely war' – on reason itself – Smokers avoiding NRT and e-cigarettes – Tobacco Product Taxes Are Regressive – Big tobacco keeps tabs on growth of vaping – Vaping is safer for reducing risk of fires – Chinese Youth Using Vapes to Quit – Expert reaction to modelling study – A New Smokers' Blog – Forest criticises UK government plan – How Will FDA's Low-Nicotine Cigarettes Affect Vaping? – Smokers Deserve Improved FDA Regulation – The deregulated interregnum – Fontem Ventures Buys Stake in Cosmic Fog – Nicotine Science and Policy Daily Digest
Dick Puddlecote
Tuesday saw news from Australia and France on the embarrassing failure of plain packaging since it was introduced, but what about here in the UK? For such a much-vaunted and "urgent" tobacco control policy, there has been very little exultation at its effect here, in fact the silence has been deafening.

Well, maybe it's because there is nothing much to shout about. According to Convenience Store magazine [from page 33], it's had no impact whatsoever.
NHS Choices
"Children who tried e-cigarettes are 12 times more likely to start smoking tobacco," is the hard-hitting headline from the Mail Online. But the link is not as robust or clear-cut as this would have you believe.

The story is based on a survey of more than 1,000 young people from across the UK. They were asked about their use of cigarettes and e-cigarettes – commonly referred to as "vaping" – at the start of the study and again after 6 months.
Paddy Costall, Knowledge Action Change
Keeping up to date with the proceedings of the World Conference on Tobacco or Health, in Cape Town recently, I was reminded of the wonderful film, directed by Richard Attenborough – 'Oh what a Lovely War!' – which summarises and comments on the events of the First World War using popular songs of the time, many of which were parodies of older popular songs, and using allegorical settings such as Brighton's West Pier to criticise the manner in which the eventual victory was won.
---

---
Over misunderstanding of risk – Emma Wilkinson
Public misconceptions about the dangers of nicotine replacement therapy have resulted in many smokers trying to stop without use of cessation aids.

More than half of smokers attempt to quit by going 'cold turkey' without any aid to help them break the habit, Public Health England (PHE) has said.

PHE said smokers were confused about the dangers of nicotine and thought they would be better off without patches, gum or e-cigarettes.
Carl V. Phillips, Daily Vaper
A great deal of harmful nonsense came out of tobacco control's World Conference on Tobacco or [sic] Health. Some of it was comically ironic, while some was so utterly horrifying that it is easy to overlook anything else. But it is worth highlighting a few details, like the attempt to redefine the concept of regressive taxes. A presentation by Frank Chaloupka, a tobacco controller whose work normally cloaks absurd claims in complicated economic analysis, made the simple absurd assertion that tobacco taxes are not regressive because poor people are more likely to be affected by them. This is nonsensical by any defensible definition of regressive tax.
Camilla Hodgson
Sweet smelling "vape" shops that sell electronic cigarettes and vapers puffing out clouds of fragrant white smoke have become common sights on UK high streets. As traditional cigarette smoking has become less fashionable and vaping more popular, big tobacco has muscled in on this once-niche scene.

The number of smokers in the UK has been falling since 1974 and it is now the world's second biggest vape market after the US. At the last count, there were about 8m smokers of regular cigarettes in the UK, but there were also 3m vapers, up from 700,000 in 2012.
---
---
London Fire Brigade
Although four times as many people smoke as they do vape, there were almost 300 times more smoking related fires in London than those caused by e-cigarettes in the last five years, meaning vaping is a safer option in terms of reducing the risk of fires. Since 2013/14, there have been a total of 20 fires linked to e-cigarettes.

Vapers are also urged to take extra care and not leave their e-cigarettes on charge while they are not at home or asleep, ensure they always use the correct charger and never charge an e-cigarette if it's damaged.
Mawsley, Planet of the Vapes
Little has been known about the characteristics of electronic cigarette use in China, especially among teens, and how it is associated with smoking cessation behaviour, according to researchers. Hopefully the findings will help to inform the Chinese government to be considered in its approach.
---

---
On electronic cigarettes in the US
Publishing in PLoS One, scientists report that based on the existing scientific evidence related to e-cigarettes and optimistic assumptions about the relative harm of e-cigarette use compared to cigarette smoking, e-cigarette use currently represents more population-level harm than benefit.
Frank Davis
I'm delighted to report the launch of a new smokers' blog today: Smoking BanditsInternational Blog. I'm always pleased to see new smokers' blogs appear. The more people that speak up the better. I'll be adding it to my blogroll, of course.

This one is a co-operative blog, based in Germany, with a distinctly international outlook. Its articles appear in three languages: English, French, and German.
To introduce excise duty on heated tobacco
Forest has criticised the government's plan, revealed today, to introduce an excise tax on heated tobacco.

Director Simon Clark said, "Heated tobacco may not be as safe as electronic cigarettes but current evidence suggests there is almost certain to be a reduction in risk for cigarette smokers.

"Why would any government want to undermine the future of a product that may encourage smokers to quit voluntary and without coercion?"

Affect Vaping? – Jim McDonald
The FDA is planning to take most of the nicotine out of cigarettes, to try and move smokers to safer forms of nicotine. How does that affect vaping?

FDA Commissioner Scott Gottlieb announced last July a comprehensive approach to nicotine and tobacco regulation that would reduce nicotine in cigarettes, while encouraging smokers to migrate to low-risk nicotine products. At that time the agency extended the deadline for deemed tobacco products like vapes to submit applications for marketing approval to 2022.
Is A Dire Threat To Vaping – Carl V. Phillips
The FDA has officially released the advance notice of proposed rulemaking for the plan they have been hyping for most of a year, mandating very low nicotine content for cigarettes. There will be much to report about this over the coming weeks. But it is worth starting with the not-so-simple question: What would this rule (if it happens, and that is a huge "if") mean for vaping? A simplistic analysis suggests it would be positive, but after thinking a few moves ahead it looks quite dire.
Brad Rodu, Tobacco Truth
It's no secret: E-cigarettes are vastly safer, increasingly popular and successful substitutes for traditional tobacco cigarettes.  More and more smokers are replacing combustible tobacco with vapor technology to reduce their health risks (here), or even to ultimately eliminate their nicotine consumption. This is a particularly important development for my home state Kentucky, where smoking and lung cancer rates are among the highest in the country.
Re-ignites harm reduction debate
Anti-smoking campaigners in Australia were given a nasty shock this week with news that the consumption of cigarettes has risen for the first time in more than a decade.

The Australian Bureau of Statistics (ABS) revealed that just under a $4b was spent on tobacco products in the final quarter of 2017 – a 2.6 per cent rise compared with the same period 12 months earlier.
---

---
Eric Crampton
E-cigarettes in New Zealand are in a really interesting spot right now. Last year, the then National-government signaled that a new legal regime for vaping was on its way. At the time, importation of nicotine-containing vaping liquids for personal consumption was allowed, but retail sale within New Zealand was not. That wasn't to say it didn't happen, but you kinda had to be a Wellington hipster to know where to get the stuff.
The fact service stations have now joined calls to legalise nicotine e-cigarettes shows how much harm current tobacco policies are causing, says the New Zealand Taxpayers' Union.

Taxpayers' Union Executive Director Jordan Williams says, "We are clearly at a turning point when even a sector that makes significant money from selling tobacco now agrees that we need to legalise the safer alternative."
Fontem Ventures, a pioneer in e-vapour technologies, has acquired an equity stake in Cosmic Fog Vapors, an iconic innovator in high quality e-vapour liquids.

Founded in 2013 by Brant Peto and Rob Crossley, Cosmic Fog has an excellent reputation for developing unique flavours with significant appeal to adult vapers. Their products are sold in more than 5,000 vape stores in the USA and in more than 60 countries around the world.
Mawsley, Planet of the Vapes
The American Cancer Society has put some noses out of joint by shifting it's position slightly towards vaping as hospital vaping is called for in New Zealand. If Big T hopes to build on that, then they first need to sort out being dumped by BNP Paribas Asset Management and attacks on heat not burn in Lithuania. In the UK, Trading Standards are clamping down in Scotland, there's a ban in Swansea, and experts call for a cut in red tape.
---
A look back at how things have moved on or otherwise….
"This is a truly excellent article, very well said." – Dick Puddlecote
Robert Innes, Vaping Post
Vaping is a broad church with advocates holding very different views. From my own perspective, I was so enthralled by my release from cigarette smoking that I wanted others to enjoy that same condition. However, I failed, at least initially, to recognise, rather, to recognise fully, that there are many smokers who would not share the idea that everyone wants to quit smoking: That many smokers enjoy the habit and engage in it having decided for themselves that this is what they want to do.
The first thing we should do is make snus legal
Christopher Snowdon, Spectator Health
In Sweden, the smoking rate has fallen to a mere nine per cent, as the New Scientist reports…

"Sweden is lighting the way to a cigarette-free world. The Swedish government has released data showing that the proportion of men aged between 30 and 44 smoking fell to just 5 per cent in 2016. 

Overall, just 8 per cent of Swedish men now smoke on a daily basis – itself a record-low percentage – compared with a European Union average of just over 25 per cent. The proportion of Swedish women who smoke also continues to fall, and is now 10 per cent."
---
Visit Nicotine Science & Policy for more News from around the World

---