Vapers Digest March 19th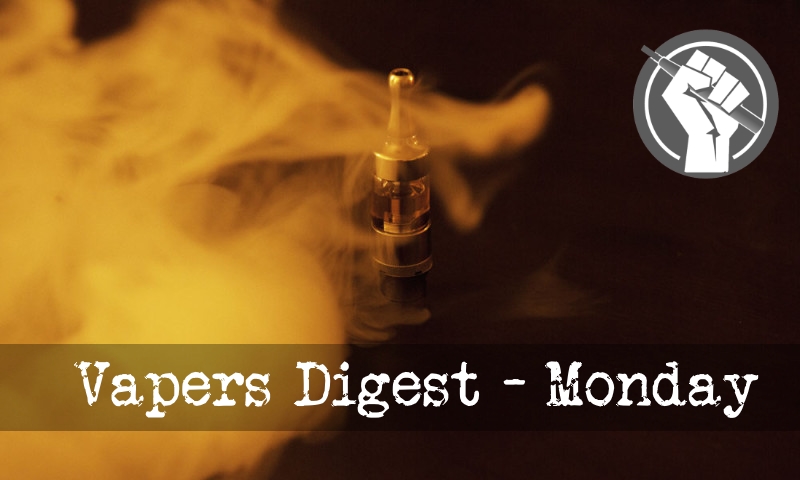 Monday's News at a glance:
Our Job Is Difficult, So The World Must Change – Lies, damn lies and public health misinformation – More nonsense about vaping – Take the VApril Challenge – Prisoners to be banned from smoking – Junk Science of the Week Award – Does Vaping Cause Popcorn Lungs? – Tobacco Control Desperately Fears Dialogue – FDA Creates Cigarette Confusion – New Global Survey Points to Key Issues – Banishing vaping to outdoor smoking areas 'not acceptable' – Did Cosmic Fog Sell Out to Big Tobacco? – Attack of the Vapours – Solons told: e-cigarettes need new rules – Vaping In The News – Nicotine Science and Policy Daily Digest
So The World Must Change – Dick Puddlecote
We've known for a while that anti-smokers – in fact, any person with a beef about what other people enjoy that they personally dislike – want the world to revolve around them. They want the moon on a stick and a unicorn for Christmas, you see, so they demand that society re-orders itself to fit with their individual likes and dislikes.
And public health misinformation – Harry Shapiro
A disturbing proportion of the US population believe it's the nicotine in cigarettes that causes cancer. This was the result of an analysis of FDA 2017 Health Information Trend Survey data conducted by Pinney Associates and presented at the Society for Research on Nicotine and Tobacco's 24th annual meeting in February.
---

---
The Stats Guy
A paper was published in PLoS One a few days ago by Soneji et althat made the bold claim that "e-cigarette use currently represents more population-level harm than benefit".

That claim, for reasons we'll come to shortly, is not remotely supported by the evidence. But this leaves me with rather mixed feelings. On the one hand, I am disappointed that such a massively flawed paper can make it through peer review. It is a useful reminder that just because a paper is published in a peer reviewed journal does not mean that it is necessarily even approximately believable.
Is your new year resolution to stop smoking floundering? Finding it difficult to break the habit? Tried in the past but been unsuccessful? You're not alone – there are some 7m other smokers just like you in the UK.

Take our 3 step VApril Challenge in cities across the UK and give yourself the best chance of giving up cigarettes for good.
---
---
Ian Heath, Jersey Evening Post
PRISONERS in Jersey are to be banned from smoking within a year in a bid to improve their health, the Home Affairs Minister has announced.

Inmates will, however, be allowed to continue using e-cigarettes after Island health professionals this week agreed that despite growing concerns about the health impact of 'vaping' it is an acceptable pathway to stop smoking.
Carl V. Phillips, Daily Vaper
Tobacco controllers at the recent World Conference on Tobacco or [sic] Health produced comic irony, various bits of junk science and a real threat to the concept of universal human rights. But they usually get most excited when they are trying to hurt someone, stirring up hatred to rally their tribe. Playing the role of Emmanuel Goldstein for the Three Days Hate in Cape Town was the Foundation for a Smoke-Free World, a new independent anti-smoking organization that supports switching to low-risk products.
Mawsley, Planet of the Vapes
"E-Cigarettes Serve as Gateway to Smoking for Teens and Young Adults, Pitt and Dartmouth Collaboration Finds", cries the press release. The problem starts with the fact that they've left out "again" from the title, and substituted "finds" for the phrase "made up". Debunking the study is easy given that the authors repeat a version of it annually.
---

---
Lindsay Fox, ValueWalk
While the nickname "popcorn lung" may sound rather fun than threateningly, it's a serious lung disease. A formal term for it is Bronchiolitis Obliterans. This medical condition causes a narrowing of the tiniest and deepest airways within the lungs. It can bring on many symptoms, from coughing and wheezing to shortness of breath and fatigue.

Bronchiolitis Obliterans is a rare incurable disease. There is no cure for it, and it is considered life-threatening. A biopsy is the only sure way to diagnosis popcorn lungs.
Needs and Gaps in Fight to End Smoking
The Foundation for a Smoke-Free World released findings today from a global survey to better understand smokers, their experiences, and challenges they face when they try to quit smoking. The survey also highlights their awareness regarding the harm caused by smoking and how their perceptions of cigarettes, alternative products, and nicotine influence their motivation to move away from smoking. The data will shape the development of research to determine the best solutions to accelerate the end of smoking across diverse cultures and economic conditions.
A Potential Step Forward for European Health – LIAF
Use of e-cigarettes in the world is growing continuously. However, Europe is falling behind. It is essential that Europe exploits the potential of this technology to reduce the impact of smoking on European Public Health. For this reason, the Italian Anti-Smoking League (Lega Italiana Anti Fumo – LIAF), hosted by MEP Giovanni La Via (former Chair of the ENVI Committee), is bringing experts and policymakers to the European Parliament to discuss the benefits of electronic cigarettes. The event takes place on 20 March 2018 at 12.30 p.m. and will allow experts to exchange views on the potential of e-cigarettes to help reshape European health.

Jeff Stier, Consumer Choice Center
The FDA today announced a plan to move forward to develop a regulation that would mandate a reduction in nicotine in combustible cigarettes to a very low level. The FDA justified the move by stating that such a mandate could help current smokers quit, and prevent experimental users from becoming regular smokers.
'Not acceptable' – Matt Rowland
When the FDA deeming regulations were first published, many vapers were surprised to learn that their e-liquids and vaping devices are now classified as tobacco products. Sure, most vaping enthusiasts are not strangers to those sideways glances and turned-up noses from passersby when they begin puffing away on their favorite vape mod. But the new deeming regulations seemed like government regulation gone amuck.
Jim McDonald, Vaping 360
California e-liquid manufacturer Cosmic Fog has sold a share of its business to Fontem Ventures, a Netherlands-based subsidiary of Imperial Brands (formerly Imperial Tobacco Group).

According to a Fontem press release, the company bought "an equity share," but offered no details on how large a percentage of Cosmic Fog it now owns.
---

---
Mawsley, Planet of the Vapes
In an increasingly polarised vaping field, facts are becoming casualties as opponents to vaping rely more on fiction in order to influence others. John Conway is an assistant principal at Jamestown High School. He claims he suffered from the symptoms of nicotine poisoning after touching a juice bottle.
Philippine Daily Inquirer
Local vapers are appealing to legislators to apply a different set of rules for electronic cigarettes amid a growing list of evidence that showed e-cigarettes, or vapes, were a less harmful alternative to tobacco and was a viable tool for those who want to quit smoking.

Vapers Philippines recommended the exclusion of e-cigarettes in the Tobacco Regulation Act (RA 9211) and the adoption of a separate set of regulations for e-cigarettes in terms of advertising and promotions, sale, distribution and use.
Kevin Crowley, Vaping Links
Smokers Deserve Improved FDA E-Cigarette Regulation: Pass Cole-Bishop ~ Report from the WCToH 2018 conference in Cape Town ~ #WCTOH2018 (5 of them) ~ Italian Authorities Raid Vaping Expo, Seize Product ~ IQOS?(2 of them) ~ Tobacco Product Taxes Are Regressive. And Punitive.~ The FDA wants to reduce the nicotine in cigarettes to "non-addictive levels" ~ How Will FDA's Low-Nicotine Cigarettes Affect Vaping? ~ FDA's Low-Nicotine Cigarettes Rule Is A Dire Threat To Vaping ~ Bonus Section!
---
A look back at how things have moved on or otherwise….
New York doctors say No to harm reduction – Fergus Mason
The European Union's first moves towards imposing a tax on vapour products suffered a blow this week, when the results of their recent public consultation were released. Meanwhile health officials in New York state have been telling smokers not to switch to vaping, although 80% of the state's teen tobacco users seem to have done exactly that.
Paul Barnes, Facts Do Matter
Regular readers will of course remember fondly that the EU held another "public consultation" recently, with the closing date of last month. This so-called public consultation was all about the taxation of manufactured tobacco products. Of course, being the EU and with the shiny new Tobacco Products Directive it just had to include the humble e-cigarette, despite (of course) neither the devices themselves, nor the liquid refills containing any actual manufactured tobacco at all – natch.

The final results are in, and as usual there's a few talking points
---
Visit Nicotine Science & Policy for more News from around the World

---