Vapers Digest – March 21st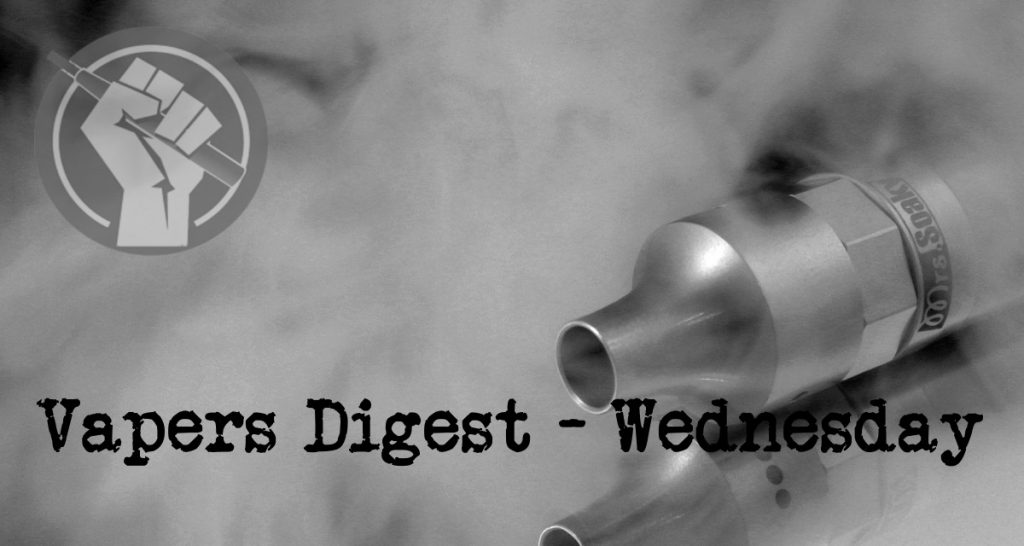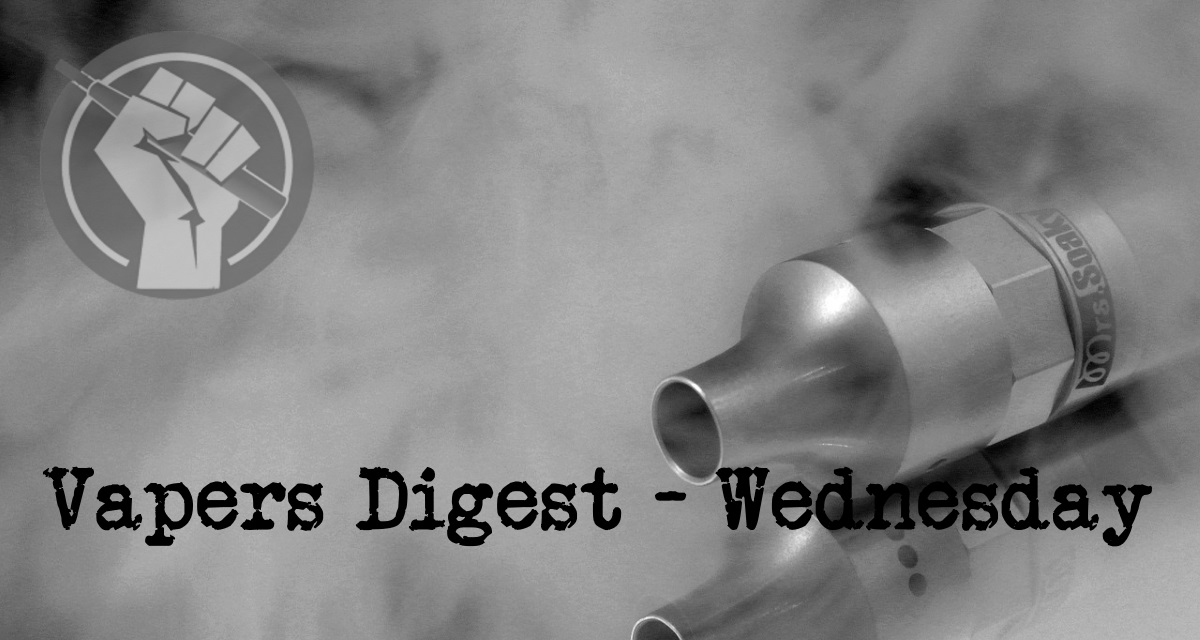 Wednesday's News at a glance:
Seizing the opportunity: E-cigarettes and Stop Smoking Services – linking the most popular with the most effective ~Looking back, but forwards too – guest posting by Louise Ross ~ Happy retirement, Louise Ross ~ UK Launches 'Vaping Awareness Month' To Harness The 'Overwhelming Potential' Of New Technologies ~ Australia Is Failing Smokers ~ The War on Flavors: FDA Fires the First Shot ~ FDA is About to Crack Down on Non-Compliant Vapes ~ LIAF: Experts at the European Parlament – E-Cigarettes Are a Potential Game Changer for European Health ~ Research & Commentary: State Policies Help Promote Misperception That Nicotine Causes Cancer ~ America needs to reconsider smoking alternatives ~ Funding fossils ~ Readers question Straits Times on article stating e-cigarettes creates more smokers than helping them quit ~ Mullane: High schoolers vaping? Who can blame them?
Martin Dockrell, Public Health Matters UK
Our latest e-cigarette evidence review, authored by leading academics in the tobacco control field, found that e-cigarettes (ECs):

appear far less harmful than smoking cigarettes
are the most popular quit aid
have a role to play in reducing smoking rates

Use has increased in recent years and EC have become the most popular stop smoking aid in England, with the majority of users now ex-smokers having made the switch completely.
Loise Ross, The Counterfactual
As she retires a hero to many in the field of tobacco harm reduction and public health, Louise Ross has penned this blog, which starts below…

Looking back, but forwards too

In December 2017, I realised there were so many things I wanted to do apart from working for Leicester City Council, especially as my employer was being forced to severely cut our very successful service and blend it with other lifestyle services.

I announced my retirement, planned for the end of March 2018, explaining my rationale to each team member individually (an emotionally taxing episode; we're a very close team) with the words 'I want to enjoy some free time because you just don't know what's around the corner.'
Mawsley, Planet Of The Vapes
Louise Ross is an instantly recognisable name to those who have been in and around the vaping community over the last four years. We have covered her numerous efforts to bring about a paradigm shift in smoking cessation advice, so it is now bittersweet that we wish her the happiest of retirements.
Steve Birr, The Daily Vaper
Harm reduction leaders in the United Kingdom are launching the first ever "Vaping Awareness Month," which seeks to clear up misconceptions about the devices and help smokers transition off cigarettes.

The U.K. Vaping Industry Association (UKVIA), a leading advocacy group for electronic cigarettes, announced the campaign Tuesday in a statement saying they want to target the large swath of the smoking population that still hold false beliefs about the health consequences of vapor products when compared to combustible tobacco.
---

---
Mawsley, Planet Of The Vapes
The latest report by The Tobacco Atlas makes a bold claim that Australia is winning its fight against cigarettes. Unfortunately for the authors, the truth is very different – and people are being let down by the nation's inability to deal with harm reduction in an adult manner.
By totally ignoring current trends, the report claims that Australia's selective analysis concluded that there are 108,228 fewer smokers between 2012 and 2015 thanks to its policy decisions.
---
Yes, no child should take drugs, or have sex, or drink excessively, or do other bad stuff. But what if they, being teenagers, ignore the instructions of @US_FDA ? What's your next move? Why should harm reduction start at 18? https://t.co/KgmDr9FaOd

— Clive Bates (@Clive_Bates) March 20, 2018
---
Jim McDonald, Vaping 360
The FDA has issued a call for comments on regulation of flavored tobacco products, including e-liquids. As we reported previously, the wording of the FDA document betrays the agency's intention to restrict supposedly "youth-appealing" flavors.

The advanced notice of proposed rulemaking (ANPRM) will be published today in the federal register. Today is the first day of a 90-day period during which interested parties can make comments.

In the weeks ahead, vaping organizations like CASAA, SFATA, VTA, and the American Vaping Association will offer suggestions and advice for vapers and vape vendors on the content of their submissions to the FDA. Vaping360 will try to consolidate these, and publish guidance for our readers to use.
Jim McDonald, Vaping 360
The FDA looks ready to begin enforcing the most restrictive of the existing regulations written into its Deeming Rule: the ban on innovation of products after the grandfather date. Most vapers know the date by heart: Aug. 8, 2016.

That's the date after which no new vapor product can come to market without first successfully going through one of the three pathways the agency offers: substantial equivalence (SE), premarket tobacco application (PMTA), or modified risk tobacco product (MRTP). Getting approval to market new products through those routes is probably impossible for the vast majority of independent vaping companies.
---

---
LIAF – Lega Italiana Anti Fumo, Business Wire
The panel discussion at the EU Parliament recognises the potential benefits of electronic cigarettes and for European countries to treat these products as regular consumer products to ensure equal access for all Europeans.

Following a debate in which leading scientific experts presented the state-of-the-art evidence around e-cigarettes, it became clear that public health is increasingly moving on from an approach that solely advocates 'quit-or-die' to a harm reduction strategy.

"I'm glad to have brought the Parliament attention to this important issue for public health. Today we have listened to the results of scientific studies and researches from a high-level expert's roundtable, which have illustrated to us the advantages of electronic cigarettes and the potential public health benefits that these products pose when compared to the conventional cigarettes. As decision-makers, we need to take into considerations these results, confront with all the relevant actors involved in the process, and offer to these innovative products a clear regulatory environment." – Giovanni La Via, Member of the European Parliament.
Lindsey Stroud, The Heartland Institute
In this Research & Commentary, Lindsey Stroud examines a new survey that finds adults erroneously link nicotine to cancer and how state policies on tobacco harm reduction products help to influence this misperception.

According to a recent survey, a "majority of adults erroneously link nicotine to cancer." The findings reveal a majority of Americans incorrectly believe that nicotine causes cancer and other health risks. These widely-held, false notions regarding the adverse health effects of nicotine may undermine its presence in tobacco harm reduction (THR) products, such as smokeless tobacco, heat-not-burn products, and electronic cigarettes. Since their introduction, THR products have helped millions quit smoking more-detrimental combustible cigarettes.

Earlier this year, the American Lung Association (ALA) concluded that the U.S. is not doing enough to help Americans stop smoking. A quick glance at the statistics and those findings appear slightly harsh. Smoking rates in the US have tumbled from 20.9 percent of adults in 2005 to 15.5 percent in 2016. This decline has undoubtedly been a major public health success, yet the ALA is still not satisfied.
Head Rambles
Last night I read a good piece over at That Got Me Thinking. Before I link to it, he in turn links to an archived radio interview with our Great Friend Luke Clancy. The link is awkward [it involves tracking through a very long programme to find the right spot] and in my usual selfless fashion have provided just the interview without the rest of the programme:-
---

---
, The Online Citizen
In the Straits Times report dated 19 March, it is stated that a recently released study funded by the National Health Institutes of the United States found that e-cigarettes do far more harm than good. The study, led by Associate Professor Samir Soneji of the Dartmouth Institute, the health services research and education centre at Dartmouth College, was said to be based on simulation modelling.

The study found that for every smoker who quits with the help of e-cigarettes, 80 others would pick up the habit following exposure to e-cigarettes. ST wrote that the result of this study lends strong support for Singapore's total ban on e-cigarettes that became effective last month (February).
, The Intelligence
Educrats and parents are "alarmed" that high school students are vaping something called "Unicorn Poop."

U-Poop is among many vape oils available to kids who use e-cigarettes, battery-powered gizmos that come in a variety of styles, one resembling a flash drive, according to a report in Monday's papers.
---
A look back at how things have moved on or otherwise….
Brian Fojtik, Reason Foundation
Rhode Island Gov. Gina Raimondo's state budget plan would change the definition of "other tobacco products" to include e-cigarettes and would impose a new 80 percent wholesale tax on these products.

This week the state's House Finance Committee will take testimony and consider the governor's proposal.

Nearly everything about Gov. Raimondo's approach to this issue runs counter to the goals of improving public health and reducing smoking. When Rhode Island governors have proposed similar taxes in the past, the legislature has wisely rejected them — and they should reject this ill-conceived tax.
Simon Clark, Taking Liberties
I was asked to talk about vaping etiquette on BBC Radio Guernsey this morning.

Inevitably, no sooner had I tweeted this exciting news than one or two vapers asked why the director of Forest, rather than a vaping advocate, should have been given this onerous responsibility.

Well, I don't think you have to be a vaper to have an opinion about vaping etiquette.

Likewise you can have a view on smoking etiquette without being a smoker.
Frank Davis
Something I came across last week:

Vivek Murthy, the surgeon general of the United States, has said many times in recent years that the most prevalent health issue in the country is not cancer or heart disease or obesity. It is isolation.

I keep reading statements along these lines. I live the life of a hermit these days, pretty much. I'm an exile in my own country. Whole days can go by without me actually saying a word to anyone at all. Although I'm of course writing and reading stuff here every day, so I never feel isolated. And in some ways isolation is a good thing: you can think about stuff without being interrupted. No wonder the hermit on the hill was often a wise man as well. So where's the danger in isolation?
---
Visit Nicotine Science & Policy for more News from around the World

---