Vapers Digest March 23rd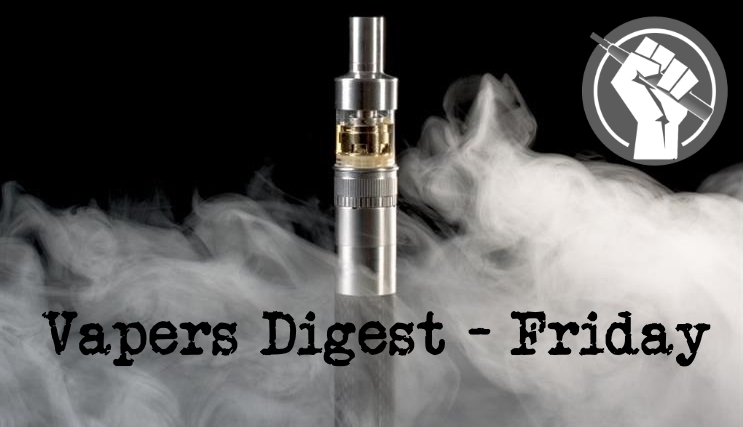 Friday's News at a glance:
TUC will not see – How many councils in Yorkshire & Lincolnshire ban vaping in taxis? – An Outbreak Of Common Sense In Sheffield – The Scream Test Revisited – Vape Marketing Discovered At A Vape Marketing Event! – What Is A Model (And What Is Not) – RACP Draft Policy on Electronic Cigarettes – Kentucky Tobacco Taxes – Smoking Rate Drops Below 15% – FDA Announces Plan To Ban Flavors – Anti-Smoking Bigots – Sweanor Attacks The WCTOH – Is New Zealand's Smoke-free 2025 Initiative on Track? – Greece takes protective stance – Two Indian States Issued Notices To Ban E-Cigs – HK smokers butt out – Could E-Cigarettes be the solution – Nicotine Science and Policy Daily Digest
New Nicotine Alliance
Last Wednesday, the All Party Parliamentary Group for E-Cigarettes convened in Committee Room 18 at the House of Commons and the NNA was represented.

The subject of discussion was a very promising proposal to change the policy towards risk-reduced products on the parliamentary estate. Namely, that parliament – in keeping with the goal to "maximise the availability of safer alternatives to smoking" in the government's latest Tobacco Control Plan – should be setting an example to businesses up and down the country
Andrew Allison, The Freedom Association
The figures are better than I thought they would be. We sent freedom of information requests to the 28 councils in Yorkshire and Lincolnshire that are responsible for licensing. 27 responded. Out of those 27 councils, 8 ban vaping in one way or another. They are Bradford, City of York (which currently has a ban for private hire vehicles, but not taxis. This is changing soon, though, and there will be an outright ban), East Riding of Yorkshire, Leeds (which is about to implement a ban), North Lincolnshire, Rotherham, Scarborough (which allows passengers to vape, but bans drivers), and Selby.
Dick Puddlecote
When people talk of 'austerity' in this country, especially towards funding of public sector organisations and local authorities, it never really rings true to me considering that – daily – we hear of widespread public sector interference which is completely unnecessary.

One perfect example of this is local authority restrictions on vaping in taxis. Transport for London have a shameful policy – which they tweet regularly – saying that vaping is not allowed in a licensed vehicle at any time, even when the driver is alone and/or off-duty.
---

---
At A Vape Marketing Event! – Dick Puddlecote
On Sunday I wrote about one of the funniest pieces of anti-vaping 'science' I've seen so far. If you remember, the 'researchers' – I use that description in the very loosest sense – from North Carolina wanted laws to make all e-cigs the same so that it made it easier for the lazy buggers to study them.

You'd think they must be bottom-feeders in the tobacco control community, but it's a field where absurd morons jostle for position with laughable ones. I reckon this, from the Tobacco Control Comic Journal, beats it for stupidity.
Paul Barnes, Facts Do Matter
On Monday, the Foundation for a Smoke-Free World released the findings of a global survey about smokers. Most surveys claim to seek a "better understanding" of the target audience – in this case, smokers – and this one is no different.

Arguably, the methodology behind this particular survey; the "Worldwide State of Smoking Survey", appears to be very robust in its approach by researching existing surveys (such as the Eurobarometer, the Global Audit Tobacco Survey and the Global Youth Tobacco Survey, among others
---
See Sarah Jakes' article from page 51
"Pro vaping champion leads the way to give vapers a voice" https://t.co/pYYAVAAunu https://t.co/yXvGuwDaUZ

— NNAlliance (@NNAlliance) March 22, 2018
Sadly, this is not helping anyone. 😞I've spoken to Maori mothers who've gone without food themselves, in order to buy cigarettes & feed their children. The plight of many indigenous women is real. Some day, I hope you'll let go of the anger and open your eyes to their situation.

— Jenni Biebert (@JenniBiebertMKE) March 21, 2018
Die Woche im Überblick

Thema der Woche:
Wieder "Junk Science" vom Feinsten, Stichwort "Fettleber"….

weiterlesen: https://t.co/TnVepbKrko https://t.co/TnVepbKrko

— IG-ED (@ig_ed) March 23, 2018
---
Carl V. Phillips, The Daily Vaper
Models, in the scientific sense, are simplifications of a system — which can mean anything from a body's biology to the statistical relationship among any set of variables — that offer ways to learn something about the real system. They are typically used when studying the real system would be too costly, or because it cannot be manipulated or perhaps even observed. In research related to tobacco, the term is used correctly in phrases like "statistical model" or "animal model."
Aotearoa Vape Community Advocacy
Following is the official AVCA response to the Royal Australian College of Physicians' Draft Policy on Electronic Cigarettes. AVCA has a number of concerns around this draft document which are detailed below:
---

---
E-cigarettes and Stop Smoking Services – Martin Dockrell
Our latest e-cigarette evidence review, authored by leading academics in the tobacco control field, found that e-cigarettes (ECs):

appear far less harmful than smoking cigarettes
are the most popular quit aid
have a role to play in reducing smoking rates

Use has increased in recent years and EC have become the most popular stop smoking aid in England, with the majority of users now ex-smokers having made the switch completely.
The Rest of the Story – Brad Rodu
Kentucky's tobacco opponents are furious.  Their coalition crusaded for big tax increases on all tobacco products, but the State House of Representatives instead passed a 50-cent tax increase on cigarettes and left chew/dip products and e-cigarettes alone.  That is in keeping with the rational tax plan (here) authored by me, released by the Pegasus Institute last Fall and supported by 16 tobacco research and policy experts from Kentucky and across the U.S.

Coalition member Al Cross objected in a March 2 commentary in the Louisville Courier-Journal that we "didn't know or tell the whole story."  He is wrong, and here's why.
Thanks to Vaping? – Jim McDonald
The adult U.S. smoking rate dropped below 15 percent for the first time for the first three quarters of 2017. The news came in a report from the Centers for Disease Control and Prevention (CDC).

Among adults age 18 or over, the smoking rate was just 14.1 percent for the months January to September — a 10.8 percent drop over the previous full year. The smoking rate was 15.8 percent in 2016.
Under Guise Of Asking Whether To Ban Flavors – Carl V. Phillips
The FDA has published their advance notice of proposed rulemaking (ANPRM) regarding regulating (i.e., banning) flavors in tobacco products. The primary purpose appears to be banning flavors in e-liquid, under the guise of "protecting children," though the FDA is also revisiting banning menthol cigarettes, which they previously rejected. Other products could also be swept up in this prohibition effort
Trying To Kill Smokers And The Vaping Industry – Alex Berezow
There is a stunning lack of practicality in modern-day America. This is reflected not only by our hyperpartisan politics — in which politicians refuse to endorse good ideas if they come from the "other side" — but in the never-ending culture wars.

Previously, the culture wars focused on topics such as gay marriage and abortion, but recently, it has shifted to things like sugar, "chemicals," obesity, and smoking.

Mawsley, Planet of the Vapes
The World Conference on Tobacco or Health 2018 was held in Cape Town at the beginning of March. It was a collection of people working under the umbrella of tobacco control, and aimed to "unite the world" with a common approach through the Framework Convention on Tobacco Control (FCTC). David Sweanor lambasted the event as a "failure of understanding and curiosity".
In March 2017, associate Health Minister Nicky Wagner had said that e-cigarettes would be legalized and that New Zealand was adopting a low risk approach since scientific evidence about the safety of e-cigarettes is still being developed. However, a year later, no formal action has yet been taken to initiate the legalization process.
Letting cross-border sales out but not in
Greece is a partly closed market for e-cigarettes, with domestic distance sales allowed but not cross-border sales of e-cigarettes or e-liquids.

Selling cross-border from Greece to other EU member states is allowed, provided that country does not prohibit such sales – but no legal trade can come the other way since the implementation of the European Tobacco Products Directive (TPD).
---

---
Yesterday on the 22nd of March, the high court for the states of Punjab and Haryana in India, issued a notice to ban nicotine containing vaping products.

During the hearing, the court said that there are a number of new addictive trends that India's youth are indulging in amongst which vaping, and that tackling this is their priority. It was also stated that despite banning the use of nicotine in hookah bars, nicotine was still being consumed in various other forms.
Coconuts Hong Kong
The number of smokers in Hong Kong has fallen, according to a new government survey, while vaping, on the other hand, is becoming increasingly popular.

Released this week, the statistics from the Census and Statistic Department Thematic Household Survey (THS) showed the number of daily cigarette smokers aged 15 and above has fallen from 10.5 percent of the population to 10 percent.
Damon Beard
In the grand scheme of things, Vaping is still pretty new, having only been around for about a decade or so – and there still seems to be a 'hazy cloud' surrounding the issue of smoking vs vaping. But is there a difference if you're taking combusted smoke into your lungs or vapour?
We agree with Roanoke Rapids City Councilman Wayne Smith. Enough restrictions already exist affecting behavior. When one came up on last week's Council meeting agenda to consider banning vaping and e-cigarettes in public parks, as well as applying a more stringent outdoor smoking ordinance, Smith made a motion to remove the item from the agenda.
---
A look back at how things have moved on or otherwise….
Mawsley, Planet of the Vapes
Research conducted by Neil McKeganey, Marina Barnard and Christopher Russell (on behalf of the Centre for Substance Use Research, Glasgow), indicates that young people who use electronic cigarettes do not succumb to a gateway effect. It also pours cold water on any notion that there is a renormalisation of tobacco cigarettes taking place….
An Open 30-Day Public Health Challenge
Kevin Crowley, Vaping Links
For decades, Public Health, Tobacco Control, and Government experts have agreed in unison, that nicotine is the addictive chemical in cigarettes with comparisons and statements that nicotine is as or more addictive than heroin.

This "Public Health Challenge" is to show scientific proof that the assertions of addiction are true.
Concerned Canadian Vapers
David Sweanor (Adjunct Professor, Faculty of Law, University of Ottawa, Centre for Health Law, Policy & Ethics, University of Ottawa, Honorary (Consultant) Assistant Professor, University of Nottingham, Legal Counsel, Non-Smokers' Rights Association and Smoking and Health Action Foundation, 1983-2005)…
We've discovered that he has been refused the opportunity to testify on Bill S-5 before the Senate Standing Committee of Social Affairs, Science and Technology (SOCI)…
---
Visit Nicotine Science & Policy for more News from around the World

---