Vapers Digest 23rd March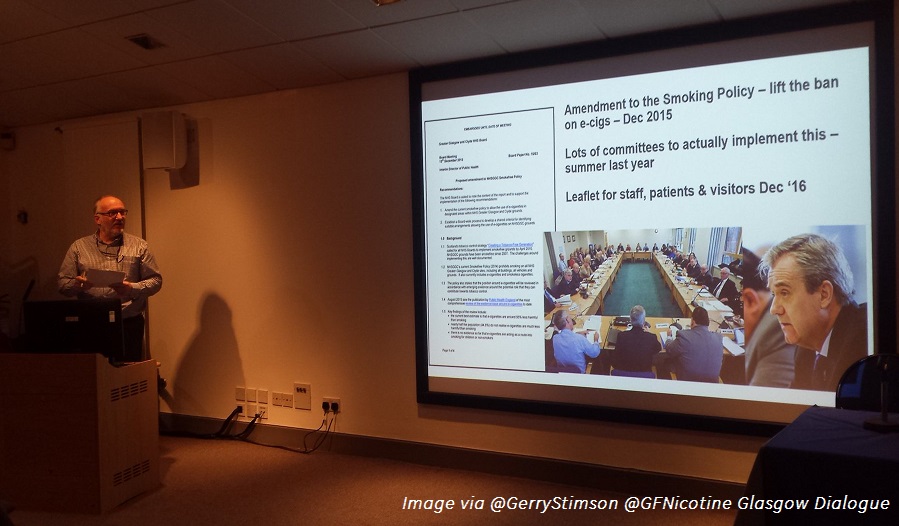 Thursday's News at a glance:
Vapers and Vaping Research – Nicotine Addiction – #LETDAVIDSPEAK – Switching to vaping cuts fire death risk – The UK cities endorsing e-cigarettes – Philip Morris commits third factory – THRA Canada – Final TGA decision: no vaping nicotine – Tobacco Bills: Dead or Defeated – Smoking age increasing to 21 for tobacco products, e-cigarettes
Mawsley, Planet of the Vapes
Research conducted by Neil McKeganey, Marina Barnard and Christopher Russell (on behalf of the Centre for Substance Use Research, Glasgow), indicates that young people who use electronic cigarettes do not succumb to a gateway effect. It also pours cold water on any notion that there is a renormalisation of tobacco cigarettes taking place….
An Open 30-Day Public Health Challenge
Kevin Crowley, Vaping Links
For decades, Public Health, Tobacco Control, and Government experts have agreed in unison, that nicotine is the addictive chemical in cigarettes with comparisons and statements that nicotine is as or more addictive than heroin.

This "Public Health Challenge" is to show scientific proof that the assertions of addiction are true.
Concerned Canadian Vapers
David Sweanor (Adjunct Professor, Faculty of Law, University of Ottawa, Centre for Health Law, Policy & Ethics, University of Ottawa, Honorary (Consultant) Assistant Professor, University of Nottingham, Legal Counsel, Non-Smokers' Rights Association and Smoking and Health Action Foundation, 1983-2005)…
We've discovered that he has been refused the opportunity to testify on Bill S-5 before the Senate Standing Committee of Social Affairs, Science and Technology (SOCI)…
---

---
Sophie Goodchild, Evening Standard
Switching from tobacco smoking to vaping could cut fire deaths, a fire chief said today.

Dan Daly of the London Fire Brigade said electronic devices hold "fewer fire risks" for smokers than cigarettes.

Mr Daly, assistant commissioner for fire safety, said: "Our preference is that you stop smoking altogether. But if you must smoke, vaping holds fewer fire risks than cigarettes as butts, ash and matches are often carelessly discarded which leads to fires."
---
---
As 1 person switches to vaping every 4 minutes
Vaping boom leads to cigarette decline NEW DATA reveals the e-cigarette business is alight across major cities in the UK; in the wake of a recent report from the Office of National Statistics that claims 56.7% of smokers across Great Britain made the decision to quit smoking traditional cigarettes in 2015 – the highest proportion of quitters recorded since 1974…
---

---
To "smokeless" cigarettes
Tobacco trendsetter Philip Morris International (PMI) has announced a new capital investment to convert a Greek cigarette plant over to production of Reduced-Risk Products (RRPs).

The move will see investment of 300 million Euros to upgrade the factory to a larger operation, due to the increased facility requirements of producing Heatsticks, a tobacco stick which is used with the "smoke free" IQOS unit.
Megan Haggan
The TGA has handed down its final decision on nicotine, which is to maintain the ban on the substance for use in e-cigarettes. The New Nicotine Alliance Australia consumer group had applied to exempt e-cigarette liquids containing low concentrations of nicotine from the Poisons Schedule.

This denies Australia a tool to reduce the high toll of death and disease from smoking, two tobacco harm reduction advocates said today.
Freddie Dawson, ECig Intelligence
A proposal submitted by the New Nicotine Alliance Australia (NNA), an e-cigarette lobbying group, was rejected by the Therapeutic Goods Administration (TGA) – an Australian Department of Health body charged with regulating products with potential medicinal claims.
The TGA had previously declared nicotine a controlled substance and banned its use outside of nicotine replacement therapy (NRT) products and tobacco products. As a result, the sale of nicotine-containing e-cigarettes is illegal in Australia, although there are users.
---

---
Thomas A. Briant
Nearly three months into 2017, a growing number of tobacco-related bills have either died for failure to be passed by a state legislative deadline or been defeated in committee hearings.

Those bills that have either died or been defeated come in four general forms:
For tobacco products, e-cigarettes – There's a Poll….
Although an attempt was vetoed last year, legislation to raise the legal smoking age from 18 to 21 lapses into law today. While health proponents say this is step in helping deter smoking and preventing diseases such as cancer, others say it infringes on the rights of young adults.
Senate Bill 754, chief sponsored by Sen. Elizabeth Steiner Hayward, D-Portland, and Sen. James Manning, D-Eugene, creates an offense of selling tobacco to people under 21, punishable by fines of $50 for retail clerks and up to $500 for managers and $1,000 for store owners. The same fine applies to sales of e-cigarettes and other tobacco products.
---
A look back at how things have moved on or otherwise…
Head Rambles
Dog and cat owners who use e-cigarettes are being warned to keep them as far away as possible from their pets….Er, why?

The warning comes after the Pet Poison Hotline announced there has been a 400-percent jump in the last two years, in pets being poisoned by e-cigarettes.

Maybe nobody showed those pets how to use an e-cigarette?
The Vapor Bar
And the side show continues, does it not? The race to create the most asinine labels, treading blatantly close to the trademark border that separates a known product from e-liquid, and the deliberate cloud blowing in personal public places that attracts and offends others. Trademarks… well they'll send those cease and desist letters and file lawsuits against them, so they'll drown in their own cesspool…..
That Vaping is 95% Safer Than Smoking – The Drip Club
David Nutt has an interesting history, and has caused quite a bit of controversy in his career by remaining scientific in the face of poorly thought-out drug policy. Nutt is a British psychiatrist and neuropsychopharmacologist who has a very impressive list of academic accomplishments…
---
Visit Nicotine Science & Policy for more News from around the World

---